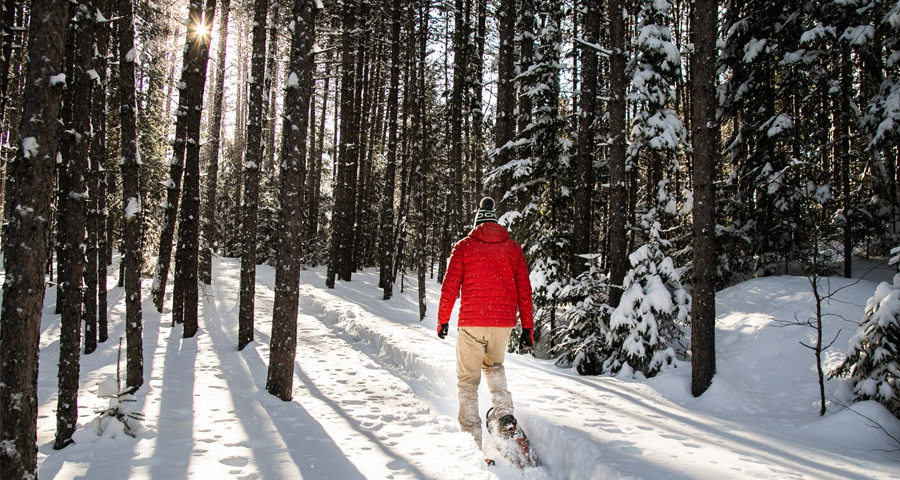 Winter in Algonquin Park: An Outdoor Adventurer Tries It All
Algonquin might be famous for its summer camping, but the park also offers a unique opportunity to experience iconic Canadian winter activities in one of the most beautiful spots in the nation. Writer and outdoor adventurer, Martin Lortz, decided to try a few for himself.
Snowshoeing
When it comes to snowshoeing in Algonquin Park, the great appeal is that there is endless terrain to explore. (That said, I would not recommend just stomping off into the wilds unless you are well prepared and experienced in dealing with winter in the forest.)
Lucky for us, the park plow crew has provided easy access (plowed parking lots) to some of the best snowshoe trails along Highway 60. Trails like Two Rivers, Mizzy Lake, Track and Tower, Bat Lake, and Hemlock Bluff all offer treks from a couple of hours to a full day's outing.
For beginners, the Old Railway Trail out of Mew Lake Campground or the Spruce Bog Boardwalk are a good place to start. There is a small selection of snowshoe rentals at the East and West gates, as well as from outfitters outside the park.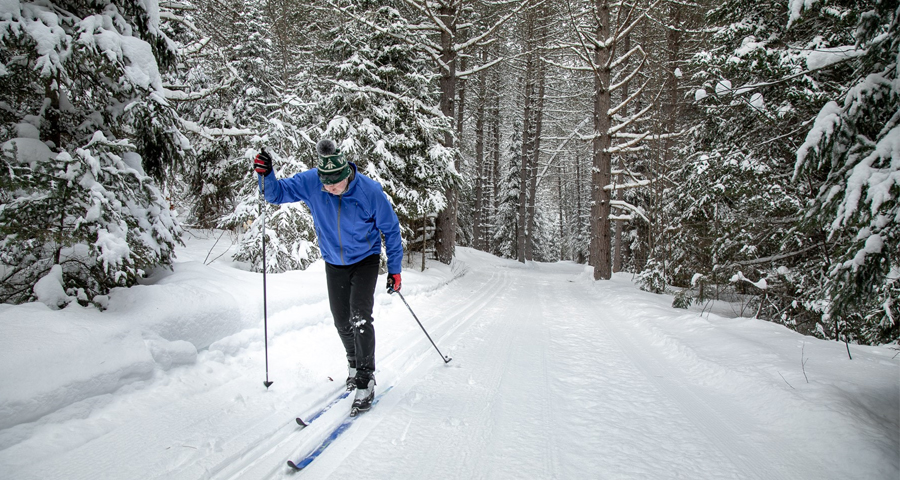 Cross Country Skiing
Whether you are new to cross country skiing or a Nordic veteran, you are in for a treat. Algonquin Park's 100+ kms of groomed and track set XC trails are some of the best in the province.
At the west gate the Fen Lake Ski Trail meanders for 18 kms through Algonquin's typical hardwood forest, offering a set track of varying difficulty. The Fen warm up cabin is popular with skiers, as well. For a trail map click here.
On the east side of the park, the Leaf Lake Ski Trail will take you deep into the forest. Here you will find 45 kms of groomed and track set trails, most of which are suitable for both classic and skate skiing. (The Pinetree Loop is championed by many to be the best ski trail in all of Ontario!)
What puts an exclamation mark on a fine day on the trail: lunch in a log cabin perhaps? In fact you will find two warm up cabins along your way. For a trail map click here.
If making your own tracks is what you're after, the Minnesing Wilderness Ski Trail offers four loops ranging from 6-32 kms of pure back country bliss. This trail is maintained but not groomed. For a trail map click here.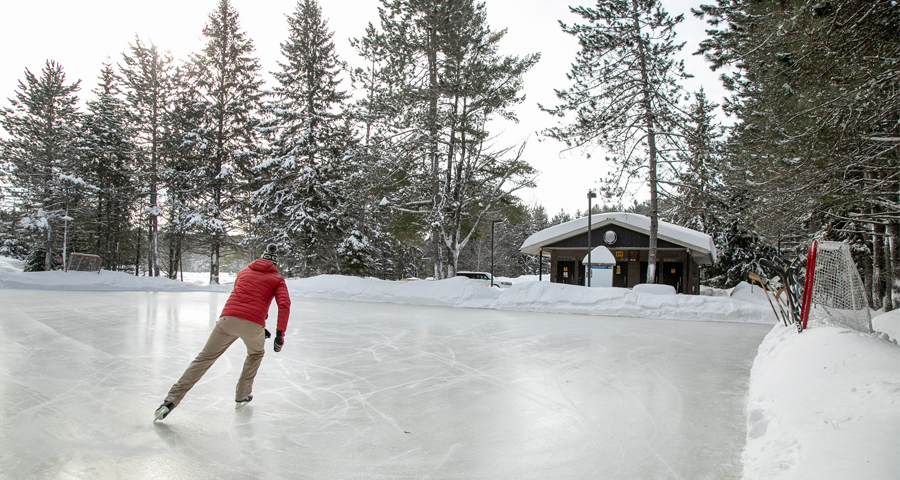 Skating
It seems that Mew Lake Campground is the epicenter of winter in Algonquin Park, with so much going on. Winter camping, snowshoeing, fat biking, back country skiing – you can do it all here.
But perhaps the most memorable experience is the chance to lace up your skates for a few laps on the spectacular ice rink that's surrounded by classic Algonquin pines. Relax by the outdoor fire pit or in the warming tent as the rink side lights keep things going on into the night.
If you bring some friends or make some new ones, there are nets and enough hockey sticks for the quintessential northern experience, a game of shinny. Whatever you do, ice skates should definitely be on your winter in Algonquin gear list.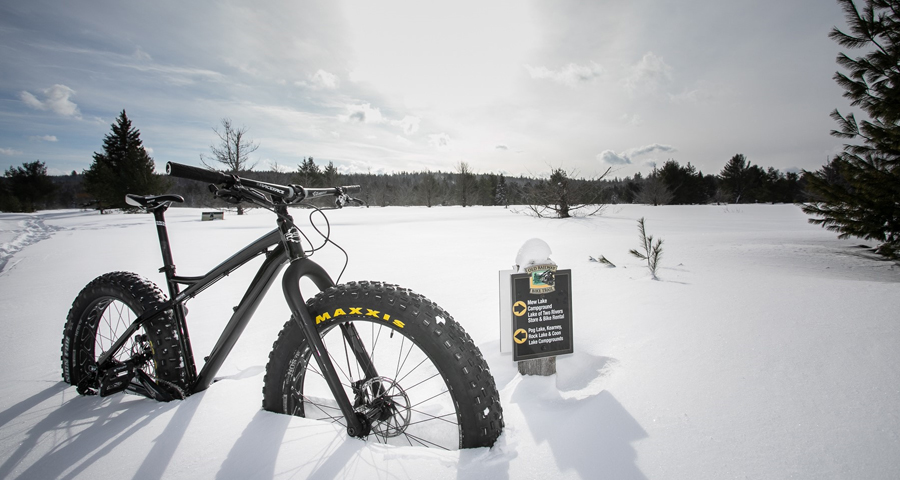 Fat Biking
I have now attempted to fat bike Algonquin's Old Railway Bike Trail two times this winter season. Both attempts were nixed by knee-deep snow! The approximately 12 km trail, stretching from Pog Lake to Cache Lake along the old rail bed, is typically groomed during winter to allow for walking, snowshoeing, cross-country skiing and fat biking. But big snowfalls mean it may take a few days for the groomers to get things tidied up a bit.
By what I'm told, however, this mostly-flat trail is a good way to take in the sights and sounds of Algonquin Park. If the fat bike experience is a priority on your to do list I would suggest calling ahead for trail conditions. If you think this sounds cool and worth a try, you can arrange fat bike rentals at Algonquin Outfitters or The Bike Shop in Huntsville.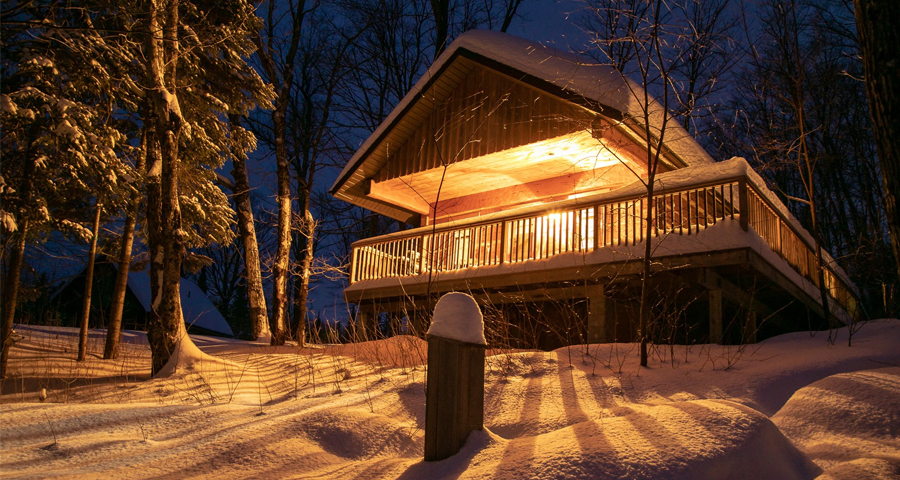 Accommodations
When it comes to spending the night and you want to experience full Algonquin Park immersion then your options are a tent or a Yurt.
If a tent is the plan, then you can pick up a permit at the office and head for the backcountry providing you have the necessary gear and experience. If a more 'civilized' winter tenting experience is in order, then Mew Lake Campground is the place to be. Here you have the security of your vehicle nearby, access to a comfort station, and all of the above mentioned activities at your tent's door.
If a more permanent structure is preferred, then a Yurt is the way to go. There are seven yurts available for booking at Mew Lake, but be warned, they are very popular and reservations need to be made well in advance.
You can also spend the night just outside the park, with many accommodations options available. I was delighted myself to check out The Wolf Den Nature Retreat. Located just minutes from the East gates of the park, this establishment has various options, from dorm rooms to multi-bedroom cabins.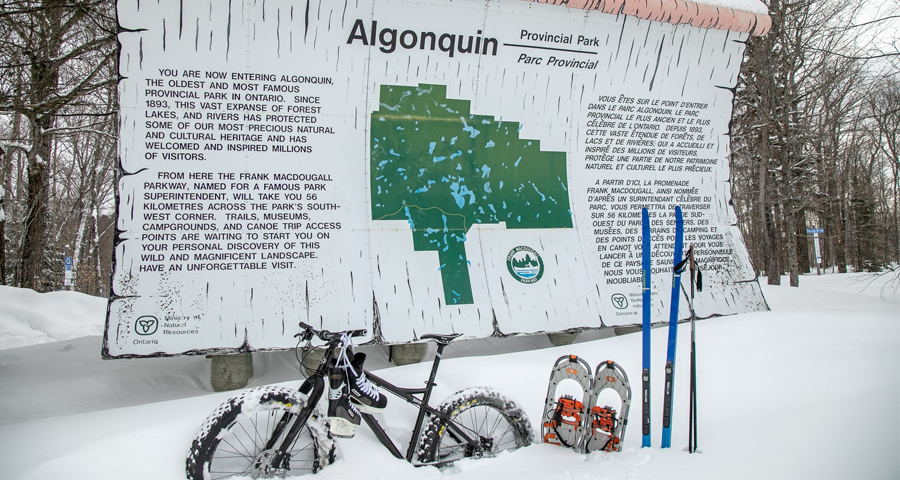 Winter in Algonquin Park: experience it once and it will stay with you forever (or at least until paddling season begins).
For Algonquin Park's COVID updates, click here.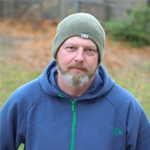 Guest Blogger: Martin Lortz
Martin is a freelance photographer and writer specializing in the outdoor lifestyle. Whether he is covering power sports or family-oriented pursuits, his passion for capturing the beauty of nature and the people who partake in it is evident in his work. His photos and articles have appeared in magazines such as Ski Canada, Explore, Bike, Mountain Life, Snow Goer,Kayak Angler, and Family Camping.
All photos @MartinLortz