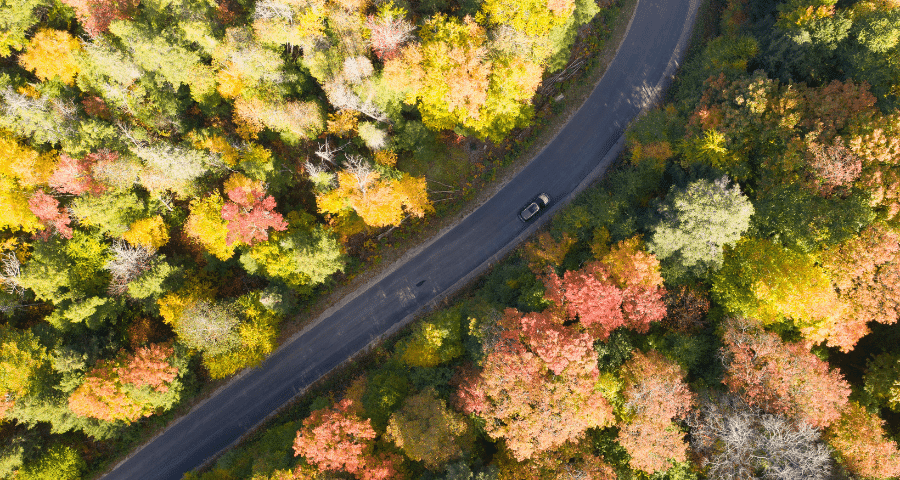 Fall Driving Adventures in Ontario's Cottage Country: Always Something New To See
Updated September 2023
Fall across Ontario's cottage country is a very special place, with deep blue lakes and rivers reflecting the blazing fall colours of lush forests. This is the perfect time of year to plan scenic drives by car, motorcycle and RV to take in the unbelievable views, and to experience the region's very fine hospitality. This autumn, let your planning take you a little off the the beaten path to experience something new. Below are just a few suggestions of small villages and hamlets to consider exploring while you take in the most beautiful scenery in the nation.
South Algonquin
Whitney is a quaint community located on the south-east side of Algonquin Park that hugs the shores of beautiful Galeairy Lake There are lots of great accommodations located here, including Algonquin Accommodations , Camp Bongopix, and The Mad Musher Restaurant & Riverside Rooms ( which is also a great place to stop for a bite to eat). Avid hikers will want to explore neighbouring Madawaska and the Upper Madawaska River Provincial Park, and head a little further east to check out the Upper Madawaska Basin Trails as well.
Hiking Trails
Bear Lake Trail Madawaska
Kluke Lookout Loop Madawaska
Old Railway Trail Whitney
Spectacle Lake/Burnetts Mountain Trail Madawaska
The Almaguin Highlands
The Villages of Almaguin are a group of historic and picturesque small towns that embrace outdoor adventuring, and which are known for their warm welcomes for visitors. A great driving or riding loop is out of Burk's Falls along Highway 520 through Magnetawan where there is a great park at the locks to stop for a stroll or for a scenic picnic. From Highway 520 take Highway 124 towards Sundridge and South River where visitors can dine in style at Bernard's Bistro on the Lake, play some Disc Golf at Tom Thomson Park or get wild and really off the beaten path with Outdoor ATV Adventures or Bearclaw Tours.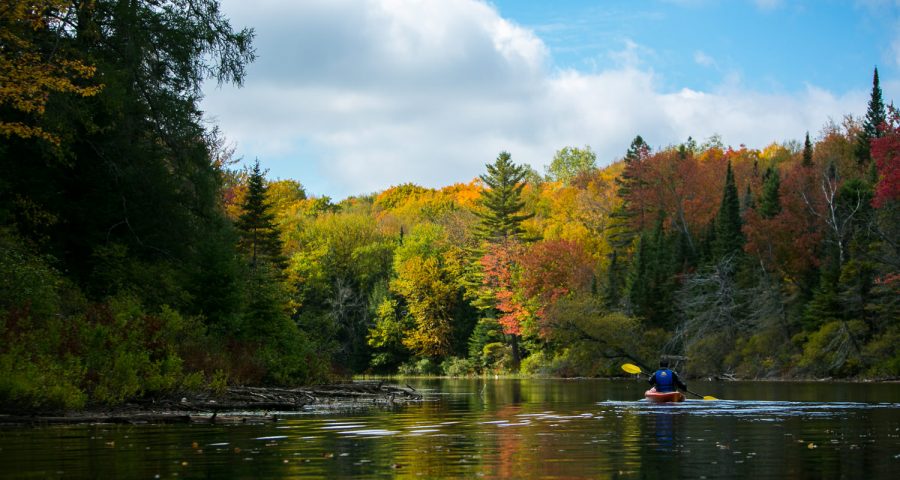 The Village of Katrine boasts a beautiful public beach at Doe Lake Municipal Park (great place for a picnic with a pizza from the Big Doe Pizza perhaps), or to play some golf at the Almaguin Highlands Golf & Country Club. McKellar provides access to stunning Lake Manitouwabing (and some fantastic paddling opportunities) and the drive along the winding Centre Road onto Highway 518 is a treat.
Hiking Trails
Almaguin Community Trails South River
Bare Rock Trail Kearney
Beaver Meadow Trail Mikisew Provincial Park
Cornelia Levering Broadmeadows Trail Magnetawan
Craig Lake Dam Trail South River
Ebertson School Trail Kearney
Loxton Beaver Trail South River
Maple Canyon Trail Mikisew Provincial Park
Moose Mountain Trail South River
Old Muskoka Trail South River
Smythe Creek Trail South River
Sprucedale Recreational Trail Sprucedale
White's Farm Trail Kearney
Loring-Restoule
Beautiful Loring-Restoule is accessed from the incredibly scenic Highway 522, a wonderful winding road traversing lakes, rivers and open farmland that connects Almaguin to Parry Sound. There are three unique communities that lie on this scenic strip of road. Commanda was a thriving stop on the Old Nipissing Road, and its great feature is its famous General Store that has been converted into a museum.
Golden Valley is home to several small lakes and the Loring Deer Yard, home to one of the province's largest collections of white-tail deer and where you'll find some great trails to hike. Port Loring itself rests on the banks of the historic Wolf-Pickerel River system and is the perfect destination for paddlers and anglers. Noganosh Lake, Restoule and Grundy Lake Provincial Parks are also great places to enjoy outdoor adventuring.
For more great things to see and do, and where to eat (including The Port Shores, Jake's Place and Roxie's Diner) in Loring-Restoule, click here.
Hiking Trails
Angels Point Trail Restoule Provincial Park
Fire Tower Trail Restoule Provincial Park
Gibs Trail Restoule Provincial Park
Loring Deer Yard Trail Port Loring
Pine Grove Nature Trails Port Loring
Muskoka
Muskoka is known for its vacation lifestyle on the famous lakes and for its heritage waterfront resorts. The region also has many lesser known spots featuring little highlight nuggets that are best discovered when touring in fall.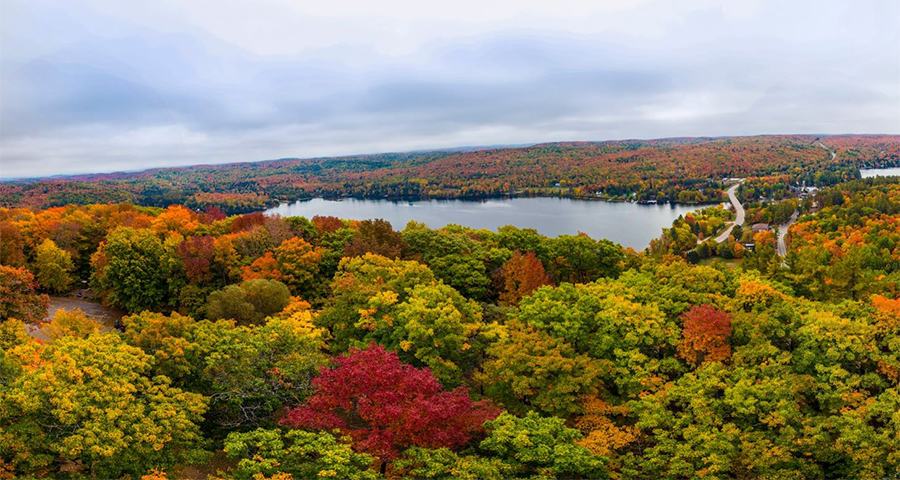 There are some great driving routes that take you along the roads less travelled and through small towns and picturesque lake views. Highway 117 winds its way through Baysville where a stop at the Humble Pie Butter Tart Factory & Pizzeria is a must, before passing through Norway Point, the historic Bigwin Island and onto Dorset and maybe a climb up the Lookout Tower.
Fans of Hawksley Workman can travel the roads from his Motorbike song and take the Ravenscliffe Road out of Huntsville towards Ilfracombe. Or take the Aspidin Road towards the the 1870s Icelandic settlement of Hekkla.
Port Sandfield was created at the same time as the canal that connects Lake Joseph and Lake Rosseau and the bridge between the two waterbodies is a main thoroughfare to the heart of iconic cottage country. Take Peninsula Road and head past the marina and corner store here to visit the Hamlet of Minett, home to the JW Marriott The Rosseau Resort & Spa, The Rock Golf Course, and more.
The shores of Lake Rosseau are home to the historic Windermere House, which was built as Muskoka's premiere hotel in 1870. Brackenrig Road, Windermere Road and Dee Bank Road all head towards this picturesque community which also houses the great golf at the Windermere Golf & Country Club or at nearby Diamond In The Ruff.
Hiking Trails
Beaver Meadow Trail Arrowhead Provincial Park
Chamberlain Trail Gravenhurst
Cooper's Falls Trail Gravenhurst
Devil's Gap Trail Gravenhurst
Fairy Vista Trail Huntsville
Hahne Farm Trail Gravenhurst
Hazelwood Trail Port Carling
Hillside Hamlet Trail Hillside
Homesteaders Trail Arrowhead Provincial Park
Kahshe Barrens Trail Gravenhurst
Limberlost Forest & Wildlife Reserve Huntsville
The Marsh Trail Six Mile Lake Provincial Park
Mayflower Lake Trail Arrowhead Provincial Park
Old Stone Trail Gravenhurst
Oxtongue River-Ragged Falls Huntsville
Port Severn Walking Trail Port Severn
Raymond Trail Raymond
Ronville Hiking Trail Lake of Bays
Schoolhouse Walking Trail Port Severn
Skeleton Lake Fish Hatchery Trail Utterson
Strawberry Point Trail Bracebridge
Stubb's Falls Trail Arrowhead Provincial Park
Walker's Point Lookout Trail Walker's Point
Weir Lake Trail Bent River
Wilson's Falls Trail Bracebridge
Parry Sound & Area
Parry Sound has beautiful Georgian Bay as its main attraction and is home to the famous Island Queen Cruise, but some smaller, nearby destinations will delight travelers this fall as well. Grab a specialty coffee from Oakcrest Co. and then head out to explore nearby spots, including the Amazing Places of the Georgian Bay Biosphere.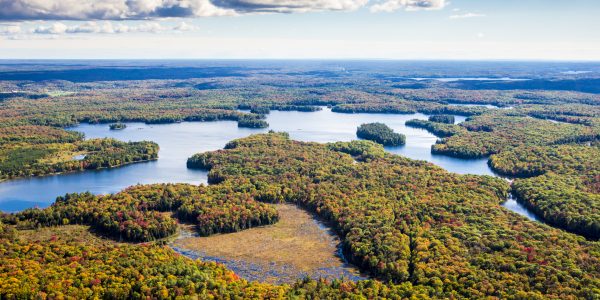 Nobel was once the home to a dynamite factory and engine factory for the legendary Avro Arrow, and today it still boasts one of the nicest beaches in the region. Take Nobel Road out of Parry Sound and to Norse Brewery, a great spot to stop to stock pile great craft beer. Or continue North up Highway 400 to Grundy Lake Provincial Park or to Pointe au Baril's natural, protected harbour at well-known Sturgeon Bay (great fishing at the provincial park here) that offers access to some of the stunning 30,000 Islands.
The village of Rosseau is also a great stepping off point with scenic roads taking you into Minett, Huntsville, Bracebridge and Parry Sound. Rosseau also has an historic general store to stock up on snacks, a great beach area for a picnic and the award-winning Crossroads Restaurant for some fine dining on your travels.
Hiking Trails
Baker Trail The Massasauga Provincial Park
Balsam Trail McKellar
Beaver Dams Trail Grundy Lake Provincial Park
Guncotton Trail McDougall
Gut Lake Trail Grundy Lake Provincial Park
Humphrey Nature Trails Seguin
Lookout Point Trail Killbear Provincial Park
Moon Island Trail The Massasauga Provincial Park
Nesbitt Trail Ardbeg
North Shore Rugged Hiking Trail Parry Sound
Pakeshkag Lake Trail Grundy Lake Provincial Park
Recreational Trail Killbear Provincial Park
Rose Point Trail Seguin
Rotary and Algonquin Regiment Waterfront Fitness Trail Parry Sound
Whitestone Lake Recreational Trail Dunchurch
See Something New This Fall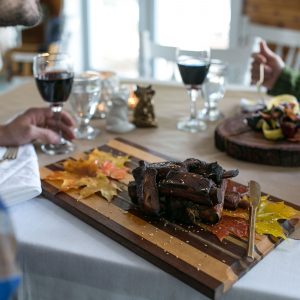 Take the time this fall to explore some of the lesser known – but equally charming – destinations throughout the great Canadian wilderness just north of Toronto. With less traffic and roads bursting with vivid autumn colour, you'll discover incredible history hot spots and majestic wilderness everywhere you turn.
To plan your visit to the wilderness north of Toronto, visit TheGreatCanadianWilderness.com