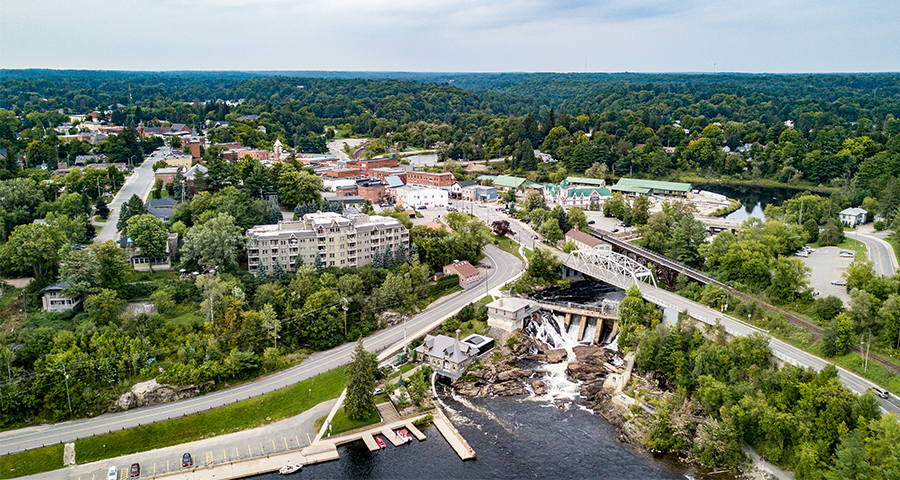 Bracebridge, Muskoka: The Heart of Cottage Country
Summer and Fall are the perfect seasons to explore this picturesque town 2-hours north of Toronto.
Known for its iconic silver bridge over a rushing waterfall, historic Bracebridge has long been a hub of activity in the heart of cottage country. Here you'll find tons of unique shops and eclectic dining opportunities, and thrilling outdoor adventures to explore. And best of all, you'll be surprised just how many ways you can experience the beautiful Muskoka River, which runs through the length of town to the namesake lake on the other end.
Hit The Trails
Bracebridge is home to a particularly active cycling community, especially off-road fun. The hard-working folks at the Muskoka Off Road Cycling Association maintain great trails at the Bracebridge Resource Management Centre just north of town centre, on Highway 11 and at Porcupine Ridge near Santa's Village. Head to Ecclestone Cycle or Nielsen's Bicycles for great on-road riding recommendations as well.
For rentals and onsite trails (and all your outfitting needs), visit Liv Outside – Muskoka's renowned adventure centre, where more great mountain biking and paddling opportunities await. And be sure to check out Muskoka Water Bikes – a whole other kind of cycling! – nearby on Prospect Lake.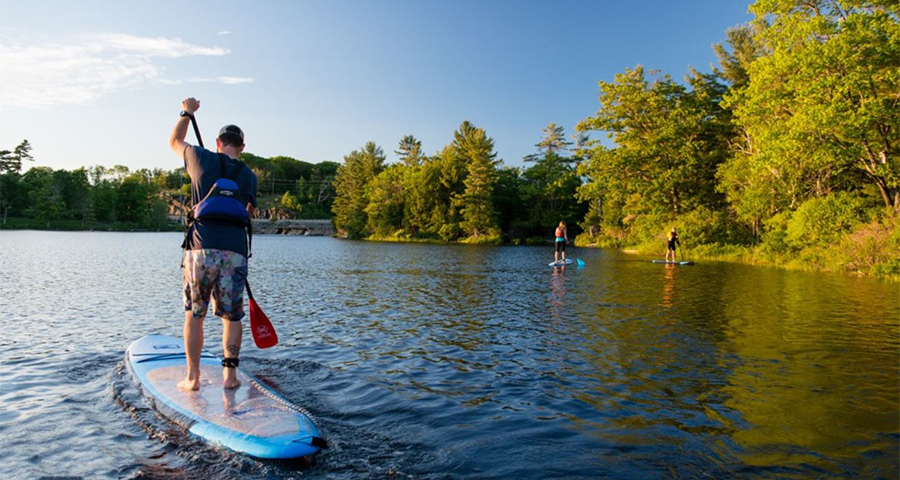 Great Golf
Bracebridge is home to some great golfing opportunities, including South Muskoka Curling & Golf Club and Muskoka Highlands Golf Links. For something completely unique, take the family or friends out to Muskoka Disc Golf Course at Peake Fields, and for an entertaining morning or afternoon, visit Northern Escapades Mini Golf.
Shop A Lot
Shop until you drop in Bracebridge's charming downtown, and be sure to get a photo of the Clock Tower that stands proudly in the centre of the action.
Belle's Boutique Muskoka
Bliss Boutique of Muskoka Inc.
Fashion Closet
Footprints on Muskoka 
Kala House of Colour
Lilibird
Minds Alive Toy Store
Rich Hill Candles & Gifts
Simply Cottage
The Chancery Lane Co.
The Healing Room Muskoka
The Owl Pen Bookshop
Unique Muskoka
Veranda

Visit Santa
Bracebridge is home to the world-renowned theme park, Santa's Village. Take the younger kids and grandparents to experience all things Christmas-y, as well as boat tours, go-carts and more. Check out the Muskoka Zip Lines & Aerial Park also.
Hit The Beach
There's nothing better than a refreshing dip in a fresh water lake, and some lazing on a beach with a picnic as well. Bracebridge has many wonderful spots to park it for a relaxing day in Muskoka. Check out these popular spots:
Bowyer's Beach Park
Clear Lake Beach
Holditch Street Beach
Kirby's Beach Park
Muskoka Falls Beach
Prospect Lake Beach
Strawberry Bay Beach
Weismuller Lake
Wood Lake Beach
Galleries
Bracebridge is home to a thriving arts and live music scene, and there are some neat galleries and venues for you to check out while you're here. Consider stopping in at the following:
Bracebridge Hall  (gallery & live music)
Britton Gallery
Heron's Nest Studio Gallery
Hinterglas Studio Gallery
The Griffin Gastro Pub (live music)
Bracebridge Beers
Looking for a tasty ale to satisfy your thirst? There are two breweries located in Bracebridge, one that's the new kid on the hops block, and one that's been setting the craft beer standard in Canada for years. Check them out this summer and fall.
Katalyst Brewing Company
Muskoka Brewery
Dine In & Out
So many options for fantastic dining in Bracebridge, whether you prefer dining in, the view from a patio, or take out. Every menu is certain to delight the taste buds. Here are just some of the restaurants located in the heart of cottage country.
Boston Pizza
Chuck's Roadhouse 
El Pueblito
Fine Thymes Restaurant
Fresh Kuts Market & Grill
Kelly's Kitchen Pub
Main St. Delicatessen
Marigold Unique Flavour
Momma Bears Ice Cream & Sweets
Mommas Fish & Chips
Muskoka Natural Food Market
Pasta Tree & Smokehouse
Sully's Muskoka Gourmand
The Burger Shop
The Griffin Gastropub
The Old Station
The Oven
The Pasta Shoppe Bakery and Fine Foods by Beat the Wheat
This summer and fall, head to Bracebridge, Muskoka to "Visit The Bridge" and to experience the best that cottage country has to offer.
Got the Cottage Country Spirit Local Travel Package from Explorers' Edge? Here's a list of places in Bracebridge where you can redeem your vouchers until October 12.
Algonquin Outfitters
Bracebridge Barrelhouse*
Brooklands Farm
The Chancery Lane Co.
El Pueblito
Fine Thymes Restaurant
The Griffin Pub
The Healing Room Muskoka
Helen E. Grose Photography
Hinterglas Studio Gallery
Kala House of Colour
Katalyst Brewing Company
Marigold Unique Flavour
Momma Bears Ice Cream & Sweets
Muskoka Brewery
Muskoka Highlands Golf Links
Muskoka Natural Food Market
Muskoka Ziplines & Aerial Park
Nielsens Bicycles
The Old Station
The Oven
The Owl Pen Bookshop
Pasta Tree & Smokehouse
Rich Hill Candles & Gifts
Santa's Village & Sportsland
South Muskoka Curling & Golf Club
Sully's Muskoka Gourmand
The Pasta Shoppe Bakery and Fine Foods by Beat the Wheat
Unique Muskoka