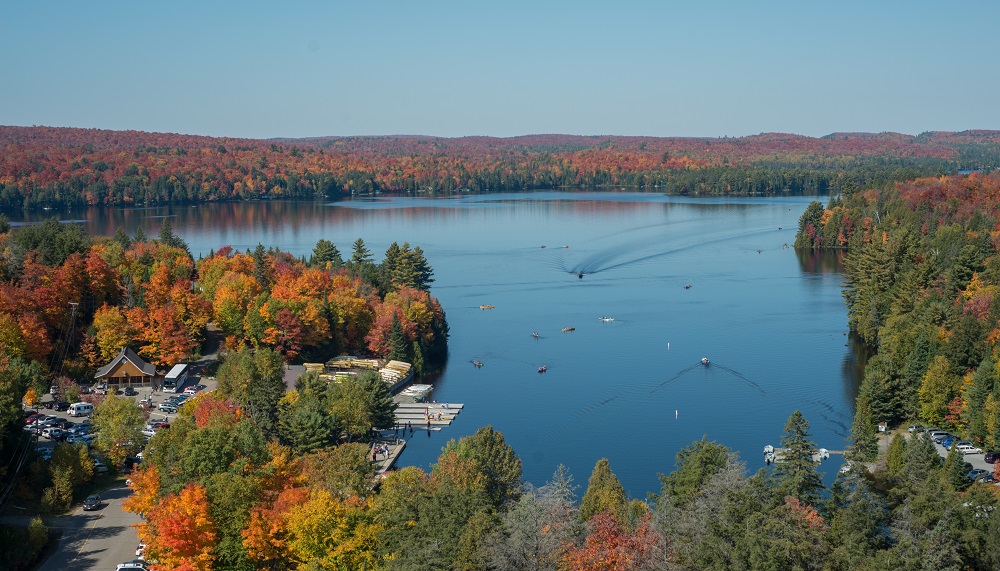 Fall Camping North of Toronto
Please note: Our new 'Great Canadian Wilderness' website has replaced the old one that ran under our company name, Explorers' Edge. From time to time in an older post, you may see references to Explorers' Edge.
As outdoor enthusiasts know, fall is arguably the best time to pitch a tent in the great Canadian wilderness just north of Toronto. Here are just a few reasons you should consider an overnight autumn adventure in cottage country, home to over a dozen national and provincial parks, private campgrounds, and guided expeditions:
The weather is perfect, night and day: Still-warm days make for great exploring, and cool nights make for great sleeping. Avid swimmers will also enjoy a refreshing dip in one of thousands of sparkling blue lakes, though it may take a little longer for some to ease in. (And a morning dip into pristine waters shrouded in autumn mists is about as big a 'Nature high' as you can get.)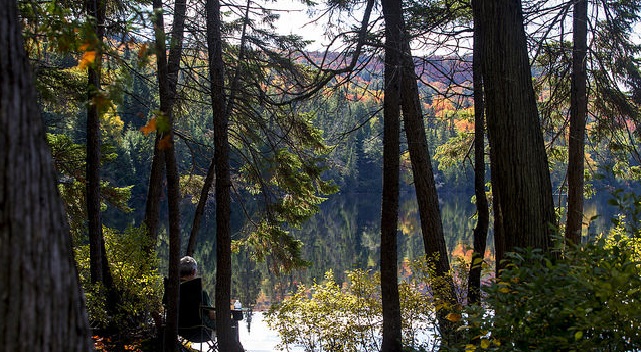 Fewer crowds: The huge popularity of camping in Algonquin Park, the Almaguin Highlands, Loring-Restoule, Muskoka and Parry Sound means that booking your favourite camp site in summer can sometimes be a challenge.  Heading out after Labour Day, when kids are back in school and families are busy with weekend activities, means you'll have more sites to choose from, and more room to kick back and enjoy the quiet once you arrive.
Wildlife is easier to spot: In fall many animals are on the move, making them more visible as the leaves are thinning from the trees. Keep your camera handy – and watch for moose near Algonquin Park in particular (just don't get too friendly). Consider a guided adventure with the folks at the Algonquin Wildlife Research Station to spot a variety of critters, while learning tons of cool info about them.
No bugs! Black flies and mosquitoes are mostly finished their pesky reign for the year. So pack away the bug spray and the netting, and enjoy not having to slap yourself silly to keep them at bay.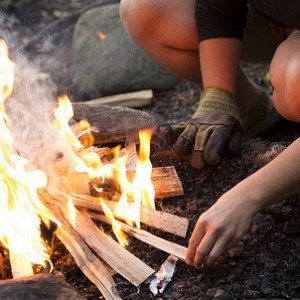 Camp fire cooking: In summer when temperatures climb high, a hot dish cooked over a hot fire isn't always appealing. But in the fall? De-lish. You might find some new favourites among these recipes, shared by Ontario Parks. Or consider a guided retreat with the folks at Northern Edge Algonquin or with Voyaguer Quest, to have the cooking done for you.
Dark skies and brilliant stars: Far from city lights, stars shine brighter. Earlier sunsets mean stargazing starts sooner in the evening too, so find a lookout and get ready to be wowed.  It's a tradition at Killbear Provincial Park to watch the sun set over Georgian Bay from a high, rocky point. Or head to Algonquin Park, the Almaguin Highlands, or Loring-Restoule, where populations are more sparse – and experiment with some night-sky photography. And be sure to visit the Torrance Barrens Dark Sky Preserve in Bala, Muskoka – Canada's first dark sky park that was established just so folks could marvel at the stars!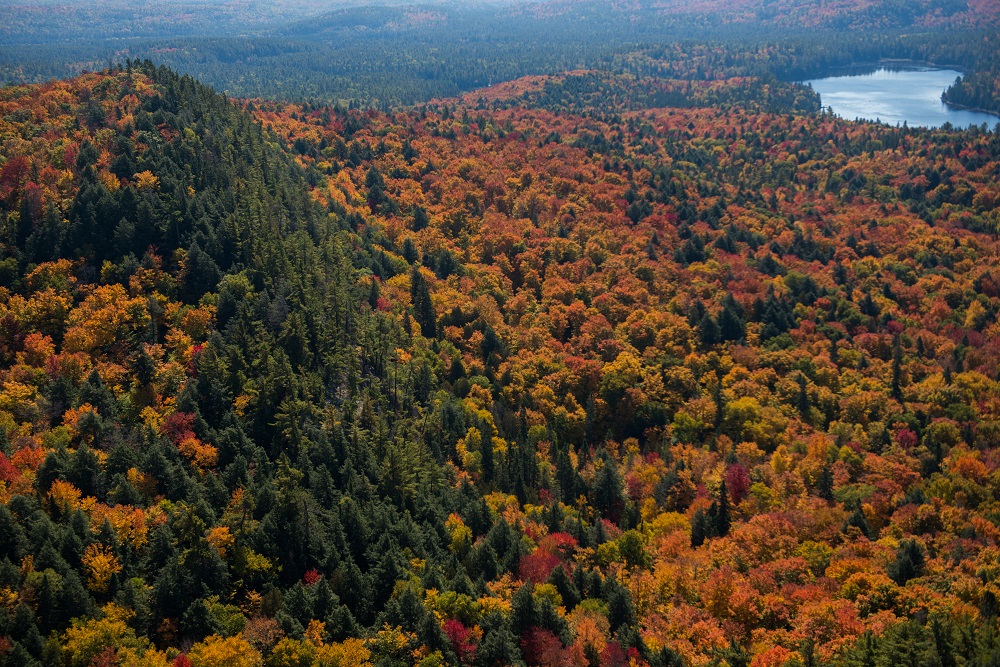 Fall colours that are second to none: The lush greens of summer are gorgeous, but nothing compares to the vibrant, fiery flare of fall. It doesn't matter where you view the colours from – hike up to a lookout, go for a drive, or just enjoy them from your campsite – you won't be disappointed. Best of all, with thousands of sparkling blue lakes located in the region, the water's reflection makes the annual fireworks doubly impressive.  (That's why the Huffington Post voted Muskoka and Algonquin Park two of the top five spots to view fall colours in all of Canada!).
Provincial & Federal Parks in the great Canadian wilderness – check closing dates:
Open year-round
Also consider a privately-owned campground for a unique fall experience. Just remember to call ahead as some close as early as Labour Day.
No matter what time of year you go, camping in the great Canadian wilderness is an adventure that anyone can enjoy. Give it a try this autumn and see if you fall for fall camping.
To plan your stay in Algonquin Park, the Almaguin Highlands, Loring-Restoule, Muskoka and Parry Sound, Ontario this fall, click here.  Need gear to rent? Get help from one of the many fine outfitters in the region.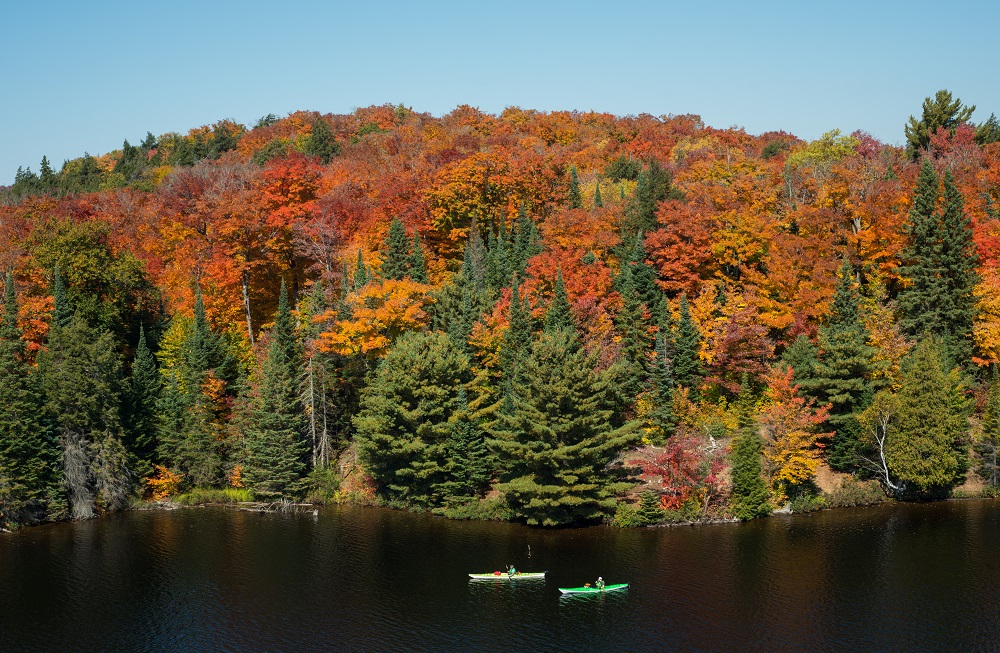 Foliage photos courtesy of Ontario Parks.

Guest Blogger: Dawn Huddlestone
Dawn Huddlestone is a freelance writer, as-yet-unpublished novelist, and wannabe photographer. She's living the dream in Muskoka with her family and a growing zoo of pets.