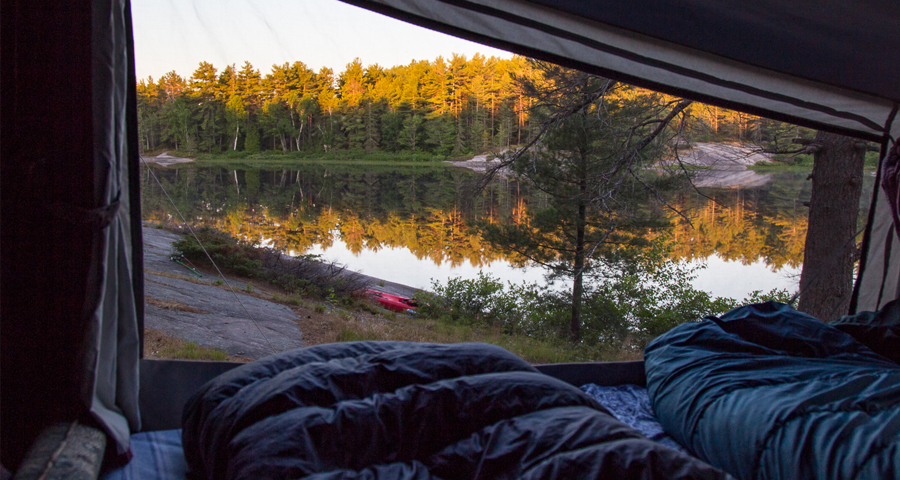 Camping & Glamping in the Great Canadian Wilderness
Please note: Our new 'Great Canadian Wilderness' website has replaced the old one that ran under our company name, Explorers' Edge. From time to time in an older post, you may see references to Explorers' Edge.
Disconnect to reconnect in the great Canadian wilderness north of Toronto.
Updated April 2022
Camping in Ontario's beautiful outdoors just might hold the title for most popular activity in this region north of Toronto. From Algonquin in the east to Killbear in the west, there are plenty of campgrounds to choose from, from higher end "glamping" sites to provincial and national parks, from tent and trailer parks to no-frills crown land. And 'roughing it' is no longer limited to warmer-temperature months. (And shoulder season camping is trending; enjoy fewer crowds and have more of the wilderness to yourself.)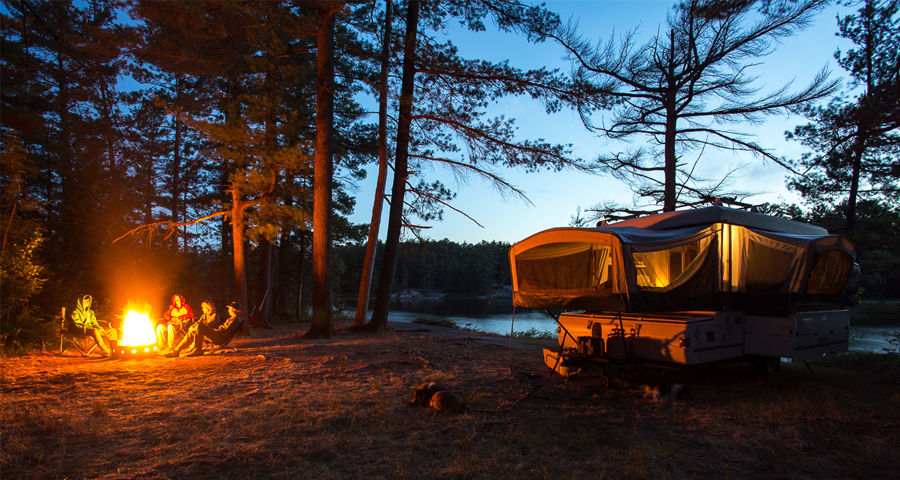 Outfitters in the region can help you gear up and advise you on the best spots to strike camp when you're heading into one of our beautiful parks, and they also have guided expeditions to show you the camping ropes. Private campgrounds throughout the region provide more sense of security, with owners and staff on site to help you get set up. They'll also often have organized events for meeting some neighbours in the camp sites next to you.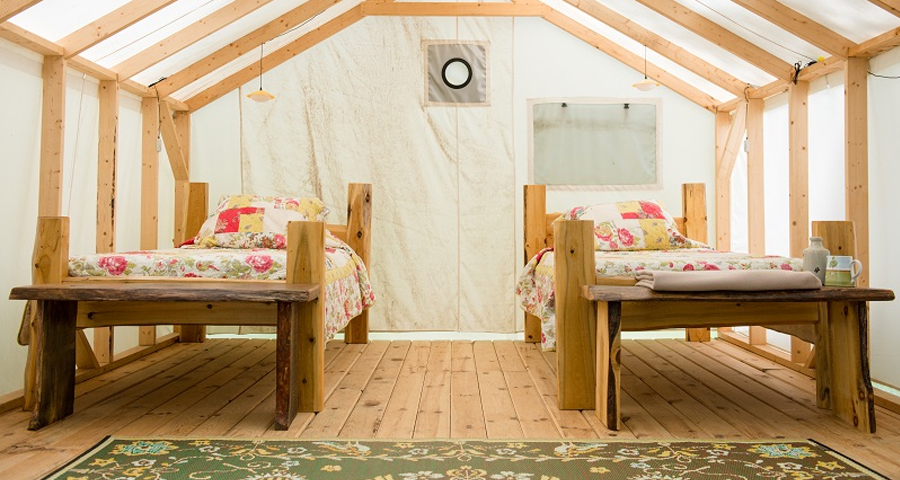 Glamping (a.k.a. glamourous camping) is an option for anyone wanting to try a taste of the camping life, but still looking for some basic comforts like a roof overhead or a raised bed (like the cabins at Georgian Bay Islands National Park or Arrowhead Provincial Park). Some glamping establishments serve delicious food as well, such as Harmony Outdoor Inn in Parry Sound. And guided expeditions are often available from an accommodation provider's home base, such as at Voyaguer Quest in Algonquin Park, or Northern Edge Algonquin.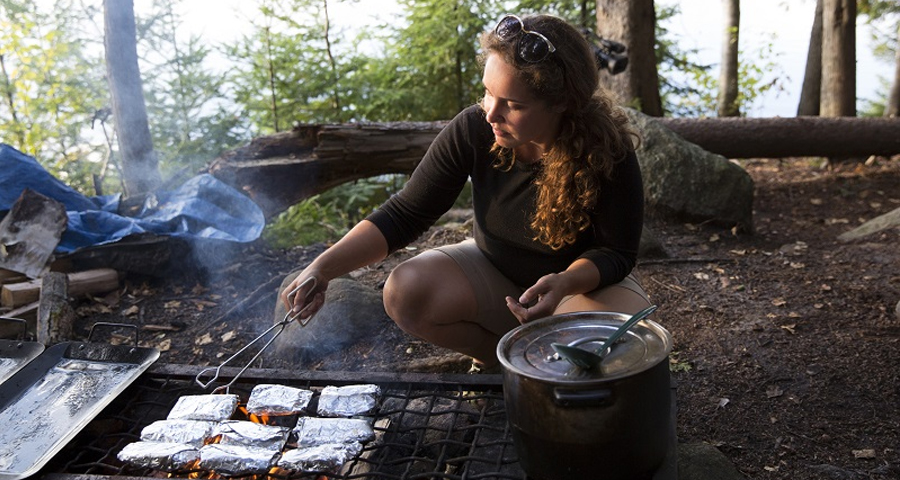 Here is just a partial list of some of the great campgrounds you'll find in the wilderness north of Toronto.
Developed Campgrounds
Achray
Brent
Canisbay Lake
Coon Lake
Kearney Lake
Kiosk
Lake of Two Rivers
Mew Lake
Pog Lake
Rock Lake
Tea Lake
Whitefish Group Campground
Backcountry Access Points – click here
Paddle In Campsites – click here
Ranger Cabins – click here
Yurts – click here
ALMAGUIN HIGHLANDS
Ahmic Lake Resort Ahmic Harbour
Almaguin Campground Katrine
Birch Bank Camp Restoule
Camp Klahanie Magnetawan
Doe Lake Campground Rizzort Katrine
Duins Pineridge Resort Burk's Falls
Edgewater Park Lodge Kearney
Evergreen Eco Family Resort Dunchurch
Granite Ridge Wilderness Campground Kearney
Lake Bernard Park Sundridge
Lighthouse Cottages and Camping Sprucedale
Lillie Kup Trailer & Tent Campground Katrine
Mikisew Provincial Park South River
Silversands Family Resort & Camping Kearney
Tea Kettle Campground Novar
Tent & Trailers at Ahmic Lake Resort Ahmic Harbour
White Birches Camp Port Loring
Ye Olde Cutter Camp Burk's Falls
LORING-RESTOULE
Cedar Grove Camp Restoule
Martin's Camp Restoule
Restoule Provincial Park Restoule
White Birches Cottages & Camping Loring
MUSKOKA
Algonquin Trails Camping Resort Dwight
Arrowhead Provincial Park Huntsville
Bala Woodlands Bala
Camp Hillbilly Estates Kilworthy
Deer Lake Park Huntsville
Gravenhurst KOA Gravenhurst
Forest Rock Resort Utterson
Lagoon Tent & Trailer Park Huntsville
Muskoka Ridge Campground Bracebridge
Picnic Island Resort Honey Harbour
Sandwood Tent & Trailer Park Utterson
Santa's Whispering Pines Campground Bracebridge
Silver Sands Tent & Trailer Park Huntsville
Simply Fit & Fun Tipi Adventures Bracebridge
PARRY SOUND
Grundy Lake Provincial Park Britt
Hall's Cottages, Campsites, & Marina Parry Sound
Harmony Outdoor Inn Parry Sound
Killbear Provincial Park Nobel
Massassauga Provincial Park Parry Sound
Oastler Lake Provincial Park Parry Sound
Parry Sound KOA Parry Sound
Sturgeon Bay Provincial Park Pointe au Baril
Trailside Park Parry Sound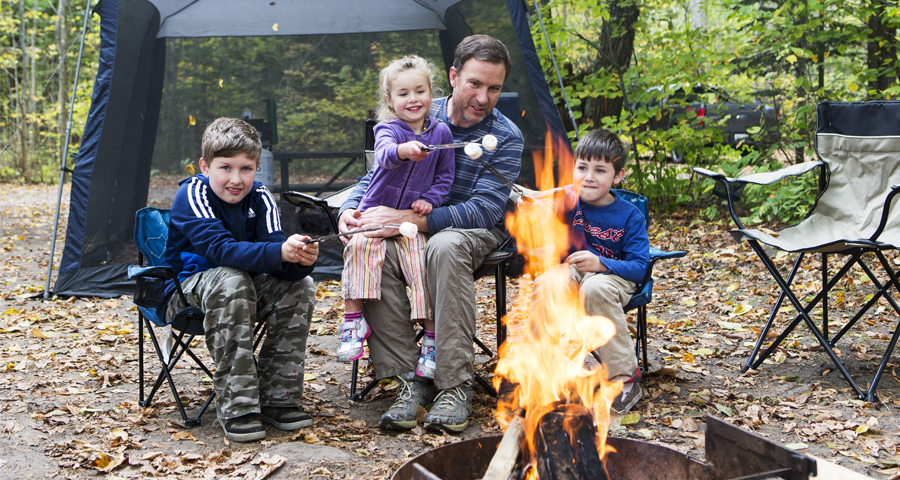 TO PLAN YOUR STAY IN THE WILDERNESS NORTH OF TORONTO, CLICK HERE.