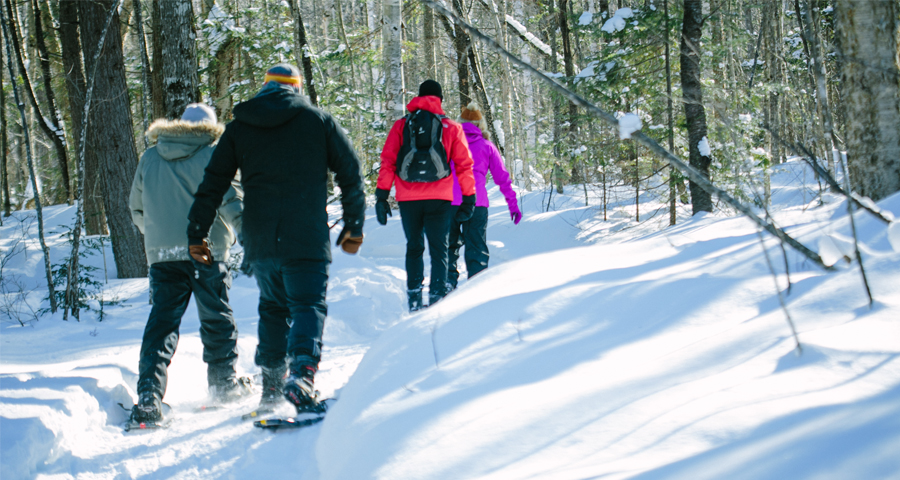 5 Unique Snowshoe Trails in the Great Canadian Wilderness Just North of Toronto
Please note: Our new 'Great Canadian Wilderness' website has replaced the old one that ran under our company name, Explorers' Edge. From time to time in an older post, you may see references to Explorers' Edge.
Looking for a new spot to break out the 'shoes? Writer Bill Farnsworth has a few suggestions for heading into the bush this winter.
While Algonquin Provincial Park has an abundance of trails that are excellent for snowshoeing, for something different head to Ragged Falls. Located west of Algonquin just above Oxtongue Lake, Ragged Falls (part of a provincial park) has long been the subject of paintings and photographs, including Group of Seven Artist A.J. Casson's famous work titled "Below Ragged Falls."
While the water flow is much less in the winter, the mist from the falls creates intricate sculptures of snow and ice along the falls and upper river.
This mostly gentle snowshoe trail leads away from the parking lot a short distance to the falls themselves, and then continues upriver. This trail is not officially maintained, so be sure to keep well back from the river's edge for safety.
For more to see and do in Algonquin Park in winter, click here.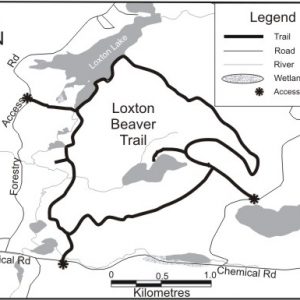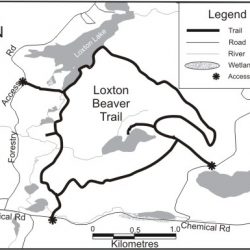 Not far from the village of South River (home of South River Brewing Co. – formerly Highlander Brew Co.) in the Almaguin Highlands lies the Loxton Beaver Trail. This 8.5 km loop winds its way through a mature forest and past Loxton and Beaver Lakes.
This trail is moderately difficult with several steep climbs and descents. It is maintained in the winter for both skiing and snowshoeing, and at one point emerges at the Loxton Dam, an excellent spot for a break and snack.
For more adventure, snowshoe the nearby Tower Trail as well. Originally constructed to access an original fire lookout tower, the trail is steep but rewards with an amazing vista from the top.
For more to see and do in the Almaguin Highlands of Ontario, click here.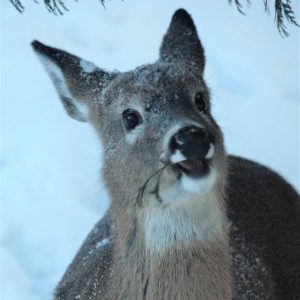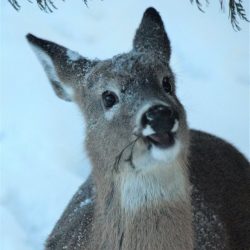 One of Ontario's largest herds of whitetail deer winter in the Loring-Restoule region in what has become known as the Loring Deer Yard. When the winter snow gets too deep to find food, up to 10,000 deer can usually be found taking shelter under the region's canopy of towering hemlock forests. The deer yard, while not an officially protected area, encompasses about 500 square kilometres centred around the Golden Valley.
There is a trail that can be accessed off Little River Road, which itself turns off of Highway #522. About 4 km down the road you can just make out the remains of former interpretive trail signs.
Deer trails can be seen all along the road and by following them on snowshoes you are just about guaranteed to see many deer. Click here for a map of the Golden Valley. (Deer photo by Anna Nitschke)
For more to see and do in Loring-Restoule, click here.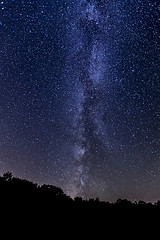 For a completely different snowshoe experience, head to the Torrance Barrens Dark-Sky Preserve in between Gravenhurst and Bala. The first designated dark-sky preserve in Canada, the area is unique due to an almost complete lack of light pollution, as well as a landscape of exposed rock and stunted tree growth.
A gentle 3 km trail circles Highland Pond and offers scenic views of the distinctive geography. For the best experience, grab a headlamp and hit the trail at night; you'll be blown away by the display of stars.
For more to see and do in Muskoka, click here.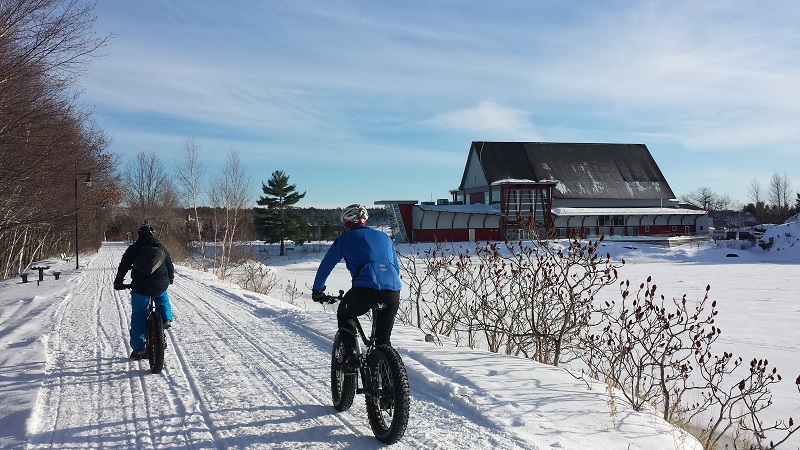 If you are near the town of Parry Sound, head to the Rotary and Algonquin Regiment Fitness Trail for outdoor adventure on the shores of Georgian Bay. In winter this 6.5 km trail can be used for snowshoeing and fat biking. Multiple access points make the trail easy to break into varying lengths. The trail has picnic areas and benches that are great for taking a break and enjoying the open water (or ice!) vistas. For even more of a challenge, try tackling the North Shore Rugged Hiking Trail, a 2.5 km extension of the Fitness Trail that climbs up and down as it winds along the scenic Georgian Bay coastline.
For more to see and do in Parry Sound, click here.
For more great snowshoe trails and info on rentals, click here.
To plan your stay in the region, click here.