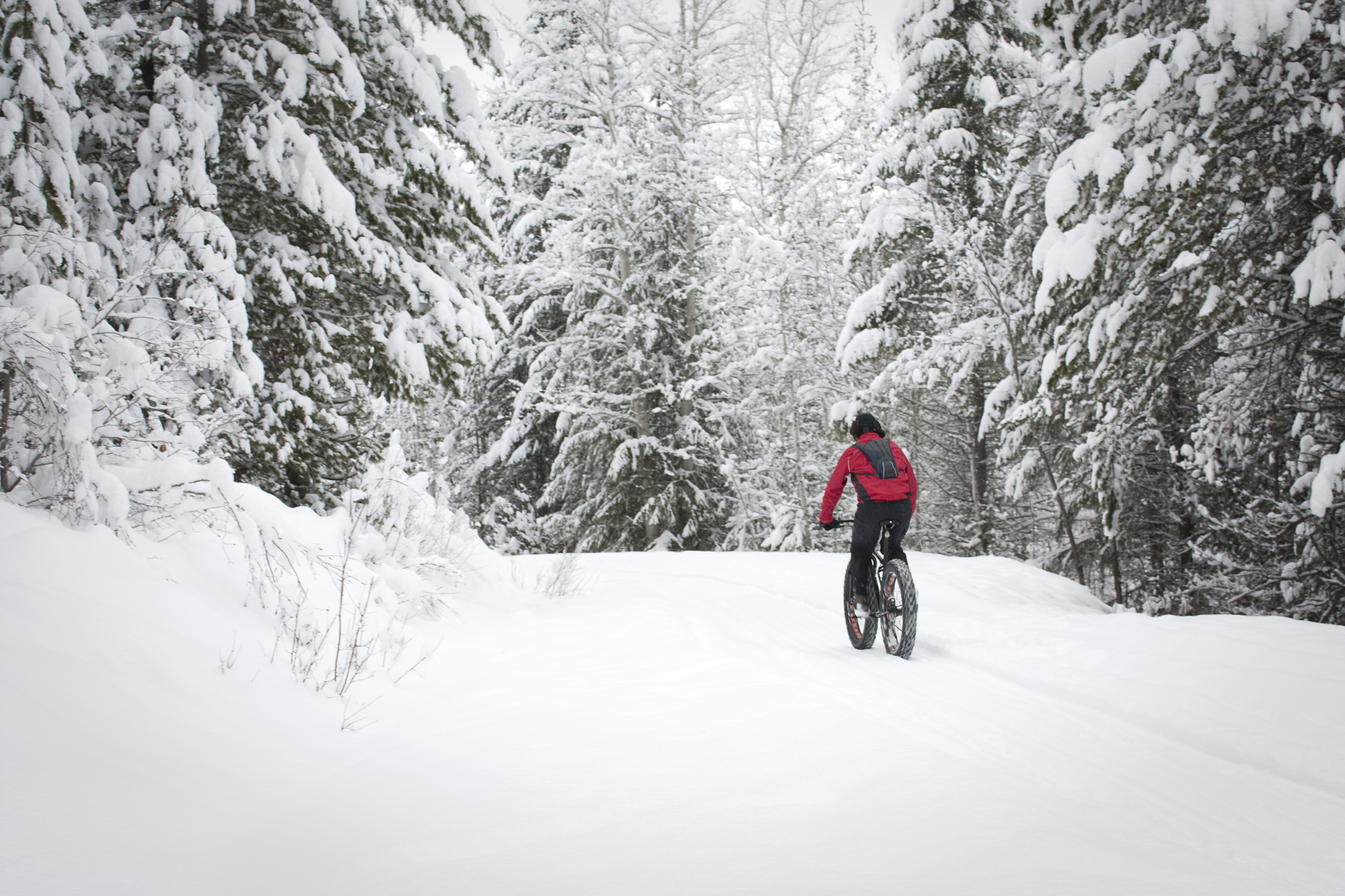 Winter Fat Biking: Pedal All Year Long in Cottage Country
Please note: Our new 'Great Canadian Wilderness' website has replaced the old one that ran under our company name, Explorers' Edge. From time to time in an older post, you may see references to Explorers' Edge.
You may already know about the abundant cross-country ski, snowshoe and snowmobile trails in the Explorers' Edge region of Ontario, but did you know you can go winter cycling too? The pedalling season never has to end, now that fat bikes have arrived.
These specially-designed bikes have the biggest tires you'll find in the sport (usually 3.7″ or larger and with rims wider than 44mm). You can ride fat bikes just about anywhere there's packed snow, with snowshoe or snowmobile trails being ideal (just remember to keep trail and road etiquette in mind: stay off track-set cross-country ski trails, keep to the side of designated snowmobile trails and roads, and always be aware of what's ahead of and behind you as you ride.)
Dress in layers and enjoy a smooth ride as you pedal, with the big tires making for a surprisingly airy and easy effort.
Where To Rent & Ride in Explorers' Edge
Parry Sound Bikes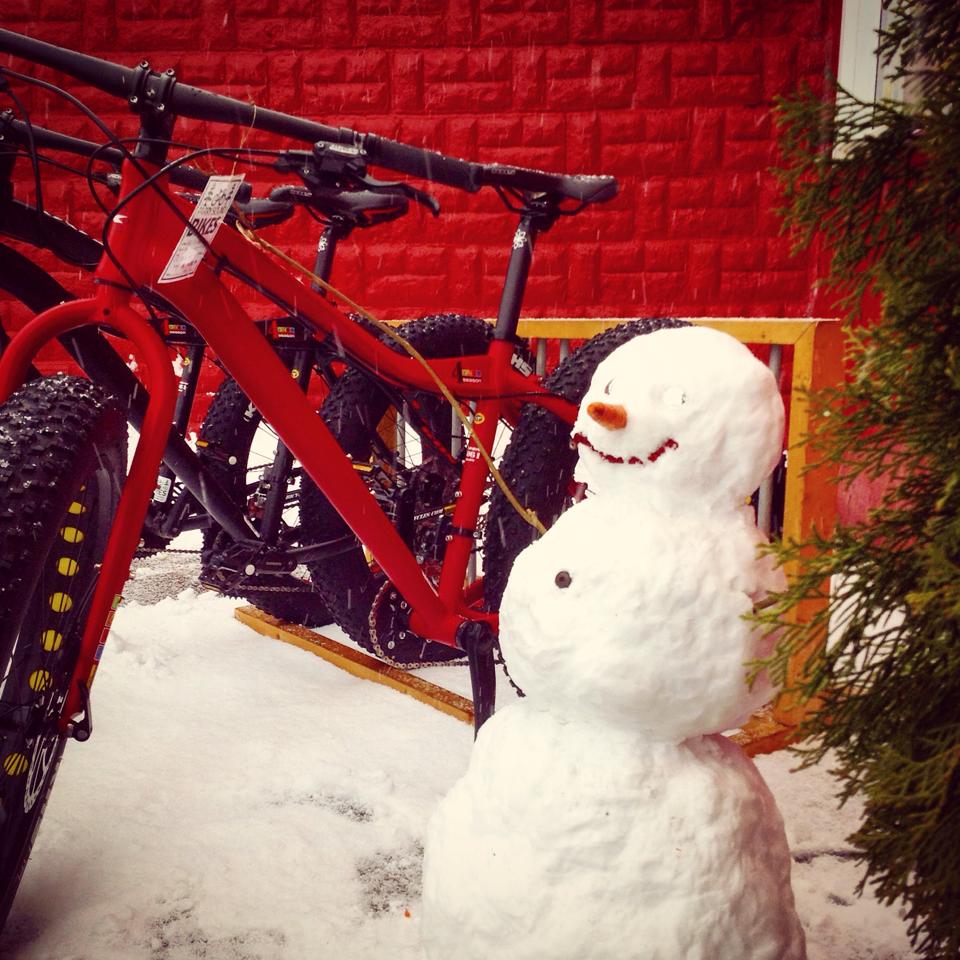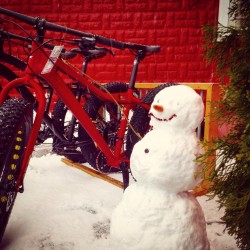 rent fat bikes by the day, and you can then head out onto local trails for some incredible fun. The Fitness Trail is groomed for snowmobile use and runs right through town along the Georgian Bay shoreline for stunning winter views. At the end it connects with trails right on Georgian Bay (always be sure ice is safe before heading onto any lakes or rivers). Rose Point Trail is a historic route along an old railway, and the Seguin Trail is 80 kilometres of riding bliss all the way from Parry Sound to Emsdale in the Almaguin Highlands.
While you are in Parry Sound, check out the trails at Georgian Nordic Ski Club with Get Outdoors Parry Sound. Cyclists are permitted to use the Lynx, Partridge, Wolf, Bunny, Jackrabbit, Fisher, and Rattlesnake trails at anytime, with a few exceptions which you can find here – also, riders must have day passes or memberships from both Georgian Nordic Ski Club and Get Outdoors Parry Sound.
Many of the provincial parks in Explorers' Edge have snowshoe trails. Rent a fatbike from Algonquin Outfitters in Huntsville and check out the trails at Algonquin Provincial Park, or head out on Huntsville's in-town trails. The Echo Valley Nature and Bike Trails in Dwight are available for year-round cycling.
Further south in Muskoka, pick up a fat bike rental from LivOutside in Bracebridge. A trail network accessible from the store winds through this picturesque town. Try the Kerr Park trails or the section of the Trans Canada Trail from Ecclestone Drive out to Strawberry Point Lookout for gorgeous views of Lake Muskoka.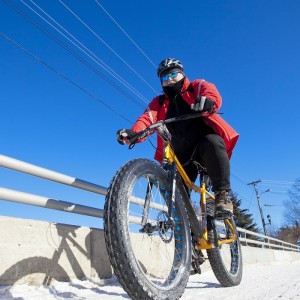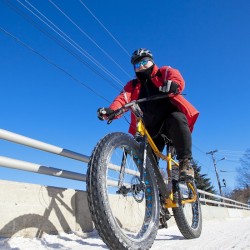 Just off Highway 11, the Bracebridge Resource Management Centre and the Gravenhurst KOA have groomed snowshoe trails that make for a great ride. (Remember to avoid the cross-country ski trails in both locations, or make it a multi-purpose trip and spend a few hours skiing, too.)
In Gravenhurst, the Chamberlain Trail offers an easy, forested ride right in town. For a longer ride, head east to the Devil's Gap Trail. Keep going out to the Torrance Barrens for a unique Explorers' Edge experience – winter riding on the granite of the Canadian Shield.
Whether you're heading out for a few hours or for a day, on town roads or the many wilderness trails in Explorers' Edge, fatbiking is an exciting winter activity that will keep you pedaling all year long. Give it a try in 2019!
To plan your stay in the Explorers' Edge region of Ontario this winter (just two hours north of Toronto), click here.
Fat Biking in Parry Sound

Guest Blogger: Dawn Huddlestone
Dawn Huddlestone is a freelance writer, as-yet-unpublished novelist, and wannabe photographer. She's living the dream in Muskoka with her family and a growing zoo of pets.