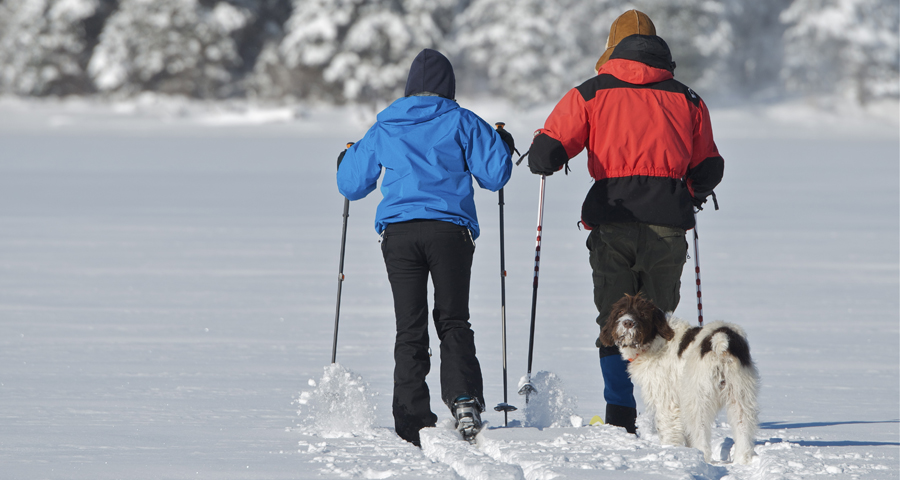 Cross Country Skiing North of Toronto
Cross country ski trails – groomed or available for you to blaze your own path – are readily accessible across all of the Ontario's cottage country, with many different natural settings to choose from to enjoy this traditional outdoor activity.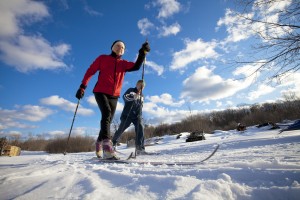 Arrowhead Provincial Park clears the way with over 30 kilometres of exceptionally well-groomed trails to travel. Not to be outdone, Georgian Nordic in Parry Sound manicures the snow into an additional 30+ kilometres of winding trails through lush forests. Trails are open in Algonquin Park as well, including at Fen Lake and the Leaf Lake locations.
The multi-use and visually stunning Park to Park Trail offers 230 kilometres to explore from Algonquin Park to Killbear – a truly regional path. And check out the exceptional trails network at the LivOutside centre on the Muskoka River.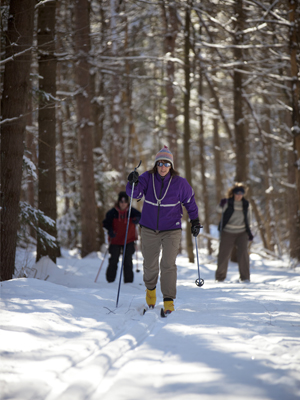 The Bracebridge Resource Management Centre provides a favourite set of groomed trails for locals and visitors alike, as does the Gravenhurst KOA. Located just south of Dorset are the Frost Centre Ski & Snowshoe Trails, spanning over 26km through 8 stacked loops ranging in difficulty that takes you through a winter wonderland of rugged terrain and majestic hardwood forests. Over in Bala, Muskoka Lakes Farm & Winery let's folks enjoy a day of Nordic on their farm property while the ruby-red berries are resting under the snow for the winter.
North of Muskoka, the Discovery Routes organization has mapped out some fantastic trails in the Almaguin Highlands and Loring-Restoule areas, including those at Magnetawan, Kearney, Sprucedale and South River, including the Almaguin Community Ski Trails. Also consider options on The Forgotten Trails of the Almaguin Highlands.
If you don't have your own equipment, contact a local outfitter (like Algonquin Outfitters, Liv Outside, White Squall, or Northern Wilderness Outfitters) to rent everything you'll need. And be sure to ask reservations staff about skis, poles and routes when you book your winter getaway to Ontario's cottage country (consider these special offers). Looking for a cross country skiing event to test your endurance? Contact Georgian Nordic and Arrowhead Nordic for great club events to challenge yourself.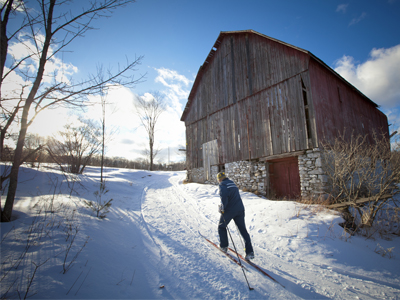 Nordic skiing in Algonquin Park, the Almaguin Highlands, Loring-Restoule, Muskoka and Parry Sound: Whether you're trying it for the first time or you are seasoned skate skier, a day exploring the trails here is sure to take your breath away.
For more information on thousands of kilometres of trails in the Explorers' Edge region of Ontario, click here.