A View To The Bay: New Artisan Stations in Parry Sound, Ontario
Please note: Our new 'Great Canadian Wilderness' website has replaced the old one that ran under our company name, Explorers' Edge. From time to time in an older post, you may see references to Explorers' Edge.
When people think of the renowned Canadian Group of Seven painters – and in particular Tom Thomson – they most often think of their iconic works depicting Algonquin Park. But Thomson ventured west as well to the shores of Georgian Bay, and painted two great pieces depicting what he experienced in beautiful Parry Sound.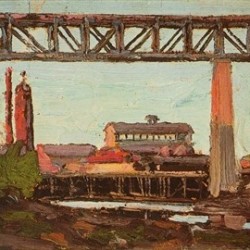 Tom Thomson visited Parry Sound in July of 1914. He travelled by canoe from his friend Dr MacCallum's cottage at Go Home Bay, through the South Channel, into Parry Sound, and then north.
In Parry Sound, he stopped at the mouth of the Seguin River to capture the CPR Trestle and the Parry Sound Lumber Company in the waning light.
He also stopped on the shoreline next to the wharf, and looked out past Zhiishiib Rock to capture shores, clouds and waves on a windy day.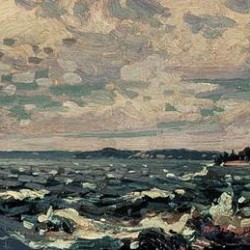 In honour of Tom Thomson's visit to Parry Sound, two new (very cool) Artisan Stations have been erected to welcome artists of all calibres to the shores of Georgian Bay.
The Town of Parry Sound worked with FAD Architects and Kropf Industrial Inc. on the design and fabrication of these funky stations, and installed them with input and guidance from local artist Andrea McIntyre.
These stations provide artists with a fixed structure to work from. While walking the waterfront, you can find the stations under the gazebo at the Seguin River Parkette (adjacent to the M.V. Chippewa III), and at the start of the North Shore Rugged Trail at the Salt Docks.
This spring and summer, see what Tom Thomson saw in Parry Sound. Find your way to the incredible new Artisan Stations, and enjoy the scenes with a view to the bay.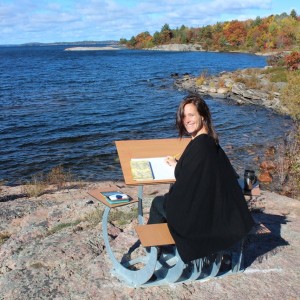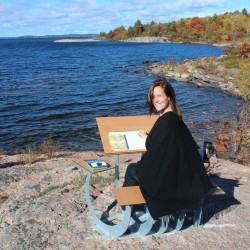 For more information on the Artisan Stations, contact the Town of Parry Sound.
To plan your getaway to the Parry Sound area, click here.
For information on local Parry Sound artisans, visit ArtistsRoundTheSound.ca