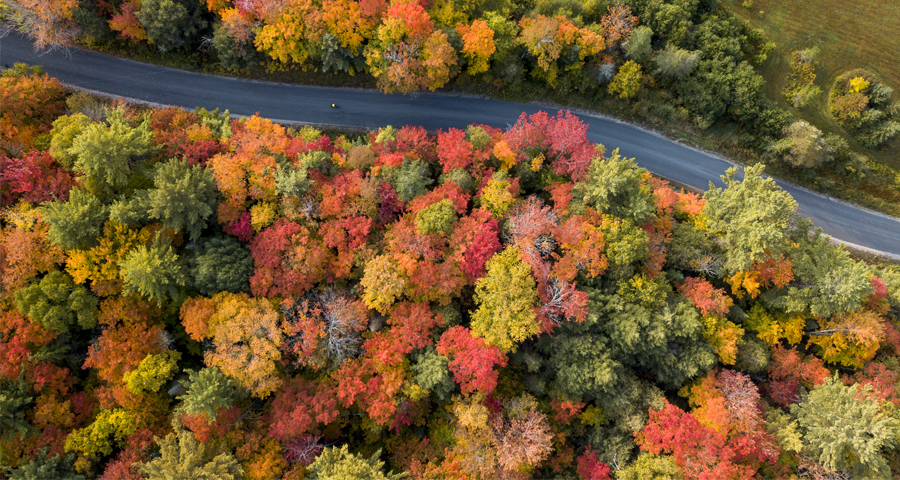 Top 14 Places to View Fall Colours (Besides Algonquin Park)
Please note: Our new 'Great Canadian Wilderness' website has replaced the old one that ran under our company name, Explorers' Edge. From time to time in an older post, you may see references to Explorers' Edge.
Located a few hours north of Toronto, you'll discover plenty of incredible spots to view the annual Fall colour display, in addition to the world-famous Algonquin Park.
Updated September 2022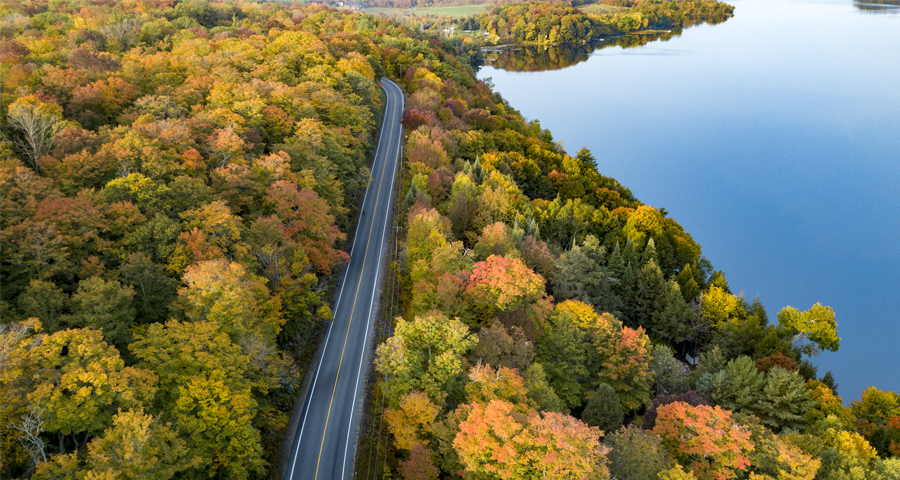 There's no doubt that Algonquin – the country's oldest provincial park – remains the most popular destination in the nation for "leaf peeping" – and rightly so! To ensure you get the best chance to view the spectacular foliage, park officials highly recommend a mid-week excursion this year as well as purchasing your day use pass in advance, up to five days before your intended visit to avoid disappointment if the park reaches capacity (Be sure to follow their social media and blog for ongoing colour status and park capacity reports.)
For those a little more adventurous – and curious – here are some additional locations to check out Mother Nature's brilliant fireworks in Ontario's cottage country:
A multi-use trail network spanning over 200km connecting Killbear Provincial Park in the west to Algonquin Provincial Park in the east. Depending on your starting location, this trail will guide you through the interior woodlands of the Parry Sound region, the rolling hills of Almaguin Highlands, and the hardwoods of the Muskoka landscape. Keep your camera at the ready; there's plenty of wildlife hanging out along the trail as well.
Here you will find 70 km of well maintained trails located a quick 20-minute drive from historic downtown Huntsville. Check out the scenic lookouts resource, and management's insider tips say Echo Rock Trail and Buck Lake Trail are where you want to be this fall. Can't get enough in just one day? Check out their on-site accommodations.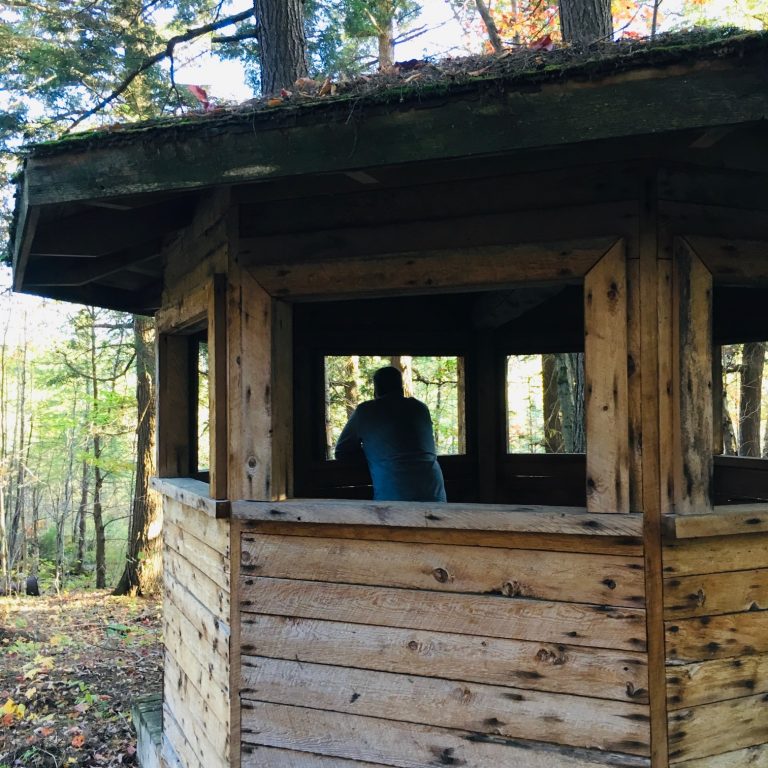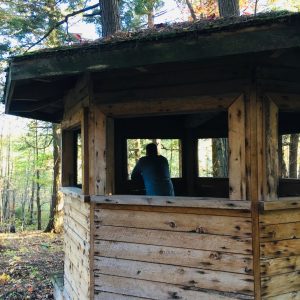 Home to nearly 10,000 white-tailed deer in winter, the Port Loring Deer Yard is a locally known hot-spot that is perfect for taking in fall splendor, and if you're lucky, you might just see few deer too (especially if you observe quietly from the rotunda).
This lightly-maintained, 3.6 km trail in the northern tip of cottage country is an easy walk, making it perfect for a family day trip. If you're looking for hearty eats after your adventure, check out nearby Roxie's Diner or Jake's Place.
A fall excursion in the great Canadian wilderness just north of Toronto wouldn't be complete without a visit to The Tree Museum in Gravenhurst. Discover anywhere from 10-15 different works of art scattered throughout this outdoor gallery (exhibits change annually). Enjoy the lush forest backdrop as well, for incredible adventure into the Canadian woods.
Climb up 130 steps to the top of Tower Hill Lookout and find an incredible fall view displaying Parry Sound's Georgian Bay harbour, the famous Canadian Pacific Railway trestle bridge and the historic town's downtown.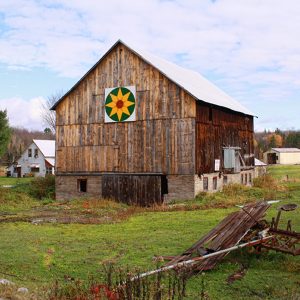 Interested in the fascinating history to be found in the region? Be sure to check out the Ryde Barn Quilt Trail just east of Gravenhurst, Muskoka, where barns built as far back as the 19th century are still standing, and where pioneer craft traditions are faithfully preserved.
Enjoy a leisurely drive on winding roads and take in the amazing autumn colours as you go.
Minutes from downtown Parry Sound you can explore a fabulous 30 km + network of trails at the Georgian Nordic Outdoor Activity Centre. The rugged Canadian Shield landscape paired with the old growth forest found here makes it an ultimate destination for taking in fabulous fall bliss. (Note: day pass required – check their website for details.)
Huckleberry Rock Lookout Trail stands on a massive promontory of the Canadian Shield looking over Lake Muskoka. Accessible from Milford Bay, Muskoka, when visiting in fall you'll be captivated by beautiful trees hugging the curves and bends of the region's namesake lake.
Located in the Almaguin Highlands, this 1.4km trail is an easy walk that follows the historic Magnetawan River on one side, and a scenic forest on the other. Picturesque views abound in this charming village.
50 kilometres of trails centred around Spectacle Lakes while taking in Bear and Burnetts mountains. Located along the Hwy 60 (Algonquin Route) corridor and 30 kms east of Algonquin Park. The trails are accessible through five trailheads, with parking available only along the highway (so park with care). A great way to explore South Algonquin!
Other Provincial Parks: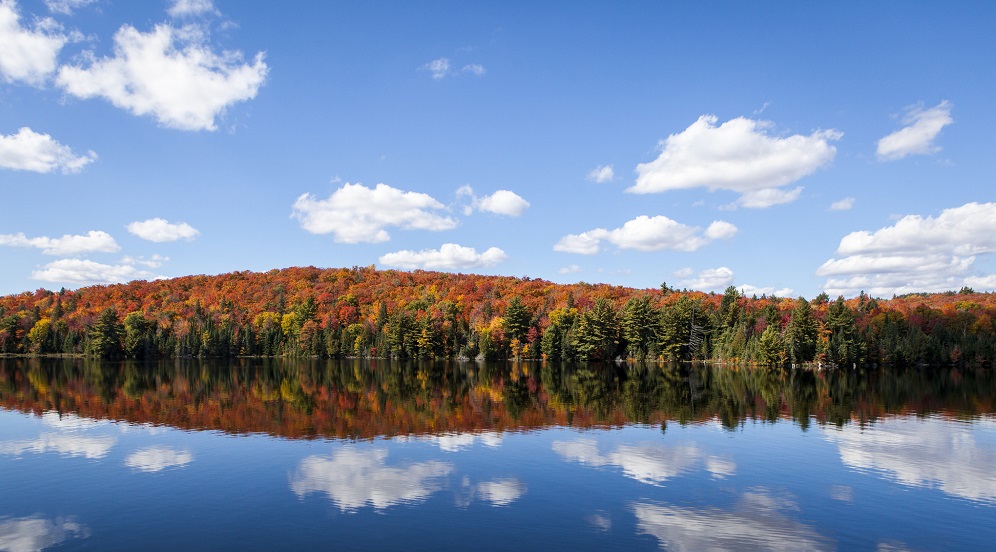 This part of Ontario is home to many beautiful provincial parks, including Algonquin. Consider a visit to one or more of the following:
Grundy
Hardy Lake
French River
Mikisew
Arrowhead (ask about extended fall camping)
Restoule
Take A Cruise
Looking for more unique ways to view the fall colours? Consider a leisurely cruise aboard one of these incredible touring vessels to experience the trees from the region's beautiful waterways.
30,000 Island Cruise Lines Parry Sound
Muskoka Steamships & Discovery Centre Gravenhurst
Parry Sound Cruise Lines Parry Sound
Sunset Cruises Port Carling
Cyclists will also want to check out over 200 on-road and off-road routes across the region. Visit www.bikecottagecountry.ca for more details. And golfers take note: the area is home to over 30 exceptional courses.
AND ONE MORE GEM!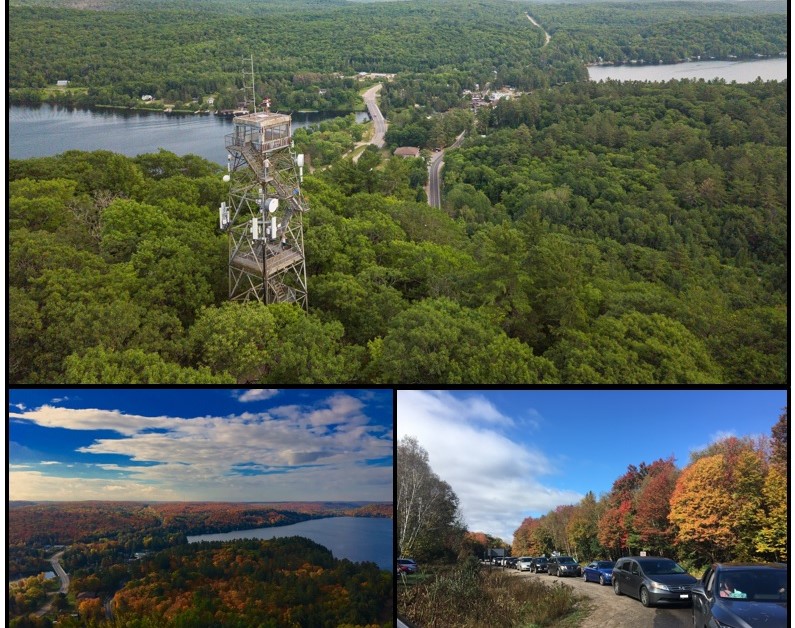 Anyone who visits the region in fall will know that The Dorset Lookout Tower is a must-do climb to get a sweeping view of foliage across Lake of Bay and Haliburton. In fact, it's so popular that this year, in order to make sure everyone who visits gets to experience it, the Tower will require reserving a spot on weekends and Thanksgiving (from September 24 to October 16) before you arrive. Weekdays remain first come, first serve.
Click here for all the new details on visiting this popular spot: www.ahtrails.ca
To plan your stay in the wilderness north of Toronto this autumn, visit TheGreatCanadianWilderness.com