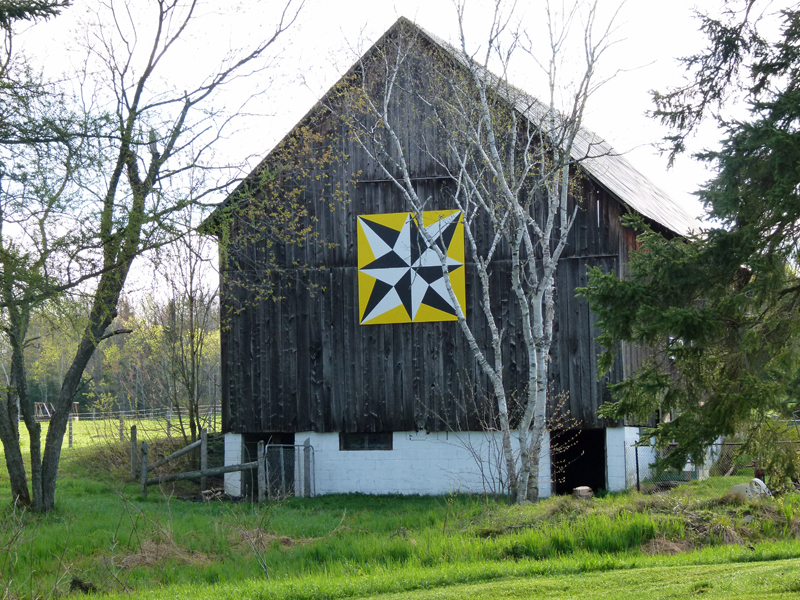 The Ryde Barn Quilt Trail: Beacons for Ontario's Pioneer Past
Please note: Our new 'Great Canadian Wilderness' website has replaced the old one that ran under our company name, Explorers' Edge. From time to time in an older post, you may see references to Explorers' Edge.
Interested in the fascinating history to be found in Ontario's own backyard? Then be sure to check out the Ryde Barn Quilt Trail just east of Gravenhurst, Muskoka, where barns built as far back as the 19th century are still standing, and where pioneer craft traditions are faithfully preserved.
Staged to mark the 135th anniversary of Ryde Township's founding and supported by the Ryde Community Co-op, the Barn Quilt Trail was developed by a group of local artists who created colourful replicas of traditional geometrical quilt patterns then mounted them onto – well – barns. Standing out from the landscape, two dozen barn sites and quilt replicas also act as architectural guide posts for learning all about the township's compelling history as you travel from barn to barn. Super cool.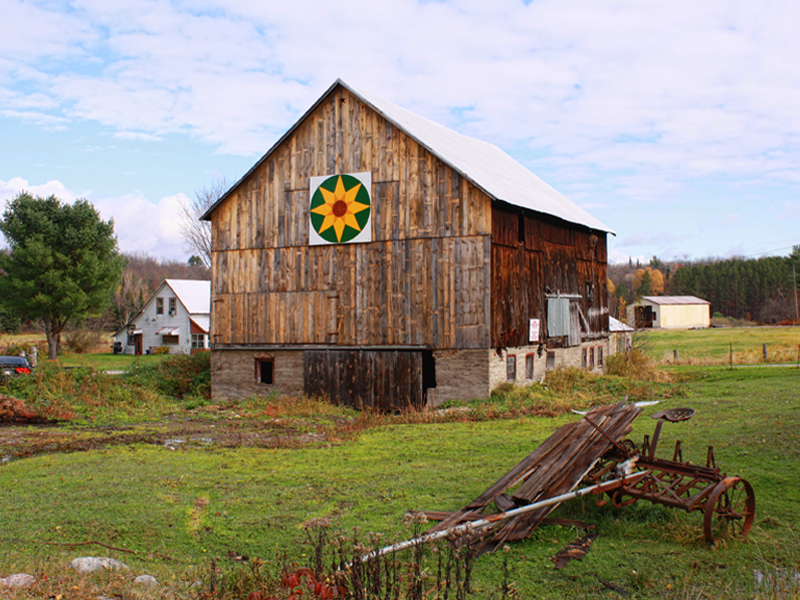 Driving along the roads of Ryde Township, it's easy to spot each quilt (though its best to let your passengers do so while your eyes are on the road!). You can use the printable map from the Ryde Barn Quilt Trail website to usher you along, and there's also a Downloadable Trail Guide that features a history lesson for each location along the way. Use it to learn such interesting factoids as:
The area's pioneer settlers would begin their new lives in the bush with only oxen for farm animals and only scythes, hoes and grain cradles as farm tools. But before they could even use these, they had to clear the land of trees.
Barkway United Church is 133 years old and retains its original building, oil-lamps, Windsor-backed chairs and organ. Many family names still existing in the township show up on its register from 1886.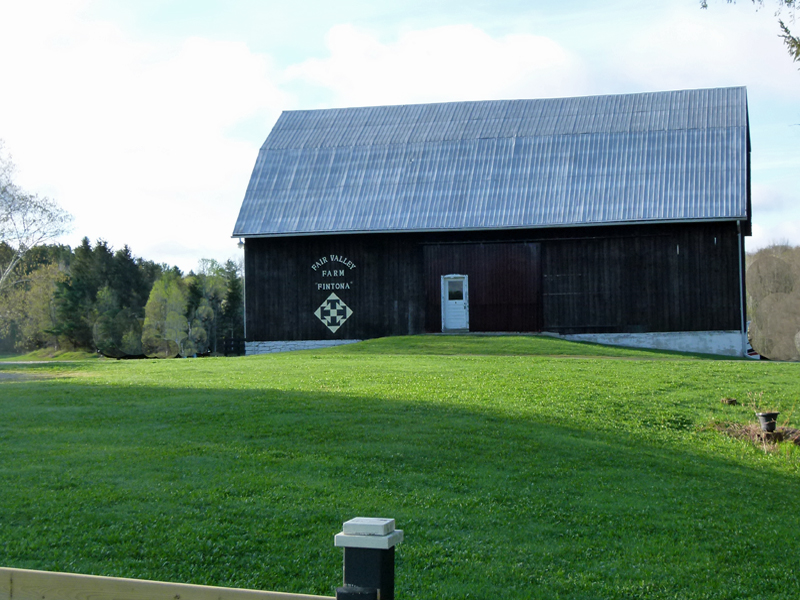 The first schools, built in the 1870s, were all log cabins, later abandoned for better buildings; two locations are honoured with barn quilts, including one showing a little red schoolhouse. (The quilt designs often reflect the type of location in some way.)
Summerland Dance Hall opened in the summer of 1948, and was full every Saturday night up into the 70s. The band consisted of banjo, piano, guitar and one or two fiddles, and dancers indulged in square dancing as well as waltzes, polkas, two-steps and others.
The original owner of the general store at Housey's Rapids was a professional pianist who played for silent movies, but lost his job when film soundtracks were introduced. He and his wife moved north to buy the store after seeing an ad for it in a Toronto newspaper in 1934. They sold ice, dynamite, gun-shells, milk pails, brooms, and horseshoe nails along with rice, flour, dates, raisins, beans and canned goods.
Life in Ryde Township was very different from what it is today but, lucky for those charmed by history, nuances of the days or yore can be felt during a journey along the Ryde Barn Quilt Trail.
Take a trip back in time in Ontario's cottage country with a visit to the mesmerizing Ryde Barn Quilt Trail.
To plan your stay in the great Canadian wilderness, click here.
Guest Blogger: Karen Wehrstein
A resident of Muskoka, Karen Wehrstein is a freelance writer and published novelist whose work has appeared in the National Post, Montreal Gazette, as well as Muskoka Magazine, What's Up Muskoka and other regional publications. She lives on thirty acres of beautiful forest near Lake of Bays.