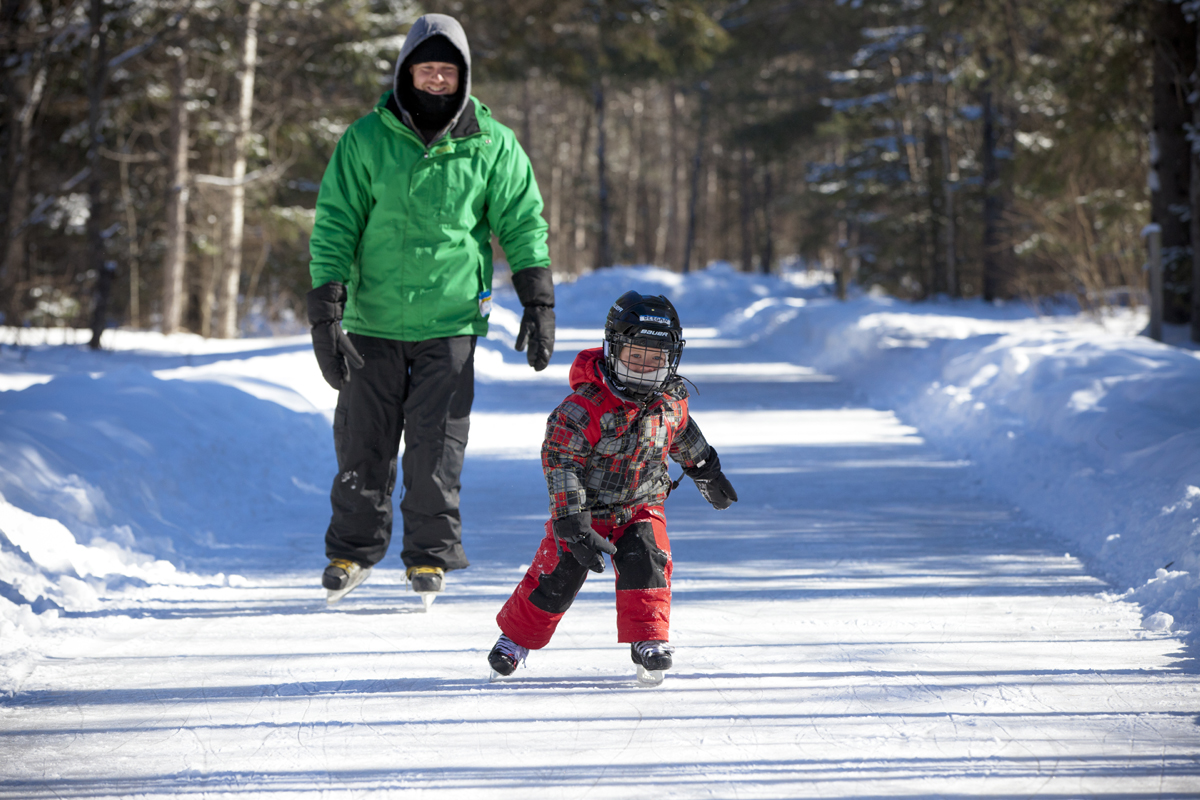 The Ice Trail at Arrowhead Provincial Park: Everything You Need to Know
Please note: Our new 'Great Canadian Wilderness' website has replaced the old one that ran under our company name, Explorers' Edge. From time to time in an older post, you may see references to Explorers' Edge.
*Updated December 17, 2020
Welcome to the magic of a great Canadian winter.
Opened in 2012 at Arrowhead Provincial Park just north of Huntsville, Muskoka, Ontario, the Ice Trail a Arrowhead is a 1.3 km skate path set amidst towering, snow-dusted trees that winds through the East River campground.
Whether you are an expert skater or just starting out, The Ice Trail offers an opportunity for everyone, regardless or age or ability, to enjoy the fresh air of the great outdoors in a whole new way, and to discover the best that a Canadian winter has to offer. It's a blast!
Grab your skates and your buddies and head out for an afternoon (and sometimes an evening) of what can only be described as floating through an enchanted forest. Glide along as clean, crisp air turns your cheeks pink, and warm yourself by a trail side fire.
Keep an eye on the Arrowhead Provincial Park website for details on when the Ice Trail will open for the season – it all depends on the weather of course, and freezing temperatures over a string of nights are needed to lay the track. Usually though, things heat up – er..freeze over – just after Christmas. The park re-opens officially for winter activities (including overnight stays in cabins and Nordic skiing) in December.
And be sure to check out this "Frequently Asked Questions" blog by park staff – some handy tips in here including when the best time to visit the Ice Trail to avoid line ups, where to park, how much it costs – and most importantly – what changes you can expect over the 2020/2021 winter season in regards to safety measures put in place during COVID.
Please note:
– masks will be required when visiting indoor facilities, including the park office, visitor centre and using the washrooms
– the communal fire at the skating trail and in day use areas will not be open this year
– special events, including fire and ice nights, have been cancelled for this season
– expect measures in place to reduce overcrowding and promote physical distancing

Kevin Yarde from The Weather Network (right) checking out The Ice Trail.
If You Go:
Be sure to contact the park to see if the Ice Trail is open for use before you go.
Phone 705-789-5105 (but expect a message on some days – it's a lot of work maintaining the Ice Trail and the 30 km of Nordic skiing trails that are also groomed in winter!). Sometimes the weather doesn't co-operate and the trail is closed for maintenance. You can also follow the park on Twitter at @ArroPark for trail status and event updates, or check the ski report for all winter activity conditions.
Mid-week skating is less crowded – consider visiting on a Tuesday, Wednesday, or Thursday to have more elbow room.
Cost:
Cost to enter the park is $18 per vehicle for the day use fee during weekdays, and $21 during weekends. This cost gives visitors access to all the parks amenities.
Skate Rental:
Skates are available to rent on site at a cost of $10 for 3 hours.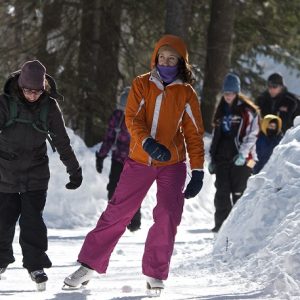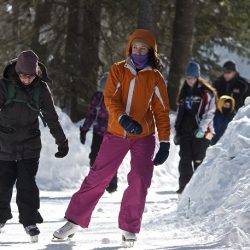 Consider exploring and enjoying more winter activities this season too. From fat biking to snowmobiling, dog sledding to skiing, there's tons of fun happening this winter in the great Canadian wilderness.
Algonquin Provincial Park – about 45 mins from Huntsville, is also open in winter and offers skating at Mew Lake Campground.
When you've finished skating, why not warm up with an apres Ice Trail meal. Skate rentals are available at the park for all ages based on first come, first served. A park pass is also needed to use the Ice Trail at Arrowhead.
Have questions about the Ice Trail at Arrowhead but can't find what you're looking for? Email [email protected] and we will try to help. (Please allow for a 48-hour email turnaround on weekends).
Check out this great video about the Ice Trail by The Toronto Star!
Where exactly is The Ice Trail at Arrowhead?

View Arrowhead Park in a larger map