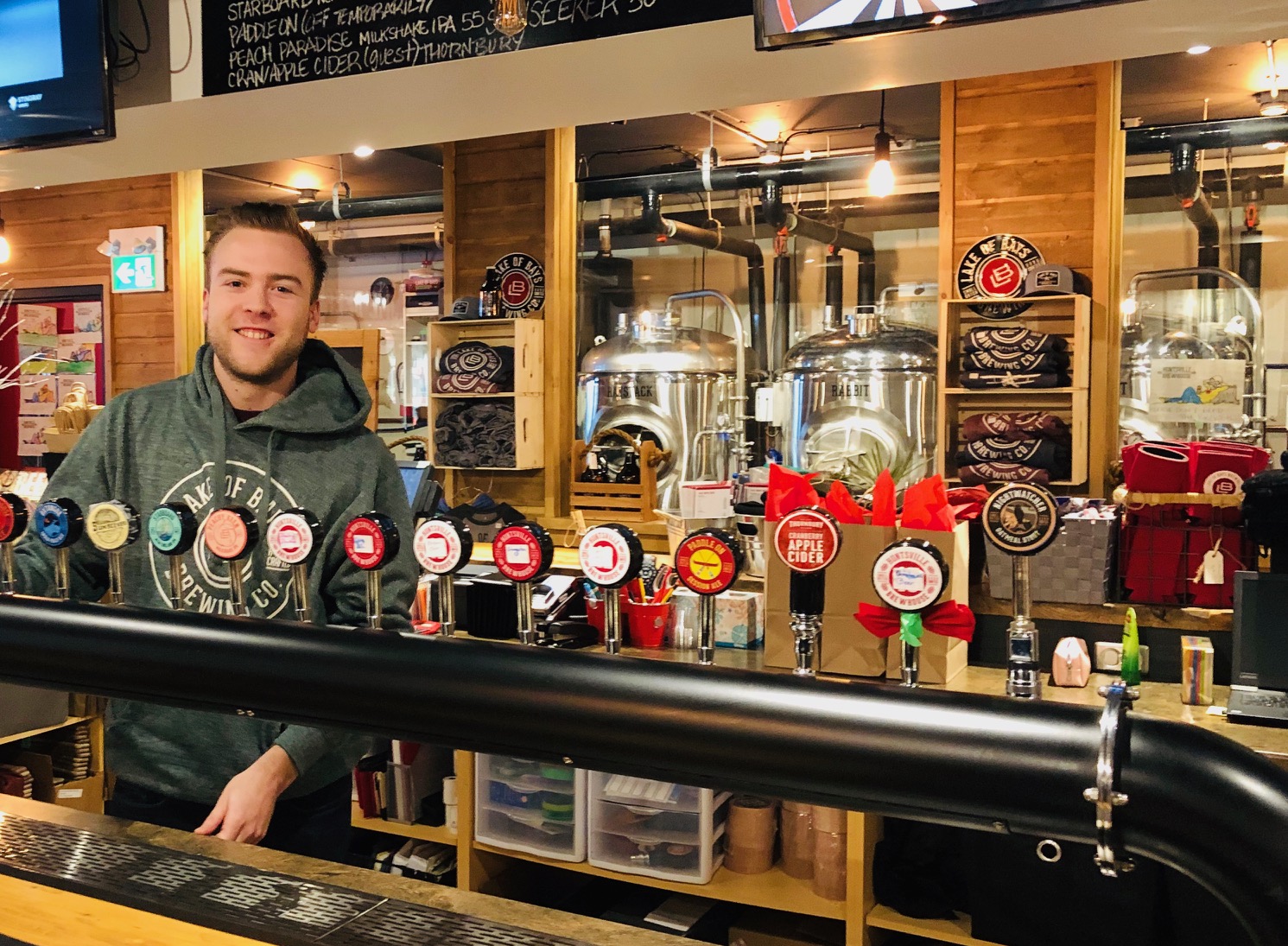 The Huntsville Brewhouse: A Window Into The World of Craft Beer
Please note: Our new 'Great Canadian Wilderness' website has replaced the old one that ran under our company name, Explorers' Edge. From time to time in an older post, you may see references to Explorers' Edge.
An Explorers' Edge writer discovers what makes this downtown hot spot, opened by Lake of Bays Brewing in 2018, unique among cottage country hangouts.
The first thing I noticed at the new Huntsville Brewhouse was just how busy it was on a stormy Wednesday. With snow dumping down and winds howling outside, I'd arrived not long after opening to find many tables already taken, and the friendly, animated chatter among patrons suggested they were none too concerned about the seasonal extremes outside.
Pulling up a seat at the elongated bar, the second thing I noticed was what probably sets this eatery apart: a glassed-in, exposed brewing area that features six shiny, impressive fermenting tanks, all of which are named after water bodies in the Lake of Bays area ("Haystack," "Rabbit," "Rat," etc.).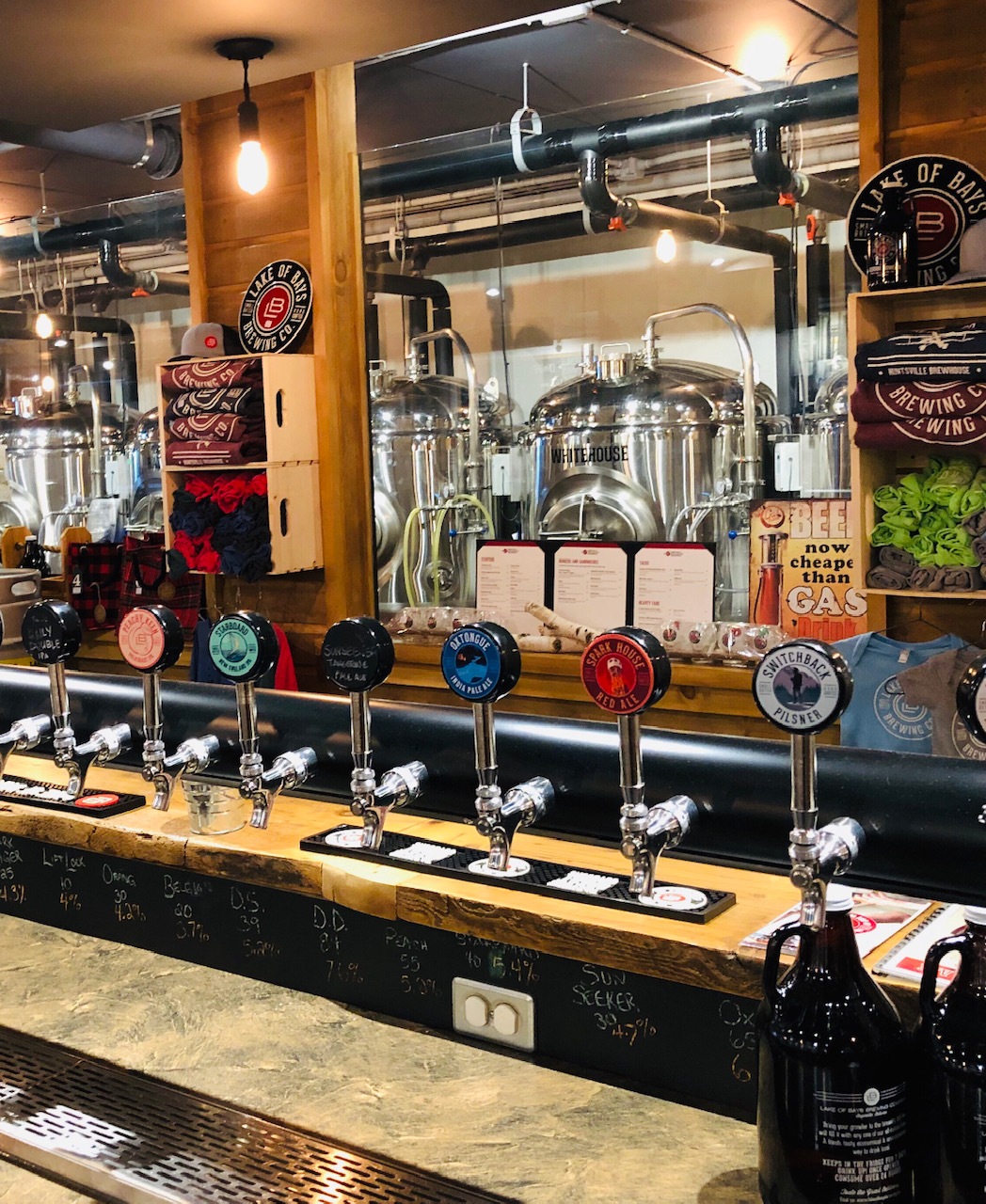 A young, hipster-looking fella (beard and ball cap uniform) was back there busy, but my attention was diverted by the menu being placed before me and my server asking for my drink order.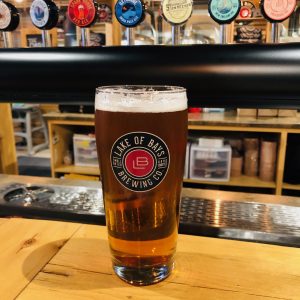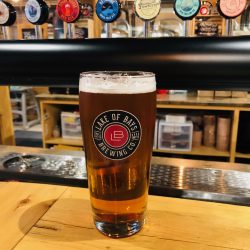 FULL DISCLOSURE: this is the part of the craft beer experience when I kind of freeze.
With 15 exceptional Lake of Bays Brewing beers on tap, one on guest tap (that day Thornbury Cranberry Apple Cider) and seven additional canned beers available, I have no idea what to order. Stout? IPA? (Double IPA?) Belgian sour? Light blonde? This is language that rolls off the tongues of craft beer fanatics, but for those of us who learned to drink in the 80s and thus far in life have had only one go-to beer, ordering can be intimidating.
However, I'm in luck. Though the Huntsville Brewhouse is undoubtedly a must-visit establishment for anyone who knows and loves craft beer, for the uninitiated – like me – it's also a welcoming place to learn about lager, and then some.
Discover Your Taste For Craft Beer
After confessing my ignorance, the friendly server explained the various selections to me. When I offered up the kind of beer I regularly drink and enjoy, a sample was placed before me: 'Sunseeker' Tangerine Pale Ale'. It was fantastic: not too strong, light going down, restorative, and so aptly named given the weather on the street.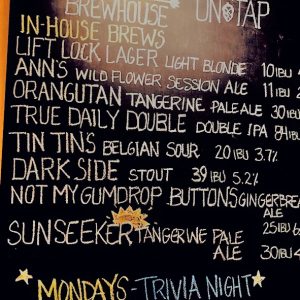 When I expressed interest in a tap labelled Oxtongue IPA, another sample was placed before me; still great though less enjoyable than the first for my liking, but I did get some intel on the meaning of IPA.
I also sampled their hit summer seasonal, Paddle ON, a 'collaboration' beer they created last year with their neighbours across the street, Algonquin Outfitters, and which will now be a regular on the product line thanks to the popularity of its initial run.
But my first taste satisfied most, so Sunseeker it was. (If you're unable to decide which drink satisfies your fancy, order a "flight" of beers and get multiple selections in smaller amounts. This is also a craft beer thing, I found out.)
I settled into sipping a taller glass while checking out the menu, when who should appear before my wondering eyes than the hipster-looking brewer. He spoke not a word, and quietly placed another 3 oz. sample in front of me.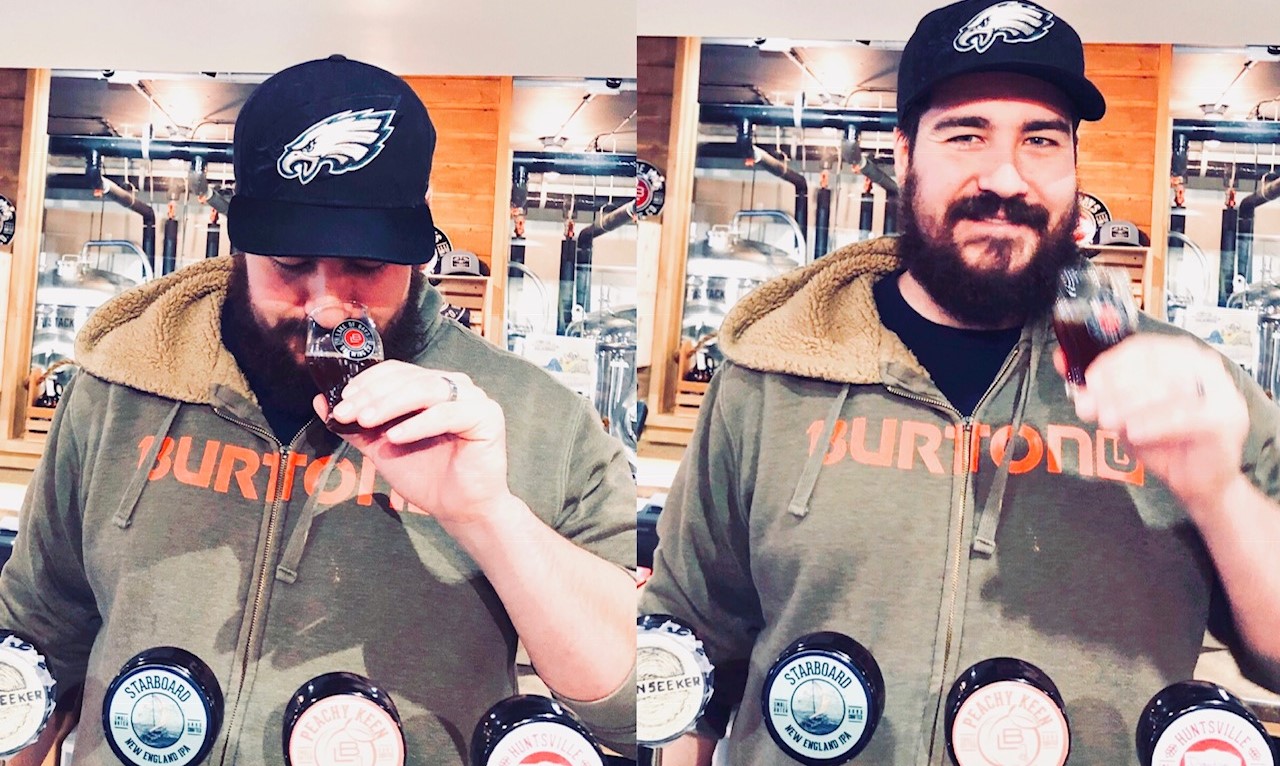 Why? Because at the Huntsville Brewhouse, the Lake of Bays brewers (there are four) have the opportunity to experiment with in-house brews, and if you're lucky and your timing is good, you can sample one of their creations right out of the tank. What brewer Andrew Walsh (above) invited me to taste was a brown ale he'd just invented; we were enjoying it for the first time, together, and the novelty of it was amazing. (Thank you Andrew, also, for the lengthy discussion on what it takes to be a brewer: it's not all hipster glitz and glam, people. Hard work is my take away!)
Food & Drink & Collaboration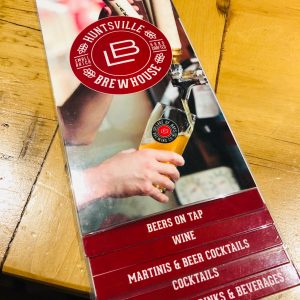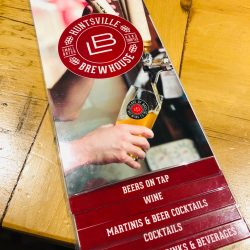 What's nice about the Huntsville Brewhouse for folks who aren't into beer at all, is that there are plenty of beverages that don't include hops to choose from, including wine, mixed drinks and more.
Check out in particular the eclectic spirits available from the Copperhead Distillery (located northward in the beautiful village of Sundridge), including Pirate Coconut Rum, Black Currant Vodka and Chocolate Almond Liqueur.
In the spirit of promoting all things Huntsville, Muskoka, the Brewhouse pub menu features dishes created in collaboration with local producers. Breads come from the Windmill Bakery (up the street) and desserts are sourced from the Whimsical Bakery (the other way up the street).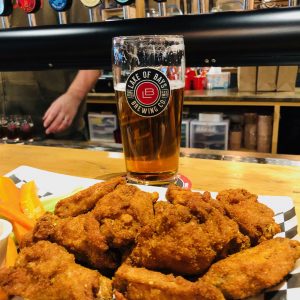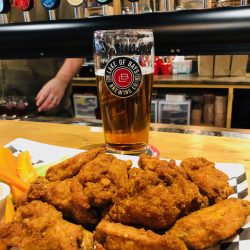 And of course, beer features heavily in the food. Enjoy Spark House Ale in the fish batter, Oxtongue IPA in the pulled pork, Starboard New England IPA in the giant pretzel cheese sauce, and Oatmeal Stout in one of the many chicken wing dressings to choose from. There is also beer infused into their homemade ketchup, mustard, bbq sauce and soups.
Carnivores will love that the Huntsville Brewhouse smokes its own meats as well, including bacon, ribs, pulled pork and chicken.
From salads to soups, from burgers and tacos to heartier fare, there's something for every eater, including kids (who can order off their own menu).
Live Entertainment & Fun Stuff
A hub for entertainment in north Muskoka, there's always some entertainment brewing at the Brewhouse. Gather with friends for weekly Trivia Nights or Beer 'n' Board games nights. Check their site often for updates on Open Mic nights, and watch for their ever-changing roster of live music performers. The Brewhouse is also located just down the street from the Algonquin Theatre, making it a great place for a pre or post-performance get together. (Check out upcoming shows from the Huntsville Festival of the Arts to pair your outing with some Lake of Bays bevies.)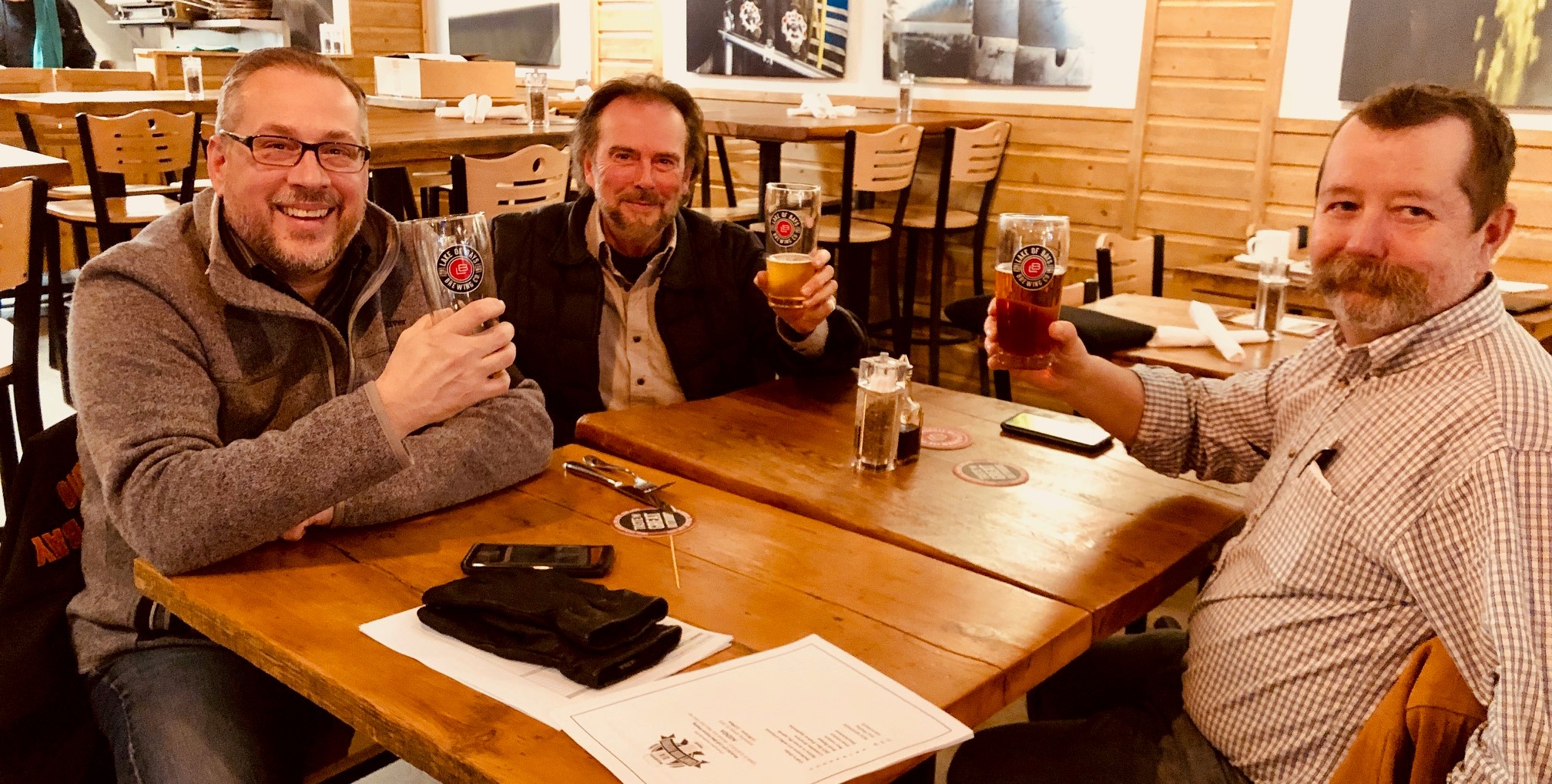 A Taste for the Great Outdoors
It's no wonder that the slogan of Lake of Bays Brewing Company is "Taste the Great Outdoors," or that its beers are intended to evoke a passion for the surrounding wilderness, both in taste and outer design. With both Algonquin and Arrowhead Provincial Parks located nearby, Huntsville is the gateway to outdoor adventures galore.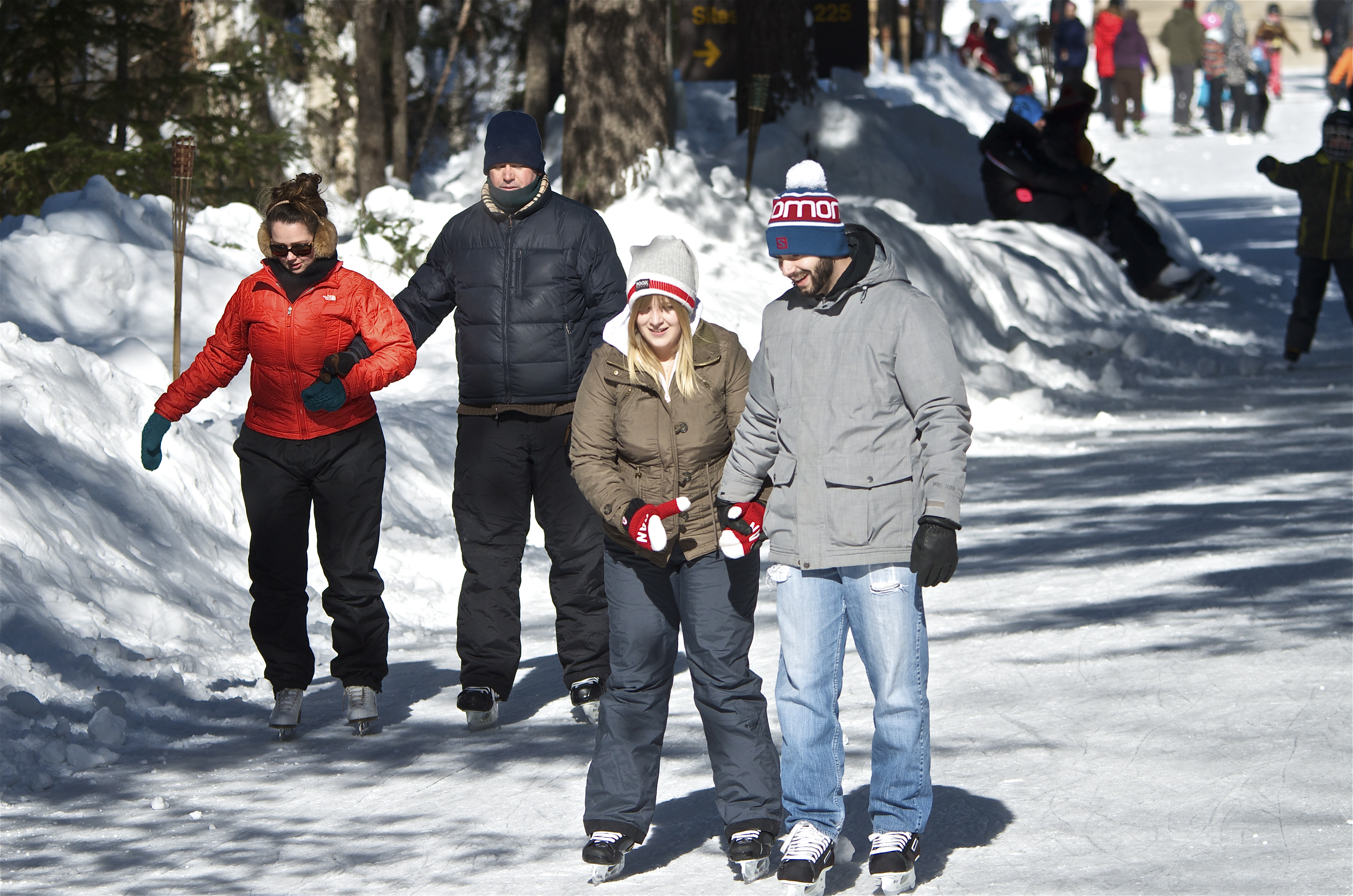 The Brewhouse is the perfect place to stop during or after a day of activities, including when you visit the famous Ice Trail at Arrowhead, Hidden Valley Highlands Downhill Ski Area (home hill of Olympic champion Dara Howell!) or the extensive and stunning trails at the Limberlost Forest and Wildlife Reserve. Do your apres ski, skate and snowshoe at the Brewhouse and enjoying reminiscing about your winter escapades with family and friends while you relax (and be sure to make plans for your next adventure in north Muskoka).
Lake of Bays Beer-to-Go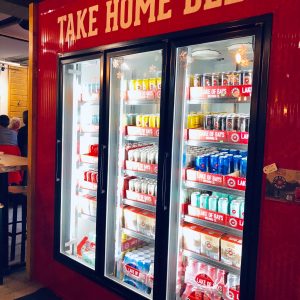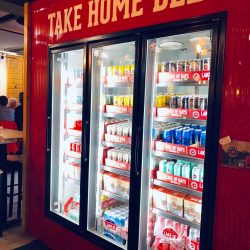 With the weather having settled, my education on craft beer further along than when I started, and my belly more than satisfied, it's time to head out.
Luckily they've got a 'Take Home Beer' fridge to bring some home with me. Luckily, as well, I now know what I like.
Thanks for a great visit Huntsville Brewhouse. I'll be back!
For all things craft beer in Ontario's cottage country (including nine additional breweries), visit the Cottage Country Beer Trail.
To plan your stay in Ontario's cottage country, click here.