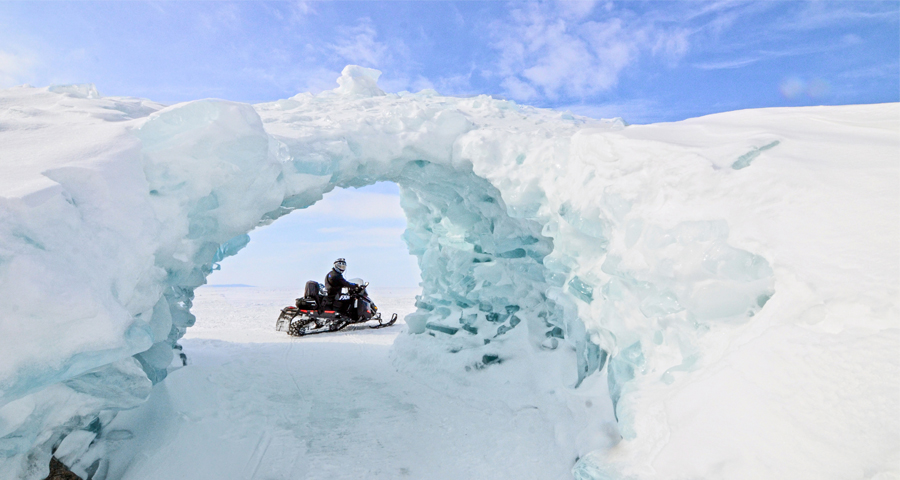 Snowmobiling Just North of Toronto
Motorsports enthusiast Mike Jacobs paints the picture of sledding in Ontario's most popular vacation destination.
Featured photo image courtesy of @chrisandnicole__ Vanlife on Instagram

The region known as "the Great Canadian Wilderness just north of Toronto" is every snowmobiler's first choice when planning their winter trips. Only a few short hours from all of the major cities in southern Ontario, the area's easy access to scenic trails is a key feature for everyone craving a rip on the sleds.
The region spans from Muskoka in the south, to Port Loring and Lake Nipissing in the North. And from the shores of Georgian Bay in the west, all the way to the south-eastern edge of Algonquin Park.
This place has two additional features that make it the first choice for sledding in Ontario. The first is the massive amounts of snow that blast across the region – this is the start of Ontario's snowbelt that extends all the way to the Ottawa River and the border of Quebec. Essentially, extremely cold air moves across the water from the west – across Lake Huron and Georgian Bay, gathering strength and moisture as it moves, from the surface of these massive bodies of water.
That weather then drops snow all winter long all across the region – from Parry Sound all the way to Whitney. While the exact start of the season varies by year, generally once the snow has fallen, the region's trails stay open throughout the winter as the densely forested areas allow for the deep cold to stay in the ground and prevent thaws.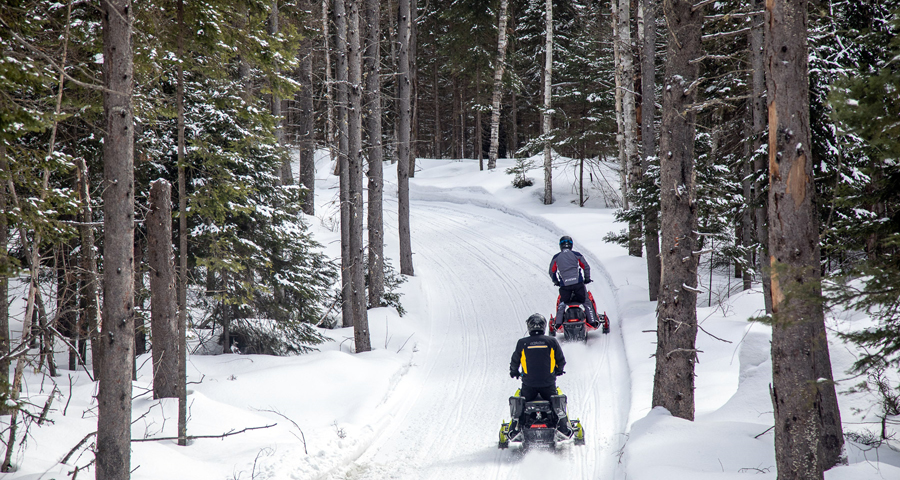 Day, weekend or week-long trips can be started from almost any corner of the region, with enough riding to ensure you're never hitting the same trails twice, and that you'll experience plenty of varying geography.
The second thing that makes this region so incredible for sledders is that the trip changes depending on where you are. Closer to Georgian Bay you have wildly rocky areas, with small canyons carved through the Canadian Shield. If you've ever been boating on Georgian Bay you probably know the territory. It has hundreds of inlets throughout the forest and rock that make for incredibly technical, yet impeccably-maintained trails.
As you move through the centre of the region, into the area from Port Loring down to Dunchurch, you'll find beautiful rolling hills dotted with lakes and a feeling like you've stepped back in time. There's even a few single track trails through this area that completely change the experience: its slower paced, but so gorgeous it hardly matters.
From Parry Sound, you're also able to take one of the most iconic trails in Ontario – the Seguin – and ride clear across most of the region, essentially from just south of Parry Sound all the way to the edge of Algonquin Park. The Seguin follows a closed railway line for most of its length, and there's ample parking for trucks and trailers at the trailhead just south of Parry Sound. You can stop for gas in Sprucedale and end up at another sledding hot spot in Kearney, where there's plenty of places to stay and to eat before continuing on.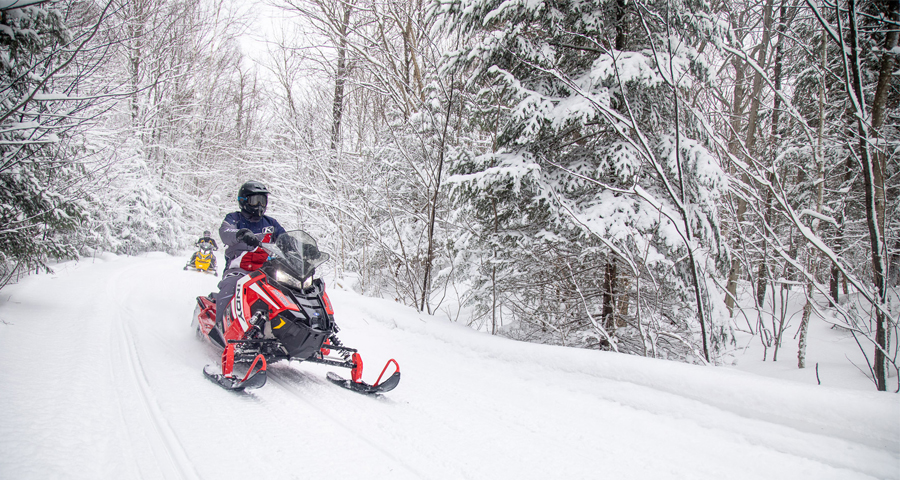 And this is where things get really interesting – from Kearney you can jump on the Round Algonquin Park tour, which is easily Canada's most well-known and beloved snowmobile tour. It actually crosses into three separate regions, but the terrain is all unmistakably Canadian wilderness.
The tour can take three days or a week, depending on how quickly you move, but we seriously recommend starting and ending in our region, for the sheer simplicity and ease-of-access. You'll find fuel, restaurants, and most importantly, snowmobile friendly accommodations.
There are two other snowmobile tours we've specifically designed for you – we call them The Big Loop and The Small Loop. The Big Loop is suitable for a longer trip – clocking in at 586km, it can be done in a long weekend, or stretched out to a week, with some side trips included. The Small Loop is the perfect quick jaunt – at 362km it can easily be done after riding up on Saturday morning, with one night in Port Loring, Sundridge, Kearney or Parry Sound.
Both tours give you a good tour of the region, but the Big Loop starts further into the southern reaches, meaning you can spend less time on the highway getting to the start of your snowmobile trip.
If you're interested in trying snowmobiling, this is definitely the year to get involved. Throughout the region you'll find plenty of local shops that offer rentals of snowmobiles, including Eagle Lake Narrows Country Store in South River, Muskoka Wild in Port Sydney and Campbell's Landing in Gravenhurst.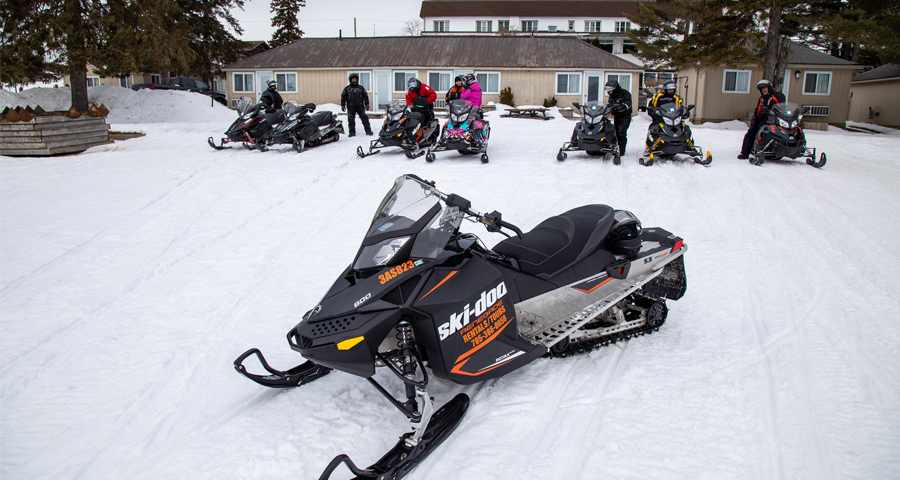 Last, but certainly not least, snowmobiling anywhere on Ontario trails requires a few key things to be done safely and legally – if you own your own snowmobile, you'll need a current permit, which can now be purchased online. You'll also need to register and insure your vehicle, and trailer. You can also take this incredible snowmobile safety course which will give you plenty of insight into how to operate your snowmobile.
Guest Blogger: Mike Jacobs is a lifelong snowmobile and ATV enthusiast who has ridden all over Ontario, from Thunder Bay to James Bay. He loves riding and writing about his travels in the Great Canadian Wilderness!
All photos in this article are by Mike Jacobs unless otherwise noted.