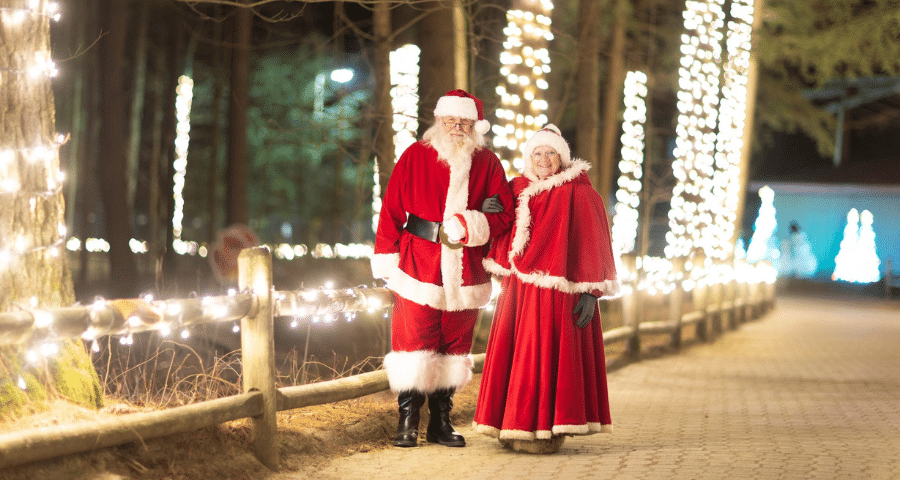 Santa Claus is Coming to Town(s)
Check out all the fun parades and unique events across Ontario's cottage country honouring the Big Guy this holiday season and watch him spread some cheer on downhill skis, on a fire truck, a train and riding in his trusted sleigh!
Below is just a partial list of where you'll find some merriment: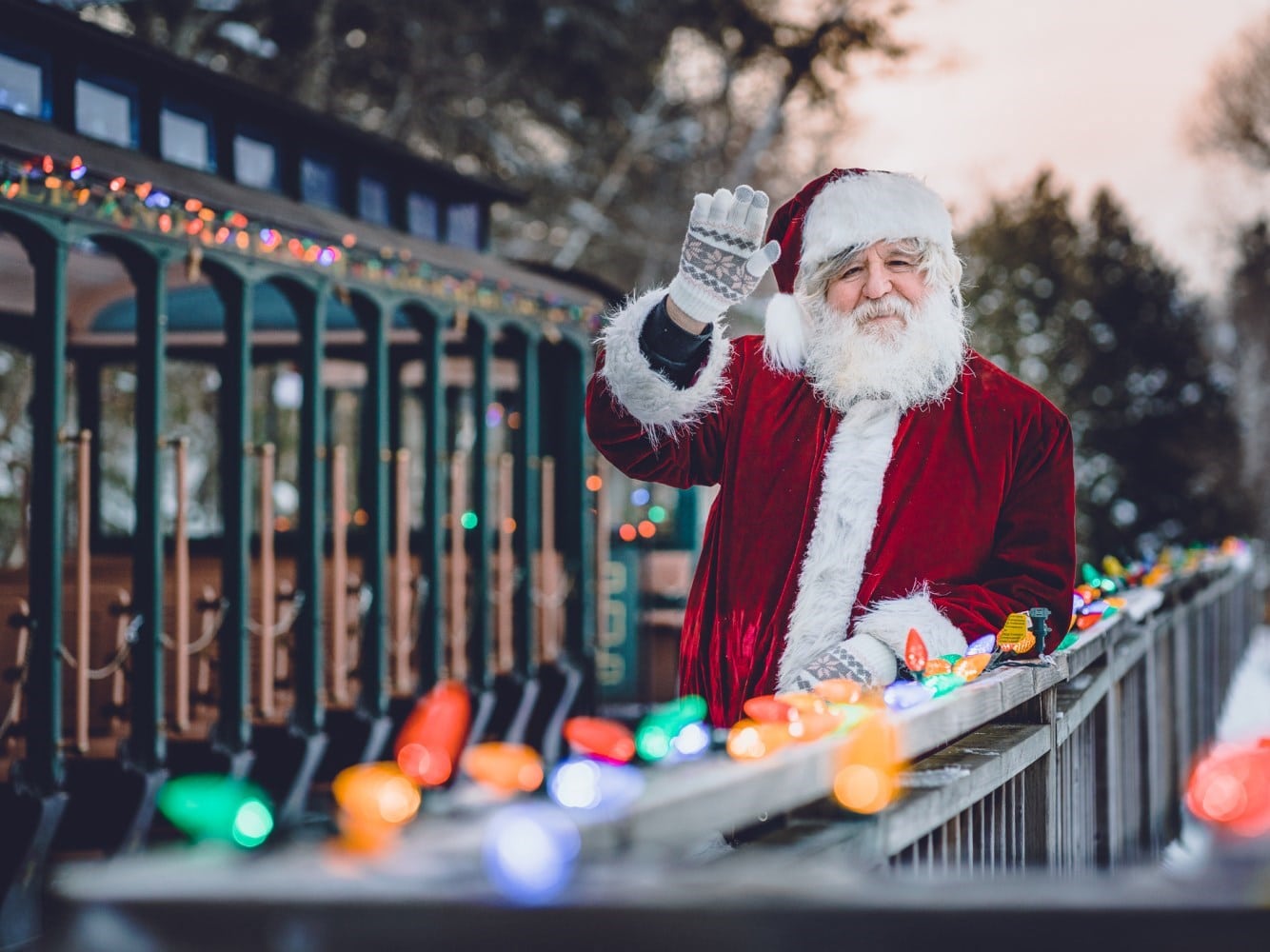 Almaguin Highlands
Burk's Falls
Saturday December 2 at 6.30pm. The theme is Christmas in Toyland and the parade runs from Ontario to Yonge St finishing at the Memorial Arena.
Sundridge
Sunday December 3 at 3pm. The parade will start at the corner of Main and Mill Street and head towards the Lion's Park. The Double Decker at 89 Main will be serving hot chocolate and hot apple cider.
Parry Sound District
Parry Sound
Saturday, November 25 at 4.30pm. Starting at Isabella Street and Finishing near the Stockey Centre. This year's theme is Rockin' Around the Christmas Tree.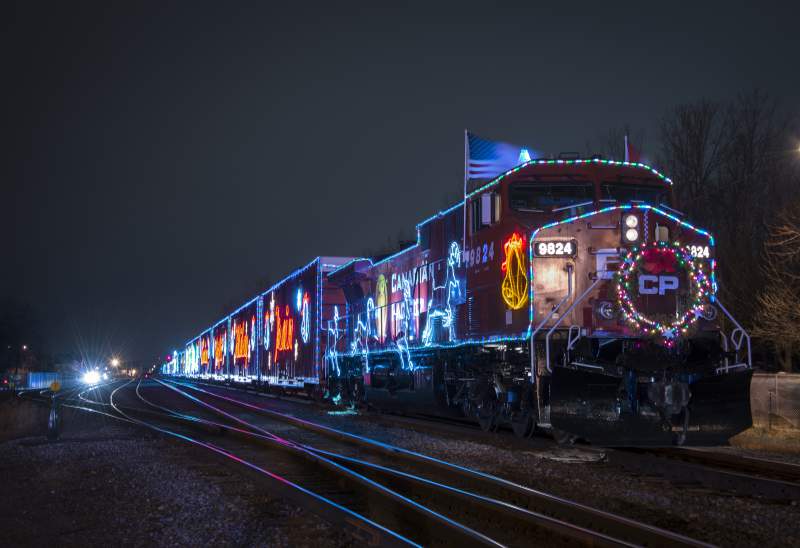 The 2023 CP Holiday Train
Wednesday November 29. The CP Holiday Train (now called the CPKC – Canadian Pacific Kansas City Holiday Train), will make its way through four stops in our region. This is the 25th year the decorated train has passed through with professional musicians playing a free concert from the brightly-lit train's stage. CPKC makes a donation to the local food bank at each stop and encourages attendees to also donate.
Mactier – from 2.50 to 3.20pm at the old CP Station
Parry Sound – from 4.15 to 5pm Festive Station Gallery, 1 Avenue Road
Shawanaga – from 5.30 to 6pm at the Band office beside Village Road
Rutter – from 7pm to 7.40 at the Rutter Train Station.
Britt
Sunday December 3 at 1pm. The 14th annual parade is hosted by the Britt & Area Recreation. The parade will start at the Recreation Centre and end at the Britt Legion where Santa will be waiting along with hot dogs and desserts.
MacTier
Sunday December 3 at 2pm. Join the MacTier Lions Club in welcoming Santa and friends to town. The parade will begin at the MacTier Lion's Hall, then travel up High St, onto King St, up Joseph St and end back at the hall. Meet with Santa and join in for hot dogs and hot chocolate following the parade.
Loring-Restoule
Port Loring
Saturday December 2 at 5pm. The Argyle Santa Claus Parade. It leaves from the Four Corners in Loring to the Port Loring Legion. Tree lighting ceremony directly after the parade and all are welcome inside the Legion Hall for complimentary hot chocolate, hot dogs, cookie decorating, and colouring. Santa and Mrs. Claus will also be accepting visits!
Muskoka
Santa's Village – Bracebridge
Father Christmas is back in town for a few days this November and December. During the winter edition of SantaFest, visitors will be able to enjoy some favorite activities – gingerbread cookie decorating, a petting farm, marshmallow roasting and of course a visit with Santa himself! November 18-19, 25-26, December 2-3, 9-10, 16-17, and 23.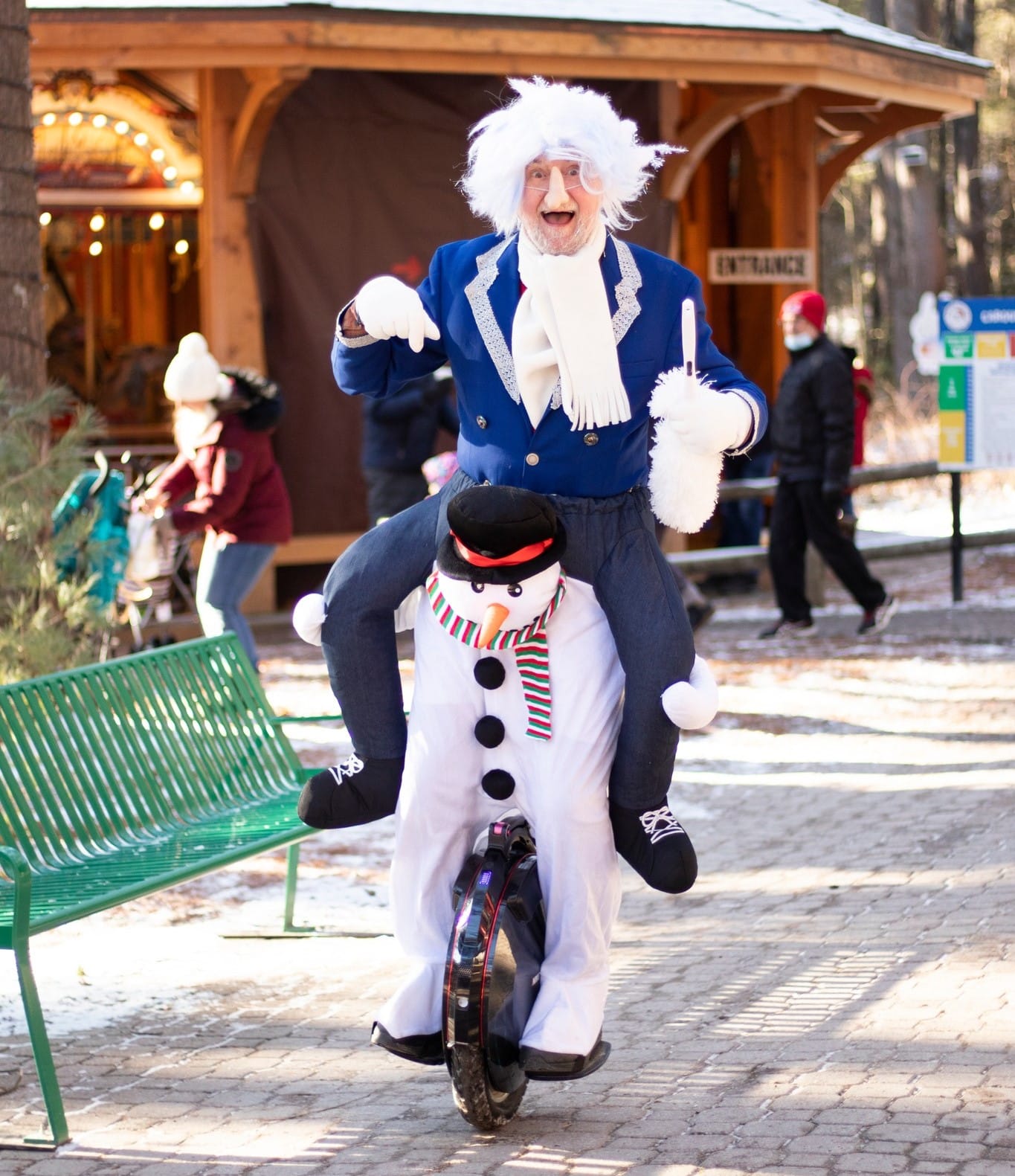 Bala
Friday, November 18 at 1pm. The parade starts in front of the Kee to Bala and will follow along Highway 169, and then head along Burgess, Victoria and Maple. Free skating follows at the Bala Arena.
Huntsville
Friday, November 24 at 7pm. One of the first evening run parades that always produces a great light show. This year's theme is Creating Hope at Christmas. The parade will travel through the downtown along Main Street/King William Street (starting at Centre Street) and ending at Huntsville Place Mall.
Gravenhurst
Saturday November 25 at 11am through Gravenhurst's Historic Downtown. This year marks 70 years of Santa Claus Parades in Gravenhurst and to commemorate this milestone this year's theme is "Marching Through Time" with floats representing different decades from the 1950s onwards. Finish up afterwards at Sawdust City Brewery for hot chocolate.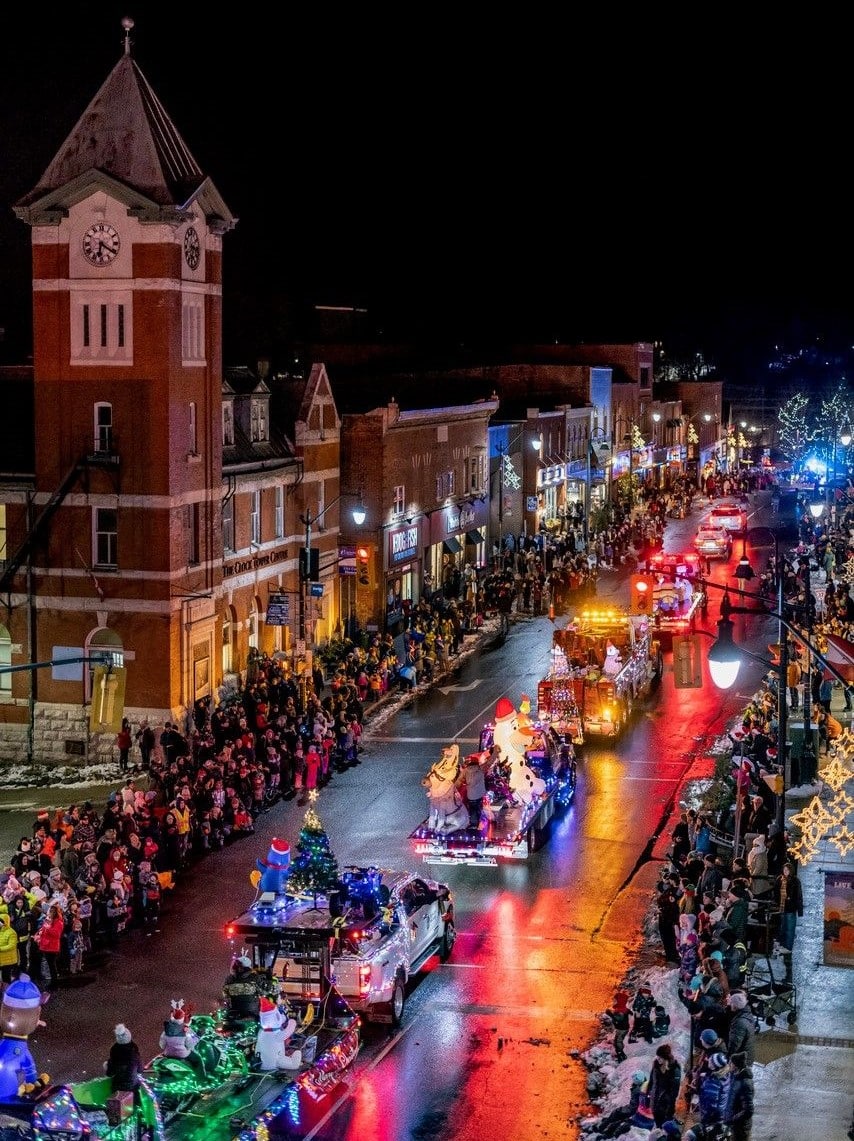 Bracebridge
Friday, December 1 at 6pm. The second year of having an evening parade. It will run along Manitoba Street and children are invited to visit with Santa after the parade in Memorial Park. Stores will be open late for Christmas shopping, there will be new holiday lights to enjoy and some hot chocolate too!
Port Severn/Honey Harbour
Saturday December 2 at 1pm. The parade will start at Honey Harbour Road, Muskoka #5 starting at Violet Drive and ending at Community Centre Drive.
Port Carling
Saturday December 2 at 6.30pm. Santa puts his sleigh aside and rides in a decorated fire truck. The parade route will be from Ferndale Road to Bailey Street so there is lots of room for families to spread out.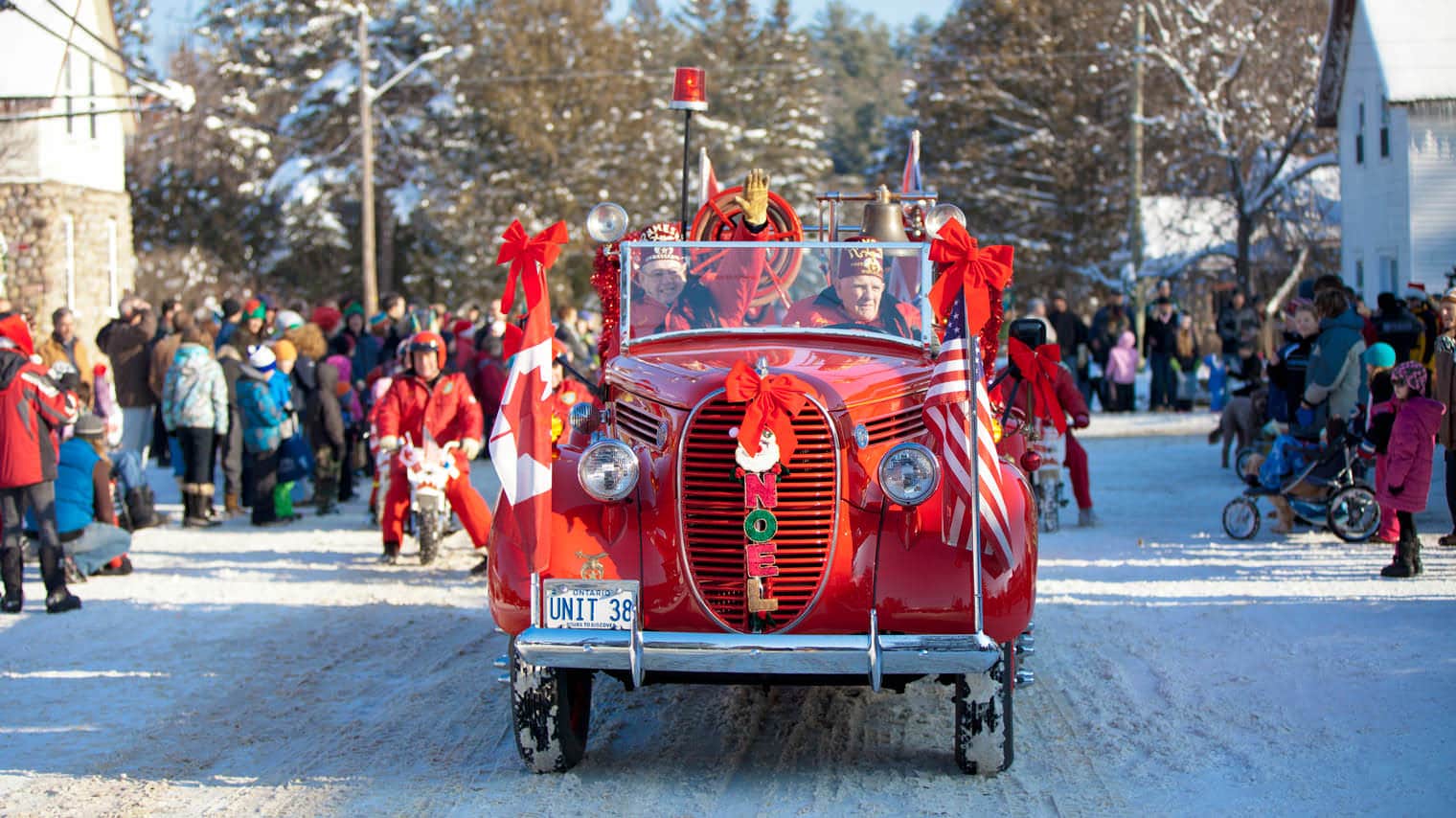 Baysville
Sunday December 10 at 1pm. "The little parade that goes around twice!" The parade takes place along Bay Street and Bridge Street and afterwards kids can meet up with Santa for treat bags, hot dogs and hot chocolate.
Portage Flyer Christmas Train Ride to Santa – Huntsville
December 23 from 4.30-7.30pm. The Portage Flyer locomotive and coaches get decorated with thousands of lights. Enjoy a cup of free hot chocolate and cookies (while supplies last) and sing along to the carols while you wait to board the train and ride alongside the Muskoka River to The Purser's Cabin where Santa is waiting.
$5 per person, babes in arms are free. Purchase your tickets inside prior to boarding (advance tickets or reserve seating is not available).
Hidden Valley Highlands Ski Area and Muskoka Ski Club – Huntsville
Sunday December 24 from 5 to 7pm. An annual family-friendly favourite, the Christmas Eve Torchlight Parade can be viewed from the chalet or the base of the Flying Dutchman hill. Watch snow school instructors and ski patrollers descend carrying brightly lit torches in a procession of lights. Santa even joins in the parade.
Meet in the chalet for hot chocolate and cookies from 5-6pm. The parade begins at 6 pm sharp.
To plan your visit to the great Canadian wilderness north of Toronto, click here. For more things to see and do this winter click here.
Feature photo : Santa's Village Bracebridge