Provincial Parks in the Great Canadian Wilderness
Help Randy from the regional tourism organization pick which one to explore next!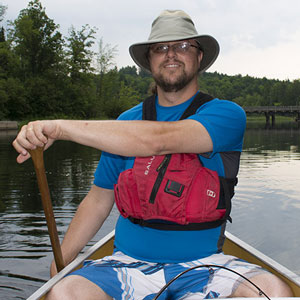 Hard to believe that even a seasoned camper and canoe guide like me has not explored many of the great provincial parks in the Great Canadian Wilderness, besides Algonquin (which I think I know inside and out). But my lack of knowledge about some other super spots, like Killbear near Parry Sound or Mikisew in the Almaguin Highlands, presents an opportunity for me to plan a new adventure – and I'd like your help!
Which provincial park I should visit next for an overnight camping trip in the Great Canadian Wilderness? I'm letting you decide!
Simply complete the form at the bottom of this page to vote for the Ontario provincial park you'd like me to visit this Fall.
We have so many great parks – help me pick the first stop in my mission to visit them all.

View Explorers' Edge Provincial Parks in a larger map
Algonquin (East)

Established in 1893, this is the oldest provincial park in Canada.  Additions since its creation have increased the park to its current size of about 7,653 square kilometers.
705-633-5572 • www.algonquinpark.on.ca

Arrowhead (East)

Located north of Huntsville, Ontario, it's home to the totally unique Ice Trail in winter. A portion of the shoreline of Glacial Lake Algonquin is visible in the park.
705-789-5105 • www.ontarioparks.com

Grundy Lake (North-West)

From several lakes in this park off the Trans-Canada Highway, you can paddle to the voyageurs' route along French and Pickerel rivers into Georgian Bay.

705-383-2286 • www.ontarioparks.com

Killbear (West)

Killbear combines sandy beaches with the granite and pines of the Canadian Shield. The park provides habitat for the threatened eastern Massasauga Rattlesnake.
705-342-5492 • www.friendsofkillbear.com

Massasauga Provincial Park (West)

The park encompasses hundreds of islands on the coast of Georgian Bay and many inland lakes including Clear Lake and Spider Lake. Classified as a "Natural Environment" park, it contains no roads, so camping is limited to interior sites.
705-378-2401 • www.ontarioparks.com

Mikisew (Central)

Three sandy beaches are perfect for a day's respite by the water at this family campground on Eagle Lake. Come for a swim, try some fishing, go for a paddle.  Hiking trails through pine, birch, maple and hemlock forests.

705-386-7762 • www.ontarioparks.com

Restoule (North)

The park offers three hiking trails and is home to coyotes, wolves, bears, otters, pine martens, moose and one of Ontario's largest white-tailed deer herd. It is also home to over 90 species of birds including the peregrine falcon, and the heron.
705-729-2010 • www.ontarioparks.com

Six Mile Lake (S-West)

Three sandy beaches, calm waters for swimming, canoeing and fishing, and a scenic hiking trail make this park near Highway 400 a convenient stopover. Wildlife is abundant and, oddly, so are rare species.

705-756-2746 • www.ontarioparks.com

Oastler Lake (West)

Make Oastler Lake a convenient base for exploring Parry Sound and Georgian Bay or stay put and enjoy the long, sandy beach. The park features scenic waterfront campsites, rocky shorelines and access to summer hiking and winter ski trails.
705-378-2401 • www.ontarioparks.com

Sturgeon Bay (N-West)

Situated among the 30,000 Islands, this small campground off Highway 69 is an excellent base for exploring the craggy shoreline and fishing the deep, bountiful waters of Georgian Bay. Camp under trees with a view of the water and sandy beach.
705-366-2521 • www.ontarioparks.com

Georgian Bay Islands National Park

Georgian Bay Islands National Park consists of 63 small islands or parts of islands in Georgian Bay, near Port Severn, Ontario. The park was established in 1929.
877-737-3783 • www.pc.gc.ca