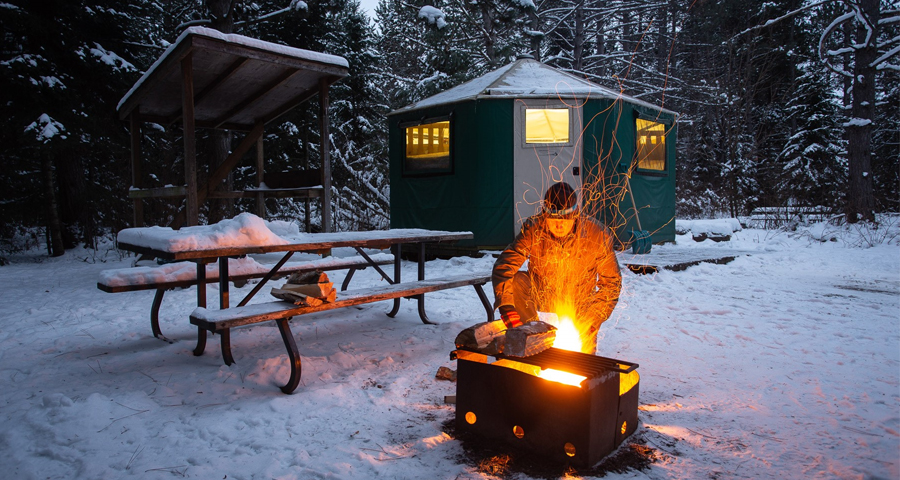 Mew Lake in a Yurt: Algonquin Park in the Shoulder Season
Please note: Our new 'Great Canadian Wilderness' website has replaced the old one that ran under our company name, Explorers' Edge. From time to time in an older post, you may see references to Explorers' Edge.
Writer and outdoor adventurer Martin Lortz headed to the iconic park to discover what camping's like at Mew Lake when no one else is around.
Canada's oldest provincial park is one of the most visited destinations in summer and fall, but starting in November and up until March, winter is an opportunity to experience this legendary place when all is quiet and still, making the communion with Nature even more invigorating.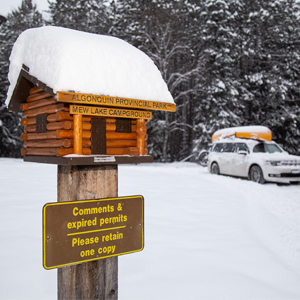 Once the bustle of the warmer seasons dies down and the in-park resorts and businesses close until spring, Algonquin Park takes on a particularly magical feel.
Starting in November, temperatures this time of year can swing from double digits on the plus side to the deep freeze, and the weather can run the full spectrum of the good, the bad and the ugly; thus the conundrum of where to stay and what to bring. Strategically packing gear in November is easy – you just bring it all. Hence my canoe on my car roof, my mountain bike on the back and my snowshoes in the trunk! You never know what you'll encounter while waiting for full-on winter to arrive.
As for accommodations, with all lodges in the park closed for the season, your choices are rather simplified to one place: Mew Lake Campground, where your options are to bring your own (as in tent or RV) or set up base in one of the seven yurts available for rent. I opted for the latter, the eight-sided, tent-like structure that sleeps six and comes with electric heat to keep you warm.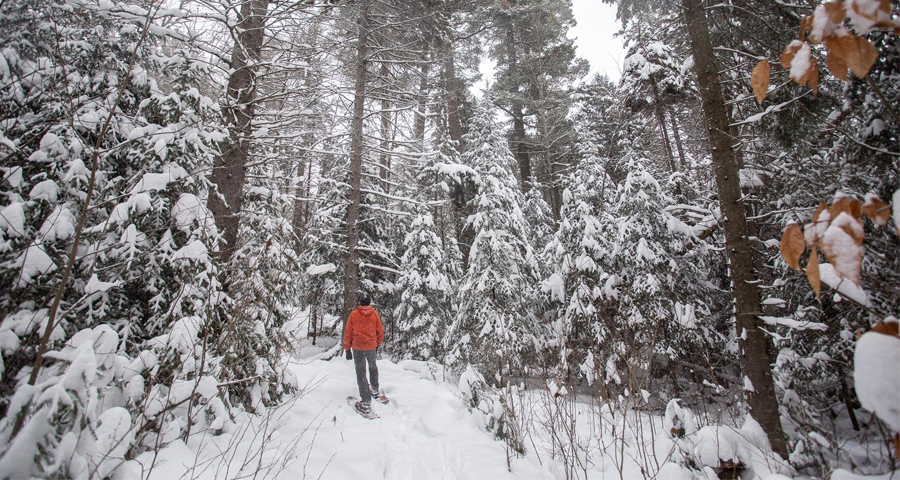 While I was at the Mew Lake Campground in November, my expedition featured more winter than fall. With the temperature dipping to -13C, the heater in the yurt was buzzing at full speed as I dropped my bags. After quickly unpacking it was time to explore outside.
Still ticking on hectic city time, I hustled along the snow-covered roads as if the hours were about to run out. Slowly, the calming effects of the park and a snow-laden forest took effect. My pace slowed and sharpening sounds around me lead to wildlife sightings: the chirp of a chickadee, the squawk of a gray jay, and red squirrels scurrying about. I was joined by a gang of wild turkeys that followed me around like pets. A trio of pine martens keep me entertained as they wrestled and screeched in a frantic discussion of who owns which part of the forest.
Back at the yurt, I enjoyed a quick meal followed by some dazzling star gazing, and I hit the hay for the longest sleep I've had in a long time.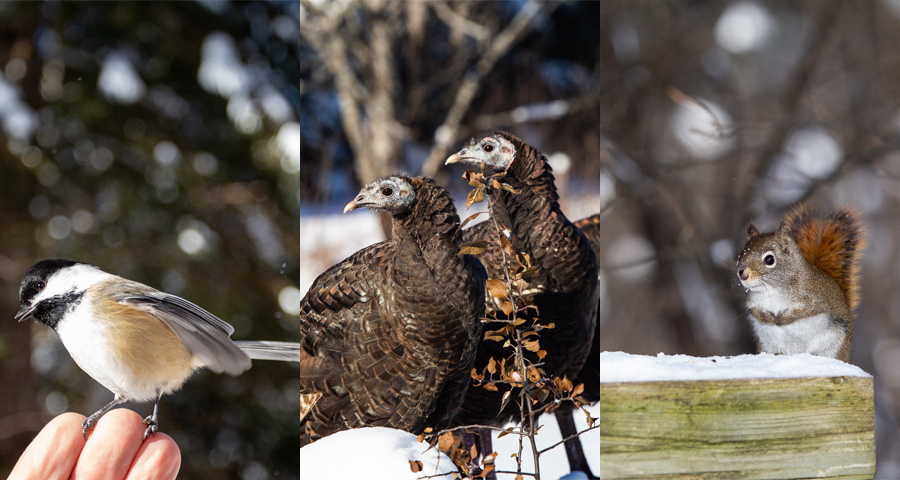 On Day Two, with temperatures rising to -6C, it didn't take long to embrace the no-rush approach to winter camping. On the agenda: hike the Lookout Trail, one of the most popular hikes in the park during summer and leaf season, and on this day I had the trail all to myself. I warmed up at the Algonquin Visitor Center then took in the Spruce Bog Boardwalk, where I shared my snack with the chickadees. On my way back to camp, a lone wolf made my day as it crossedHwy 60 in front of me. Back at Mew Lake, I resumed my routine, walking the turkeys, visiting the pine martens, partaking in a night cap by the fire, and then it was bedtime as the first flakes of the pending overnight snow storm flutter to the ground.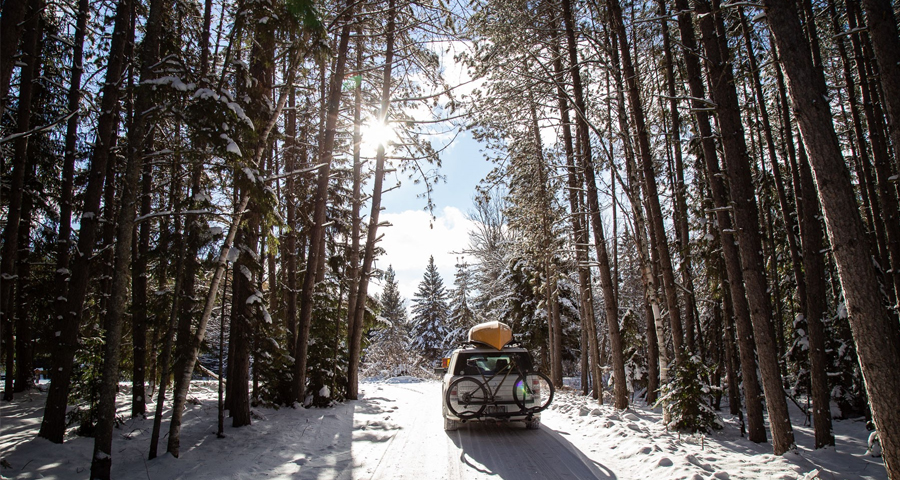 Day Three had an absolutely magical start; stepping out of the yurt into a forest blanketed by fresh snow is a soul-soothing experience. With about 18 cm have arrived while I slept, it was finally time to make use of some of the outdoor equipment at my disposal – snowshoes. (First things first, though: I shoveled the yurt's deck and a path to the car, lingered over breakfast and coffee, then packed things up, as later today I had to return to the city.)
One more lap around the campground, a farewell of sorts to the critters that had kept me company over the last 48-hours. Then, before pointing the car south back to reality, one more excursion in to the forest. This time the Big Pines Trail, a 3km meander through old growth White Pines in the company of no one.
There really is no bad time to visit Algonquin Provincial Park: moose watching in spring, backcountry exploring in the summer, leaf piping in the fall, cross country skiing in winter; but November? It's a time of the year where one can have Canada's busiest parks practically to themselves, and after my stay in this stunning winter wonderland, I'd say November – with snow – might just be my very favourite time of year.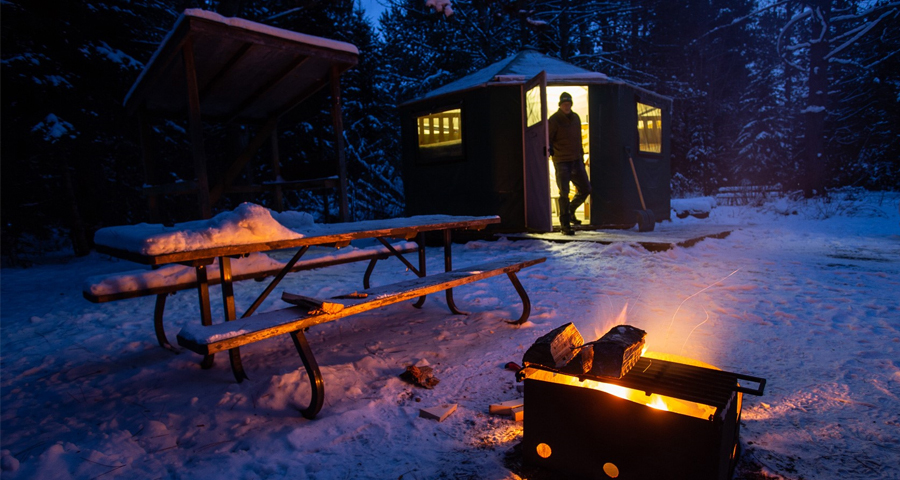 Notes From the Road:
• Reservations are a must, the yurts are the only roofed accommodations available in the park from late October to May and are in high demand.
• Check the weather forecast particularly the expected temperatures, bring what you think you will need to deal with the cold and then bring extras.
• Indoor shoes a must, let your boots defrost in the corner and keep the main floor dry and your feet warm.
• The secret to a good night's sleep is ear plugs. Drown out the electric heater fan that never rests and maybe your bunk mates.
• Keep an eye on the clock when exploring the trails, things suddenly get dark early.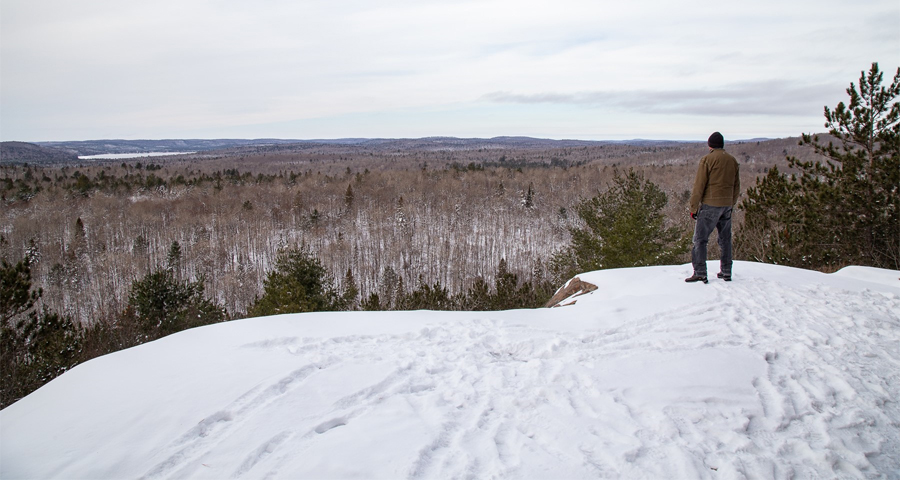 For more information on Algonquin Park in winter, click here. To plan your stay near the park, click here.
Not in to camping? Consider a winter escape near Algonquin Park at one of many establishments, including:
Algonquin Eco-Lodge
Adventure Lodge Whitney
Algonquin Cottage Outpost & Island Retreat by Voyageur Quest
Algonquin East Gate Motel & Outfitters Whitney
Algonquin Lakeside Inn Dwight
At Cooper Lake – Dwight
Blue Spruce Resort Dwight
Couples Resort Whitney
Hemlock Point Kearney
Logging Chain Lodge Cottage Dwight
The Mad Musher Restaurant and Riverside Rooms Whitney (Open December 27)
Northern Edge Algonquin South River
Red Deer Log Cabins Madawaska
Spring Lake Resort Motel & Restaurant Dwight
Wolf Den Hostel & Nature Retreat Oxtongue Lake
Also near the park, check out the Resorts of North Muskoka.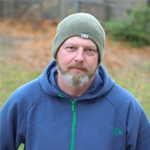 Guest Blogger: Martin Lortz
Martin is a freelance photographer and writer specializing in the outdoor lifestyle. Whether he is covering power sports or family-oriented pursuits, his passion for capturing the beauty of nature and the people who partake in it is evident in his work. His photos and articles have appeared in magazines such as Ski Canada, Explore, Bike, Mountain Life, Snow Goer,Kayak Angler, and Family Camping.
All photos @MartinLortz