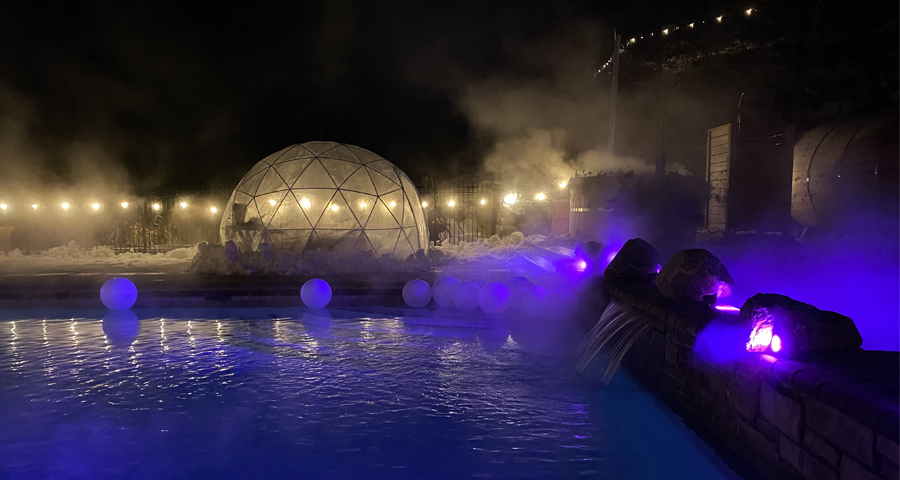 HydroSpa Muskoka: Winter's Hot New Spot
Please note: Our new 'Great Canadian Wilderness' website has replaced the old one that ran under our company name, Explorers' Edge. From time to time in an older post, you may see references to Explorers' Edge.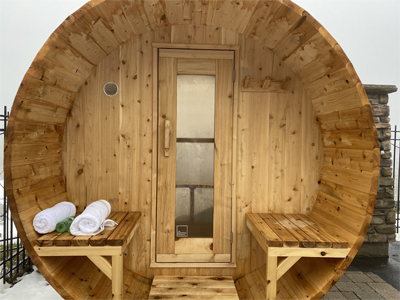 Hot and cold are the perfect combo at the new indoor and outdoor experience presented by the J.W. Marriott The Rosseau Muskoka. Here's what you can expect:
From the moment you arrive at the beautiful new HydroSpa Muskoka in Minett, Ontario, you are immersed in luxurious serenity, and you understand immediately why they call this "wellness by the lake."
At this picturesque spot perched on the granite above renowned Lake Rosseau, welcoming staff usher you into pristine change rooms that are fully stocked with plush towels, white robes and sandals. Complimentary, healthy refreshments are provided in the well-appointed co-ed relaxation lounge overlooking the iconic scenery. Take your pick from a eclectic menu of services, including facials, massage therapy, body scrubs and wraps, mani/pedis or a bespoke wellness ritual. And be prepared to get the most pleasure out of their unique hot and cold treatments.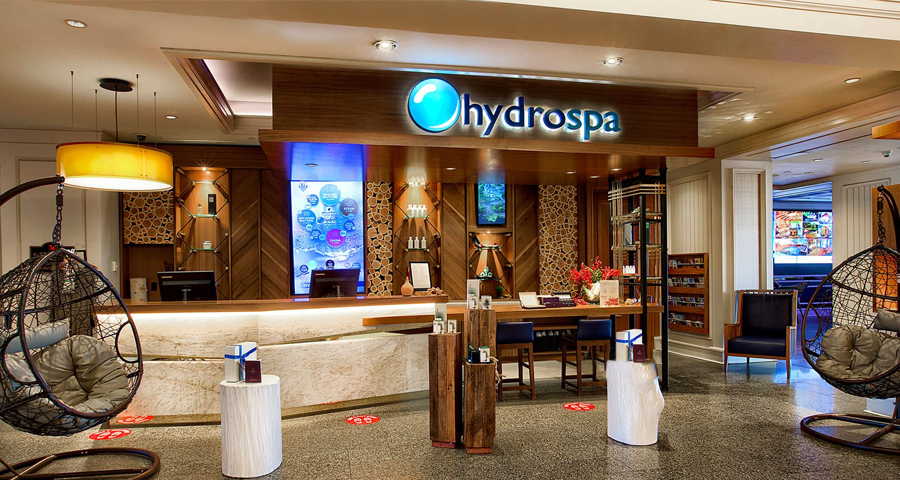 HydroSpa taps into the ancient practice of hydrotherapy, which is used to lower stress, reduce pain, hydrate cells, improve skin and muscle tone, and boost your immune system. Alternating between hot and cold helps promote these physical and psychological benefits. The "Relaxation Circuit" has been specially curated to guide you through this experience. The pools and saunas are outside on a secluded terrace overlooking the lake and are designed to be used year round, but especially in the winter.
Start in the full-sized pool where the temperature is adjusted to the season, and then immerse yourself in a fabulous wood burning cedar hot tub. These are infused with essential oils that hydrate your skin and provide a gentle aroma (the seasonal cranberry plunge is lovely). Head to one of the outdoor barrel saunas custom made for the HydroSpa to ease pain and benefit your skin. Or listen to the sound of the fountain as you float in the epsom salt hot tub. This is a great way to release tension, and increase endorphins.
But let's not forget about cooling off! Proponents of hydrotherapy also recommend a cold plunge in between the heated amenities. Since it takes a certain amount of resolve to immerse yourself in a cold pool, the HydroSpa provides a cold plunge shower instead. A short session is all you need to experience the benefits; it will increase circulation and help regulate your body temperature. And you'll be able to tell friends and family you've experienced 'the Muskoka Avalanche Immersion Shower' – something that should be on every traveler's bucket list.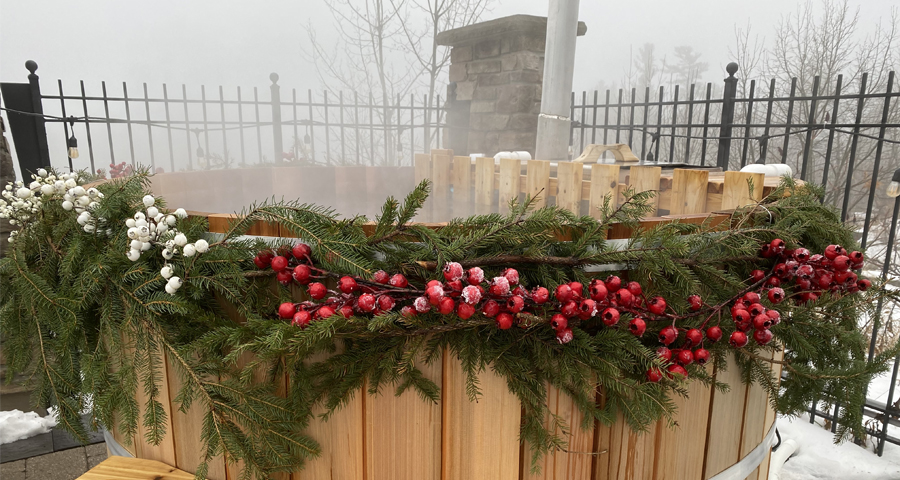 There's more!
Curious what it would be like to unwind in a Himalayan Salt Cave? This room offers all the health benefits but adds comfy anti-gravity chairs, soothing eye masks, and cozy robes. Part of the "Reinvigoration Circuit", the Salt Cave uses halo (salt) therapy to draw out toxins and allergens from your respiratory system. Spend 30 or 40 minutes in this sanctuary with its warm glowing light and gentle music to clear your sinuses and improve your skin. This indoor circuit also features invigorating massage chairs (with options to target specific muscle groups or a full body treatment) and a foot massage station. Exclusive to HydroSpa, the H2O Massage Bed increases blood circulation, heals injured tissues, and energizes the body. Inside you'll also find private men's and women's steam rooms, saunas, and a whirlpool with a great view of Lake Rosseau.
And a visit to HydroSpa Muskoka is not complete without checking out the Crystal Head Vodka IceBar. Grab your toque and chill out in a -15 Celsius space where you can sip three unique concoctions from the Dan Aykroyd-founded Crystal Head Vodka. This frozen fantasyland has snow on the ground, a bar carved from a massive piece of ice, and a wall of illuminated glass crystal heads that pulse with light in the special Northern Lights show. Impossible not to take a selfie or ten!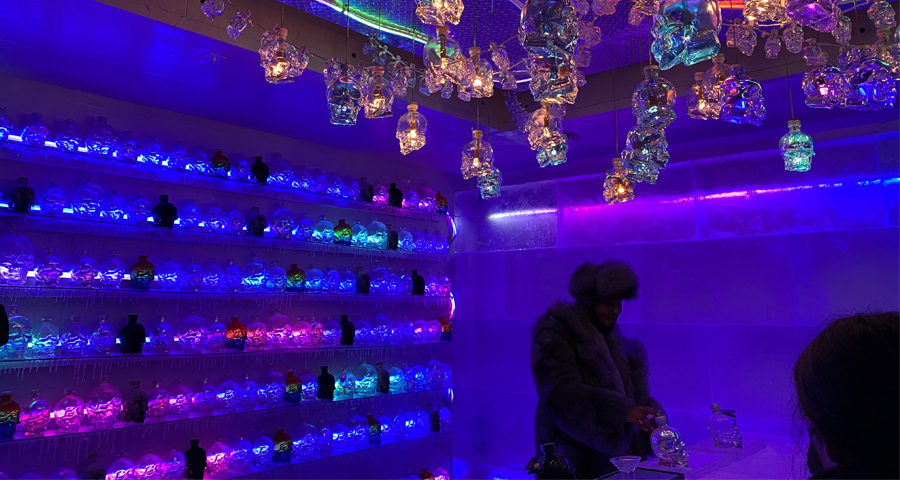 Whether you are a seasoned spa-goer or a newbie, HydroSpa Muskoka has something for everyone. Visit the HydroSpa website to book a day pass or book a stay at the fabulous JW Marriott to enjoy all the amenities.
Spa Central in the Great Canadian Wilderness Just North of Toronto
In fact, this region of Ontario is home to many incredible four-season spas, making this a great place to plan your relaxing winter getaway. Here are some more to consider when looking for a perfect destination.
Hydrospa photos provided by the JW Marriott The Rosseau
Please adhere to all federal, provincial and local travel mandates.