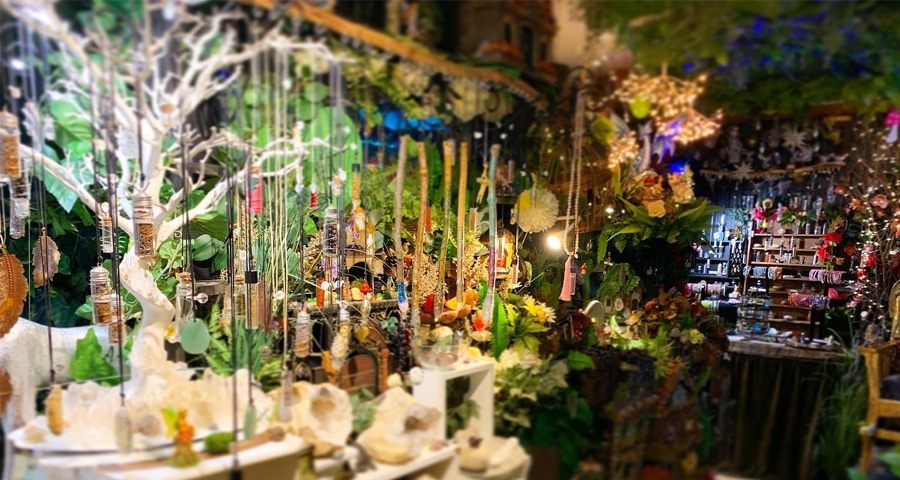 Health & Wellness in the Great Canadian Wilderness North of Toronto: Centre Yourself
Please note: Our new 'Great Canadian Wilderness' website has replaced the old one that ran under our company name, Explorers' Edge. From time to time in an older post, you may see references to Explorers' Edge.
Raise your vibration and find your inner balance at these unique shops across the region.
Located in the heart of Burk's Falls, Circling Hawks Centre is a must-see destination in the Almaguin Highlands for anyone in search of spiritual items for people of all paths. The store itself is filled to the brim with jewelry, artwork, apparel, crystals and healing treasures from all over the world.

Particularly charming at this spot, Circling Hawks also has the coolest little hole-in-the-wall fairy gardens behind the shop that can be enjoyed in the warmer months. They do ask that children be accompanied by an adult while exploring the fairy garden, as many guests pop by regularly for a quiet place to listen and heal.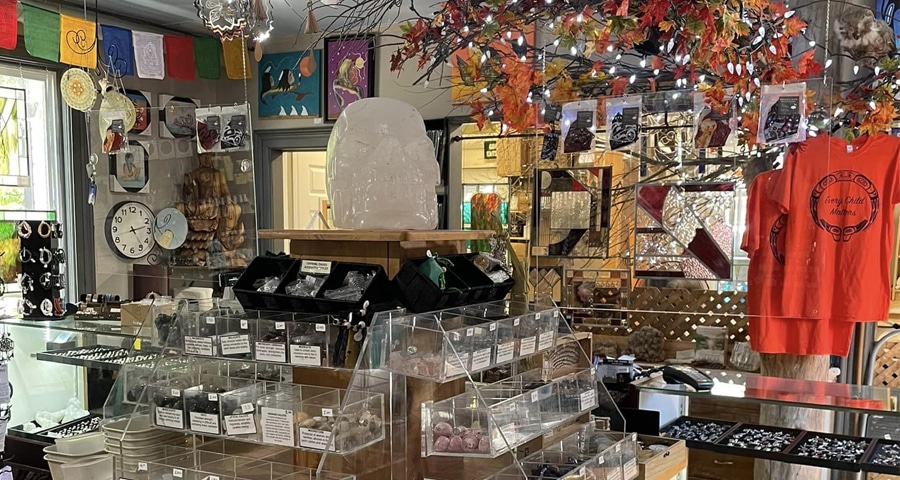 Also located in the Almaguin Highlands, the shoppe at Crystal Cave has an otherworldly vibe, complete with a meditation pod, magical little faerie villages, hidden messages everywhere you look, and more crystals than you could dream of.
Like Alice stumbling down the rabbit hole into Wonderland, the further you wander, the more magic there is to see. Inside, you'll also find a stunning wildlife and landscape photography exhibit, and an extensive mineral exhibit of some truly rare gems and minerals – many of which were mined, dug up and collected by the owners themselves.
Outside, you can stop for a quick bite at the Crystal Moon Cafe, which specializes in truly decadent vegan eats; take a meditative walk through a larger-than-life ammonite spiral; or pick up some one-of-a-kind pieces from local artisans who call Crystal Cave home. It's pretty much a day trip in and of itself, and it's right on the way to one of Algonquin Park's #1 paddle-in access points.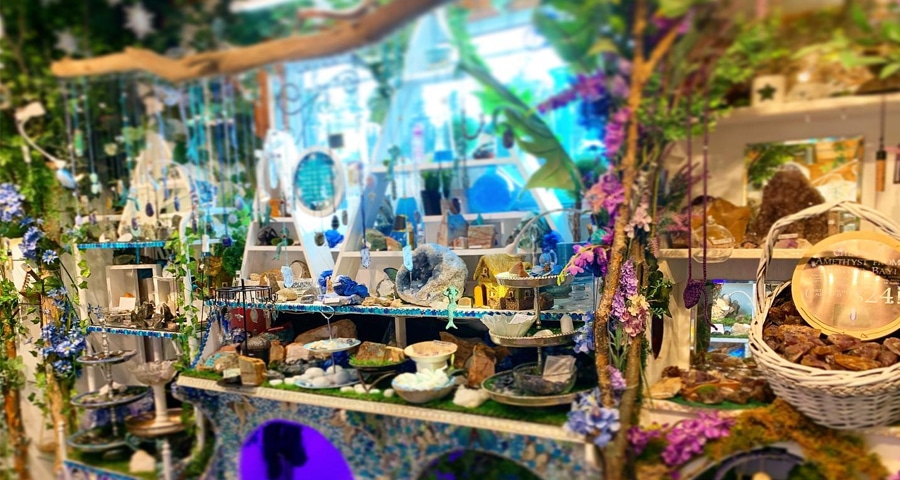 Holistic healing for mind, body and spirit is what you will find at The Healing Room in downtown Bracebridge, Muskoka.
Healing modalities of all kinds are found within the walls of this eclectic establishment, including crystals and stones, as well as sage blends, sweetgrass, salt lamps, books, tarot cards, meditation CDs, natural skin care, essential oils, beeswax candles and jewelry. Inquire about sessions by practitioners who specialize in chakra balancing, tarot and oracle card readings and therapeutic touch.
Visitors to The Healing Room can also take advantage of a wide variety of locally-sourced, organic, natural foods like honey, microgreens and more.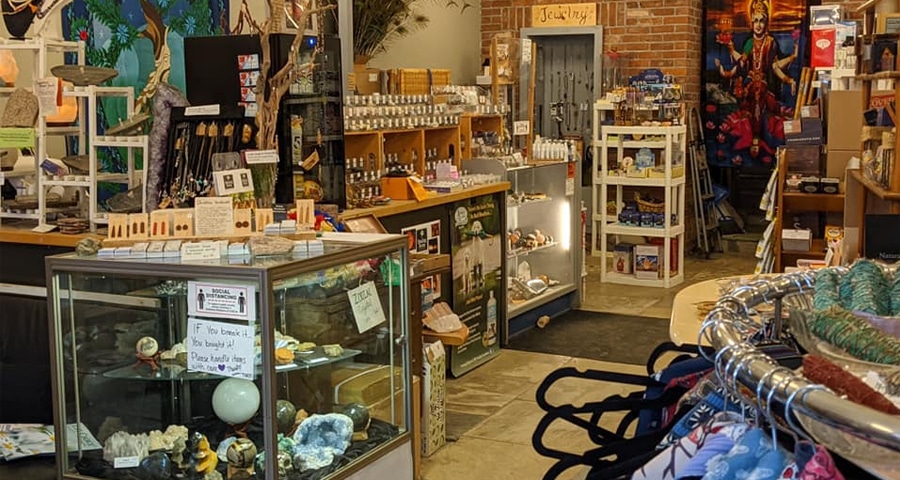 Located in the historic town of Gravenhurst, Muskoka, Metatron's Garden welcomes visitors into a space filled with ethically-sourced crystals, gems, and a chalkboard wall of love notes and inspiring messages from previous visitors.
Metatron's Garden also partners with local artisans, so if you are in the market for a one-of-a-kind, made-in-Muskoka painting or sculpture, it's worth stopping by this spot on the main street. And be sure to check out their 'silent singing bowl' sessions on Friday evenings (book in advance).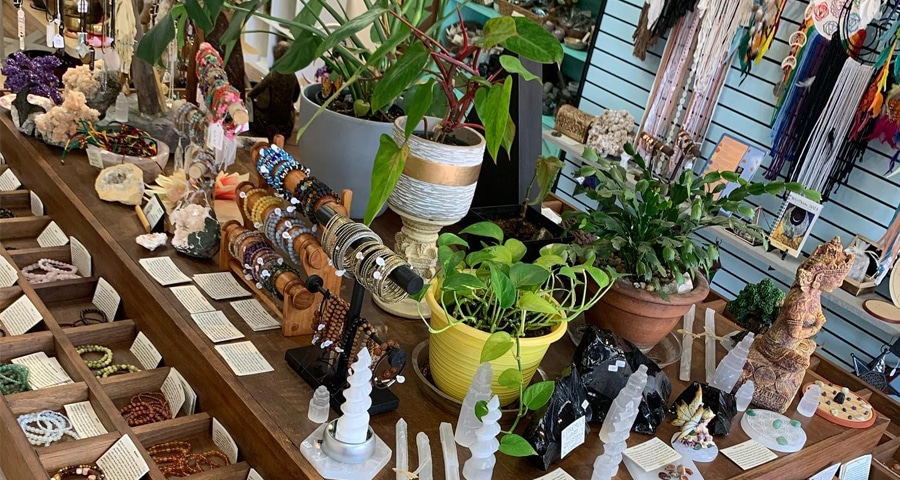 Somewhere In Time is home to a little bit of everything! Not your typical crystal shop, their aim is to create an authentic retro shopping experience for their guests. You may find your new tarot deck, Oracle or divination cards as well as healing crystals, pendulums, gemstone jewelry, incense, essential oils and sage.
The metaphysical aside, the store is also a wonderful place to pick up souvenirs like t-shirts, magnets, postcards and stickers as well as collectible figurines, retro candy, gum, chocolate and taffy.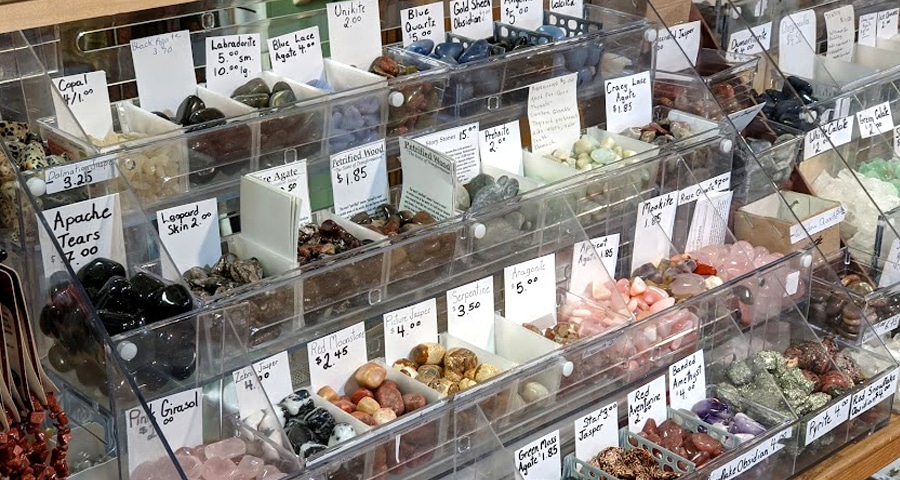 A downtown Huntsville mainstay, The Topiary has been inviting visitors into the metaphysical realm for many years.
In addition to a forever-growing collection of crystals and gems, The Topiary is home to an extensive variety of aromatherapy, herbs, jewelry, yoga and meditation supplies, singing bowls, tarot cards, books, gifts and more. The staff are knowledgeable, friendly, and more than happy to help you find the perfect crystal to bring home.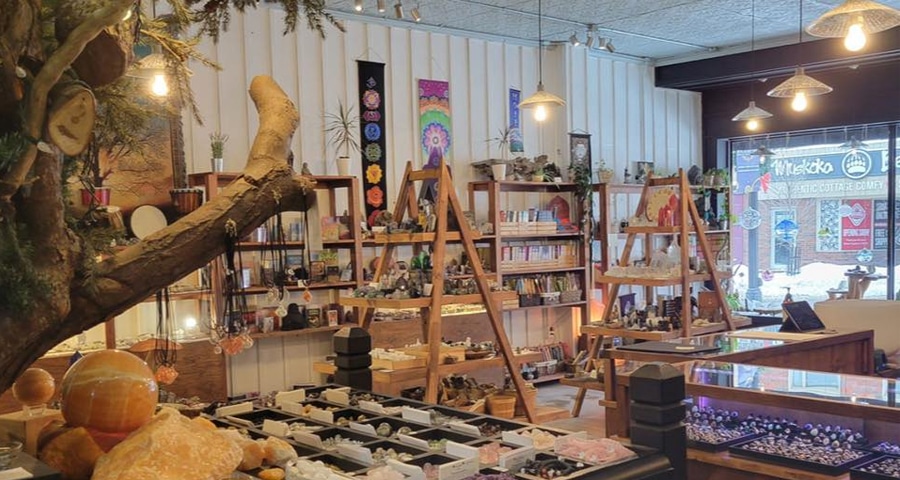 The Key and Cauldron Rosseau
And when you're in Rosseau, Ontario, be sure to stop in at The Key and Cauldron for all your mystic needs.
For more one-of-a-kind opportunities to welcome a little bit more wellness in your life in the Great Canadian Wilderness just north of Toronto, start here.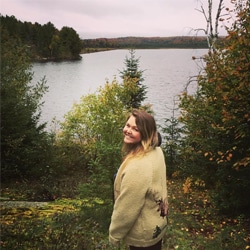 Guest Author – Danielle Marr: Danielle is a content writer living in the quaint little village of South River. She worked as a community journalist for many years and now helps small business owners share their stories with the world. When she isn't working 1-on-1 with clients, she loves to explore and write about the beautiful Great Canadian Wilderness region she calls home.