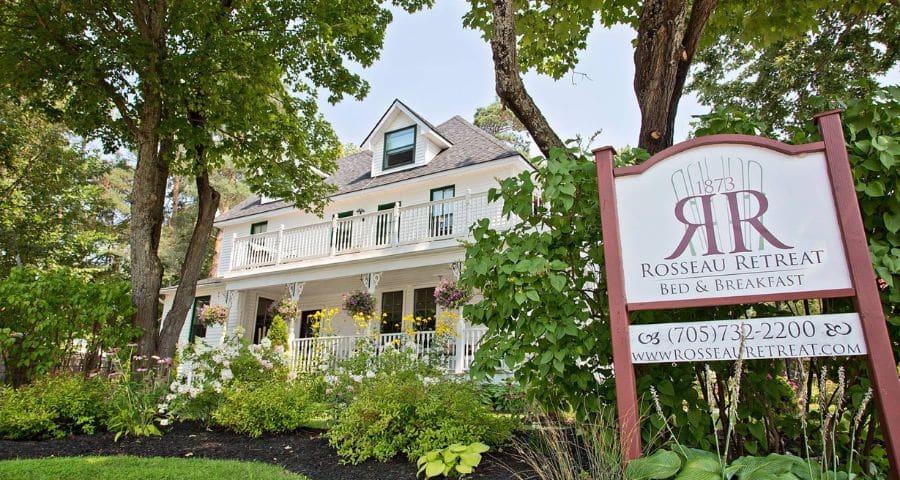 Bed & Breakfasts North of Toronto: A Warm Welcome Awaits
Visiting Ontario's cottage country and prefer a personal touch? Look no further than our region's amazing Bed & Breakfasts. Charming properties, historic homes and a warm welcome from amazing hosts await you in the picturesque towns and countryside just north of Toronto.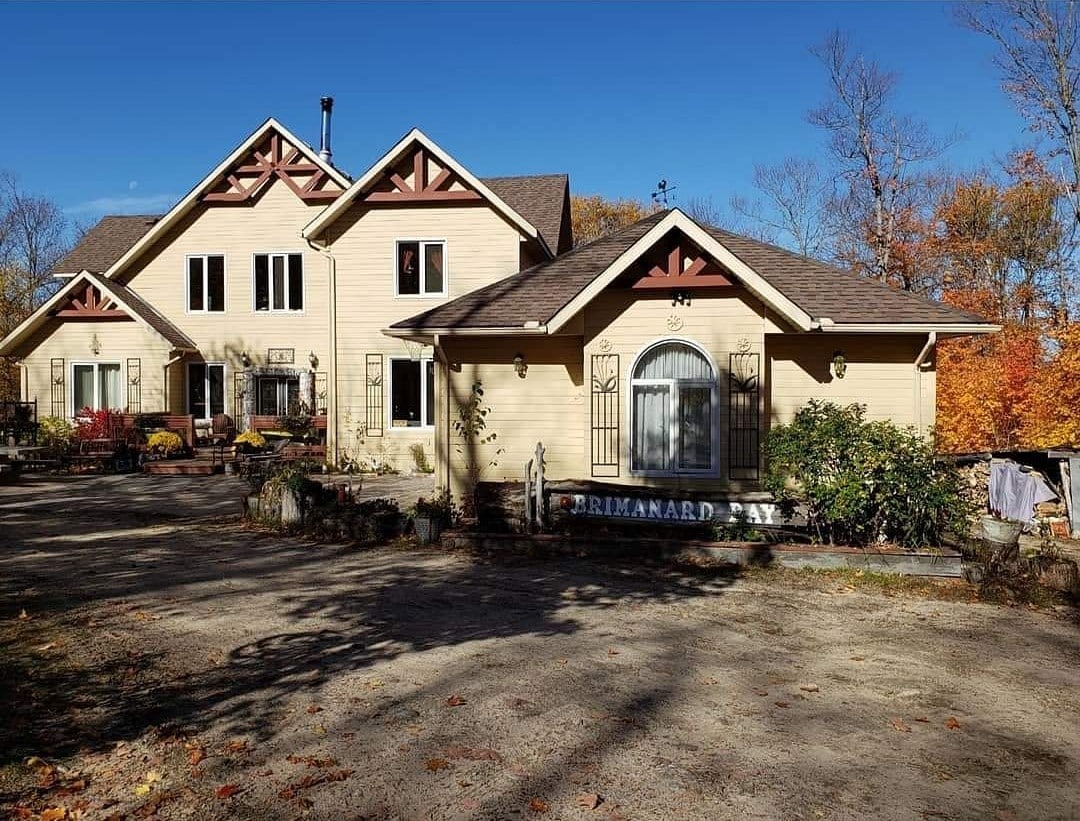 Almaguin Highlands
This B&B is built in a forest on Lake Bernard on 24 acres with and trails and a private sandy shore bay. The lake is big, deep and clear and great for swimming, water sports and year-round fishing. All of this is at the edge of a family farm and homestead that dates back to 1890. The home is large and offers high cathedral ceilings, a gourmet kitchen and a choice of five bedrooms all with en-suite bathrooms. Hosts, Susan and Vince, will create a delicious breakfast for guests. Susan tested recipes for 15 years with Canadian Living Magazine, and Vince was born and raised in Italy and has a natural passion for food and cooking.
Nestled on 120 acres near Emsdale, guests will find the perfect blend of thoughtfully-appointed accommodations, indulgent meals, and a secluded forest setting with over 10 km of private hiking trails to explore.
The B&B offers five unique and charming guest rooms – each with a queen bed and ensuite bathroom. Four rooms are in a separate building called the Coach House, located just a few steps across the deck to the Main House where the dining room and registration area are located.
Meals proudly showcase local and regional ingredients when possible. The style is classic comfort food, unpretentious but with some inspired touches. Gather around the antique harvest table every morning for a wholesome-yet-indulgent breakfast to start the day off right.
Maple Ridge Retreat offers a unique eco-friendly vacation getaway. Guests will experience living off-grid yet still have all the amenities of home while enjoying the surrounding natural beauty of the Almaguin Highlands.
The self-contained three-bedroom unit is all on one level with a private entrance and can accommodate a whole family or a group of friends. A complimentary continental breakfast is included. The property is nestled on 73 acres of forest with rolling hills, rocky outcrops, a meandering creek and a little waterfall.
Located on site at The Ridge Golf Club at Ten Gables, guests are offered the comforts of home with breathtaking views. Perfect for couples, solo adventurers, business travelers, and families who can enjoy the many local parks and facilities.
The Ridge Bed and Breakfast has two bedrooms, a sitting room complete with satellite TV, Wi-Fi and a large bathroom with a Jacuzzi tub upstairs. A light continental breakfast is included in the stay.
Located in the historic village of Magnetawan guests are pampered with these luxurious accommodations. Mornings start with a freshly brewed cup of coffee or tea, and a chance to sit and watch for wildlife while relaxing in the sun porch.
Accommodations include choice of three bedrooms (one with private ensuite; two other which share a large bath with jacuzzi), living room, games room, kitchen, sunroom and a large yard with access to two large lakes.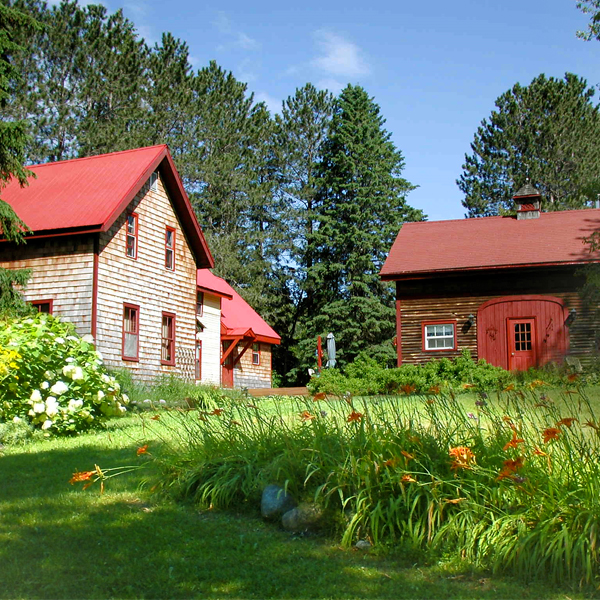 Muskoka
The Bear and Butterfly Bed and Breakfast is a unique and peaceful Muskoka country home but close enough to town to enjoy close to museums, theatres, hiking trails, water sports and winter sports attractions. Located four kilometres from downtown Gravenhurst, and only .6 km from the snowmobile trail, the property is in a calm natural setting surrounded by bush and wildlife.
Each room has a private bathroom as well as a private seating area, with the maximum occupancy of two persons per room. A shared lounge is available with cable TV while guests enjoy unlimited coffee/tea and homemade cookies. A full five-course breakfast is provided and there is a large three-season Muskoka room to enjoy the views. There is also a patio with outside seating and a seasonal hot tub.
Blue Spruce Bed and Breakfast is a warm, cozy 80-year-old house with twisted character. It is conveniently located in downtown Gravenhurst between Muskoka Lake and Gull Lake and is the perfect romantic getaway for couples looking for amazing landscapes, culture, art, fine food, heritage, all year round activities, local events, sandy beaches, hiking trails, the breathtaking countryside and nature spots. The four well-appointed guest rooms include ensuite bathroom, mini fridge, coffeemaker and TV. In the morning, guests will enjoy a delicious hot homemade breakfast.
Nestled in the hills on a beautiful forested seven acres, The Bread & Butter Inn is the perfect combination of recreation, rest and relaxation. Unwind with a book in the large living room or hike through the property and breathe in the fresh air while admiring the ever-changing nature. Enjoy the comfort of a private bedroom and accompanying ensuite, surrounded by luxurious amenities.
With more than 20 years of restaurant and catering experience, Beate (the hostess with the mostess), will prepare a signature Bread & Butter breakfast to start the day. Enjoy all of this and more in the spacious Muskoka room.
Large recently-renovated room in a Victorian home on the main street of Gravenhurst. Fenced-in back yard with fish pond and waterfall, hot tub, and several areas for taking in the sun, reading, or just relaxing. Within easy walking distance of Gull Lake with park and beach areas, Lake Muskoka, and Muskoka Wharf, cruises, including RMS Segwun, the oldest steam passenger ship in Canada, Canada Parks Bethune House, and Gravenhurst Opera House.
Echo Woods has a country charm sensibility but is situated just three minutes from Downtown Huntsville and 30 minutes from Algonquin Park. The property, with three ensuite bedrooms, is minutes away from two boat launches, the locks, a public beach, golf courses, skiing and of snowmobile trails. Open year round to enjoy all the seasonal activities Muskoka is known for.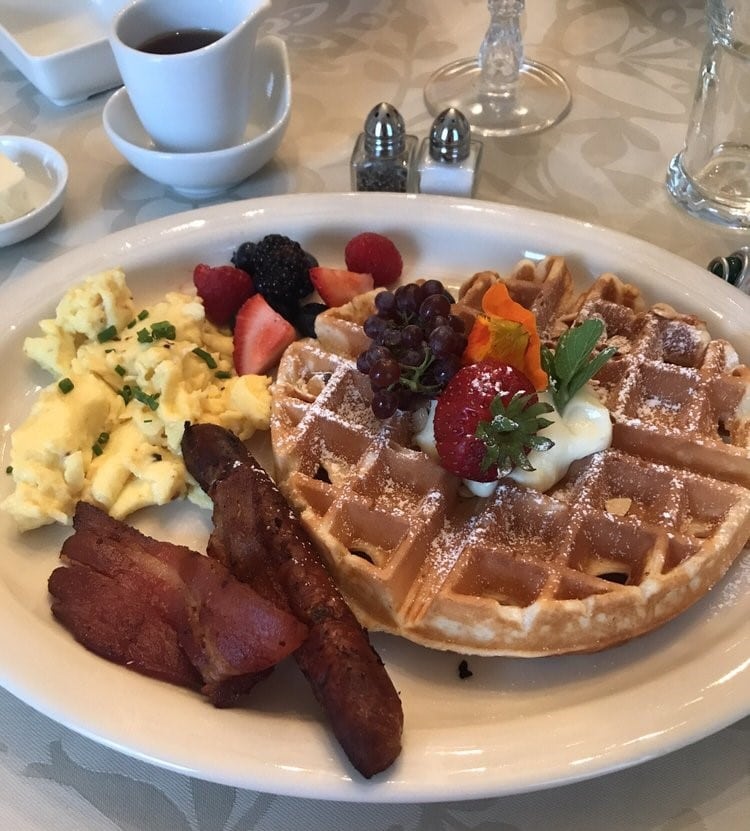 Four Ninety Bed & Breakfast provides an intimate setting to relax and enjoy the peace of the pines, the solitude of the water and the strength of the rocks simply by looking through the window. Just beyond the garden stroll through Gull Lake Park, swim at the beach or listen to music at the barge, a true Gravenhurst experience every Sunday night throughout the summer. Choose either the King Garden Room, or a Park Side Eco Cabin, and enjoy a relaxed breakfast in the morning.
High St Guest House is a wonderful home right in the heart of downtown Huntsville. Located walking distance to fabulous shopping, mouth-watering eateries, theatre, and water sports to name just a few. The guest house has been completely renovated with a fully-equipped kitchen, two full bathrooms, three bedrooms, and large living room for relaxing.
The Inn on Bay is a restored turn-of-the century inn nestled in the heart of Gravenhurst. This Georgian-style retreat was originally built as a family residence for one of Gravenhurst's turn of the century lumber barons and now offers casual elegance, Muskoka style. The inn features a choice of four suites, each with their own private bath. The main floor sunroom is a great place to relax or snuggle up with a good book or a glass of wine.
Located on the Muskoka River, there are two accommodation options, Krug's Kabin or the Riverview Room, both with ensuite washrooms. Located minutes to nature trails, tennis courts, beaches and downtown Bracebridge, as well as five minutes from Santa's Village. A great waterfront location with horseshoes, fishing, swimming and boating, with special requests considered for docking space. The year-round availability offers guests the opportunity to explore the beauty of Muskoka in every season.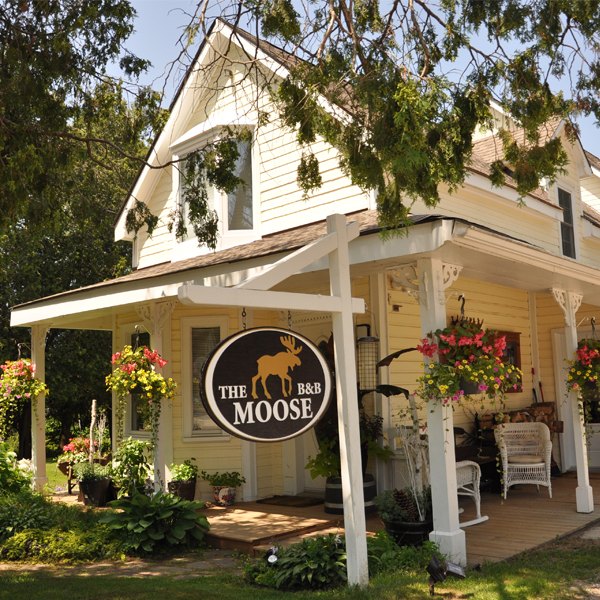 This boutique inn offers a spacious property surrounded by magnificent gardens and overlooks the river running through Dorset. The original house dates back to 1911, and architectural features from the era, like the beadboard ceilings and wide-plank floors, help create the ambience of a classic Victorian bed and breakfast, while an addition from 1993 and more recent renovations provide guests with modern conveniences in a spacious, airy interior.
Choose from three suites, each with private ensuite bathroom. There is access to an outdoor hot tub, screened in gazebo, and a common area and boat docking. Offering a wide range of menu options, breakfast is served in the dining room at 8:30 and 9:00 a.m.
Welcome to Robbins' Tuktawayin B&B, a cottage-style home on the water. The property is a 10 minute walk from main street shops and a 10 minute drive from world class golf courses Taboo and Muskoka Bay Club.
There are a choice of two rooms, the Lakeside Room and the Garden Room. Lakeside offers a queen bed, and Garden offers two twins; both rooms share a bathroom. The waterfront location offers ample parking, docking availability if guests want to bring their boat, a private dock with deep water swimming, use of our canoe, and a full breakfast served to guests each morning.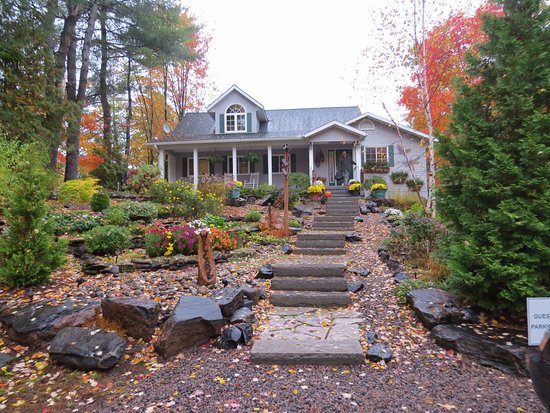 Parry Sound
Chalet Rosemarie is nestled on a hillside overlooking the big sound in the beautiful 30,000 island area of Georgian Bay. Much more than a simple bed and breakfast, they offer first rate warm and modern studios with ensuites as well as a gourmet dining experience. The house is surrounded by mature trees with a breathtaking view of the morning sunrise. Relax in the pine-scented air on your balcony, or under trees or on the private sandy beach. The house is adult oriented with a maximum of two people per room. Breakfast and dinner is be served in the French country-style dining room or on the terrace with lake view.
Mrs. T's Bed and Breakfast is in a large historic Queen Anne style home that sits on a half-acre park-like lot backed by a secluded wooded hill with quiet neighbours on either side. The house was built in 1880 but in 1906, when the trains came to Parry Sound, it was set on logs and pulled by horses down the hill to its present location. William Beatty, son of the founder of Parry Sound, William Beatty, was its first owner.
There have only been four families live in the house since 1880. Each of the three guest rooms is named after one of the families. Mrs. T's Bed and Breakfast has three bedrooms for rent with occupancy of 2 per room. Plentiful classic Canadian breakfast with good variety for all diets. Coffee, tea, mini-fridge, microwave, and bottled water are available throughout the day.
Relax in the privacy and comfort of this inn-style retreat located in the historic village of Rosseau. Rooms have a historical charm coupled with modern luxuries for a comfortable stay. Designed in the style of a turn of a century mercantile store, the open-concept kitchen and living room creates an opportunity for socialization over a delicious breakfast.
The Rosseau Retreat was constructed in the late 1800s and built by the Ditchburn Family, renown for building many of the boats historically famous to the Muskoka area. Only a two-minute walk from Lake Rosseau where there is a beach, park and pier. Minutes away from unique local shops and right across the street from one of the best restaurants in Muskoka called Crossroads.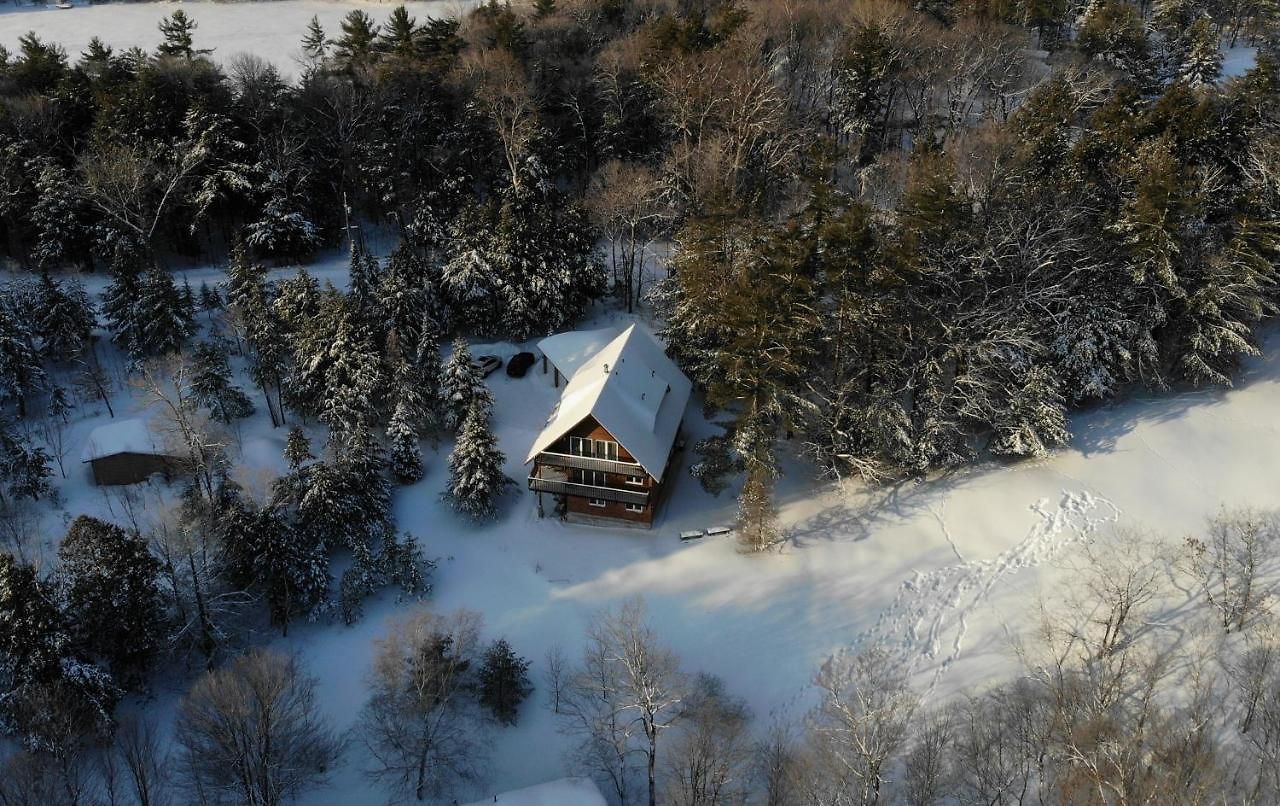 Did we miss a favourite B&B in the region? Email [email protected] to be included.
To plan your stay in the Canadian wilderness just north of Toronto, CLICK HERE.
Featured photo: Rosseau Retreat Historic Bed & Breakfast