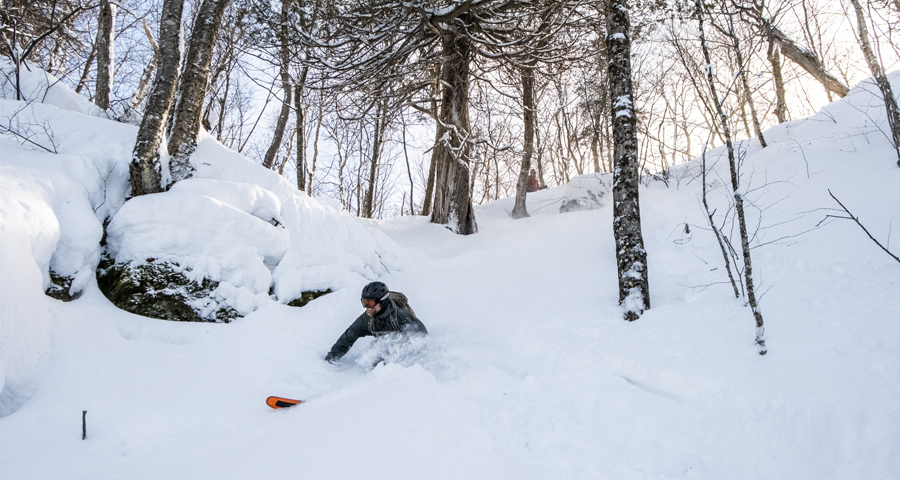 Backcountry Skiing in The Great Canadian Wilderness Just North of Toronto
Photographer and downhill fanatic Scott Turnbull reveals what it's like to carve some powder in rural Ontario.
When cold, wintry air moves across long expanses of unfrozen lake water, it produces what is known as "lake-effect" snow, producing intense bands of snowstorms. In the Great Canadian Wilderness just north of Toronto, the relatively warm, open waters of Lake Huron's Georgian Bay often produce copious amounts of lake-effect snow, covering the landscape with deep, fluffy powder.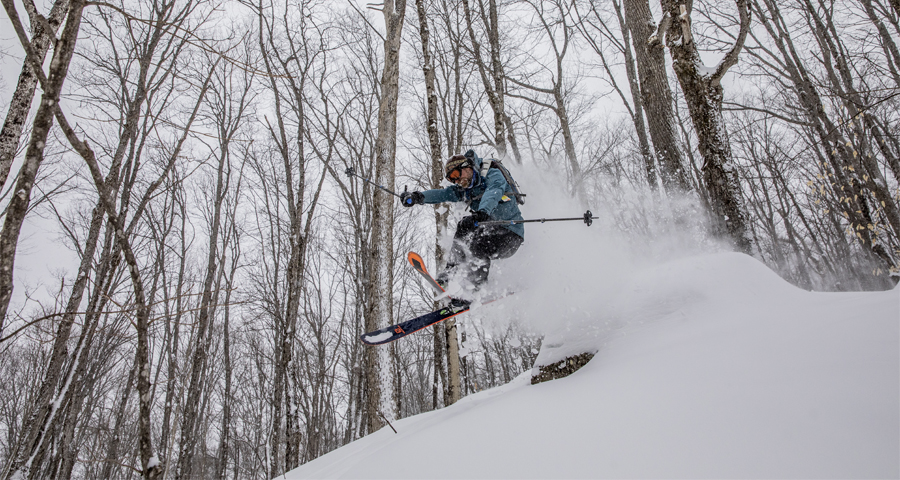 This intense snowfall is a siren call to skiers and snowboarders, and while a number of ski resorts and cross country centres operate in the region, more people are venturing off the beaten path and into the woods for backcountry skiing experiences, earning their turns by climbing up and gliding down.
The West Wind Highlands Ski Touring Association (WWHSTA), a not-for-profit organization formed in 2020, is dedicated to increasing awareness of ski touring in the region, promoting the safe and responsible creation of touring areas and trails. "In the highlands west of Algonquin Park, there is wonderful undulating topography in the open hardwood forests that offer a beautiful canvas for exploration, and every now and then a few turns of pure joy," says WWHSTA president Jeff Mann. "If you enjoy winter in Ontario on telemark skis, touring skis, snowboarding setups or nordic backcountry gear, we're here to introduce you to new areas to explore and a community of like-minded folks."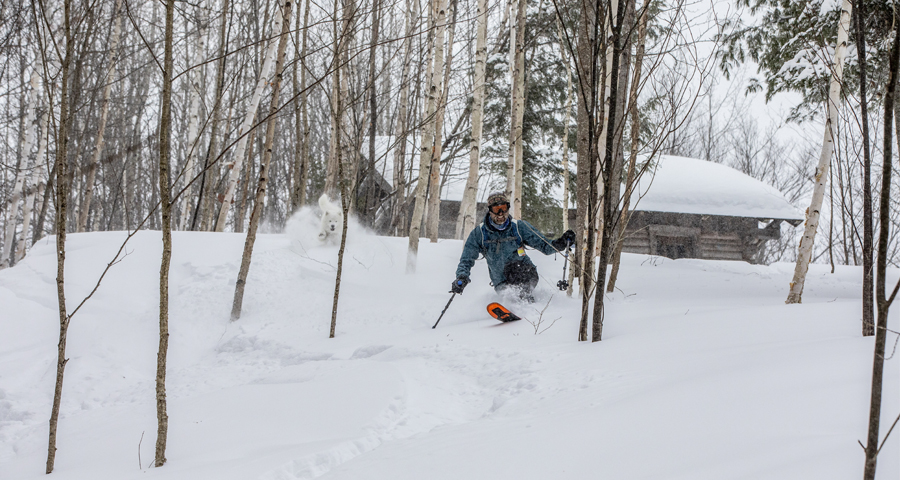 The group has focused its efforts on a few areas in the region, with the lion's share of the work being devoted to the ski area at the Limberlost Forest and Wildlife Reserve. A privately owned nature reserve, open to the public and offering an extensive multi-use trail system, cabin rentals, fishing and paddling, Limberlost was the site of one of Ontario's first ski-resorts. In the late 1930s, the "Top of the World Ski Hill" featured one of Ontario's first mechanized ski lifts, and Limberlost was a prime skiing destination until the 1970s. While the now defunct t-bar still stands, the ski hill has totally grown over in mixed hardwood bush. With permission and support from the Limberlost owners and managers, WWHSTA members have gradually gladed the old ski hill, opening several tree-skiing lines and creating some of the best glade runs Ontario has to offer.
"New visitors can find their way around Limberlost without too much difficulty, and it's all accessed via a wide and usually well-packed uptrack," explains Mann. "Skiers not wanting to test their mettle tree skiing can enjoy mellow touring on a mix of groomed and ungroomed trails throughout the property."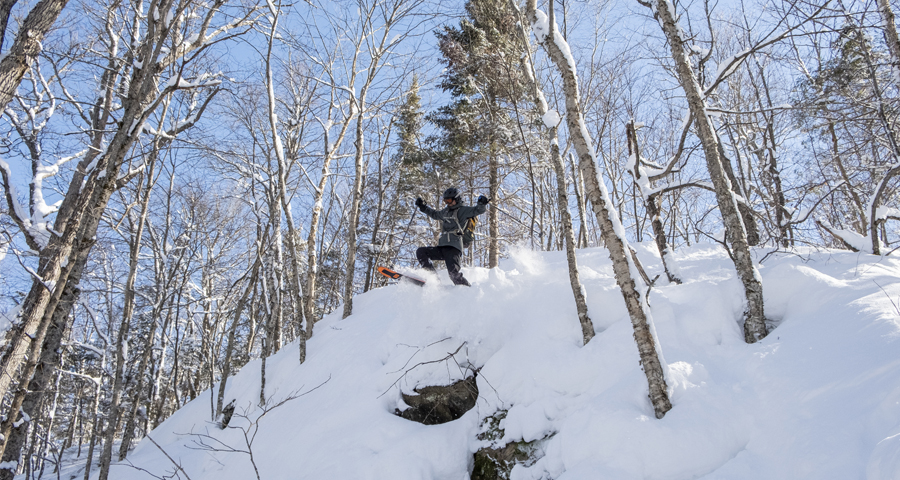 While membership in WWHSTA isn't necessary to enjoy the access to backcountry areas like Limberlost, Mann points out that joining the group makes the sport better for everybody.
"We're working hard to develop trails safely and responsibly, working with land owners, public entities and members to develop the infrastructure necessary for ski touring opportunities," he says. "Backcountry skiing is skiing in balance, and we want it to be sustainable, legal and responsible."
Along with a safe and smart approach to exploring the deep snow in the Great Canadian Wilderness, having the right equipment to get out in the woods is key. Alpine touring and telemark skis with climbing skins are the preferred tools of the most avid backcountry explorers, while keen snowboarders opt to snowshoe up, then ride down with their snowshoes clipped to their backpacks. Over the past few years, there's been a huge surge in popularity of "skin-based skis" a hybrid ski that offers a very efficient (and fun) way to travel through the woods.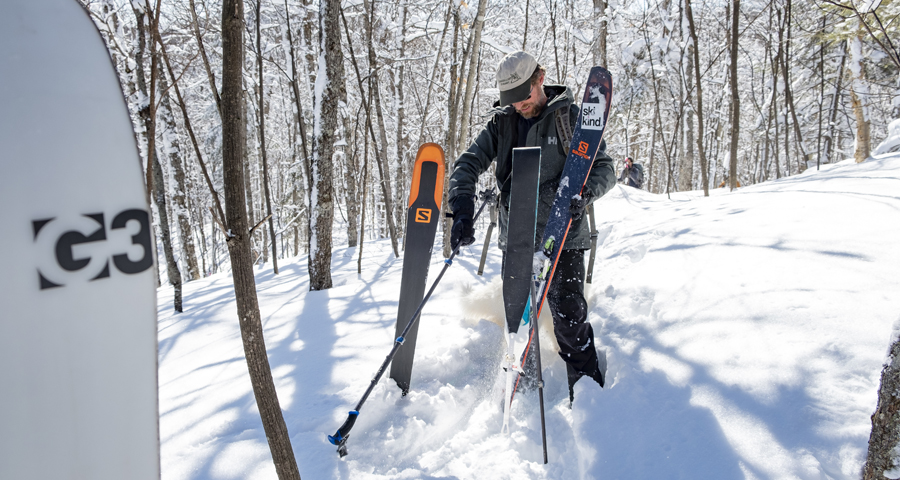 "Sliding snowshoes or skin-based skis are all terms for short, wide skis with a grip section underneath the middle of the ski," says Nate Smith, store manager of Algonquin Outfitters in Huntsville. "This type of ski derives its roots from a long line of north Asian and northern European ski design and is at home wherever there is snow for touring around your local snow covered patch of woods or trail system." With bindings designed to take any winter boot, skin-based skis are an excellent introduction to the joys of winter backcountry exploring, and a number of outfitters in the region offer rentals for people who want to try them out.
Know Before You Go
West Wind Highlands Ski Touring Association
Limberlost Forest & Wildlife Reserve
Gear Sales and Rentals
Algonquin Outfitters
Liv Outside
Parry Sound Bikes
Guided Services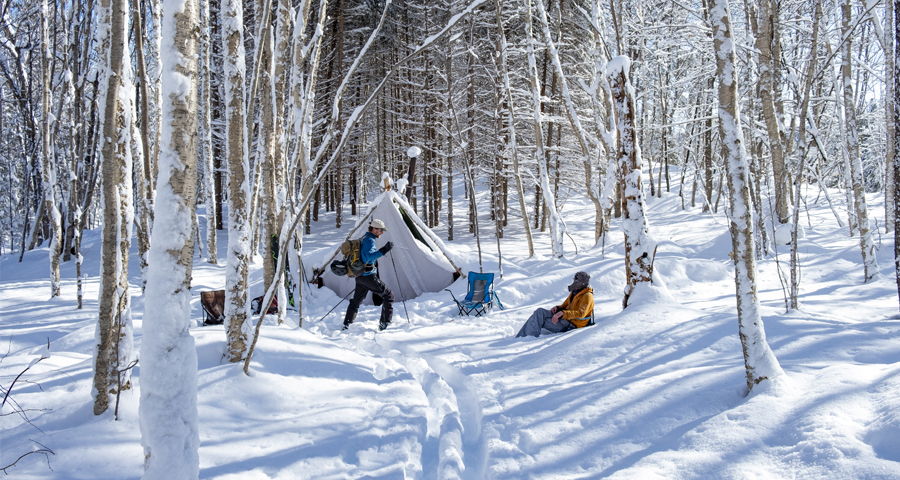 For more great things to see and do this winter in the wilderness north of Toronto, and to plan your getaway, visit TheGreatCanadianWilderness.com
Guest Blogger: Scott Turnbull is a professional photographer in Muskoka. You can visit him and his jewellery-designing wife, Miranda, at their studio in Windermere, Ontario.