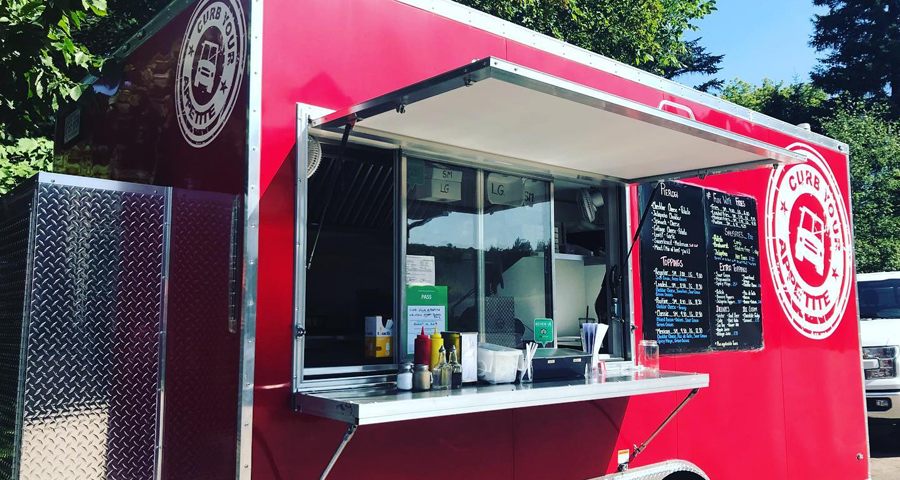 7 Places in the Almaguin Highlands You Need To Eat This Summer
Please note: Our new 'Great Canadian Wilderness' website has replaced the old one that ran under our company name, Explorers' Edge. From time to time in an older post, you may see references to Explorers' Edge.
A resident of the Almaguin Highlands recommends some great spots ready to welcome visitors. For more great dining, click here.
The Almaguin Highlands is unique for a whole host of reasons, including a wide array of delicious foodie options. From schnitzel to perogies to pizza to sweets — here are just seven awesome spots to stop and enjoy a bite.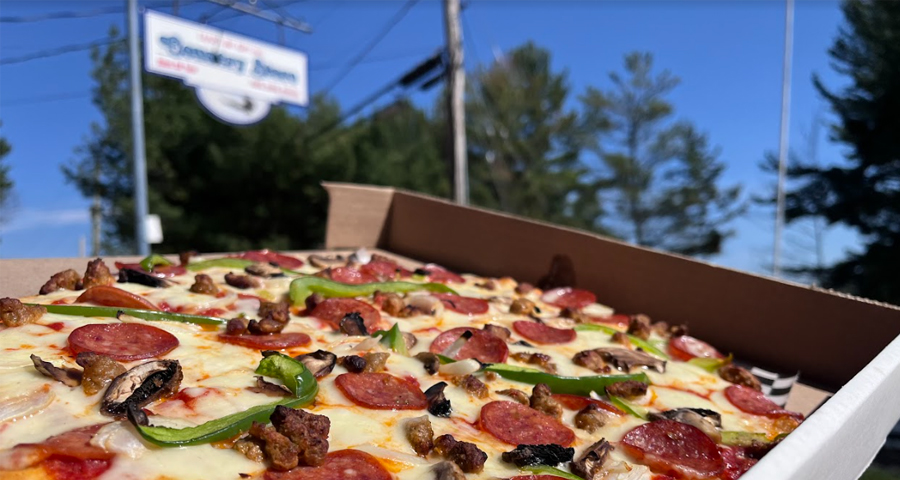 Jill and Fred Disomma of The Eagle Lake Narrow Country Store, located on — you guessed it — Eagle Lake, just outside of South River, make mouth-watering, thin crust, homemade, wood-fired pizza that is sure to delight the taste buds.
They offer just cheese, pepperoni, Canadian, Hawaiian, Veggie Lovers' and a Deluxe. Pizza's are pick-up only and are usually ready in about 20 minutes. Perfect for sitting out by the lake to enjoy a wonderful treat and a popular stop in the Almaguin Highlands.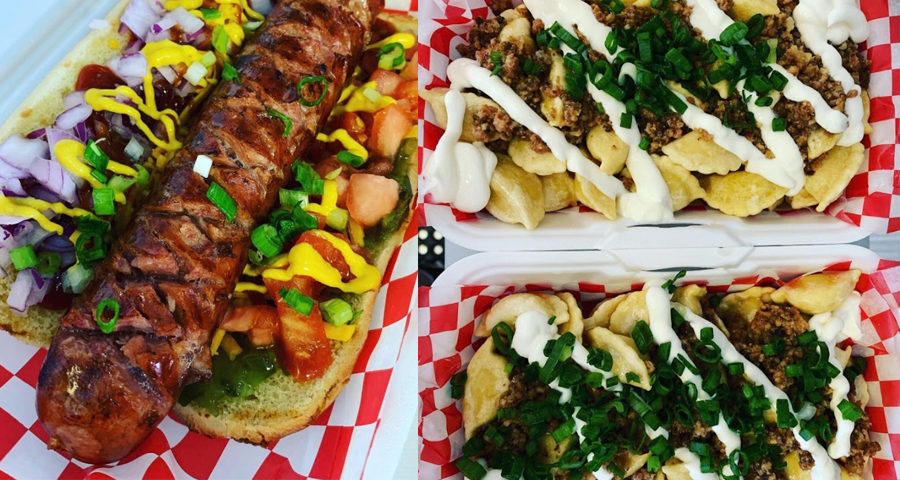 Whether you're a food truck aficionado or trying one out for the first time, you're sure to enjoy the little pierogi clouds available at Curb Your Appetite in Burk's Falls. After years of running a storefront and selling them at farmer's markets, the family who runs the food truck perfected their flawless deep-fried, mini pierogi recipe.
Choose from pierogies stuffed with the classic cheddar and potato, spinach and cheese, lentil and garlic, sauerkraut and mushroom, or a meat option (mainly pork). Add toppings from a list of selections, including cheese curds. The menu includes plenty of additional items, form classic hotdogs to sweet potato fries.
This little gem is a perfect stop before heading out onto the Burk's Falls Heritage River Walk or the Screaming Heads just a short drive away.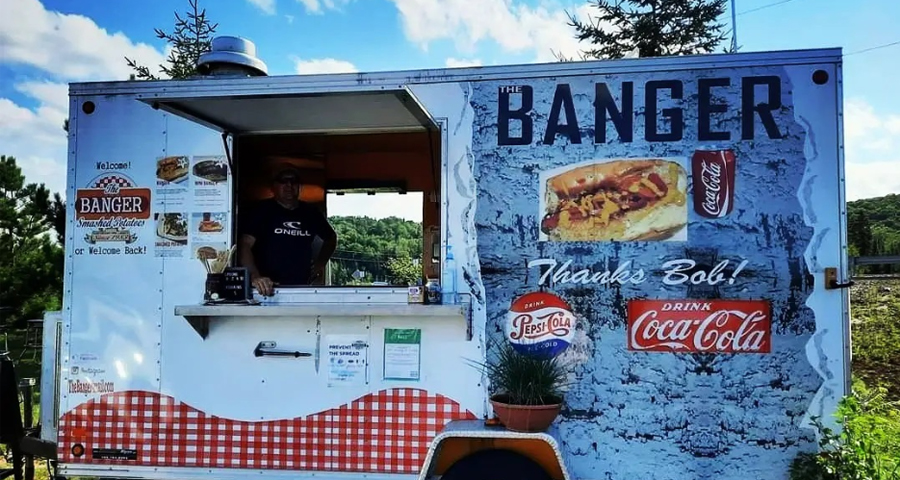 Home base for this popular food truck is Emsdale. Once run by a legend named Banger Bob (Robert Downey), who passed away several years ago, The Banger truck was brought back into business shortly before the pandemic hit. Here you're sure to get big portions of tasty, filling food at a great price.
The actual banger is a smoked pork sausage on a large, toasted bun topped with sauerkraut, mustard, hot peppers, parmesan cheese, and their legendary sauce. Lots of other great items on the menu, including a mini banger for kids.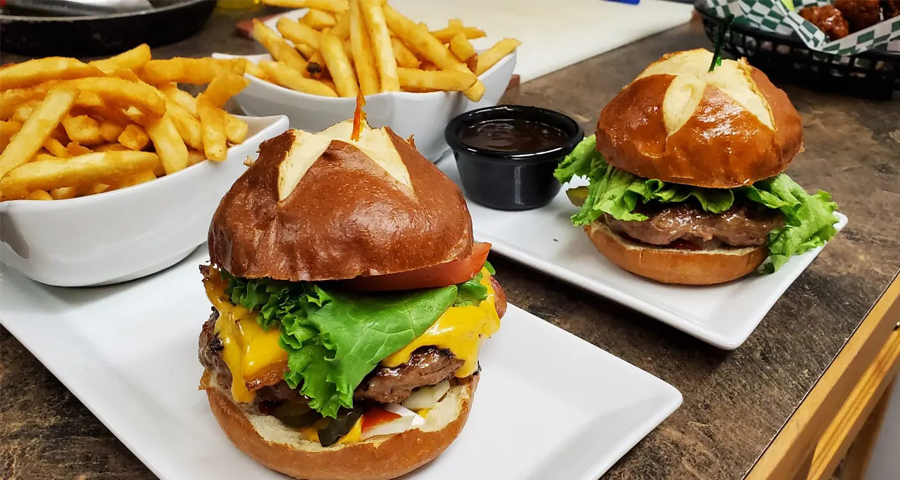 Comfy, cozy, cottage vibes welcome you into the space, which boasts live music most Wednesday and Thursday evenings, dart nights, wing nights, and even discount wine nights. From their monster breakfasts to their delectable fish and chips, Fork On Main has home-cooked eats perfected!
Located directly across the street from the bay in Kearney ("Ontario's Biggest Little Town"), you can enjoy the outdoor patio and whichever local musician happens to have popped in to play.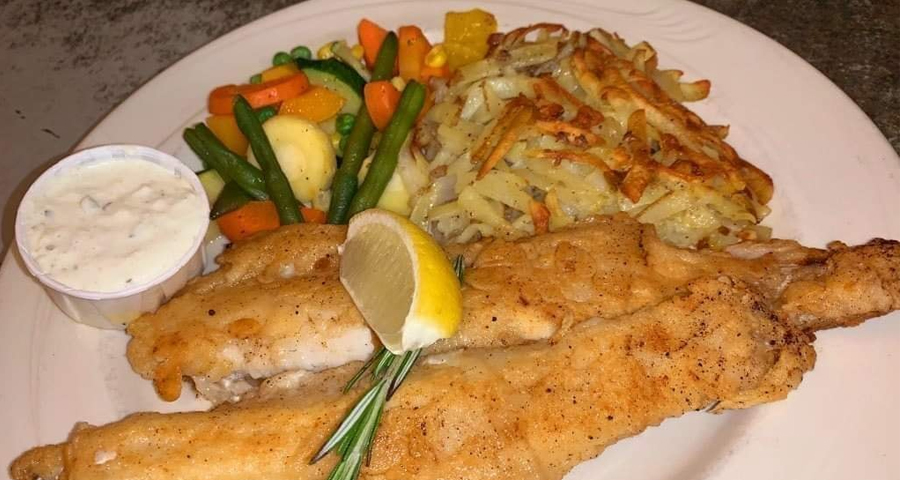 The Swiss Country House is a long-standing favourite in the Almaguin Highlands, serving up authentic Swiss and Canadian cuisine that keeps patrons returning year after year.
Attached to Ahmic Lake Resort but open to the public, you can choose between a sports bar-style atmosphere in "The BAR"n" with lots of screens and pub fare, or their formal dining room overlooking the Ahmic Lake.
Their dining menu includes starters like traditional Fondue Mutscll (swiss cheese fondue served in an oven-warmed homemade bun), crispy calamari tossed in fresh garlic and lemon with a hint of cayenne, salads and soups. Mains include swiss-style fish and chips, Reuben sandwiches, Flammkuchen (Alsatian Pizza, a specialty dish composed of a thinly rolled dough topped with sour cream, and the option to add onions and bacon, smoked salmon or grilled veggies and feta).
Of course, they are most famous for their schnitzel! There's wiener schnitzel, jagger schnitzel, piccata schnitzel, vampire schnitzel, exotic schnitzel (topped with homemade mango chutney, sliced peaches, and melted swiss cheese), chicken schnitzel and more.
A visit to The Swiss Country House at Ahmic Lake Resort is a must-do and must-taste adventure when you are in the Almaguin Highlands.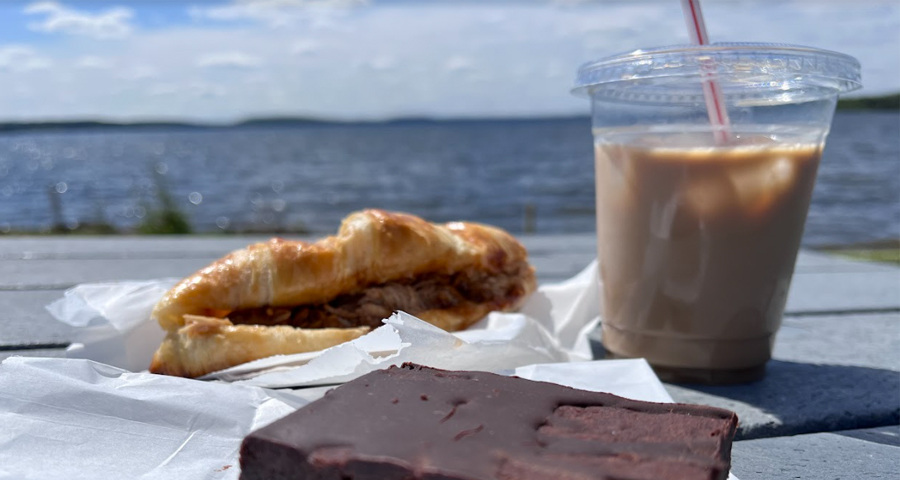 The Lakeside Cafe is located on the west side of Main Street in Sundridge, just steps from the Lions Park on beautiful Lake Bernard. All of the meals at the cafe are freshly baked and in-house recipes. From their quirky sweet and savoury stuffed croissants to their soups, salads, and desserts — the food is simple, yet fresh and sweet.
Open until late evening on Friday and Saturdays, the cafe's bright, cheery interior welcomes visitors to regular trivia nights, and guests can make use of the cafe's stash of in-house board games.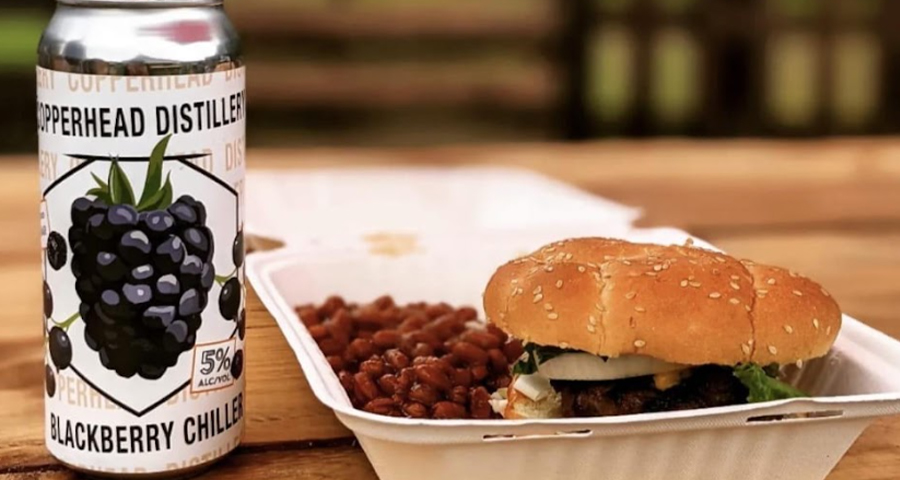 Copperhead Distillery, located just off Hwy 124 in Sundridge, is now home to the Smokin' Blonde BBQ shack! Indulge in ribs, brisket, pulled chicken, homemade bison burgers and sides like fluffy cornbread, beans and baked potatoes. Or, split a pile of nachos or potato skins with your traveling companions.
Pop inside the distillery's retail shop to purchase a patio-special beverage to quench your thirst (blackberry chiller can, raspberry vanilla vodka juice bag, pineapple coconut rum bag, or a cup of apple pie moonshine) and enjoy it alongside your meal on the licensed patio.
For more incredible dining establishments in the beautiful Almaguin Highlands of Ontario, click here. To plan your stay, click here.