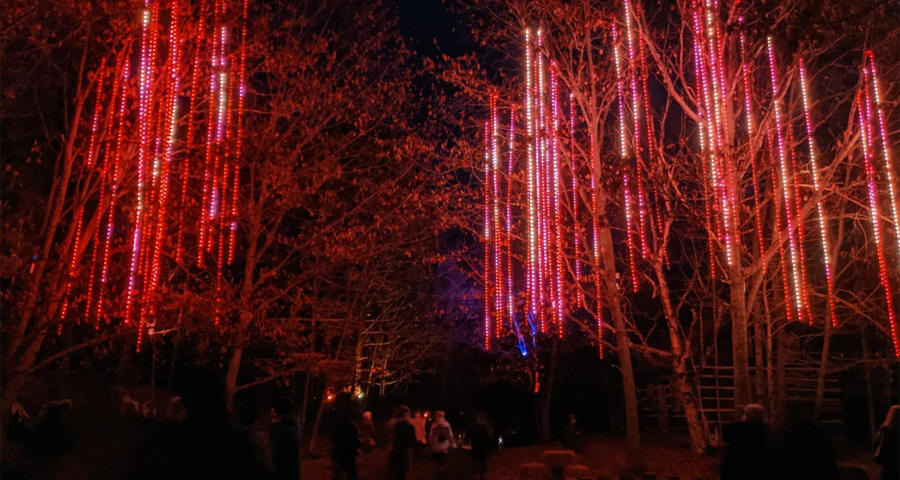 Winter Spotlight on the Great Canadian Wilderness North of Toronto
Please note: Our new 'Great Canadian Wilderness' website has replaced the old one that ran under our company name, Explorers' Edge. From time to time in an older post, you may see references to Explorers' Edge.
Discover unique stops across the region, and ways to nurture body, mind and soul. Here are just a few of many to explore:
Eclipse "Walk with Light" – Huntsville, Muskoka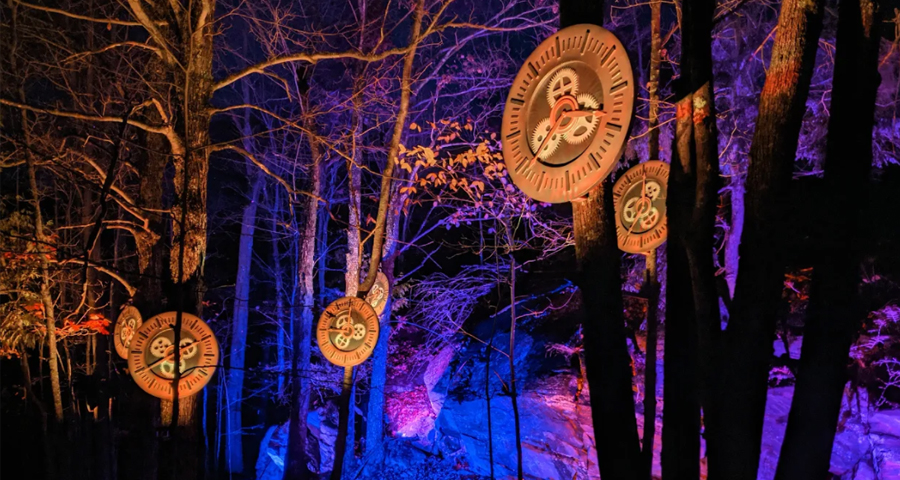 Head to Huntsville, Muskoka for a magical night-time forest walk where you will encounter over 18,000 dazzling lights set against the unique backdrop of Muskoka Heritage Place. Eclipse "Walk with Light" is an incredible outdoor journey through a series of interactive light and sound displays inspired that are inspired by linear time and the cycles of nature.
Follow the circular path of five themed installations to connect with nature amidst beautiful historic buildings and artifacts. Thousands of white lights begin to twinkle as your eyes adjust to the darkness. Take your time and experiment with the elements along the way. Dance your shadow on the moon as it is beautifully projected on Boles Barn and enter a snow globe with the charming Wesley Church at its centre. Ring the bell to wake spring flowers and marvel as glittering greenery envelopes Ashworth Hall. At Twilight, take in the sunset and watch as the lights respond to the sounds you create.

Visit Eclipse "Walk with Light" seven days a week until May 7, 2022. Tickets are only $5 per person (12 and under free). To purchase tickets and learn about upcoming special events head to the Eclipse website. Visit Huntsville Adventures for accommodations and more fun things to see and do in Huntsville and Lake of Bays.
Crystal Cave Mineral Exhibit, Crystal Shoppe and Artisan Village – South River, Almaguin Highlands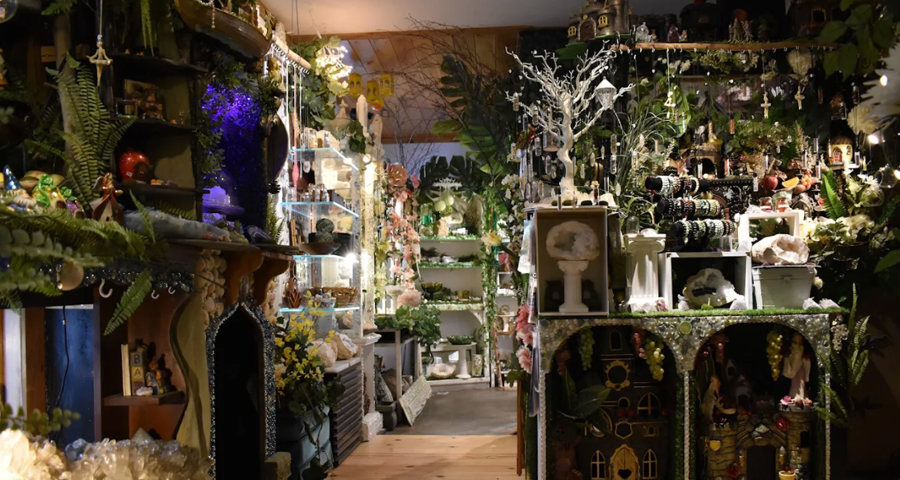 Crystal Cave in the Almaguin Highlands is truly a one-of-a-kind destination where you can marvel at beautiful crystals, gems, minerals, and fossils. In the museum, discover a huge collection of specimens while you learn about the history and geology of these unique treasures. For a self-guided tour, download the app and try the cool augmented reality feature that brings fossils to life.
The onsite Crystal Shoppe is a feast for the eyes and for the soul. Discover creative art displays, stunning photography, and beautiful polished stones and jewelry. Crystal Cave also hosts an artisan village featuring sculpture, paintings, fibre arts, and custom woodwork. Visit the artists this winter (open by appointment) or find them at the Crystal Cave Holiday Market on December 11-12.
Visit the Crystal Cave website for more information. Find places to stay and play in South River at Explore South River.
Trestle Brewing Company Outdoor Bubbles – Parry Sound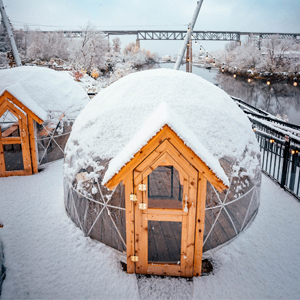 This vibrant craft brewery and taproom is named for its location, which features a spectacular view of the historic CPR Trestle Bridge in downtown Parry Sound. Amidst this scenic setting, Trestle Brewing Company knows how to embrace the outdoors in any season, and this winter you can enjoy the view from a heated outdoor bubble on their beautiful patio. You can also check out their heated yurt, or make a reservation in the taproom and admire stunning artworks by local artists. Order a refreshing pint, or sample a flight and pair it with something tasty from their seasonal menu.
For updates, follow them on Facebook. Parry Sound is a natural paradise with plenty of its own winter gems to explore. To plan your visit to the West Parry Sound District, click here.
Pit Stop 518 Mongolian Yurts – Kearney, Almaguin Highlands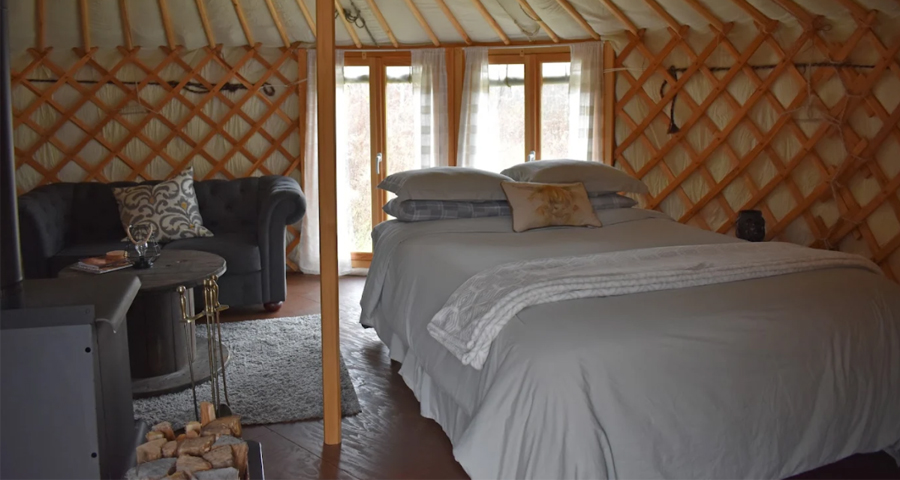 Welcome to your home away from home – Ben Nevis House – an authentic Mongolian Yurt, named after the highest mountain in Scotland, nestled in a meadow near the quaint town of Kearney, Ontario. Ben Nevis House is one of three yurts providing glamping-style accommodation at Pit Stop 518.
Constructed from natural materials, each yurt sleeps four comfortably and is tastefully decorated with warm linens to keep you snuggly on a crisp winter night. Unlike traditional yurts, there is a window where you can watch a gentle snowfall or maybe even catch a glimpse of wildlife…all while staying cozy beside the wood burning stove. Take advantage of the dine & stay option with meals provided at the fully-licensed Pit Stop 518.
This winter, make Kearney your home-base for adventure. Access the amazing network of snowmobile trails in the region, head to Algonquin Park (less than thirty minutes driving), or simply put up your feet and unwind in your very own yurt in the heart of the Great Canadian Wilderness. Follow Pit Stop 518 on Facebook for updates.
HydroSpa Muskoka – Minett, Muskoka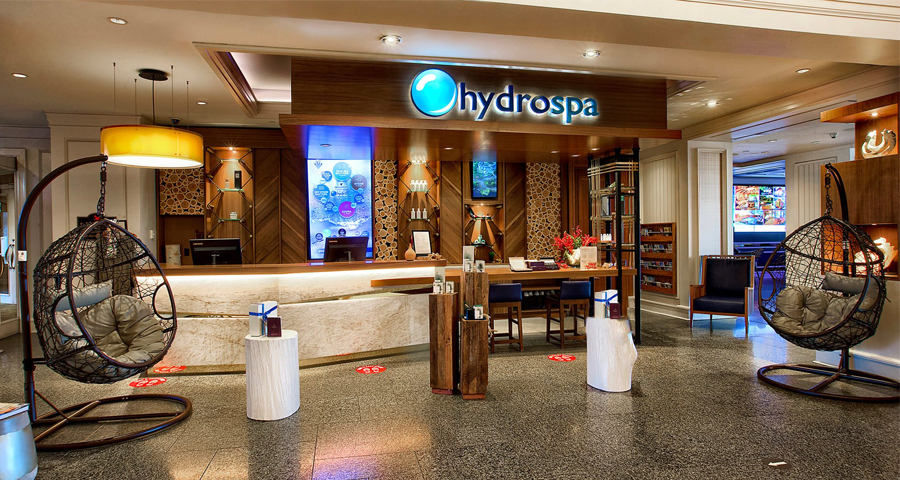 There are spas and then there is the HydroSpa Muskoka Wellness by Water! New this year at the JW Marriott the Rosseau Muskoka Resort & Spa, this is a full-service luxury spa like no other.
Ward off the winter blues by embracing the ancient practice of hydrotherapy. Relax in the dead sea salt pool and then get invigorated by a short plunge in the cold pool! Or immerse yourself in the Himalayan salt cave, try out the H20 massage bed, and enjoy an oxygen facial.
Finally, end your spa journey at the Crystal Head Vodka Icebar. Chill out in a -15 degree ice bar and sip three unique vodkas from the Dan Aykroyd-founded Crystal Head Vodka.
For more services and to book your appointment, follow HydroSpa Muskoka on Facebook. To discover more things to see and do, check out all the Winter Fun in Muskoka Lakes.
Muskoka Goat Away – Huntsville, Muskoka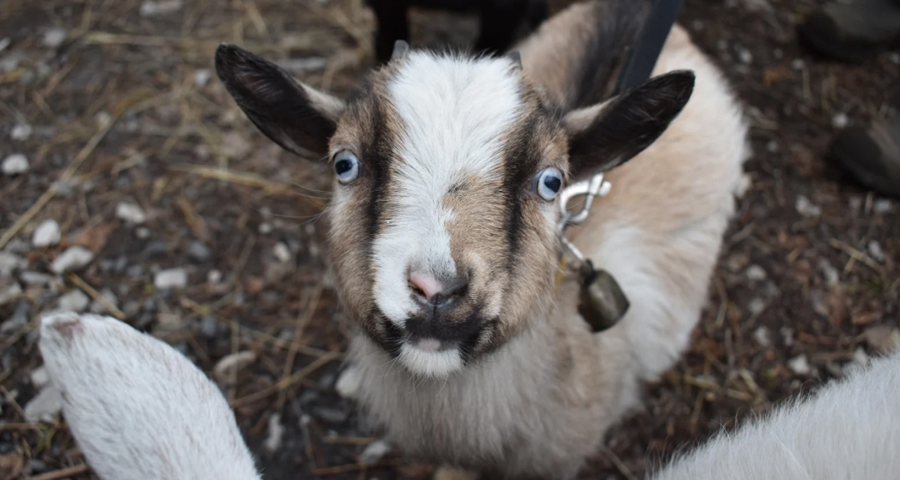 Meet Honey and Penelope, your new goat friends and tour guides! Under the watchful eye of their human companion, Stephanie Brooks, head out on a memorable walk through the woods with an adorable gaggle of goats.
At Muskoka Goat Away, you have the chance to explore beautiful trails, visit a heritage farm, and interact with these sweet and inquisitive creatures. Honey and Penelope and the rest of the herd are social and love to pause for snack breaks to munch on natural wild foliage. The pace is suitable for people of all abilities and you are guaranteed to leave feeling relaxed and with a smile on your face.
Great for couples or family groups, the walk is about one hour and meanders through the property of the quaint Morgan House Bed and Breakfast and Wool Works Studio. Visit Stephanie and her four-legged friends, and consider a stay at the Morgan House where you can discover other unique experiences like axe throwing or backcountry bush challenges at Find Your Wild.
For more great things to see and do this winter in the wilderness north of Toronto, and to plan your getaway, visit TheGreatCanadianWilderness.com