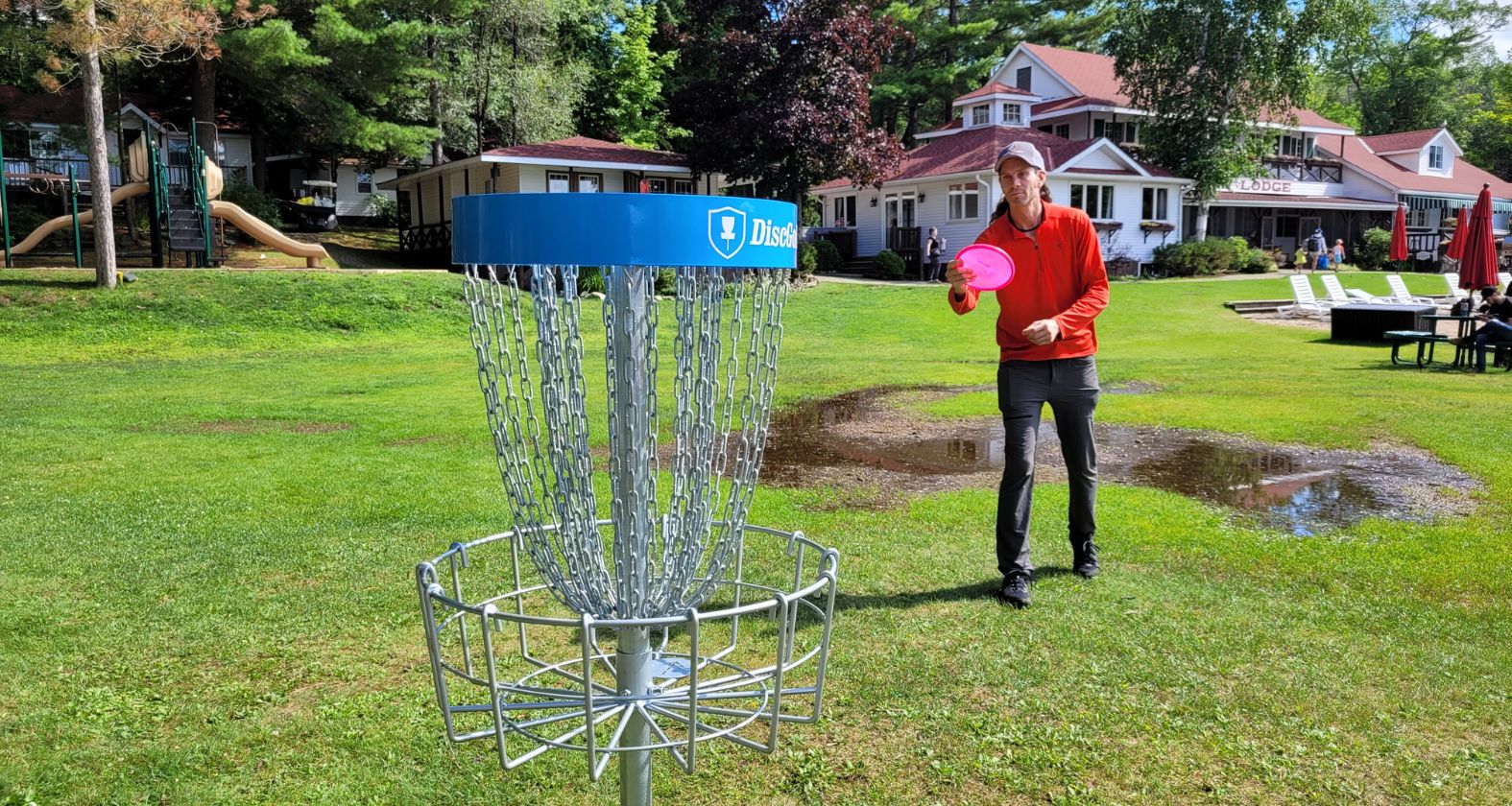 Spinning Around: Disc Golf is having a moment in Ontario's cottage county
With new courses popping up each year, this region of the province is becoming a favoured destination for all who enjoy the game. And with the announcement that the Northern Ontario Championships will be held in Huntsville, Limberlost and Dwight in October 2023, fans and spectators are in for a real treat.
The sport – like "ball golf" – sees players throw off from a tee towards a basket with every hole having the par system. Players will often bring multiple discs that do different jobs: driving, shorter throws and even putting. The sport has its own terminology with players often talking about flex shots, scoobers and low ceiling shots.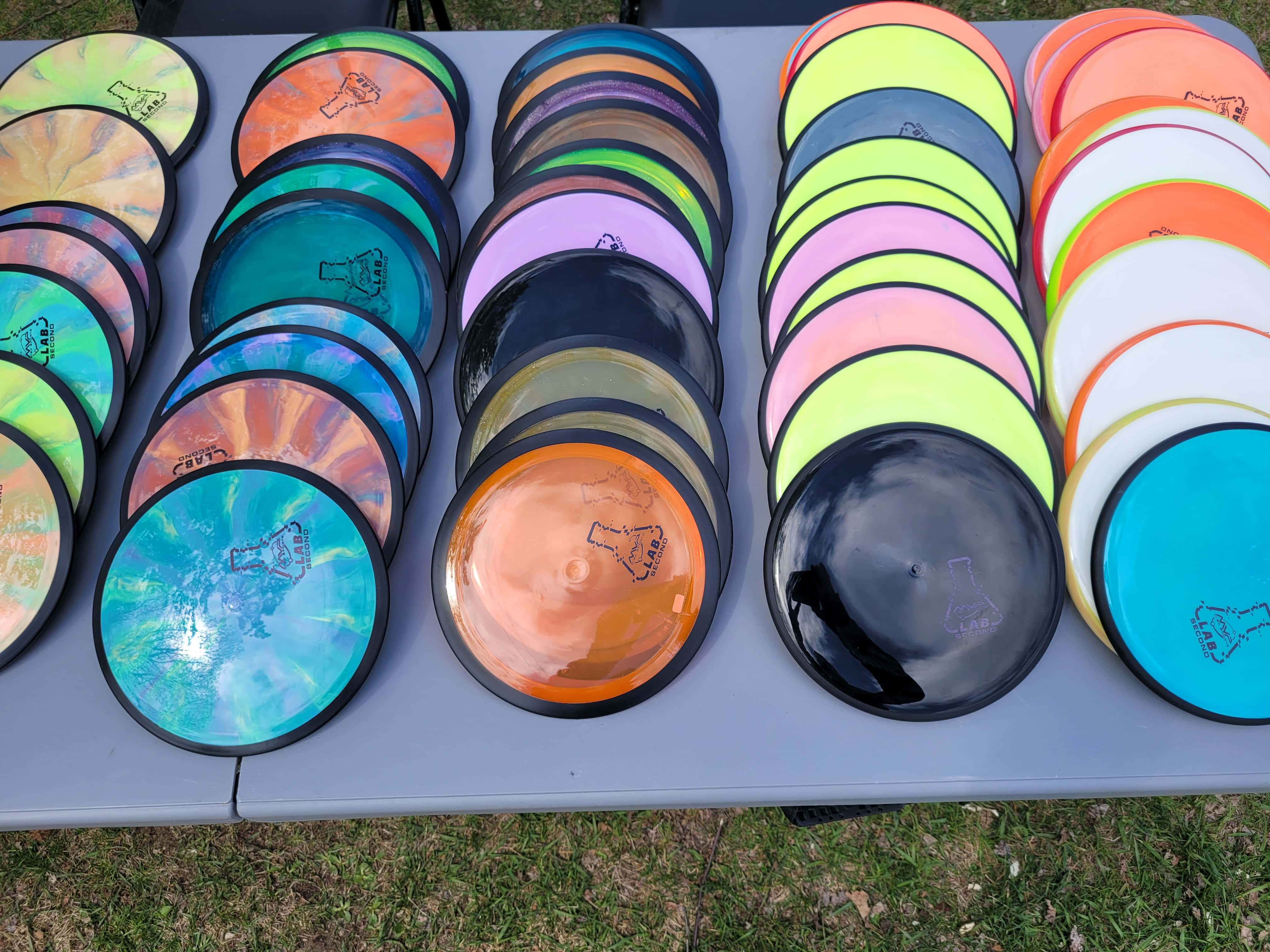 One of the driving forces behind the popularity of the game in these parts is Kevin Farley, who runs Fluent Disc Sport in Huntsville, and Disc Golf Muskoka, an organization that promotes the sport across the region.
Kevin and his team have helped develop new sites in Huntsville, Lake of Bays and Port Severn that many resorts now offer as activities to their guests. His course designs are what he calls "experiential". Traditional golf courses will use the landscape and elevation to enhance play, and Kevin adds to these elements by using what is around while he's building. For instance, a hole shape can be based on an animal discovered while laying out the hole, the shape of a birds beak, or a deer footprint found nearby.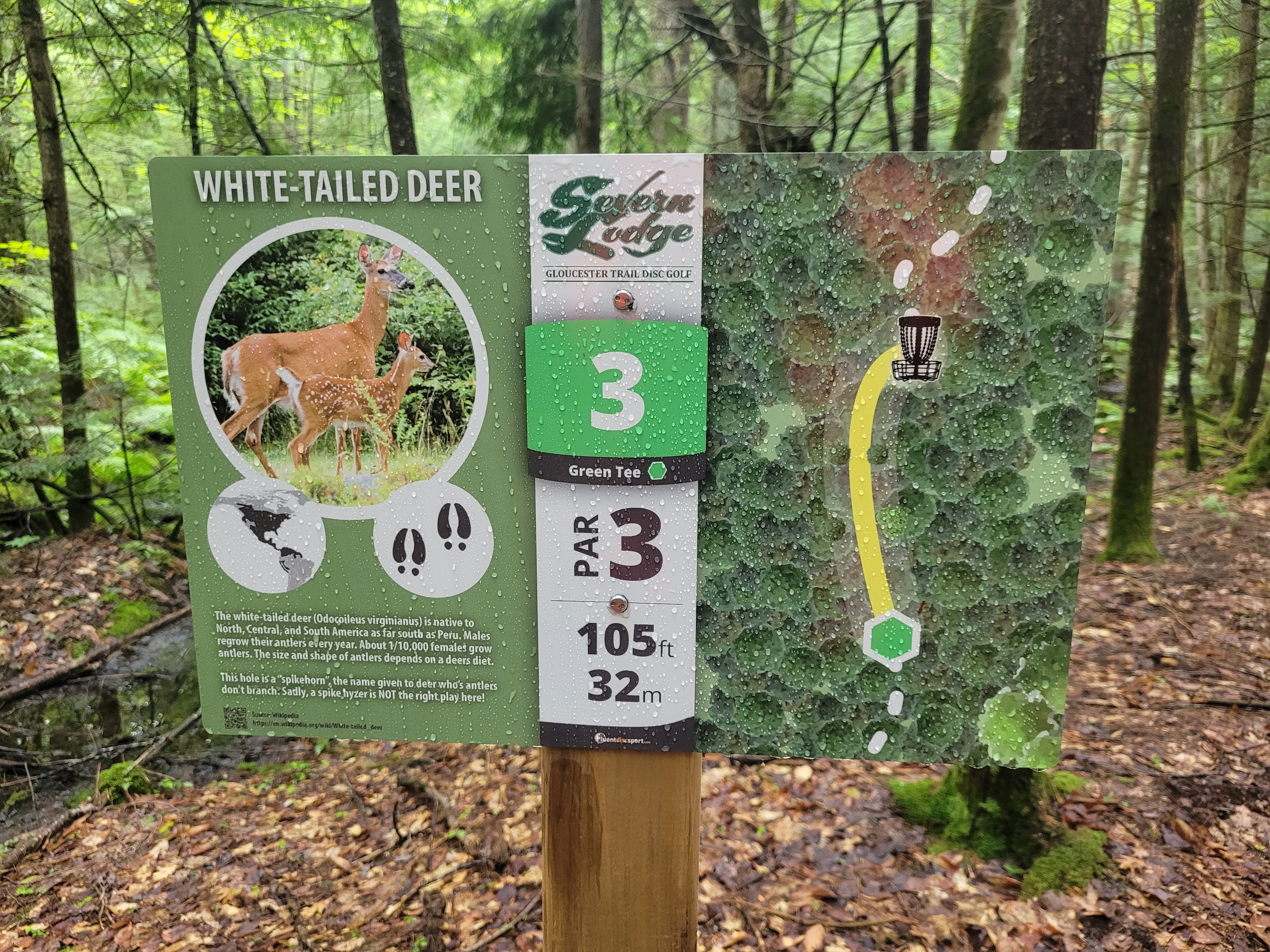 Courses
Bracebridge Disc Golf Club – Bracebridge.
Their home course is the Dads Of Muskoka at Verena Acres (Peake Fields) in Bracebridge. The property is a mix of forested rolling hills with steep and deep river valley's weaving through. This 18-hole course is relatively short, but due to the dense foliage, it can be a real challenge to navigate your shots.

Deerhurst Ace Place – Huntsville.
This is a 9-hole pay-to-play course (free for Deerhurst Resort guests) located on the hotel's property. Currently $20 for a non-guest.

Evergreen Fields – Huntsville.
Located within Huntsville's McCulley Robertson Sports Complex on Brunel Road, it weaves in and out of mixed open and wooded areas. It is an 18-hole course that plays a bit tight and technical, but its shorter length still makes it playable by all levels.
Algonquin Disc Golf – South River.
The Algonquin Disc Golf course is located in Tom Thompson Park, situated on the shore of Forest Lake. It is one of the oldest in the region has been a Championship 18-hole disc golf course since 2003.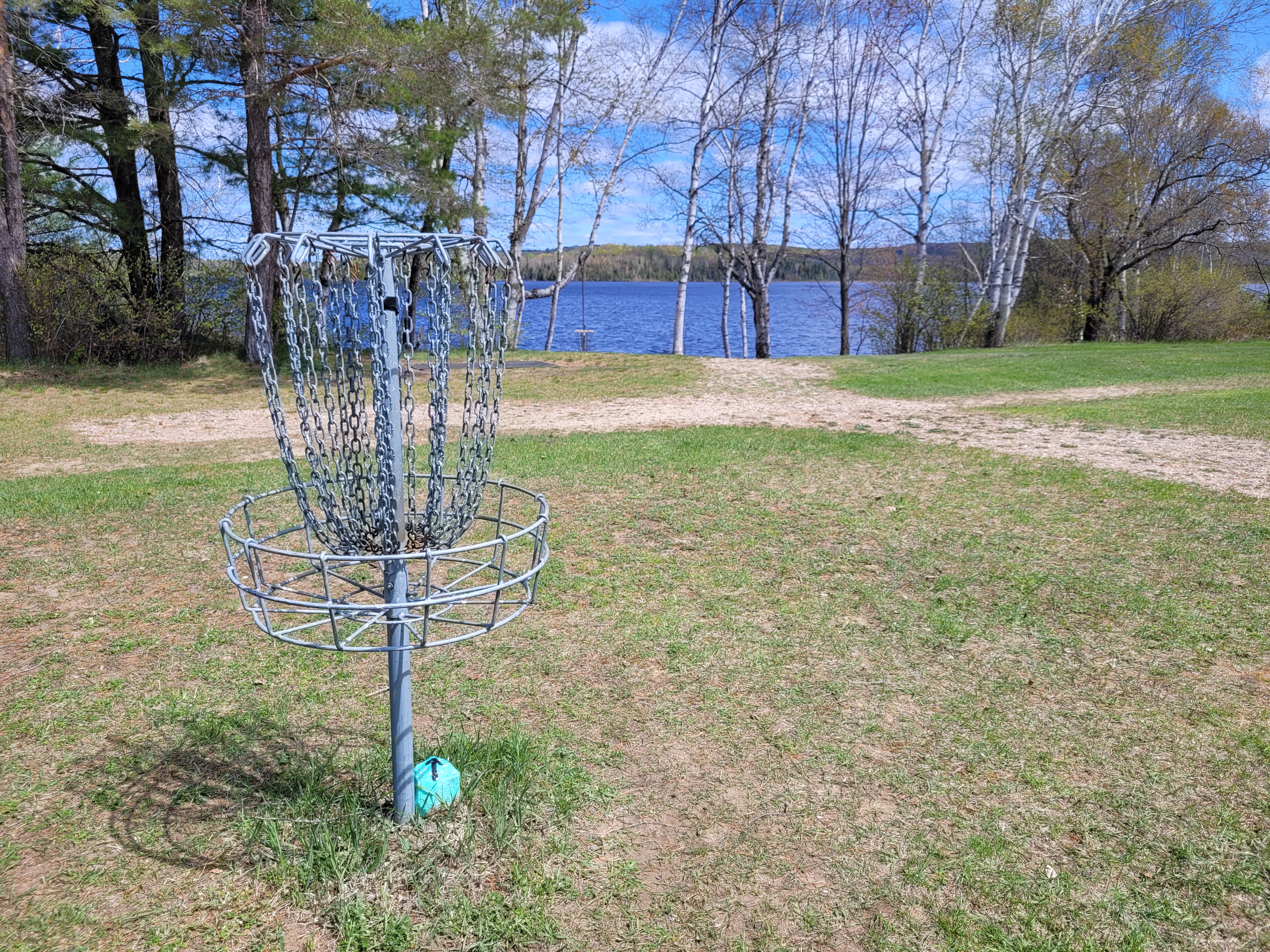 The Gloucester Trail Disc Golf Course – Severn Lodge, Port Severn.
A 9-hole Green level course designed by Fluent Disc Sport that winds through the woods and it is perfect for families. The course is free to play but only available to guests of Severn Lodge at the moment.

Gull Lake Rotary Park Pitch and Putt – Gravenhurst.
There are five baskets located in the north east corner of Gull Lake Park mixed in amongst a tall stand of pine and hemlock with a huge canopy providing shade on a sunny day for some pitch and putt fun. Not too challenging but a great place for beginners and to get some practice in.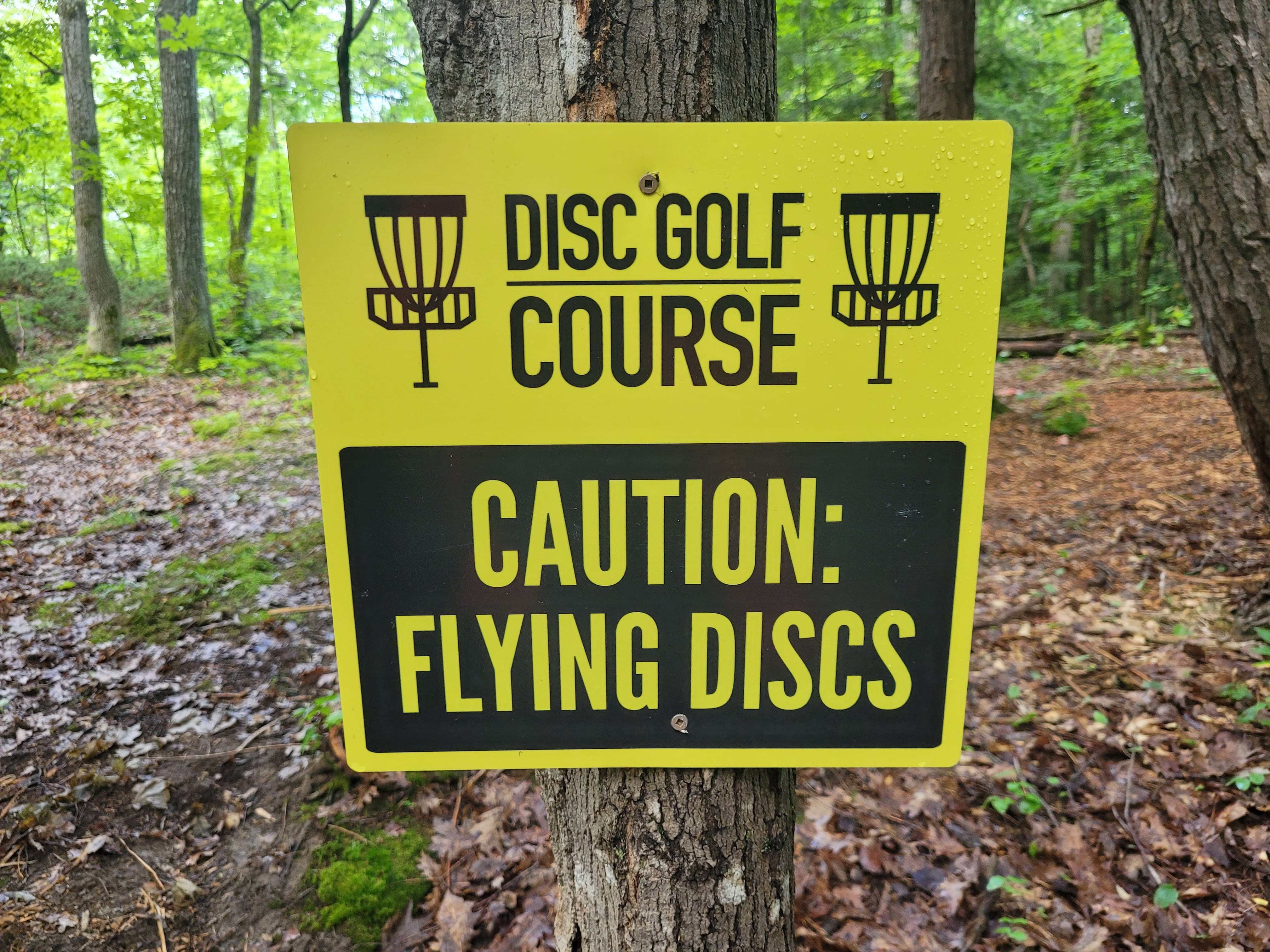 Limberlost Links – Huntsville.
The Limberlost Forest and Wildlife Reserve is a publicly accessible private forest reserve east of Huntsville along Highway 60 . The course is located near the main visitor centre and it winds around a wide open hill with a broad view over a scenic lake. The course has 18 holes, consisting of both short and long tees depending on your game. A number of the tees have different approach lines giving each round a different feel while still hitting all of the great vista locations. The course is on private property but the public is welcome to play between 9am and 5pm.

Mikisew Provincial Park Disc Golf – South River.
The park is open to the public from mid-June until Thanksgiving annually. You will need to be camping there or have a day/season pass to access the park. It is an 18-hole course geared toward novice and intermediate players with newer baskets, tee pads and signage. The course is relatively tight but the rough can be forgiving as it's not too dense in most areas. It mainly consists of dog legs and tunnel shots, so will lean heavily on your short to mid length game.
The Ridge at Myer's Lake – Mactier.
The course is quite technical and has a number of challenging par 3 and 4s. It wraps through a mixed forest accented by some Canadian shield with fairways cleaned and cleared for easy walking and navigating through the course. Get in touch with owner Marty to play a round.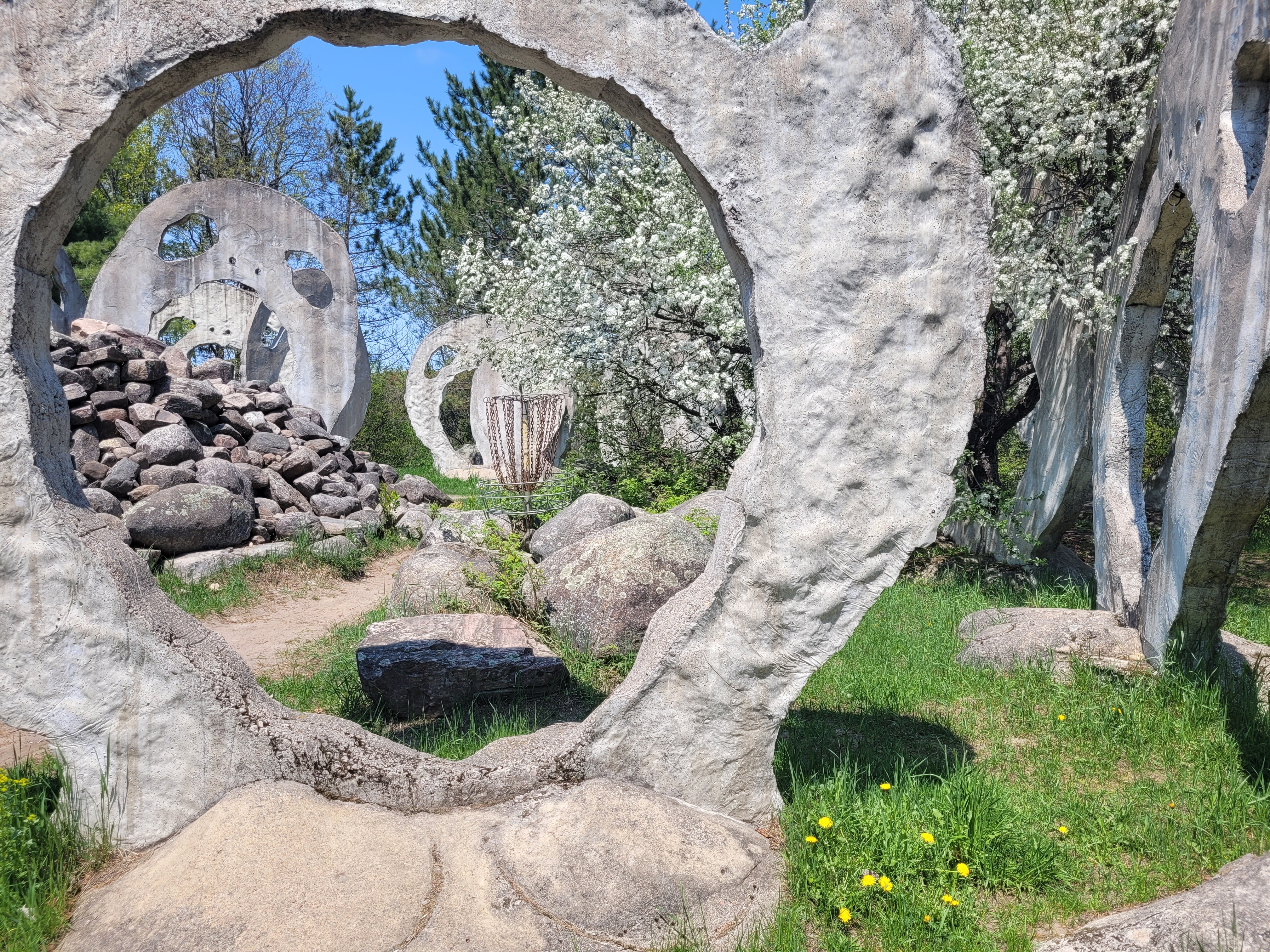 Screaming Heads – Burk's Falls.
The course meanders in and around the famous sculptures giving you a great way to both tour around while taking in a game. The property is still an operating farm that grows tall grasses throughout the summer making it difficult to play during the high season. Many baskets are removed, holes can be unplayable due to the grass, and getting around can be difficult once you leave the normal hiking/walking trails. In the spring and the fall, when the grasses have been cut down, this is one of the coolest courses in the region. Long open bombers, elevation runs, forested holes, tunnel shots, water, this place has it all. The baskets are relatively old, tee pads are natural, and depending on when you go, it may be a little rough around the edges. A great place to take in the scenery and enjoy a day among some amazing art.

Wolf Tracks and Cub Course at Bondi – Dwight.
This Championship level course, newly built in 2022 at Bondi Resort, brings top-level disc golf experiences to the region. The red and blue tees (and hybrid white layout) on Wolf Tracks, and the accompanying junior Cub Course, make the facility accessible for players of all skill levels. With artificial turf tee pads and elevation use, it provides both a challenge mixed with beautiful forest views. Its mix of wooded and open shots provide for an experience unlike any other in Ontario. This par 67 course is one of Canada's longest disc golf course and one of only a handful of Championship level courses in the country. Day Passes for Wolf Tracks are $15, or a season's pass is $150.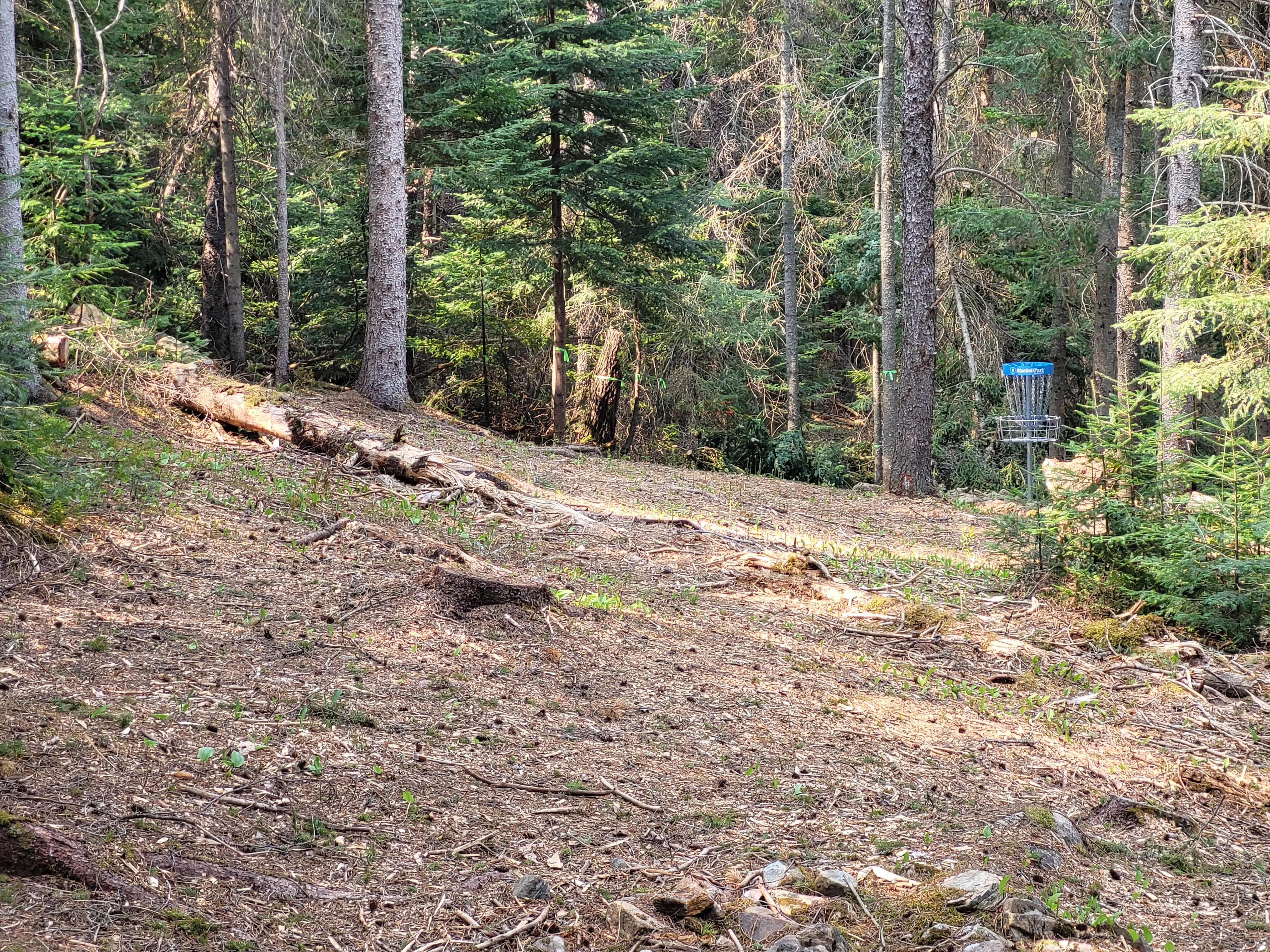 Events
Northern Ontario Championships October 13-15 – Dwight, Limberlost and Huntsville.
Bondi Resort will be the home of the annual 2023 Championship Pool A athletes with Huntsville and Limberlost hosting the Pool B competitors.
Father's Day Fling June 2024 – Limberlost and Huntsville.
A one day, one round, best disc unsanctioned doubles event. Teams are made up of a father/son, father/daughter team but any team will be allowed as long as it's a child and adult.
Other non-traditional golf, golf activities
FootGolf at Muskoka Highlands – Bracebridge.
FootGolf is a combination of the popular sports of soccer and golf. The game is played with a regulation soccer ball at a golf course facility on shortened holes with 21-inch diameter cups. It is played on any existing golf course with 18 footgolf holes spread within 9 holes of regular golf. For Muskoka Highlands the FootGolf course is on the back 9.
To plan your adventurous stay in the Great Canadian Wilderness click here.
For more on disc golf in the area check this site. For traditional golf opportunities, visit GolfMuskoka.com
Did we miss something? Email [email protected] with details.