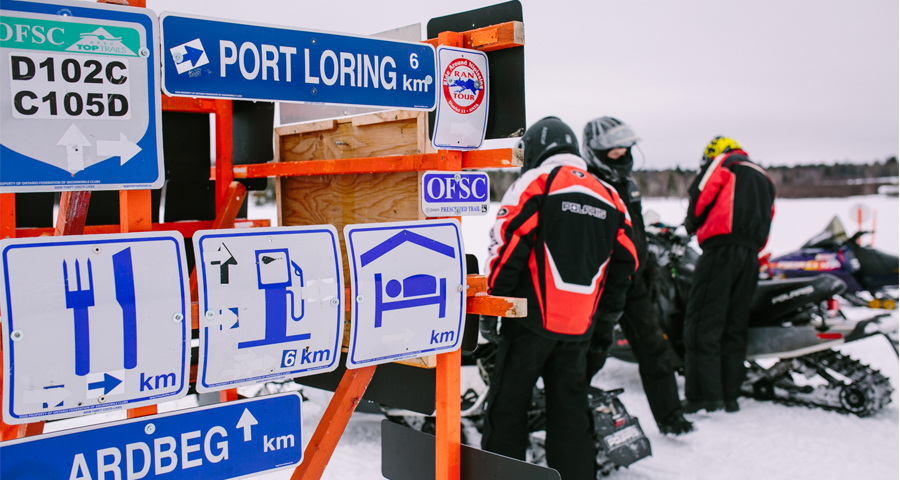 Snowmobiling in Ontario's Cottage Country: Where to Stay & Eat
Please note: Our new 'Great Canadian Wilderness' website has replaced the old one that ran under our company name, Explorers' Edge. From time to time in an older post, you may see references to Explorers' Edge.
With this winter producing some of the best snowmobiling conditions in Ontario in a long time, OFSC Districts 7, 10 and 11 once again have everyone's favourite trails for sledders to get their braaap on. Weaving through snow-dusted forests, over expansive frozen lakes, zipping past the stunning Canadian shield landscape and passing by loads of exceptional accommodations and restaurants, a snowmobile trip to the great Canadian wilderness just north of Toronto will not disappoint.
ALGONQUIN PARK
While snowmobiling inside Ontario's oldest provincial park is not permitted, riding the perimeter on the popular Round Algonquin Park (RAP) tour most definitely is. The looped tour will take you through two of this region's OFSC districts and pass along old rail beds, logging roads, forests, and of course, lots of stunning Canadian shield terrain.
Photo Credit: Blue Spruce Resort
Stay Near Algonquin:
"Blue Spruce has always been a big supporter of the Algonquin Snowmobile Club, one of the first clubs in Ontario. Our family are charter members of the club and I have been on the executive since 1986, 21 years as President. The groomer for the club is maintained at our shop so we are guaranteed of groomed trails to our front door every time it goes out. Our staff are among the most knowledgeable in the industry. We are snowmobilers!"
– Scott H., Owner
Located just outside of Algonquin Park in Dwight, Ontario, Blue Spruce Resort is the perfect stop for snowmobilers hoping to ride the RAP or hit the local Muskoka region club trails. They are located directly adjacent to Trail 74 and have a close affiliation with the Algonquin Snowmobile Club. Trail maps are available to pick up on site, and fuel is available just 8km away directly adjacent to the trail.
Blue Spruce Resort offers an assortment of accommodation options to suit your group. Cottages, studios and suites all come with complete housekeeping facilities, and some have wood burning fireplaces to warm up after a day on the trails. There are a number of restaurants nearby as well including The Boiler Room Tap & Grill, The Cookhouse, or Spring Lake Resort Restaurant.
ALMAGUIN HIGHLANDS
Photo Credit: Edgewater Park Lodge
Stay in Almaguin:
"Edgewater Park Lodge is a great spot for snowmobilers to stay, grab a bite to eat or just to stop to get some fuel. We are located right on Almaguin District Club Trail 303 with the Top D trail close by. For guests staying with us, we offer a meal plan so they don't have to worry about bringing food. Our Red Canoe Restaurant features homemade, fresh and hearty meals for the snowmobiler looking to fill up. While at Edgewater Park Lodge, snowmobilers can take a short ride over to view the scenic ice caves, or ride to the Lookout off Trail 304 and check out the view!"                       
– Cathy M., General Manager
Edgewater Park Lodge in Kearney offers cabins and motel style rooms, both with parking for trucks and sleds located right outside your door. With onsite dining and fuel, you're setup with Edgewater as your home base to tour the hundreds of kilometers of surrounding trail systems without ever having to trailer up and move. Have your meals at their Red Canoe Restaurant, or try other local establishments too like Pit Stop 518 or DJ's Bar & Grill. Other great snowmobile friendly accommodations include Sand Lake Cottages & Inn, Booker's Clear Lake Cottage Resort and Ahmic Lake Resort.
LORING-RESTOULE
Photo Credit: Tornado's Canadian Resorts
Stay in Port Loring:
"Snowmobilers come into our area because we have fantastically maintained trails. Usually there is lots of snow because of the vicinity to Georgian Bay that allow our trails to open early in the season. Here it is all about the local club trails that are much different from the high frequency trunk trails. Our local trails are small and pass through some very scenic landscapes. The traffic is very sparse so the pace in our area is quite a bit slower than at other places."
– Lionel, General Manager
Tornado's Canadian Resorts in Port Loring is located directly on trail AR501 and can accommodate large groups of up to 14 in their Settler's Lodge or smaller groups of friends in their 3 bedroom cottage. They have gas available onsite for their guests – or to the general public if you phone ahead and let them know you are coming. They also suggest Buchanan's in Port Loring as a popular spot to gas up. Their onsite restaurant offers breakfast and dinner to their guests (closed for lunch), or is open by reservation.
For hearty, homemade meals in Port Loring, don't miss Jake's Place Restaurant and Roxie's Diner. Both restaurants cater to snowmobilers with lots of parking for sleds outside, and Jake's even has a coat rack inside and cubbies for your helmet. You'll love the small town hospitality and meticulously groomed trails – the near north cannot be missed!
MUSKOKA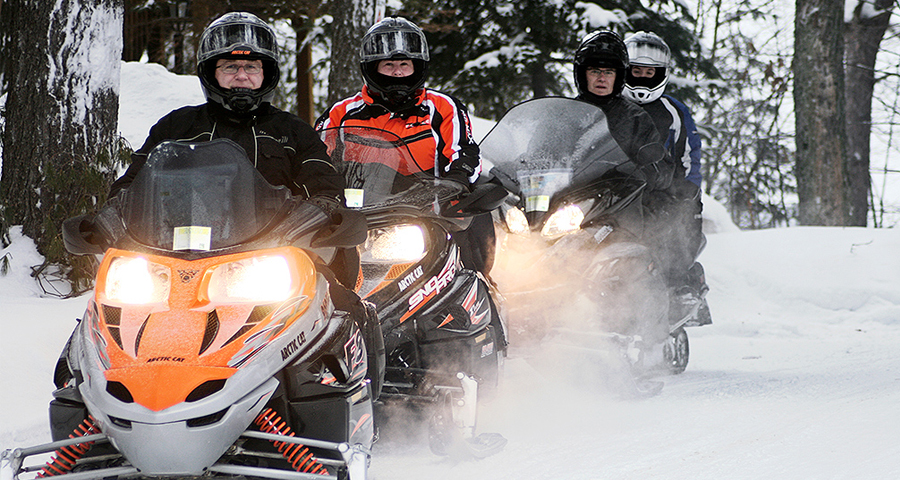 Stay in Muskoka:
"We welcome snowmobilers to the property – they are welcome to ride their sled directly to their accommodations and there is a groomed trail that runs directly into the back of our property for easy access. It is great to utilize our wood burning sauna and new hot tub after a day on the trails, and there is also an onsite spa that is great for use the following day. We realize that sledders need an area for their gear and have great appetites after a ride. We ensure they're looked after and cater our winter menu towards that. Inside the lodge you can relax by our fireplace or you can sit outside by our outdoor fireplace. On top of all that we always offer a great package for our sledder friends."
– Robert H., Innkeeper
Trillium Resort & Spa in Port Sydney is nestled among 86 acres of pristine forest and woodlands and on the shores of Devine Lake. The lakeside resort accommodations feature six waterfront chalets and eleven bedsitting cottages set amid towering hardwoods. Enjoy casual fine dining in the original century old Muskoka lodge, relax in the wood-fired Finnish sauna, skate on the lake, or take a pair of snowshoes out on their trails. The resort is located just off TOP Trail D103B on HGR 55 and connects you to over 150km of meticulously maintained local trails (trail maps are available on site).
When planning your stay at Trillium Resort & Spa, take advantage of their Joy Ride Muskoka package. Enjoy delicious hot meals each morning and evening, spend your day exploring the local trail systems, and return in the evening to warm up by the fireplace after a full day of riding. The package includes accommodation, dinner, breakfast and the resort service charge – rates are from $152/pp based on a one night stay. Other great snowmobile friendly accommodations include Residence Inn Gravenhurst Muskoka Wharf, Hidden Valley Resort and Tally Ho Inn.
PARRY SOUND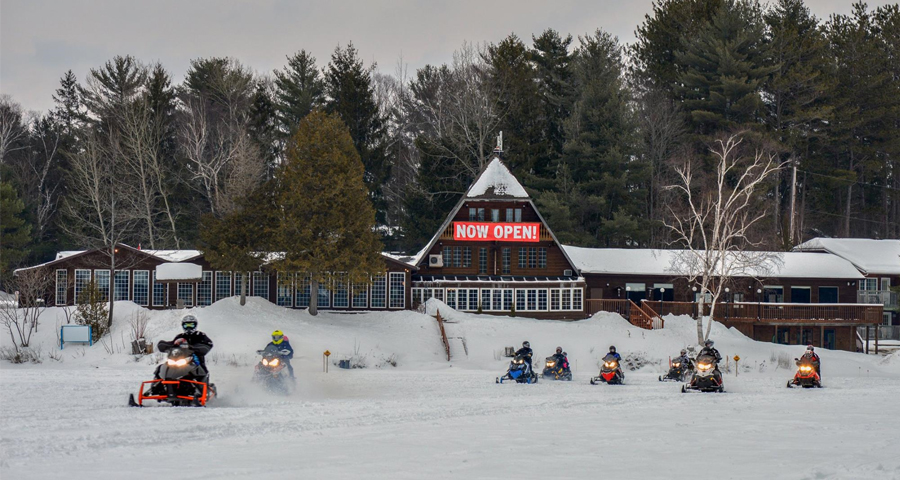 Stay In Parry Sound
"Grand Tappattoo Resort is great for snowmobilers because we are centrally located just a short distance from Parry Sound. The OFSC trail runs adjacent to the property, we have a large parking lot to accommodate snowmobile trailers, hotel accommodations, as well as recreation, food and beverage options available, including daily dinner specials and special snowmobiler packages."
– Amanda J., General Manger
Grand Tappattoo Resort is set on 50 acres of birch and pine forest on the shores of Otter Lake, just 8km south of Parry Sound in Seguin. Offering 53 hotel style rooms, suites, and fully equipped cottages, there is an accommodation option to suit every traveller. And with onsite dining available at their Forest Restaurant, a hot and hearty meal is just a few steps away after a long day on the trails. While on site at Grand Tappattoo you can also rent an ice hut for fishing, relax in the outdoor barrel sauna (available at an additional cost), ice skate on their rink on Otter Lake, or take a dip in their indoor pool.
Fuel is located just a short ride away at the Georgian Bay Travel Centre at the junction of TOP C and TOP C103D trails. Amanda recommends checking out the 6km Rose Point Trail that travels from James Bay Junction Road south through to Rose Point Road along the old JR Booth Rail bed – scenic and historic! To plan your stay at Grand Tappattoo Resort, check out their one and two night Snowmobilers Package – a great value with accommodation, breakfast and dinner voucher included. Other great snowmobile friendly accommodations include Jolly Roger, H & H Restaurant and Resort and Comfort Inn.
For more details on snowmobiling Ontario's cottage country – including links on where to ride, click here.
For local club recommendations click here.
To plan your stay and for more exceptional accommodation options, click here.