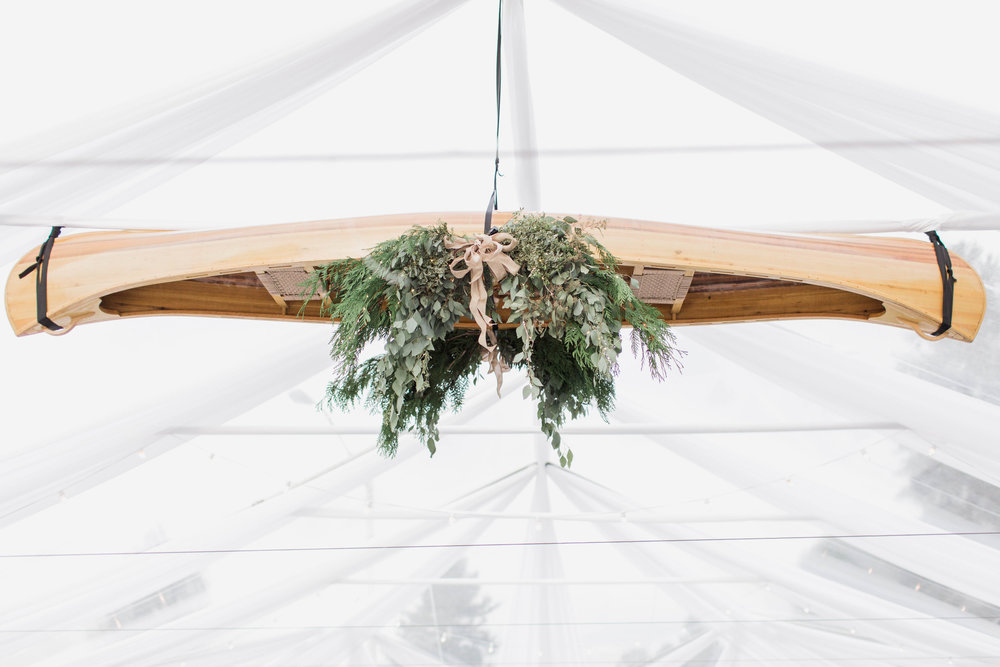 Muskoka Weddings: Discover How Stunning Your Day Can Be

That Muskoka's iconic landscape is a spectacular backdrop for a wedding should come as no surprise. What will astonish you is just how stunning your day can be in the wilderness north of Toronto.
If you're considering a wedding in Muskoka, you probably already have your reasons.
Perhaps the groom is a cottager whose family has summered here for generations. Maybe the bride is 'a local' who moved away but never forgot that there's no place like home. Or maybe you've visited as a tourist once or twice and want to share this incredible place with people you love because – as they say about Muskoka – 'once discovered, never forgotten'.
Whatever the reasons, there's no doubt that a wedding here – lakeside with friends and family – will delight you, your guests and the majestic loons calling out from the waters. But what will make it really special? It's the weaving of Muskoka 'touches' into your celebration – the mingling of natural landscape with added elements of sophistication that will mesmerize those joining you on your special day, leaving everyone all aglow.
The wow factor starts with the venue, of course, and this spring ClubLink's Muskoka properties are making it easy for you to find the perfect spot to deliver on your dreams. If you're thinking of Muskoka for a destination wedding, you won't want to miss their upcoming event showcasing just how beautiful your celebration can be at one of their four locations.
The 2nd Annual Inn-timate Wedding Show featuring Muskoka's ClubLink properties takes place on Saturday, April 22, 2017 at beautiful Sherwood Inn.
Head to Sherwood Inn from 11am to 3pm on April 22 to meet with Clublink's Wedding Specialists to discuss the amazing possibilities at Rocky Crest Golf Resort, Water's Edge at The Lake Joseph Club, Grandview Golf Club and Sherwood Inn. They'll explain all the services each property provides (such as exceptional food, beverage, rehearsal events and accommodations), and tell you about their recommended partners, including creative florists, professional photographers, officiants and more.
Show attendees will sample sumptuous food prepared by Executive Chef Everett Bell and his team, and get neat ideas in the "wedding tip" session as well. There will be great door prizes, including a round of golf for four at the Lake Joseph Club, and the Grand Prize of a future overnight stay at Sherwood Inn, including dinner and breakfast for two. Guest room viewing and property tours will be available at each ClubLink location also.
Unique among shows, ClubLink's event offers a more intimate and scenic atmosphere than at larger mass-attendance conferences (and what could be better than visiting the spot where you might say your vows?) Be there this spring to get ideas on everything you need to make your big day a success and learn about some newer trends too, such as mid-week weddings (for more privacy), 'pop up' weddings, prix-fixed weddings, four season wedding ideas, and more.
Your Big Day: The Options Are Endless
Open from early May until October, Rocky Crest Golf Resort offers three spectacular settings to choose from: the Marquee Tent for outdoor weddings, the Algonquin Room with a private deck overlooking beautiful Lake Joseph, and the Rocky Crest Club House that's available in early spring or late fall.
Recognized for its outdoor weddings, Rocky Crest's Marquee Tent hosts up to 180 guests under amazing chandelier lighting, allowing you and your guests to experience dancing under the stars and a traditional Muskoka bonfire nearby in spring, summer or fall.
Pre and post-wedding, your guests can enjoy 18 holes of championship golf at Rocky Crest – ranked #4 by Golfweek's Best Canadian Modern 2016. Family and friends will also enjoy the water park on Lake Joseph, as well as swimming in the heated lakeside pool. (A smaller lake also on site at Rocky Crest allows for even more exclusive events.)
Unique among resorts, Rocky Crest offers a "10K" full-service Wedding Package, which includes a rehearsal dinner and three nights' accommodation for the bride and groom.
For more information on weddings at Rocky Crest Golf Resort, click here. For a sneak peek video of weddings at Rocky Crest, click here.
The beautiful Water's Edge Wine Bar & Grill at the Lake Joseph Club is the perfect setting to host smaller weddings of 60 to 90 guests for a spring, summer or fall event.
The large dock has ample space for couples wanting to say 'I do' right on the waterfront, while the new deck and bar area offer expansive lake views for post-wedding celebrations.
The club has several accommodation options, including their trademark post and beam villas with stone fireplaces, two-storey great rooms, and private decks with barbeques and tables for outdoor dining. The Lake Joseph Club has plenty of activities on site as well, including sailing, paddling, tennis, archery and dedicated mountain bike trails. Fantastic golf – the hallmark of Clublink properties – is also just outside your door at the Lake Joseph Club for pre or post wedding recreation.
Located in picturesque Huntsville, Muskoka, Grandview Golf Club has many different options for couples hoping to accommodate up to 250 guests. Choose from the Grand Hallway, the Ballroom, the more intimate Muskoka Room, or the stunning lawns for an outdoor event – all of which showcase the iconic cottage country style.
The golfers on your guest list will be thrilled to play 18-holes on the Mark O'Meara championship course as well.
Open during the golf season and located just minutes from downtown Huntsville, Grandview Golf Club is close to plenty of varied accommodations and tons of great attractions.
ClubLink's coziest property is the historic Sherwood Inn. Providing a boutique-style, authentic Muskoka experience on the shores of Lake Joseph, this resort specializes in exclusive-use weddings where couples take the entire resort from Friday at check-in until Sunday at check-out.
Open year round, Sherwood Inn is also a perfect location in all four seasons (and winter weddings in particular are becoming more popular). From horse drawn sleigh rides and hockey in winter to canoe races and moonlight dips in summer – celebrations at Sherwood Inn are guaranteed to give your guests a genuine cottage country experience.
Exceptional dining (including an award-winning wine cellar) and the on-site spa will enhance every guest's stay, and assist the bride and her attendants with all their beauty needs. For weddings larger than 120 guests, outdoor tents are popular. Whatever you can envision for your celebration, the staff at Sherwood Inn will work hard to make it come true.
For more information on weddings at Sherwood Inn, click here. For a sneak peek of a previous Sherwood Inn wedding, click here. For some Sherwood Inn wedding stories, click here. For details on Sherwood Inn's 11K Exclusive Use Wedding Package (includes DJ, late night buffet and two nights' accommodation for the bride and groom with breakfast for two) click here.
Can't wait until the Inn-timate Wedding Show on April 22, 2017 to make your plans? Contact a ClubLink Wedding Specialist today to get more details on celebrating at Rocky Crest, Sherwood Inn, Water's Edge at the Lake Joseph Club or Grandview Golf Club. Looking to pop the question this winter in Muskoka? Sherwood Inn is open weekends until the warmer weather returns in spring.
If the first step in planning an unforgettable Muskoka wedding is booking the venue, then the staff at ClubLink's four incredible Muskoka properties are ready to help you start your journey towards creating a stunning, authentic celebration.
To contact ClubLink's Wedding Specialists, visit Muskoka-Weddings.com
The OneWedding Guarantee™
ClubLink's OneWedding Guarantee™ ensures that we focus all of our attention on you and your guests. We promise that your special day will be the only wedding we will host at your Club of choice*. No bumping into other bridal parties or having to wait in line for the perfect photo shoot location. Our doors are open just for you.
Feature photo of hanging canoe by Elizabeth in Love.