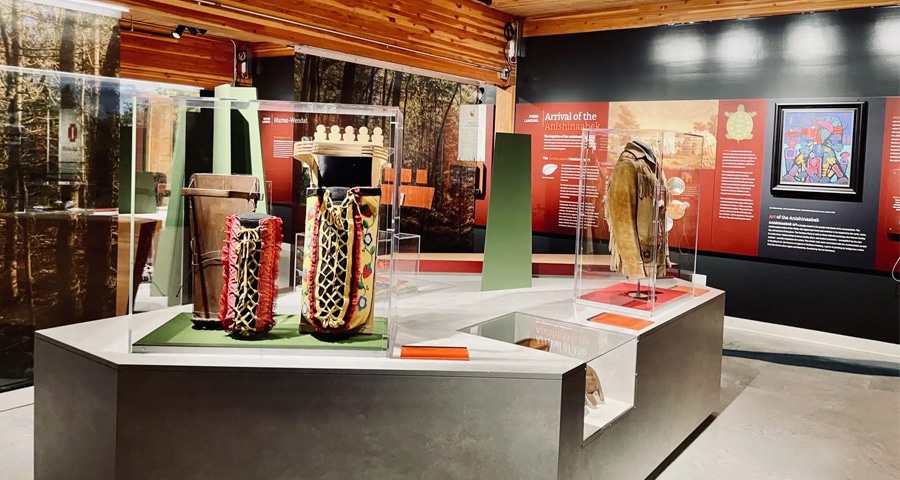 The Muskoka Story: A Tale as Old As Time
A stunning new three-part exhibit at the Muskoka Discovery Centre (MDC) in Gravenhurst, Ontario, provides an intimate look at the area's fascinating history.
It's anticipated that the recently-opened "Muskoka Story: A Microcosm of Canada" exhibit, located in a breathtaking, eco-friendly 12,000 square-foot hall on the shores of Lake Muskoka, will attract thousands of visitors from all over the globe. Stepping into the soothing wooden interior, filled with displays and interactive stations, it's immediately easy to see why that will likely prove to be the case.
Visitors keen to understand this iconic destination more are in for a treat; a one-stop, cultural immersion into the people and place that make the area so special.
What was maybe not as anticipated for those of us who live locally and believe ourselves to be fairly well-versed in Muskoka's past – myself included – is just how much we don't know. What a wonderful spot to reflect more deeply on "home."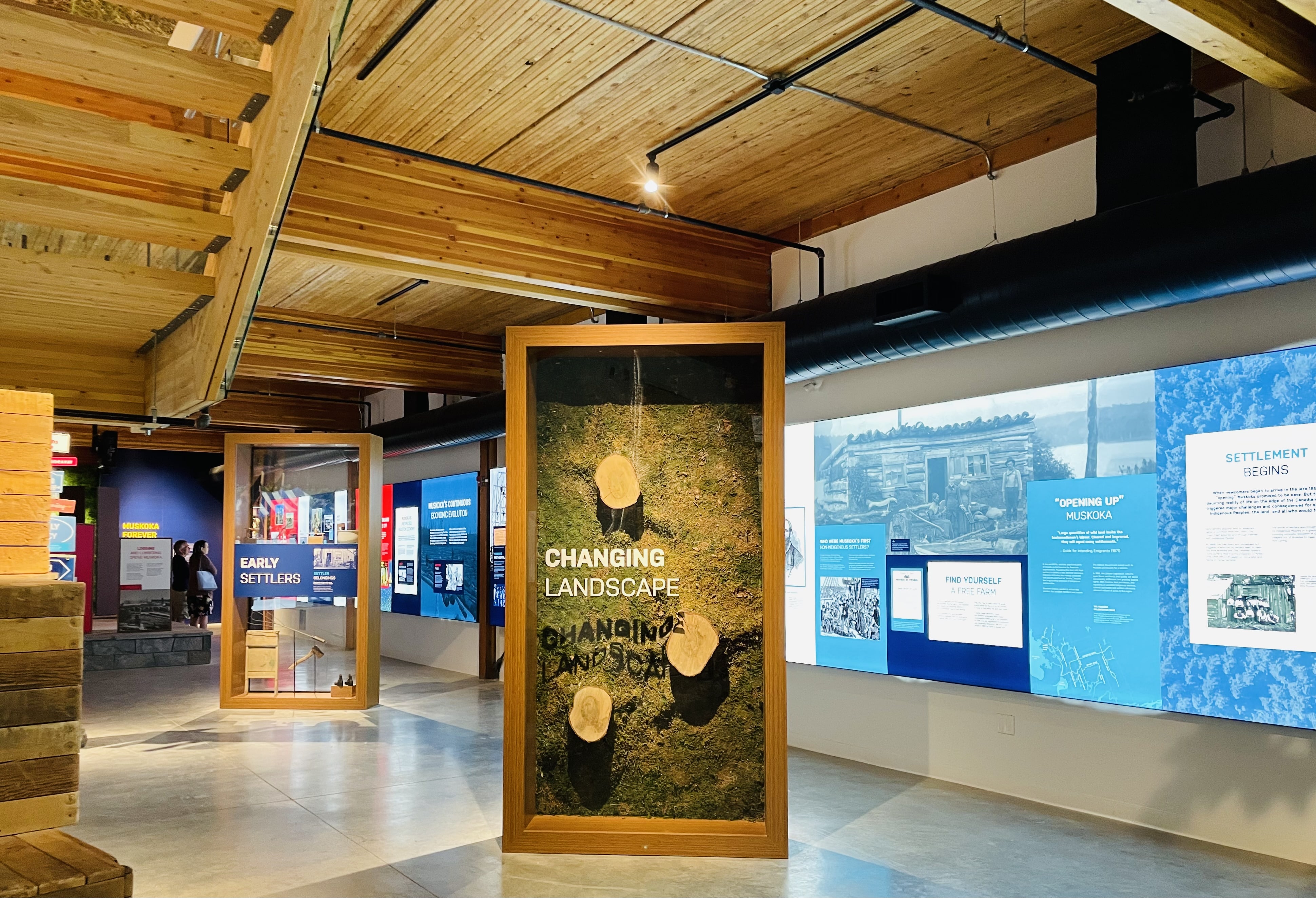 The Exhibits
Evolving Muskoka: Life on the Edge of the Shield tells the story of the last 250 years, beginning with the first settlers and the development that followed; from the early immigrants promised land in return for clearing it (and not many succeeded given the terrain), to the massive lumber industry, the steamship era that opened up the lakes, and the tourism industry that naturally grew out of the latter.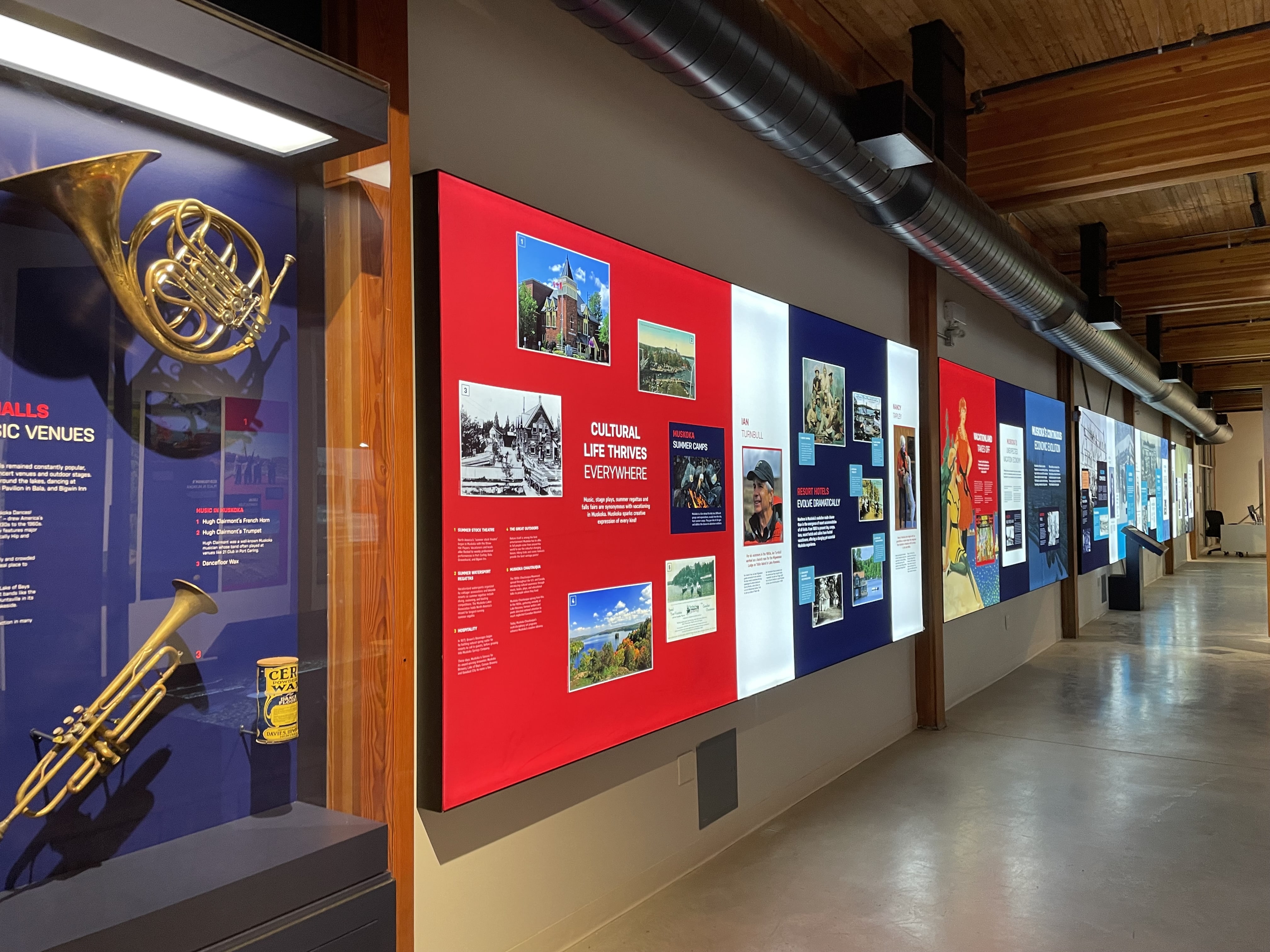 Over this time period, Muskoka changed rapidly from untouched lakes, rivers and forests, to landscapes with many interconnected towns and villages; thousands of permanent and seasonal residents live here now, and millions of visitors come annually to this vacation hot spot, in all four seasons.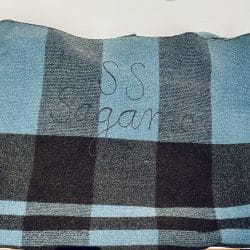 There are some very cool artefacts on display to take you back in time, in addition to the significant number of nautical items one would expect, considering the MDC is home to the renowned RMS Segwun and the Wenonah II (both of which still tour passengers around the lakes).
Having worked in summer stock theatre at the Gravenhurst Opera House many (many!) years go, I enjoyed reading about The Straw Hat Players and the numerous dance halls across the region, including legendary Dunn's Pavilion (now The Kee to Bala).
It was delightful to see one of the tourism operators we work with these days have her family and her property – Bondi Resort in Lake of Bays – highlighted as well; generations of Nancy Tapley's kin have welcomed folks to the side of Muskoka closest to Algonquin Park, and guests are continuing to make unforgettable memories again this summer.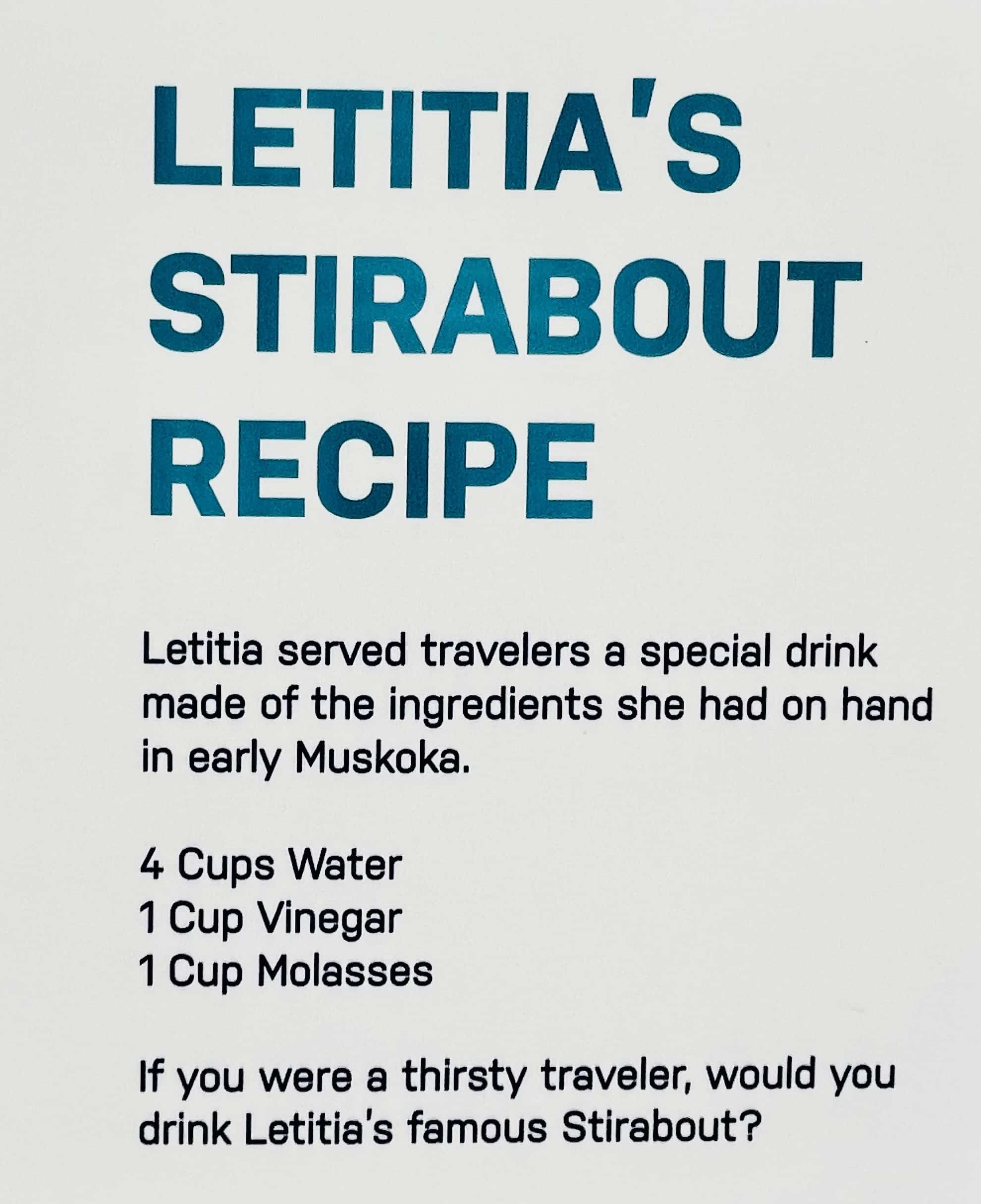 It was also fun, considering the industry I work in, to learn about Letitia McCabe, known as "the Mother of Muskoka Tourism" – whom I'd never heard of before.
Letitia and her husband were among Muskoka's first settlers under the Homestead Act, and after encountering many travelers in need of food, drink and lodging, she turned their home into a guest house – the first such, so the story goes.
Around this modest lodging grew 'McCabe's Landing', better known today as Gravenhurst, Ontario.
(What do you think about the "refreshing" drink Letitia served her guests? Perhaps some inspiration for one of the many craft brewers in the region. For me? Polite pass.)

Wanda III: From Steam to Green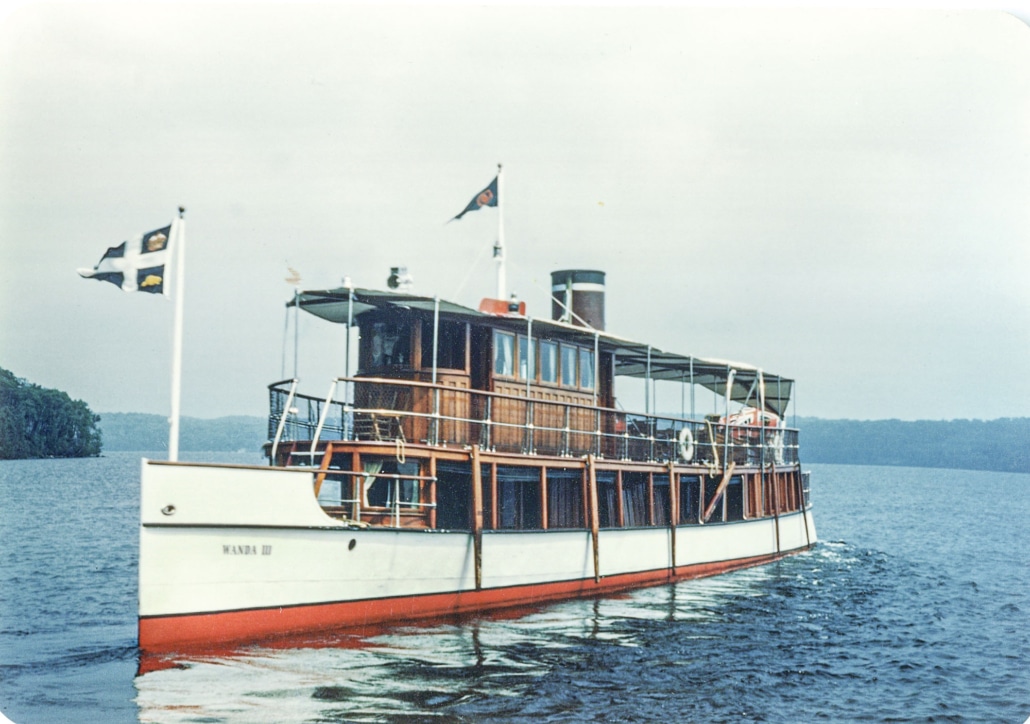 Fans of the MDC's nautical focus will be thrilled to encounter the Wanda III within the exhibit's attached boathouse.
In fact, the catalyst for undertaking the building of this entire exhibit was the desire to evolve the organization's fleet from the steamship era to a more sustainable cruising option on Muskoka's lakes, and installing an electric motor to refurbish this charming historic yacht has been a labour of love for the MDC and its incredible volunteers. (It also sets the MDC's overall intention to lead Muskoka from its past to a more sustainable future.)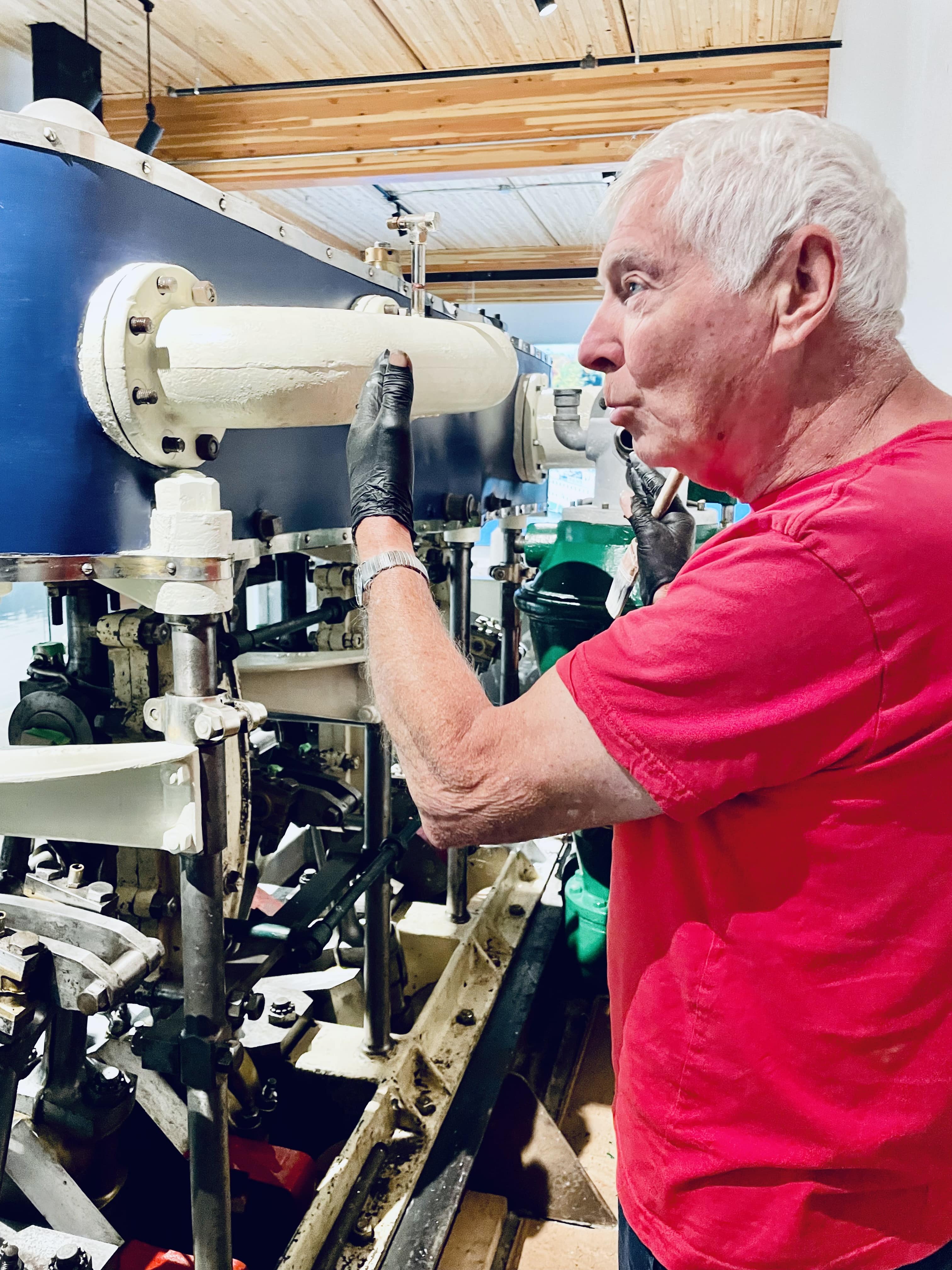 The Wanda III is a great example of a yacht that sailed the lakes in a bygone era, and she was first built for the Eaton Family in 1915 to be the fastest boat on the lakes.
She then became a passenger ferry on Lake of Bays, taking wealthy visitors to Bigwin Island, and then changed hands many times before engineer Sandy Thompson donated the boat to the MDC.
Now, a new chapter in her story begins, as the old steam engine is replaced by a new electric one that will allow her to sail again on the same lakes she graced in her heyday.
What a treat to encounter volunteer John Storey on the day I toured the exhibit, who was giving some TLC to the old oil engine that had to be hoisted out of the Wanda III with a crane.
So many folks associated with this project have a wealth of knowledge about the steamship and wooden boat eras, and I appreciated his kindness in stopping to talk to me. More than a few paint drops fell to the floor from his inactive brush as we chatted!

Misko-Aki (Red Earth): Confluence of Cultures
Located on the upper level of the hall is perhaps the pinnacle of the entire exhibit, Misko-Aki: Confluence of Cultures.
What is profound about this authentic Indigenous culture presentation is just how much there is to learn – and to sit with. I'm guessing I'm not the only settler who will be surprised by what she doesn't know about the First Nations who have inhabited these lands and waterways since the Ice Age.
So, at this point in the tour, it's best to slow right down, follow the river painted on the floor to get in the flow, and steep yourself in the stories you don't know because perhaps you were never told.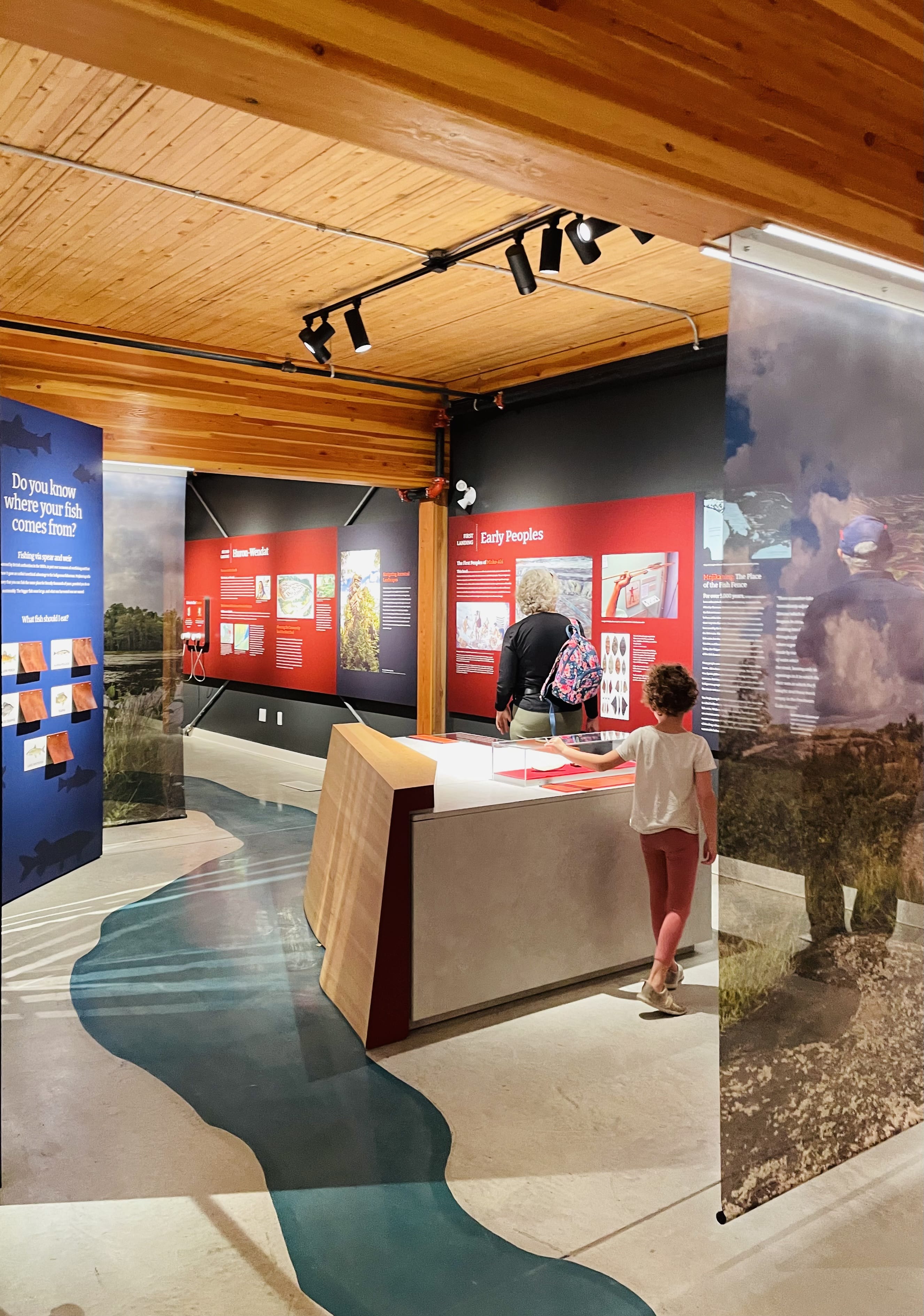 Recognizing there is very little representation in the cultural promotion of this region that includes First Nations, the MDC worked with a group of Indigenous scholars, historians, language specialists and museum exhibit designers, led by curator Tim Johnson. The Indigenous communities represented include: Beausoleil Island First Nation; Chippewas of Rama First Nation; Moose Deer Point First Nation; Huron Wendat First Nation; Moon River Métis; Wahta Mohawk First Nation; and Wasauksing First Nation. All together, these First Nations represent the cultural fabric of the Anishnaabek, Haudenosaunee, Huron-Wendat and Métis.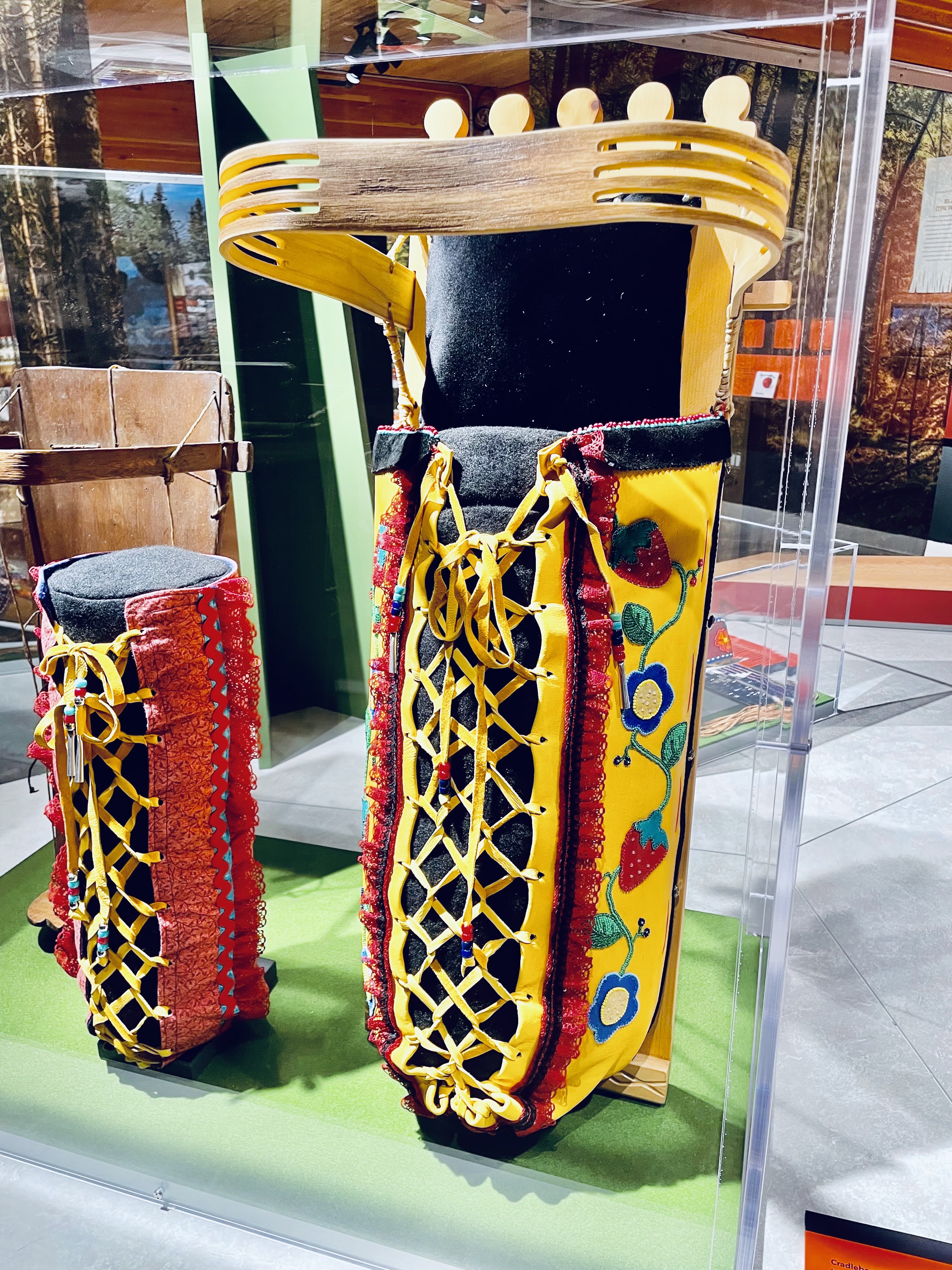 There is no sugar coating of history here; dark events are fully recounted, and they're a welcome opportunity to really understand the genocide faced by First Nations in Canada, including in Muskoka.
But there is also insight into the vibrant daily lives, spiritual beliefs, arts and craftwork, and future-forward thinking of these communities that have survived despite concerted efforts to the contrary.
As well, and tying nicely with the overall sustainability theme that pervades all three exhibits, it becomes obvious that what seem like new stewardship practices for this modern world being introduced by the rest of us, are actually ages-old and reside in the wisdom and knowledge of our First Nations neighbours.
Some things to really consider as you tour, interact with, and listen to these stories of peoples that could not be silenced, and which are as old as time.
If you're interested in deepening your knowledge of one of the nation's most popular vacation destinations, which some of us also call "home", head to the Muskoka Discovery Centre's stunning new "Muskoka Story: A Microcosm of Canada" exhibit at The Muskoka Wharf in Gravenhurst, Ontario. It's for certain your appreciation for this place will deepen even more if you do.
For more information on the Muskoka Discovery Centre's exhibits and programs, CLICK HERE.
To plan your stay in Muskoka, visit Muskoka Tourism.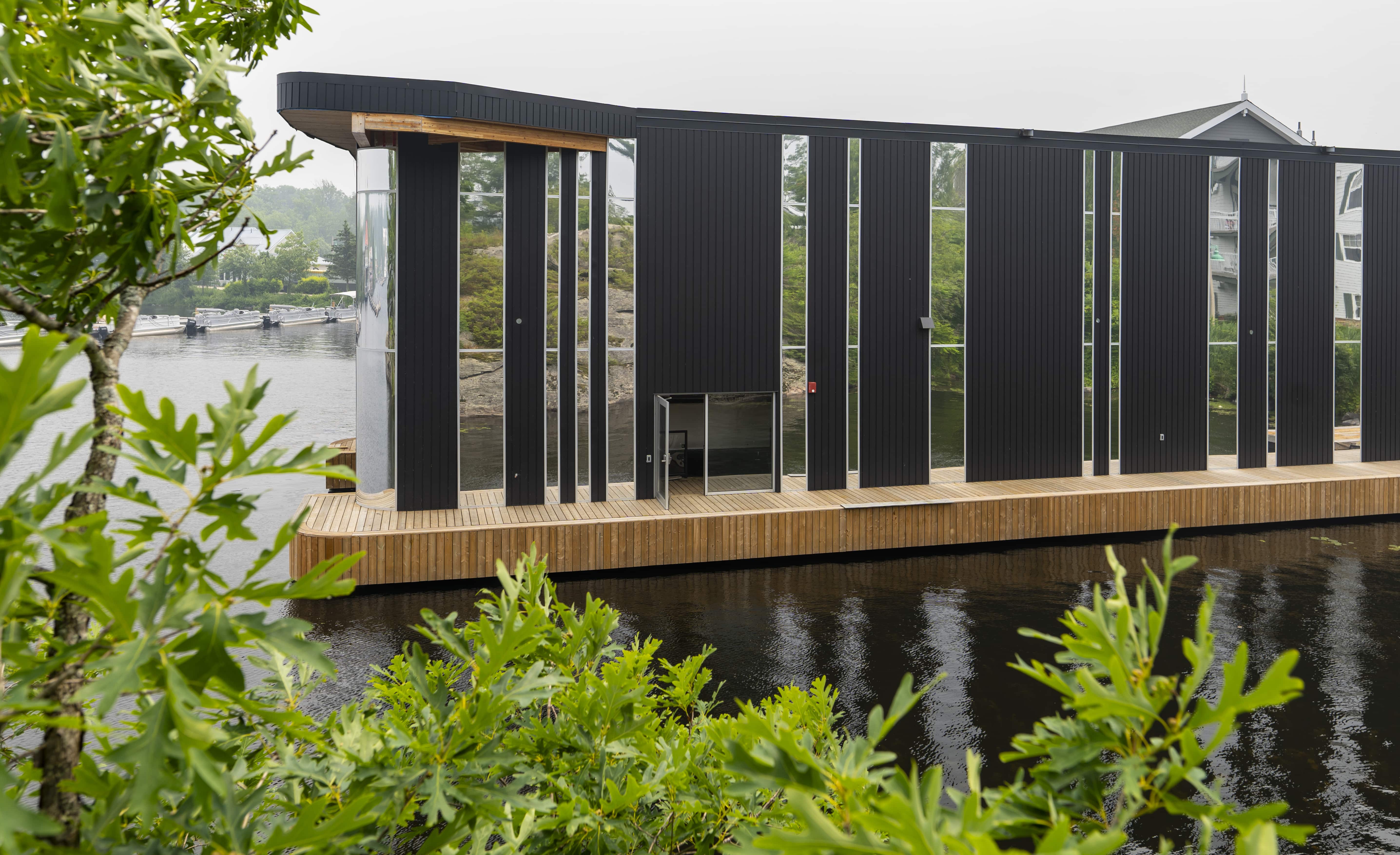 Guest Blogger:
Kate Monk was born and raised in Muskoka, and works for Explorers' Edge.