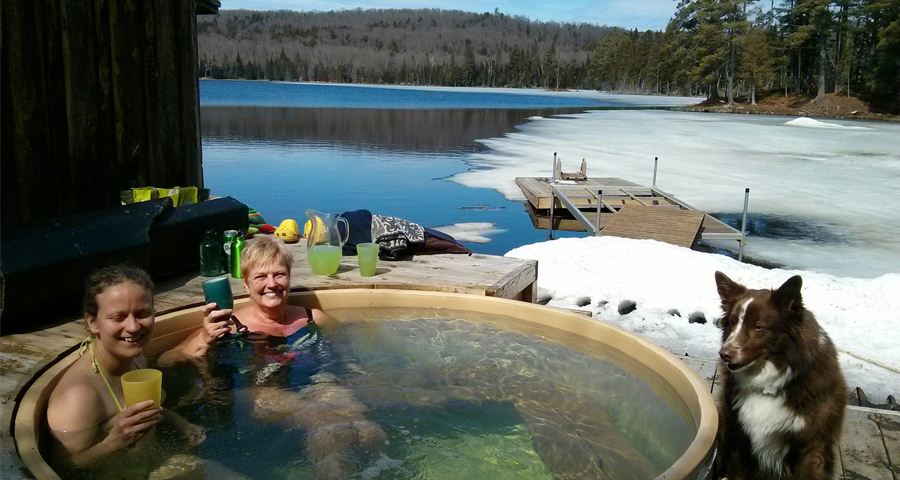 Hot Tub Fever In Ontario's Cottage Country
Please note: Our new 'Great Canadian Wilderness' website has replaced the old one that ran under our company name, Explorers' Edge. From time to time in an older post, you may see references to Explorers' Edge.
It's no secret that the hottest thing about the snowy season in Ontario's cottage country is the amazing outdoor tubs you'll find at various resorts throughout the region. What better way to relax after a day of winter adventuring in the great Canadian wilderness just north of Toronto than in some toasty, soothing, bubbling water?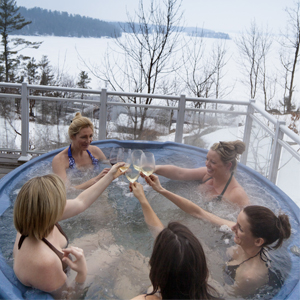 The hot tub at the Algonquin Eco-Lodge on the southern edge of Algonquin Park isn't just good for you, it's good for nature, too. Carbon neutral, it's powered by electricity from their own waterfall. They also offer guests the use of a wood-fired sauna at this off-the-grid property. Both are at water's edge of a private lake, so once you've cooled off with a snow angel or a polar bear dip, a return to the tub or sauna will warm you deeper into your bones as you gaze at the stunning beauty of Ontario's oldest provincial park in winter.
There's something romantic about sliding into a hot tub after a day spent exploring the trails  with your sweetheart. At the Couples Resort on the eastern edge of Algonquin Park, every room has a double soaker Jacuzzi tub and most of their suites and cabins have a private outdoor hot tub. There are even six villas and three chateaus that come equipped with their own spa facilities.
Both Beauview Cottages in Muskoka and Sand Lake Cottages & Inn in the Almaguin Highlands also have private outdoor hot tubs at most of their cottages, letting you relax and rejuvenate in seclusion. (You may never want to leave!)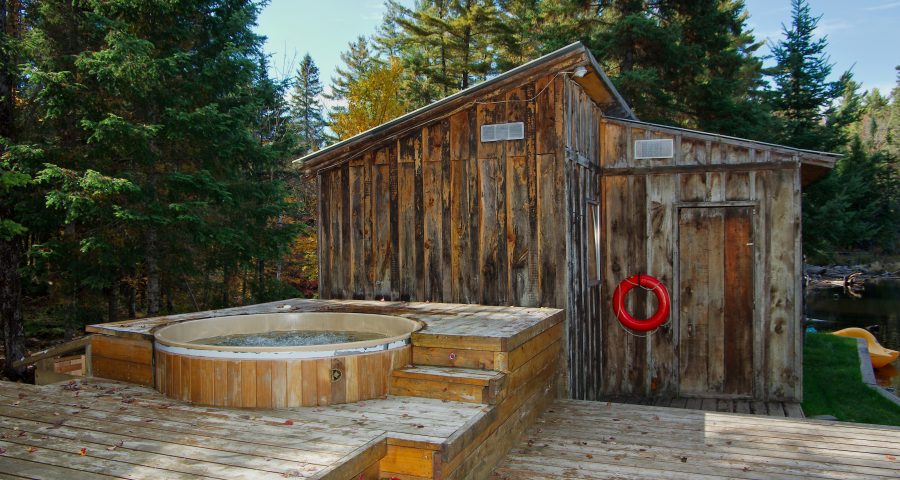 The stunning Northridge Inn in the Almaguin Highlands has an outdoor hot tub with a view of beautiful Lake Bernard, one of the largest freshwater lakes in the world without an island. Able to fit up to a dozen people, the tub is the perfect place to gather with friends and reminisce about the day's adventures, including snowmobiling on 3500 kms of trails that are accessible from the property. Looking for something a little more private? Each of their four lakeside cedar chalets have their own personal hot tub just outside the door.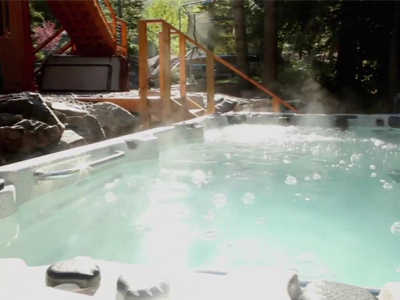 At the luxurious Touchstone on Lake Muskoka, enjoy the private hot tub at the Treetop Villas. Or head to the JW Marriott The Rosseau Muskoka Resort & Spa where an outdoor hot tub and pool await. Try to catch a snowflake on your tongue as the steam rises into the cool air, stare at the carpet of stars above on a crisp winter night, and marvel at the stillness of winter.
Trillium Resort & Spa in Muskoka has a wood-fired Finnish sauna to complement their outdoor hot tub. (Follow the example of the Finns and move back and forth from the sweet heat of the sauna to the searing cold of the snow for a truly rejuvenating experience.)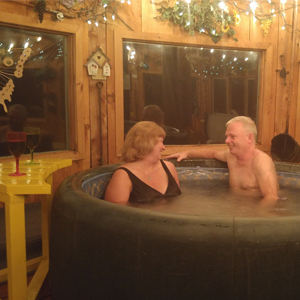 If you're more a fan of the B&B experience, check out Stouffer Mill Bed & Breakfast just outside of Dorset. Featured in Canadian Homes and Cottage Magazine, their unique property offers a hot tub for guest use inside their roof top solarium.
This winter, on your next visit to Ontario's cottage country, whether your days are spent in the great outdoors or nestled indoors next to a cozy fire, heat things up with a hot soak and a sauna. Your body will thank you.
To plan your stay to the Explorers' Edge region of Ontario, click here.
Did we miss your favourite outdoor hot tub spot in the region? Email [email protected] with your recommendation.

Guest Blogger: Dawn Huddlestone
Dawn Huddlestone is a freelance writer, as-yet-unpublished novelist, and wannabe photographer. She's living the dream in Muskoka with her family and a growing zoo of pets.