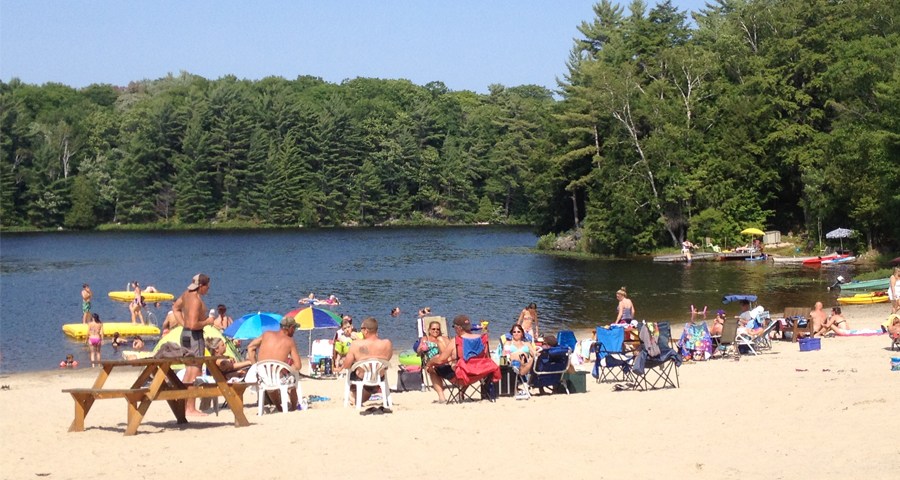 Hit the Beach in Ontario's Cottage Country this Summer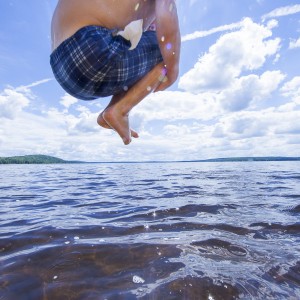 No need to stay lakeside to enjoy the refreshing, sparkling lakes that the region is known for. Visit one of many public beaches in Algonquin Park, the Almaguin Highlands, Loring-Restoule, Muskoka and Parry Sound and enjoy a beautiful day on the water instead. Some have cooking facilities, some allow pets, some have on-duty lifeguards. All are sure to supply tons of fun in the sun.
Plenty of public beaches in the great Canadian wilderness are perfect for cooling down in the summer heat, for indulging in some splish splash antics, and for breaking to picnic lakeside.
Here are just a few of the hotspots to visit with friends and family this summer.
Algonquin Park
All the campgrounds of Algonquin Park have lovely beach areas for swimming, canoeing, kayaking, etc., but there are three beaches that are particularly nice. You have to pay the day-use fee to get in if you're not camping overnight.
Canisbay Lake Day Use Area km 23.1 on Hwy 60
East Beach Picnic Ground km 35.4 on Hwy 60
Lake of Two Rivers Picnic Ground and Beach km 33.8 on Hwy 60
Almaguin Highlands
Bear Lake Sprucedale
Brook's Falls Emsdale
Checkerboard Beach Sundridge
Clear Lake Beach Emsdale
Doe Lake Municipal Park Katrine
Halcyon Shore Beach Burk's Falls
Island Lake Kearney
Long Lake Beach Novar
Magnetawan River Magnetawan
Mikisew Provincial Park Day Use Area South River
Perry Lake Kearney
Pickerel Lake Park Sundridge
Richard Thomas Memorial Park Burk's Falls
South Lake Bernard Beach Sundridge
Sunnyridge Beach Sundridge
Union Street Beach Sundridge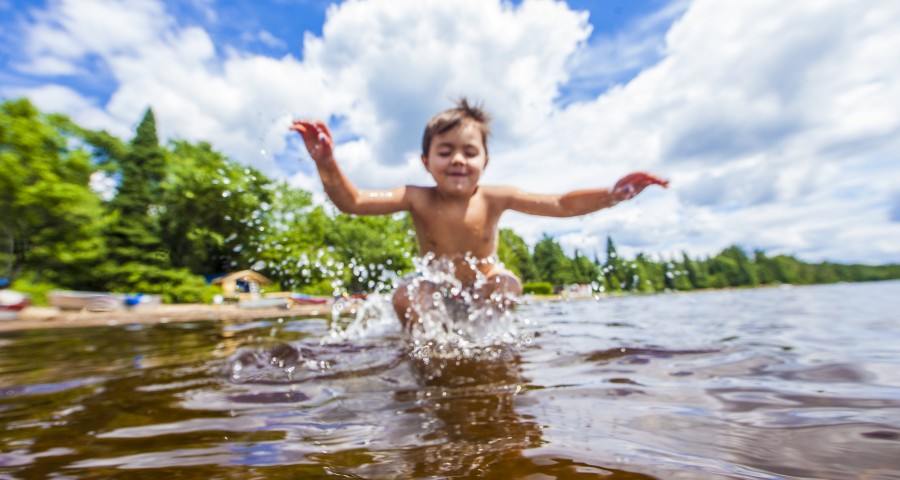 Doe Lake Park and Beach comes complete with accessible washrooms (with ramp), a beach volleyball court, basketball pad and net, playground equipment, and a public boat launch. Clear Lake offers a picnic area, change rooms, and washroom facilities, as well as a large activities field opposite the swimming area. Brook's Falls may just be the best kept secret in Perry Township. Apart from being picturesque, you can enjoy walking paths, the picnic areas, and there are washrooms on site.
Loring-Restoule
Restoule Provincial Park Restoule *day use and pet friendly beach
Wolfe Lake Public Beach Restoule
Muskoka
Arrowhead Lake in Arrowhead Park has beaches long enough to take a long beach walk, kayak and canoe rentals, and camping, including quite close to the beach.
Bracebridge Bay Park & Beach is minutes walk from downtown Bracebridge and across from the beautiful Bracebridge Falls. Great for picnicking, swimming and watching fireworks displays when the town holds them.
Beausoleil Island in Georgian Bay Islands National Park is accessible by boat only. You can camp there also, and being ferried there is included in the price. Christian Beach was voted one of Georgian Bay's Ten Most Amazing Places.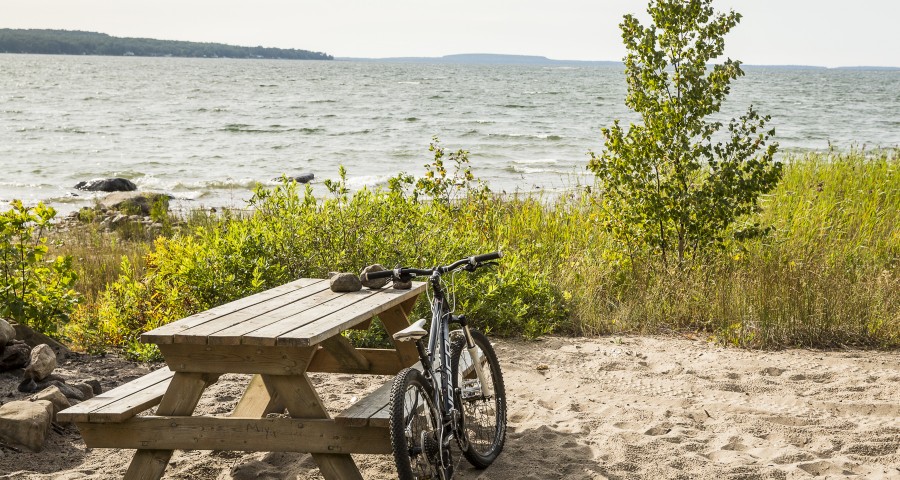 Dwight Beach, a sandy public beach nestled in Dwight Bay, is the perfect spot to swim or picnic in the summer sun. Launch your boat to enjoy some watersports or stay on land and explore the self-guided Dwight Heritage Tour.
High Falls near Bracebridge has not just five waterfalls and two thousand feet of beach, but all sorts of water-toys, camping, and virtually every other fun amenity you could name.
Port Sydney Beach is much loved by locals for its stunning view of Mary Lake, its busy boat launch and the fact that many fun events take place here.
Here are some more super Muskoka beaches:
Annie Williams Park Bracebridge
Archdekin Park Beach Port Carling
Arena Beach Baysville
Avery Beach Huntsville
Bass Lake Park Gravenhurst
Baycliffe Park Beach Milford Bay
Bowyer's Beach Bracebridge
Bracebridge Bay Park & Beach Bracebridge
Camp Kitchen Beach Huntsville
Dwight Beach Dwight
Eileen Gowan Park & Beach Bracebridge
Four Mile Point Park Beach Windermere
Fox Point Beach Bracebridge
Franklin Park Beach Gravenhurst
Gull Lake Park Beach Gravenhurst
Hanna Park Beach Port Carling
High Falls Swimming Area Bracebridge
Hillside Beach Hillside
Holditch Street Beach Bracebridge
Hutcheson Beach Huntsville
Indian Crescent Port Carling
Jaspen Park Beach Bala
Kirby's Beach Bracebridge
Lorne Street Park Gravenhurst
Muskoka Bay Park Beach Gravenhurst
Muskoka Beach Park Gravenhurst
Muskoka Falls Beach Bracebridge
Oxtongue Rapids Park Beach Dwight
Port Sydney Beach Port Sydney
Prospect Lake Beach Bracebridge
Skeleton Lake Beach Ullswater
Sunset Park Beach Torrance
Valley Green Beach Milford Bay
Windermere Park Beach Windermere
Wood Lake Beach Bracebridge
Parry Sound

Best beaching in the Parry Sound area has got to be Killbear Provincial Park, with its multiple sandy beaches amidst stunning rock-and-pine vistas on the crystal-clear waters of Georgian Bay.
Parry Sound has two beaches in town: the Old Town Beach, which still hosts some events, and Waubuno Beach a little further north, which has a playground, washrooms/change rooms, picnic tables, a boat launch nearby and even something the vast majority of beaches don't have: lifeguards on duty. Perfect place to take the kids.
For a map of all the beaches, parks and trails in the Parry Sound area, click here. (The turquoise swimmer icon marks the beaches.)
First Lake Beach Seguin
Foley Matheson Park & Beach Seguin
Horseshoe Lake Beach Seguin
Lake Joseph Centennial Beach Seguin
MacTier Beach MacTier
Maplewood Beach McKellar
Maple Key Park & Beach Orrville
Nobel Beach McDougall
Old Town Beach Parry Sound
Stewart Park Beach McKellar
Waubuno Beach Parry Sound
Don't see your favourite public beach in the region listed here? Let us know! Email [email protected]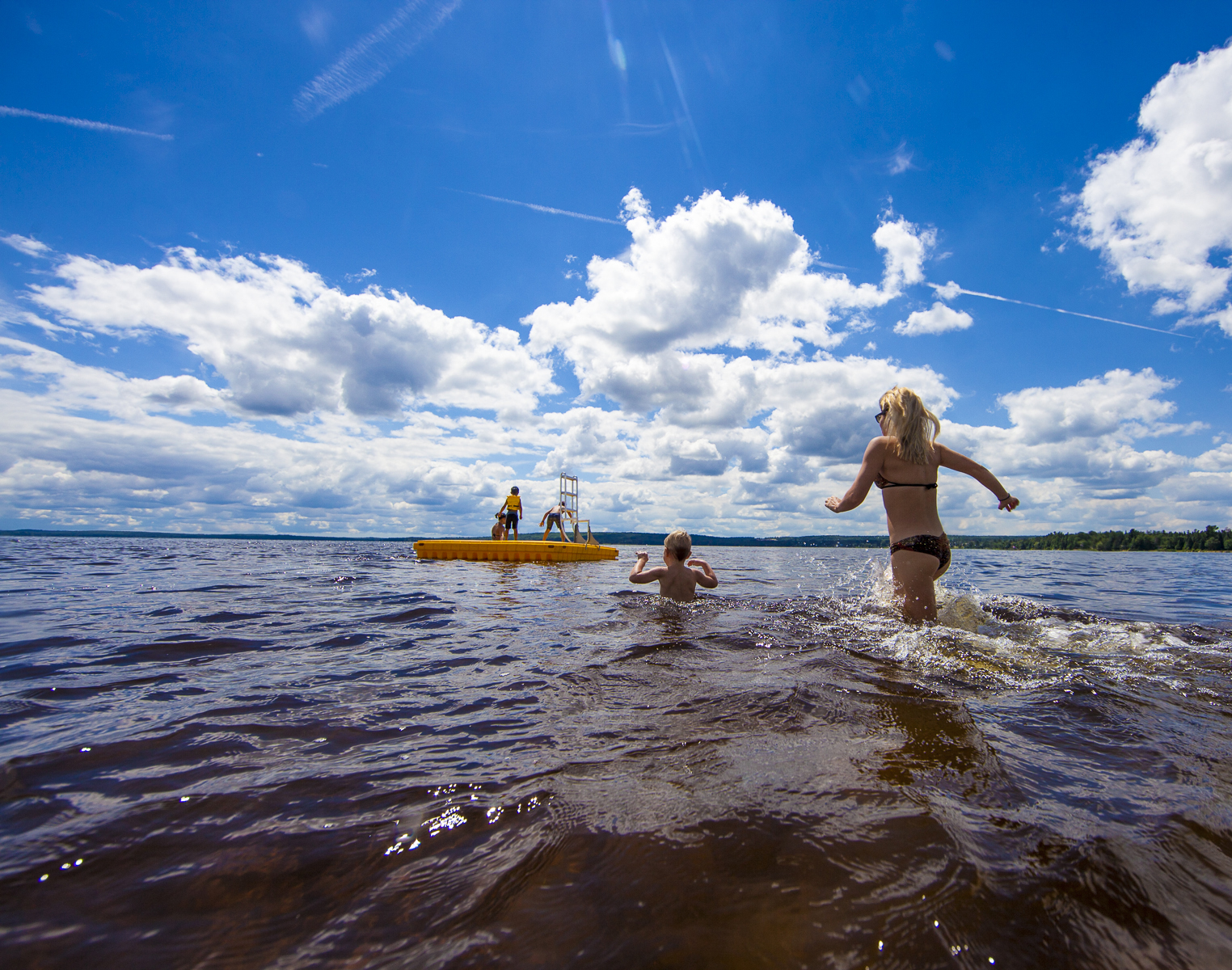 Guest Blogger: Karen Wehrstein
A resident of Muskoka, Karen Wehrstein is a freelance writer and published novelist whose work has appeared in the National Post, Montreal Gazette, as well as Muskoka Magazine, What's Up Muskoka and other regional publications. She lives on thirty acres of beautiful forest near Lake of Bays.