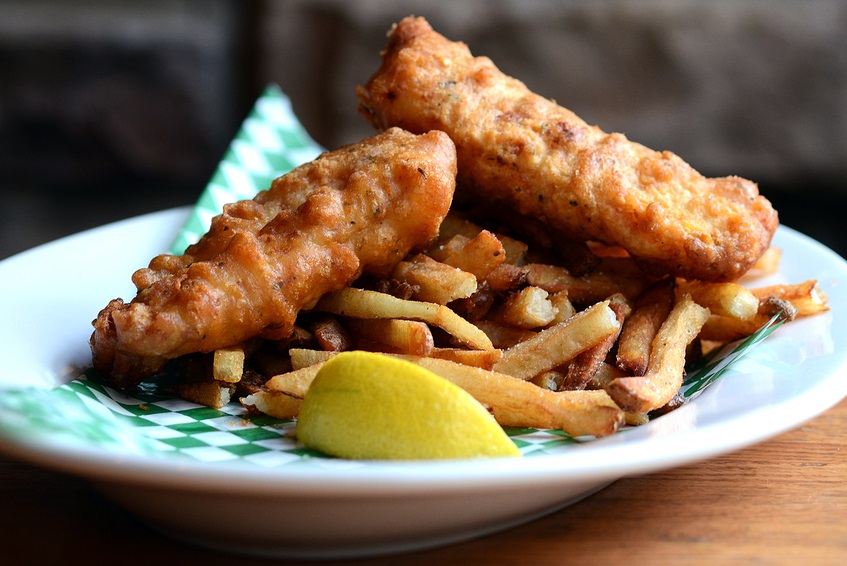 Cottage Country Fish & Chips: One Hardcore Fan Picks His Favourites
Renowned fish and chips eater Bill Farnsworth makes a few recommendations for discovering the traditional fare in Ontario's cottage country.
What is it about fish and chips that make them such a popular menu item throughout our region? Perhaps it relates to our nation's British heritage? Maybe it's the fact that in Ontario's cottage country we are surrounded by thousands of lakes and rivers? Whatever the reason, exceptional fish and chips can be ordered everywhere you turn in these parts, so I set out to sample some different restaurants offering my very favourite meal. Here are just a few you should consider when you head to the wilderness north of Toronto this summer:
ALMAGUIN HIGHLANDS
Michael's on Main has moved from the main street in Sundridge to The Ridge Golf Club, but it is still home to some of the best fish and chips in the region. Owner Michael will most likely greet you at the door, and you will soon learn he moved from the UK in 2001 from Yorkshire, bringing his favourite traditional menu items and recipes with him. Eat-in or take-out, you won't be disappointed. Enjoy the lunch special of haddock and fries, or English Whitby-style fish and chips for dinner.
LORING-RESTOULE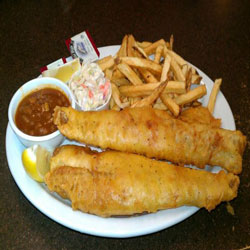 Located in Port Loring, Roxie's Diner has been a hot spot for locals and visitors since 2009, and they've been making delicious fish and chips from day one. Using fillets of Alaskan Pollock, the fish is fried in Roxie's own secret batter.
Paired with fries and coleslaw, another Roxie's signature is the addition of brown beans to the order. Roxie's is located close to snowmobile and ATV trails, making it a perfect stop for a delicious trail side meal in any season.
MUSKOKA
West Side Fish and Chips has been open in Huntsville since 1979. From the original 12-seat restaurant attached to a variety store, West Side has grown to welcome more than 50 diners at a time, and now has a licensed outdoor patio as well. It is still the hand-battered fish and chips that draw patrons to the establishment year after year; incredibly light and airy, the fish is fried just right every time and paired with some of the best fries in Muskoka. West Side is known for its unique sign depicting a fisherman in full fight, as well as for other unique touches such as the restaurant's extensive tea pot collection. Located steps from Huntsville's Avery Beach, consider getting your order to go and watching the sunset over Hunter's Bay.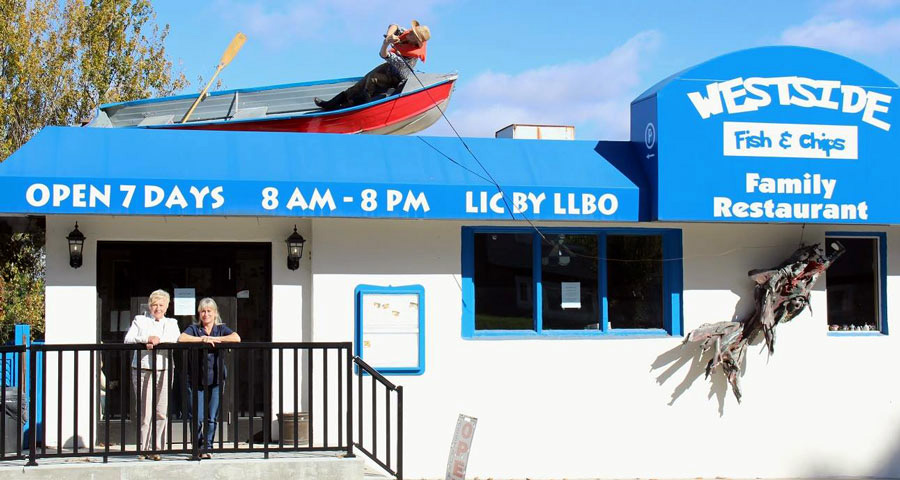 Are you a craft beer fan? In Muskoka, there are several restaurants that use local craft beer to make their fish batter. The Bala Falls Pub, located directly beside the famous Kee to Bala concert venue, uses Lake of Bays Brewing Company's Crosswind Pale Ale to whip up their coating. Enjoy their delicious fish and chips on their patio, or indoors while you watch your favourite sports team in their classic pub atmosphere.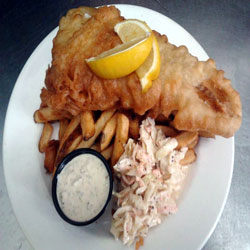 Also using beer in their recipe is the Cast Iron Restaurant in Baysville. The Lake of Bays Brewing Company's Spark House Red Ale is added, making the fish light and crispy.
With their newly expanded rooftop patio, The Mill on Main offers amazing views over the Muskoka River in downtown Huntsville. The fish and chips at The Mill are battered in Muskoka Brewery's classic Muskoka Cream Ale. Served with coleslaw and potato wedges, the meal is perfect for enjoying the sunset after a busy day.
Located on the Wahta Mohawk First Nations Territory near the town of Bala, Mrs. H's Fish and Chips is directly beside the popular Wahta Station. Mrs. H's was awarded first place in the Huntsville Forester newspaper's Top 6 Fish and Chips in Muskoka for 2016, and this famous spot has the coveted 5-Star review on TripAdvisor. Serving halibut breaded in batter (the recipe for which is a well-guarded secret), your order at Mrs. H's will be cooked to perfection right in front of you while the chef herself talks to you about local news and history.
PARRY SOUND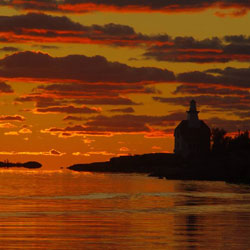 For an absolutely unique experience, head to Gilly's Snug Harbour on the shore of  Georgian Bay. Gilly's can be reached by boat or by car, and along with the restaurant there is a full service marina. Famous for their fish and chips, their fish is locally sourced and can be pan or deep fried. Served with Gilly's homemade tartar sauce and incredible coleslaw, the restaurant advertises itself as having "the world's best views."
Seguin Fish and Chips has been located on Seguin Street in downtown Parry Sound for nearly 15 years. With a retro-style dining area and four types of fish on the menu, there is something for every fish fan. Hand-battered on site and perfectly fried, the fish comes with a very generous serving of fries and homemade coleslaw. A popular spot with locals, Seguin Fish and Chips makes an excellent stop while exploring all that Parry Sound has to offer. Try taking your order to go and find a secluded beach side picnic table on the Rotary and Algonquin Regiment Fitness Trail for an authentic Georgian Bay experience.
There are simply too many amazing fish and chips restaurants and stops throughout the region to name them all, but here are a few more of my favourite if you are exploring the roads and trails of Ontario's cottage country this summer!
To plan your stay in Ontario's cottage country, click here. For more great dining ideas, click here.