Muskoka Natural Food Market
229 Manitoba St. Bracebridge, Ontario, Bracebridge, Ontario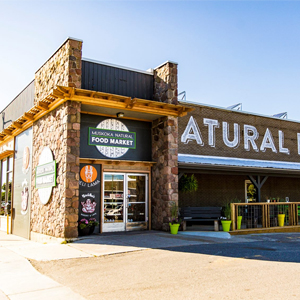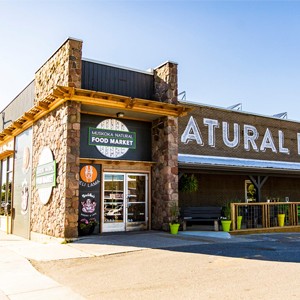 At Muskoka Natural Food Market we are proud to offer quality and therapeutic grade supplements, herbs and vitamins, including a large selection of clean essential oils, beauty and cosmetic products. Muskoka Natural Food Market is also a place to shop for your local, seasonal, and organic fruits and veggies. We have partnered with a number of local farmers to provide you with the freshest possible produce for you and your family to enjoy. Our grocery section offers variety to cater to any dietary need; and for those who love to cook we offer specialty items you may not find at a box store. Our bulk and spices section offers a variety of quality organic items that will cater to your taste buds and your budget. We are also home to the Deli Lama and Buddha Bakery.
Deli Lama
The Deli Lama is our in house vegetarian & vegan deli-style restaurant. The Deli Lama offers our customers healthful options for almost any diet. We prepare fresh items daily that can cater to our vegan, vegetarian, gluten free, dairy free, and oil free customers. Stop in for a delicious and nourishing meal any day of the week. Please keep us in mind to cater your next event.

Buddha Bakery and Café
Buddha's Bakery and Café was born out of the demand from our loyal MNFM customers, who loved our baked (gluten free, vegan) creations featured in our beloved Deli Lama. Well, we listened up, and now Muskoka has a place to come for delicious baked goods with a variety of restricted dietary options! We will also be baking all of our goods with nutrition and health in mind, and will make every effort to use only organic, clean flours and refined sugar alternatives (apple sauce, honey, stevia, erythritol, etc.). We will also be offering a variety of healthy & fresh juices and smoothies- and don't forget the coffee! Our in-house barista will make your day brighter using Diesel House locally roasted fair trade coffee, and a fine selection of teas. We are sure you will find something to start your day right.