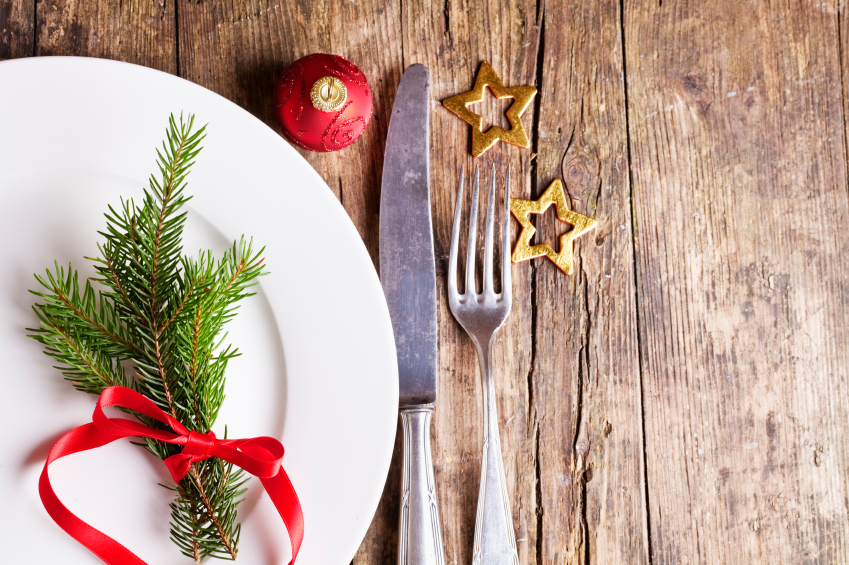 Anything But Turkey: Switch It Up This Holiday Season With Tips From Cottage Country Chefs
Spatchcock chicken in the woods? Shepherd's pie with South-East Asian fusion? If you're dreading the annual turkey feast this holiday season, check out some creative ideas on how to shake things up from some of the best chefs in

Ontario's cottage country.
Pumpkin Risotto with White Cheddar & Fresh Asparagus
by Chef & Author Jeff Suddaby, Owner of 3 Guys & A Stove in Huntsville, Muskoka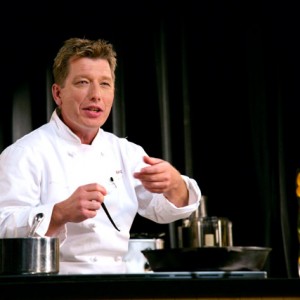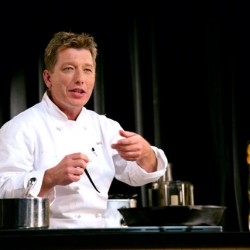 If you've been to What's Cooking Bracebridge or Huntsville's Girlfriends' Getaway Weekend, you've maybe also attended a demonstration by popular speaker Jeff Suddaby. His philosophy around a turkey alternative? Why serve meat at all? Try this rich and creamy risotto this holiday season.
Recipe (Serves 4)
1 cup arborio rice (a fat, starchy, medium grain rice)
1/2 cup pumpkin purée
1/3 cup honey
2 tsp curry
3 1/2 cups + 1 cup vegetable stock (may use powder and reconstitute with water)
1/2 tsp dried basil
1/4 tsp dried oregano
1 lb asparagus, washed
1 onion
2 oz white cheddar cheese, grated
Method
Heat 3 1/2 cups vegetable stock in a saucepan and keep it simmering. (Note: it is important to add hot stock, not cold, to the rice during the cooking process.)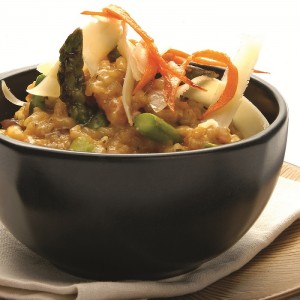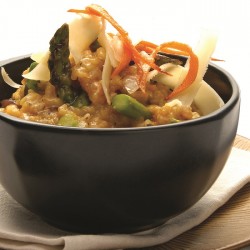 Heat a second sauce pan to medium, put in oil & butter, pour in rice and coat it by stirring gently; let sit 2-3 minutes. Using a soup ladle, add one ladle of hot stock at a time, waiting for that liquid to be absorbed, stir then add another ladle and continue until all stock is absorbed. Make sure the colour of the rice remains pearly white by stirring often with a wooden spoon; also make sure you do not burn the rice and that liquid is absorbing.
Cook your vegetables as the rice is cooking. Heat a skillet to medium-high, add oil and butter and sauté vegetables until onion becomes transparent. Add curry, honey, herb mixture and sauté for 2-3 minutes. Add pumpkin puree and 1 cup of stock, stirring to combine with vegetable mixture. If mixture is too thick, add a bit more stock.
Once the risotto seems done, the rice should be mostly tender, but with just a hint of texture to it, then add one more ladle of stock; this will aid in a creamy texture and keep it from getting too dry. Add the cheese at the very end. Combine the rice and vegetable mixture together and serve immediately. (Note: the quantity of liquid suggested in this recipe is an approximate; you may need a little more or less. Have extra hot water ready if you run out of stock.)
Lamb Chops With Potatoe Pavé, Port Wine Sauce & Vegetable Ratatatouille




by Executive Chef Shaun Crymble of

JW Marriott The Rosseau Muskoka Resort & Spa

in Minett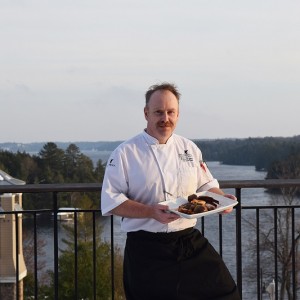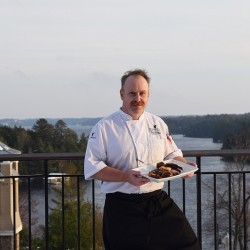 As Executive Chef at 'The Rosseau,' Shaun Crymble knows a thing or two about keeping guests happy every day of the week. His suggestion for a turkey alternative to please guests? Lamb chops kicked up a knotch with buttery potato pavé and port wine sauce.
"Lamb chops are a rare treat in many households and the buttery pavé is a very special indulgence. The colourful ratatouille can be par-cooked the day before the party and then flashed at the last minute. I like to prepare some items ahead of time and include at least one "a la minute" element (lamb chops)."
Potato Pavé Recipe
2 russet potatoes
¼ c parmesan cheese
½ c heavy cream
2 tbsp. butter
pinch olive oil
to taste salt
to taste black pepper
Method
Thinly slice the potatoes, add to cream until all potatoes are cut. Rub oil in bottom of the pan. Layer potatoes, lightly seasoning the layers with salt and pepper into preferably a small rectangular pan, adding parmesan cheese on every second layer and alternating butter on the other layer. Add heavy cream. Bake at 350ºF for approx. 25 minutes until fork tender. Remove and place a weight on the cooked potatoes using a plate or a foil wrapped cardboard sheet that will allow a heavy weight to be placed on the potatoes for approx. 6 hours or overnight. When ready for service, remove weight and heat potatoes until 165ºF. Cut into desired shape and serve.
Rack of Lamb
1 rack of lamb
to taste salt
to taste black pepper
drizzle olive oil
Method
Clean lamb at top part of the rack to remove the fat. Cut around the base of the bone about a third of the way above the lamb eye. Season with salt and pepper. Cut rack in half so two bones are left on each chop. Lightly sear lamb in a hot frying pan on each side for approx. 2 min. Place in oven at 350ºF for approx. 10 to 12 min. until internal temperature of 135ºF is reached for medium rare. Remove and let rest.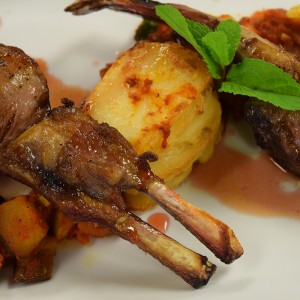 Port Wine Sauce
1 1/2 lb veal bones and trimming
3 garlic cloves
1 onion
1 tbsp. olive oil
pinch salt
1/3 c port wine
Method
Heat oil, add veal meat, salt and fry to brown the meat. Add garlic and onion. Let simmer until onions and garlic are lightly browned. Remove most of the fat from the roasting pan. De-glaze roasting pan with port. Reduce slightly. Add water and reduce to thickened consistency. Serve over lamb.
Vegetable Ratatouille
1 garlic clove, chopped
1 tbsp. olive oil
¼ c eggplant diced into ½ inch cubes
¼ c green zucchini, washed, diced into ½ inch cubes
¼ c yellow squash, washed, diced into ½ inch cubes
¼ c Roma tomatoes, washed, diced into ½ inch cubes
1/8 c red onions, diced into ½ inch cubes
¼ c tomato sauce
1/8 Tsp. fresh oregano, chopped
1/8 Tsp. fresh thyme, chopped
1/8 Tsp salt
Pinch black pepper
2 basil leaves shredded
Method
In a frying pan heat the oil for approx. 1-2 min. Add the onion and garlic, cook over medium heat. 4-5 min. Add the eggplant, green and yellow zucchini and cook the mixture, stirring occasionally, for 8 minutes, or until the eggplant is softened. Stir in the tomato and cook for approx. 2 min, season with S&P. Add in the thyme, oregano to taste, add in ¼ c tomato sauce. Stir in the basil.
For more information on dining at the JW Marriott The Rosseau Muskoka Resort & Spa, click here. For seasonal overnight packages, click here.
Shepherd's Pie with South-East Asian Fusion




by Chef Nghe Tran, Owner of

Ha's Asian Cuisine in Sundridge, Almaguin and winner of Chopped Canada 2016!

Nghe Tran and his family have been serving from-scratch Asian cuisine at their restaurant in the Almaguin Highlands for 30 years. When he takes a break at Christmas, his own family asks for a very special dish.
"At the Tran house for the holidays we enjoy making the traditional Canadian fair, but we also like to fuse our South-East Asian culture into it. A family favorite is a play on an old standard. Take your favorite Sheppard's Pie recipe and replace the mashed potatoes with steamed rice for a nice change. I recommend Basmati if you want the texture more firm and chewy, and Jasmine if you want it to be a little soft and sticky (closer to the texture of traditional potatoes).
Recipe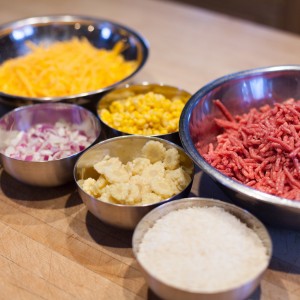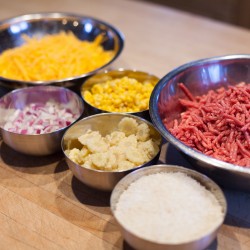 2-2 ½ lb lean ground beef
750gm old Cheddar (grated)
6-8 cups basmati rice (steamed)
3 Tbsp fresh minced garlic
1 chopped red onion
1 cup whole kernel corn
½ cup sliced baby corn (optional)
2 Tbsp olive oil
3-4 Tbsp worcestershire sauce
1 Tbsp course sea salt
3-4 cups water
3-4 Tbsp flour
1 cup chopped green onions
Fresh cilantro (coriander) and/or Thai basil
Sriracha sauce
Method
Start your steamed rice 2 to 1 water to rice (15-20 minutes in steamer or pot). Brown garlic and red onion in sauce pan with olive oil. Add ground beef and course sea salt. Mix until 70% cooked. Add 3 cups Bwater, kernel corn and Worcestershire sauce. bring to boil
Mix flour in ¼ cup water until smooth. Add to sauce pan while stirring to make a gravy. Once smooth and saucy take off heat. Spread evenly hot steamed rice in bottom of baking pan (optional). Place sliced baby corn evenly on rice. Spread about 1/3 of grated cheese. Spread evenly the contents of the sauce pan in the baking pan (set aside a cup or so of the gravy for plating). Spread the rest of the grated cheese evenly on top. Place into pre-heated oven at 350F until cheese has melted.
Plate desired portion size of pie on plate, ladle gravy on pie and plate, garnish with chopped green onions and/or fresh Thai basil (or cilantro). Side with your favorite steamed or stir-fried vegetables. Make sure a bottle of Worcestershire sauce and Sriracha is on the table for anyone that wants a heated kick.
For more information on

Ha's Asian Cuisine Restaurant, click here.

And be sure to ask for Chef Tran's winning soup "Apple Canh Chua" when you visit his establishment!
Oyster Mushroom & Wild Rice Stuffed Duck


by Chef Dan of

Grand Tappattoo Resort

in Parry Sound
Keep the bird, lose the turkey. That's the seasonal party philosophy from Grand Tappattoo's Chef Dan. "Duck has always been my alternative to traditional turkey; with its moist dark meat and unique taste….how can you go wrong? You can't!"
Recipe
1 5lb duck
2 cups long grain and wild rice blend (cooked)
1 pint King oyster mushrooms (thin sliced)
1 pint oyster mushrooms (thin sliced)
½ cup dried cranberries (rough chopped)
¼ cup fresh rosemary (chopped)
½ lb unsalted butter (melted)
To taste salt
To taste pepper
Method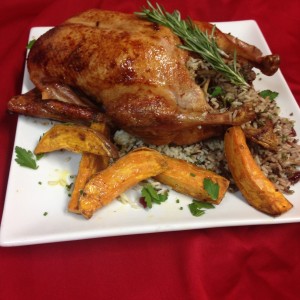 Sauté mushrooms in a hot pan with 2 tbsp of unsalted butter, salt and pepper to taste and cook until tender. Cook long grain and wild rice blend. Mix mushrooms, rice, chopped dried cranberries and rosemary together. Stuff the duck with the rice mixture until full and tie the legs back as to contain the stuffing for roasting. Pre heat oven to 375F. Place duck into a roasting pan season with salt and pepper and baste with unsalted butter, bake for 1 hour.
Baste duck with unsalted butter and bake for another 45 minutes. Baste duck with unsalted butter and bake for another 15 minutes until juices run clear. Remove from oven and let the duck rest and juices drain. Carve and serve with your favourite side dishes.
Festive Stuffed Cornish Game Hen
by

Executive Chef David Bakker, CCC, of

Deerhurst Resort
For David Bakker, Executive Chef at Deerhurst Resort, a Cornish hen makes for a delicious dinner and delightful presentation.
"These individual serving size Cornish game hens cook in less time than a turkey and release you from the shackles of tradition. And a hen on each plate, drizzled with brine, just makes an impressive presentation for a holiday dinner."
Brine
4L water
225g kosher or sea salt
125g sugar (brown sugar for pork)
42g pink salt, or butchers salt (for pork or products that need nitrates)
2 pc tangerines, sliced
1 pc vanilla bean, split, seeds scraped, add the pod and the beans
1 pc cinnamon sticks
5mL pink peppercorns
5mL coriander seeds
1 bunch fresh thyme
Method
Mix all ingredients in a pot and simmer until they are dissolved, and any flavor additives have infused their flavor. Cool the brine before submerging the Cornish Game Hens into it for the specific time (2–4 hours).
Stuffed Cornish Game Hen
2 pc Cornish game hens, boned, kept whole, soaked in cold brine for 2 to 4 hours
250mL bread, diced, dried
125mL onion, minced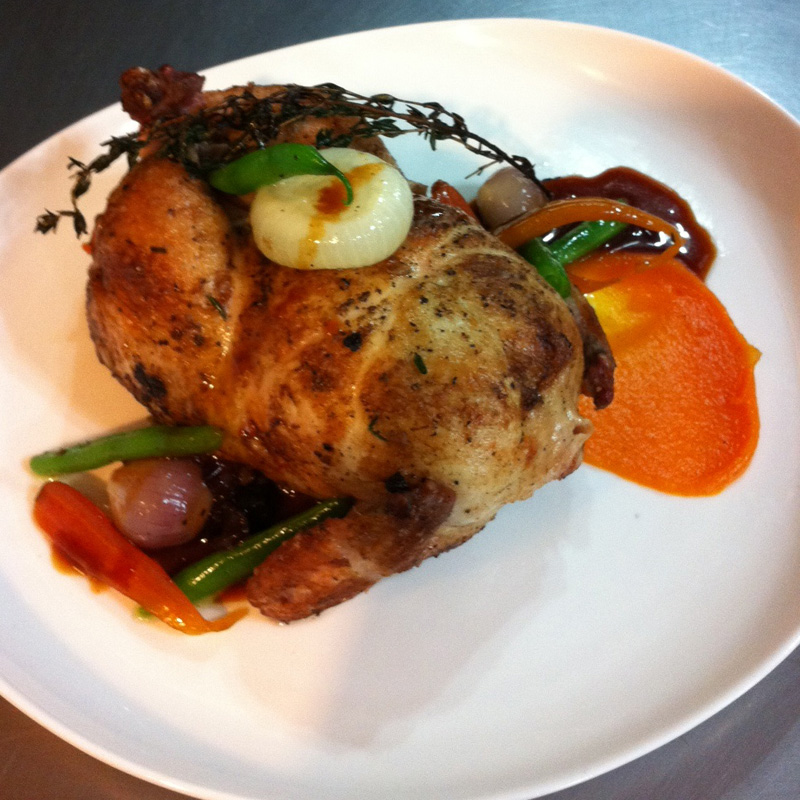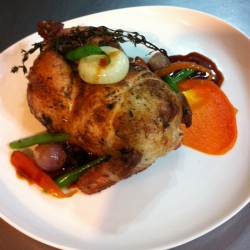 65mL carrot. minced
65mL celery, minced
50g smoked bacon, small dice, fat rendered
30mL dried apricots, minced
30 mL dried cranberries, minced
30 mL pistachios, or pepitos, toasted, chopped
½ pc egg
Chicken stock to moisten
Salt, pepper & chopped parsley to taste
Method
Gently cook the carrot, celery, and onion in a small amount of rendered bacon fat, season them with salt and pepper. In a bowl, mix all of the stuffing ingredients, and moisten with just enough stock to bind the stuffing. Season to taste. Secure the neck of the bird closed with a skewer. Lightly season the inside of the cavity with salt and pepper. Stuff the bird through the back end with enough stuffing to make the bird look full and whole. Seal the backside with another skewer. Truss the bird, and season the outside with salt and pepper. Pan sear the bird to crisp the skin and finish roasting on a rack in the oven to an internal temperature of 165F.
* * *
For Greg Waters, the chef/caterer/owner of Stonemote Cottage in the Almaguin Highlands, who cooks collaboratively on the west side of Algonquin Park with the good folks at Northern Edge Algonquin, an organic chicken with fresh microgreens (presented in a granite bowl he made himself…no big thang…) is the way to go this holiday season.
–

Roasted Chicken


1-5lb organic free-range chicken
1/3 c. butter
1/3 c. diced rosemary (fresh)
1/3 c. diced sage (fresh)
1/3 c. diced garlic by Pink Moon Garlic Co.
1 tsp sea salt
1 tsp smoked paprika
1 tsp curry powder
Method
Spatchcock the chicken, and pat dry with a paper towel. Position breast up in a roasting pan. In a small sauce pan, over gentle heat, melt butter, add salt, soften the rosemary, sage and garlic, then toast the paprika and curry. Pour the warm mixture over the chicken and rub into skin. Place chicken in an preheated 375F oven and roast for 2 hours. Baste often. Use a thermometer to confirm final cook temp.
Bed of Microgreens (mix together)


1/2 pound of organic buckwheat lettuce
1/2 pound of organic sunflower shoots
Peppering of beet micros
–
Dressing for Microgreens
75 ml wild leek vinegar by Wild Muskoka Botanicals
70 g rose petal infused honey by Wild Muskoka Botanicals
1 tsp minced horseradish (fresh)
1/4 c. olive oil
To taste salt & pepper
Method
Mix greens and dressing together and layer onto a platter (Greg uses a hand-carved bowl made from foraged granite in the Stonemote Cottage forest…but a regular ol' bowl will do). Place chicken on greens and serve.
For more information on Chef Gregor Waters and Stonemote Cottage,

click here

. For accommodation and eco-getaway information with

Northern Edge Algonquin, click here

.
* * *

Chicken Cassoulet


by Chef Michael Mueller of Log Cabin Inn

, Parry Sound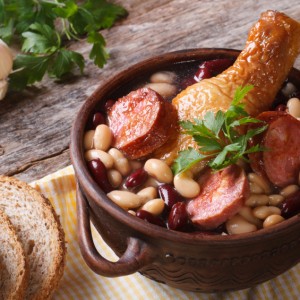 Chicken is also a favourite alternative to turkey for Chef Michael, but here he shakes things up a bit with an easy, versatile traditional French cooking technique.
"This dish is really simple fare that is rich and meaty," says owner Kathy Dalrymple. "The recipe is very versatile – you can use duck, partridge, pork & lamb or whatever is around. You can also prepare it in a slow cooker and freeze single portions. And all you really need with it is a salad and a baguette. Perfect for anyone wanting a simple dish to prepare!"
Recipe
1100g white beans (canned)
6 farmers sausages
3 onions, sliced thin
1 clove garlic, sliced thin
4 chicken legs
900g double smoked bacon lardons
Method
Brown chicken leg & set aside, then brown the sausage. Sauté onions and garlic and place in casserole dish. Add bacon, sausage and beans and cover with chicken stock. Cover dish with lid and put back in preheated oven at 350F for 1 hour. Place chicken legs in casserole dish and bake for another hour at 265F. Serve & enjoy.
For more information on dining at Log Cabin Inn,

click here

. For accommodations information,

click here.
If one of these anything-but-turkey ideas doesn't suit your festive fancy, then consider

a getaway

to the

great Canadian wilderness

this Christmas and New Year, and let these – and many more – exceptional chefs do

the cooking for you.
Happy holidays – and bon appetite!
Spatchcock photo by Sarah Arsenault