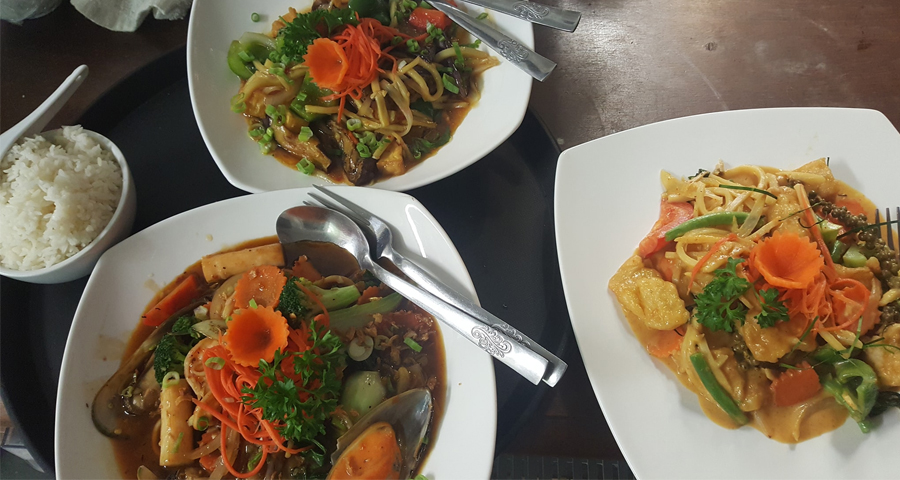 All The Flavours of The World: International Dining in Ontario's Cottage Country
Craving superb international food when you visit cottage country? Look no further than these exceptional dining establishments, located throughout the region.
Japanese
Mottbora is a Sushi lovers' paradise in Huntsville, Muskoka,with over 50 different options of rolls to enjoy. With an emphasis on freshness and quality, Mottbora's menu offers a range of salads, udons, dinner entrees, boats, plates and more. Don't forget to try the Bang Bang Chicken.
Wabora in Bracebridge, Muskoka is a fusion Japanese steakhouse that serves sushi, teriyaki, bento boxes, udon and plenty more. With a reservation, you can pull up a chair to their famous Hibachi table where a chef prepares your meal before your eyes, and also puts on quite an entertaining show (watch out for the flaming onions…).
Italian
Rende Italian Eatery in Bracebridge, Muskoka offers an authentic Southern Italian-style menu using the highest quality products with everything made from scratch. From soups, pastas and pizzas, their menu is inspired by a small village outside the capital city of Cosenza. Find Rende Italian Market next door where you can pick up meals-to-go, fresh pasta, authentic Italian tomato sauces and more.
Maurizio's Pizzeria in Parry Sound features traditional thin crust Italian pizza made in an imported Italian wood fired oven. Their menu is filled with tons of delicious options for vegans, vegetarians and meat lovers. Available in June 2020 is the Inferno Pizza collection – before taking your first bite you're required to sign a waiver AND verify your age in person… that's how hot this pizza is. (Good luck!)
Open for dinner at 4:30 pm on Tuesday thru Saturday, Di Salvo's Bella Cucina Fine Italian Eatery is located in downtown Parry Sound. Di Salvo's serves authentic Italian cuisine with a modern flare. Chef Carlo Di Salvo, a second-generation chef and restaurateur, had the privilege of being formally trained by Master Chef and two-time Culinary Olympic medalist Daniel Esposito of Champagne, France. The menu features traditional favourites such as house-made pasta, risotto, sauces, bread, cheese, and delicious braised meats such as Osso Bucco.
Indian
You can find Marigold in both the neighboring towns of Huntsville & Bracebridge. Diners will enjoy menu selections featuring chef-designed recipes that are classics (with some unique twists). The restaurant itself reflects a customary Indian experience, from the music and décor to the cuisine.
German & Austrian
Chef Henrie has returned home from the Austrian culinary school Landesberufsschule Obertrum to open Chef Henrie Bistro & Cafe in his home town of MacTier. Awarded the esteemed "Goldener Kochlöffel" (Golden Spoon) in his final year of apprenticeship, he serves the delicious tastes of Europe here in the great Canadian wilderness. Make sure to check out the weekly specials.
The Swiss Country House at the Ahmic Lake Resort in the Almaguin Highlands is a must for those looking for a delicious Schnitzel. Check out the Swiss Corner on their menu, where you can find favorites like Beef Rosti, or Grandmas Knopfli Pot.
Also in the Almaguin Highlands, Steirerhut Restaurant & Schnitzel House in Sundridge is another popular spot where the Schnitzel is impeccable, and they also do a fantastic German Bratwurst. Their menu features dishes developed solely from historic recipes found in Austria and other parts of Europe.
Chinese
Looking for great Chinese food? ConsiderThe King's Buffet or The China House, both located in Huntsville,and the popular The New Haven in Bracebridge.
Also in Bracebridge is the Hong Kong Buffet, which features the largest buffet selection in Muskoka, combining Chinese and Japanese cuisines. While in Muskoka you can also try the Rickshaw Restaurant in Gravenhurst.
Mexican
Taco Kar in Bala offers a delicious range of authentic Mexican cuisine that includes fresh Nopales (cactus), Carnitas (slow roasted pork) and Tortitas De Pollo. Famous for their handmade Tortillas, and using family recipes passed down from generation to generation, Taco Kar takes 'Taco Tuesday' to a whole new level.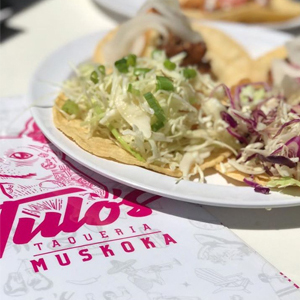 Tulo's Taqueria Muskoka in downtown Port Carling is a summer hot spot located on the Indian River. If you're looking for a patio with a surf club vibe, unbelievable food and a bar, look no further. Enjoy eclectic lettuce wraps, corn tortillas, tacos and festive tequila drinks, as well as a popular patio.
Mucho Burrito Fresh Mexican Grill in Bracebridge is all about "keeping it fresh." Check out their menu and their signature burrito bowls – you have the choice of Chipotle Apple Smoked Brisket, Habanero & Harissa Beyond Meat and the Ghost Pepper.
Thai
Seng's Thai Cuisine in both Gravenhurst & Huntsville is influenced by northern Thailand cuisine where everything made is fresh to order. Growing up in his parents' restaurant in Thailand, and with over 10 years in the business, Chef Seng Soukhaserm has created a menu that includes gluten-free, vegetarian and vegan options, in addition to meat dishes.
Pack your appetite when you head to the great Canadian wilderness and visit one of the many fine restaurants throughout the region. To plan your getaway, click here.