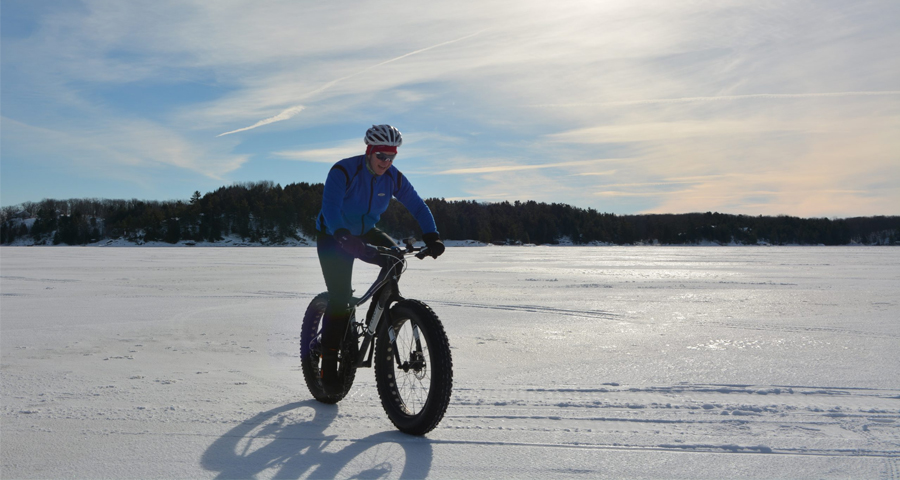 Winter Fat Biking: Summer Cyclists Learn to Crank It Up
A seasoned rider explains how warm-weather road warriors can keep cycling all winter long in Ontario's cottage country: behold the fat bike.
Maybe your road bike has been hung up for the season, the indoor trainer has been dusted off and, because of the pandemic, your annual cycling trip to a warmer destination has been put on hold. But that doesn't mean outdoor cycling has to stop, and if you've never tried fat biking, this is absolutely the winter to give it a go. Here are a few things you should consider, including a few tips from locals in the know.
What's The Diff?
Simply put: fat biking involves riding with oversized tires on a firm surface of snow. These tires (with aggressive-looking treads), some up to five inches wide, make it feel like the bike is floating on a surface while in reality they greatly increase traction for the wintry terrain.
While fat biking utilizes many of the same skills you already use in summer riding, there are some key differences.
"Fat bikes look like they would be heavy and hard to pedal, but they're not," says Aleesha Clark, co-owner of Parry Sound Bikes. "Just like warmer weather riding, you can head out on open smooth trails or narrow single track. The main difference with fat biking is that, typically, you will move slower than you would on a road or mountain bike – and it doesn't hurt if you fall!"
Technique, as I've learned myself, is all about managing traction and momentum. When starting out, try to focus on keeping as much weight as possible over the rear tire. Where your instincts tell you to stand and pedal, instead use a lower gear and concentrate on moving your weight backward. Also try to avoid fast steering movements which will cause your tire to plow and stop quickly. Instead, focus your eyes further ahead on the trail and try to steer in a smooth and gentle manner.
Another key thing to consider is tire pressure. Cycling in winter requires much lower tire pressure than summer riding. The goal is to allow as much of the tire and its tread to make contact with the snow as possible. When renting a fat bike, the shop will be sure to set you up, but a good rule of thumb is to start with about 12 PSI when on a packed trail, and go down from there to improve traction as needed.
What To Wear?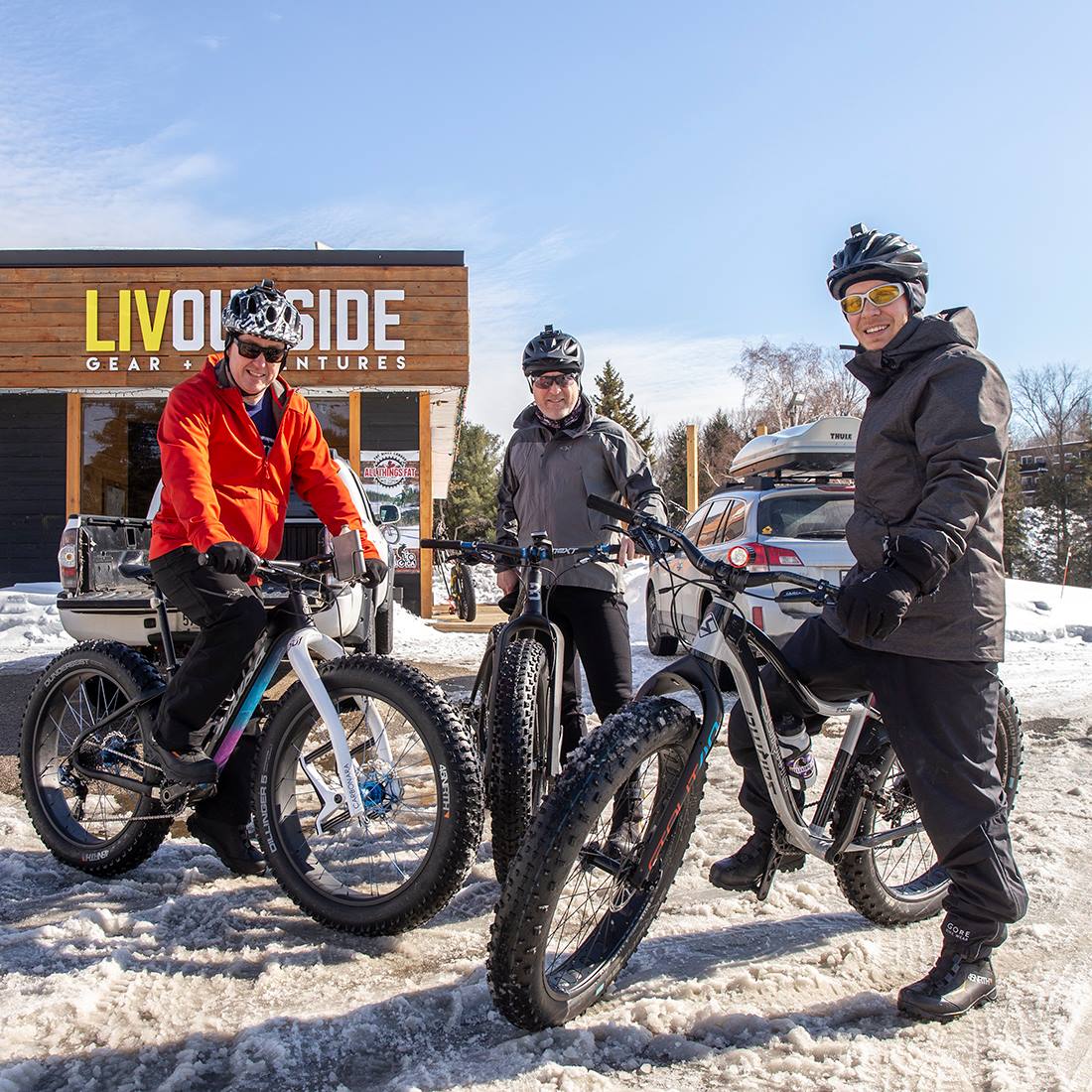 "Cycling is an aerobic exercise and riders often overdress," says Peter DeMos, owner of Liv Outside adventure company in Bracebridge, Muskoka and of Fat Bikes Canada. "Layered, breathable clothing is best. Loose fitting gloves with removable liners and merino wool socks will help maintain the best blood flow to your extremities in cold weather."
Many riders also carry a light pack for storing layers as they are removed, as well as water, snacks, and hand and foot warmer packets for when the temperature drops. I find it's often best to dress so that you are slightly cold when you set out; your body will warm itself and your blood will circulate to warm fingers and toes that may start out chilled.
In addition, summer cycling helmets are made with large vents for cooling. But for winter, consider buying a tight-fitting hat that fits underneath the helmet and also covers your ears. Finally, sunglasses can help you avoid getting too much sun in your eyes, as the bright rays reflect off of the snow. (It is also a good idea to protect your face and lips with sunscreen to avoid a winter sunburn.)
Where to Ride?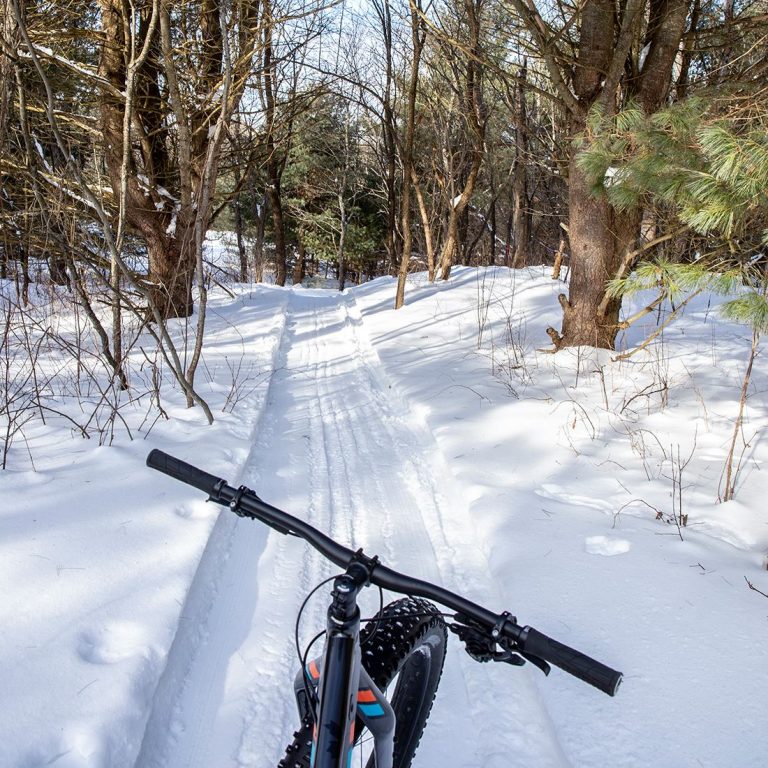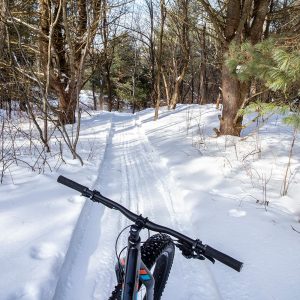 You can't simply jump on a fat bike, aim it at the snow and hammer it. While the larger tires add a significant amount of floatation and traction, you will still require a trail that is firm and packed.
Peter Istvan, an avid photographer and fat bike advocate from Get Outdoors Parry Sound says that this type of riding is dependent on the snow conditions.
"You need to be riding on a firm base, so ideally the trails are packed down from foot traffic, other riders or machine grooming."
In fact, it's extremely important to be respectful when riding a fat bike on multi-use trails, especially if sharing with Nordic skiers. If you come across a trail that has been track set for skiing, dismount and walk your bike over the tracks. Fat bikes are often much faster than walking or snowshoeing, so always be aware of your surroundings and yield the trail to slower users. (And always check signage at the trailhead if you aren't sure if fat bikes are allowed.)
For Istvan, Parry Sound provides the best fat biking opportunities, of course.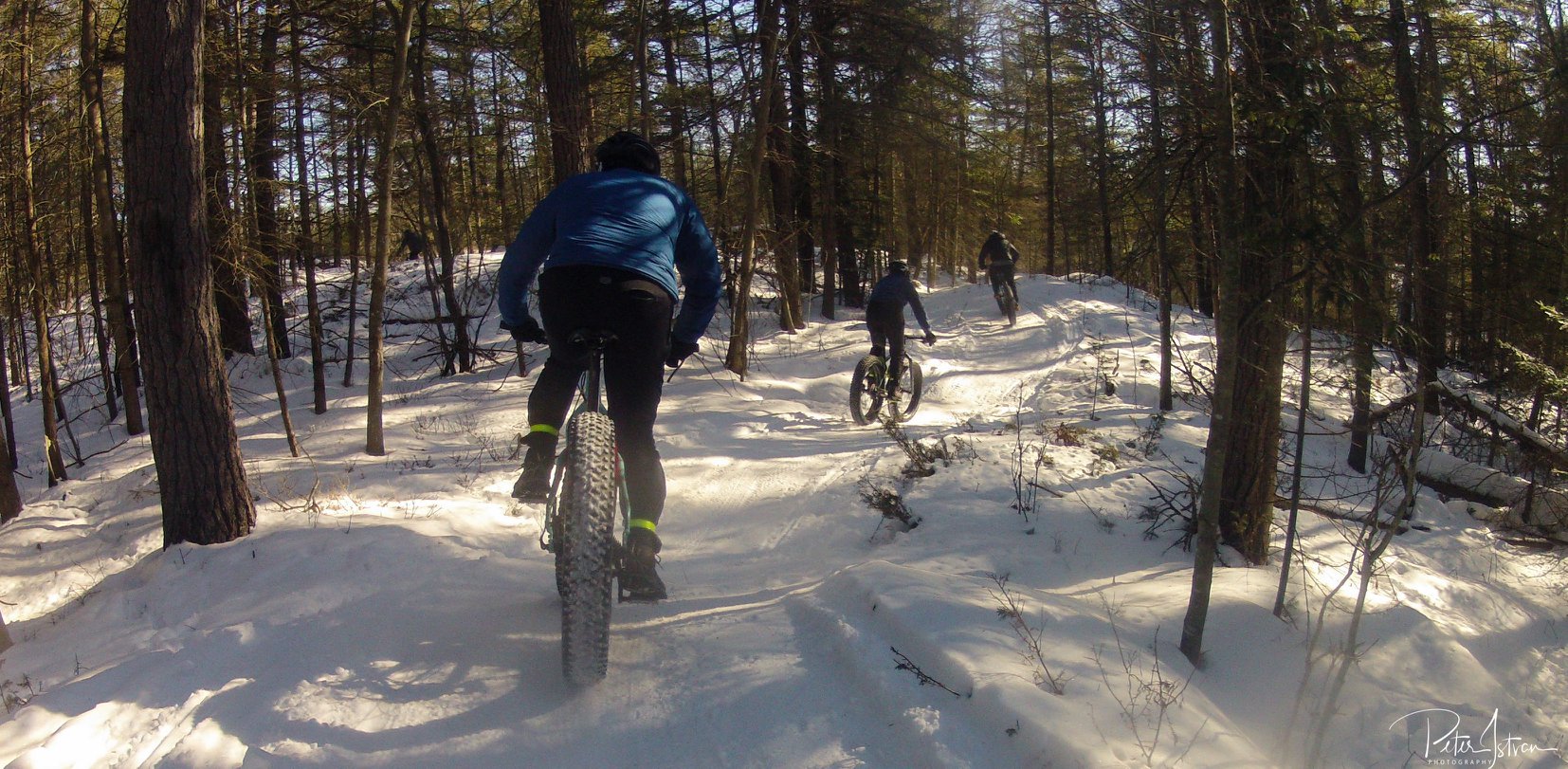 "Over the last few years, more and more trails are available for fat biking at Georgian Nordic Activity Centre. You need a day pass, so folks can visit Get Outdoors Parry Sound to get one and for more information about winter cycling. Trails at the Salt Dock are also a great option. And when the conditions are really safe, riding on Georgian Bay is also an amazing experience; be sure to check with a local bike shop before you go out onto any ice though."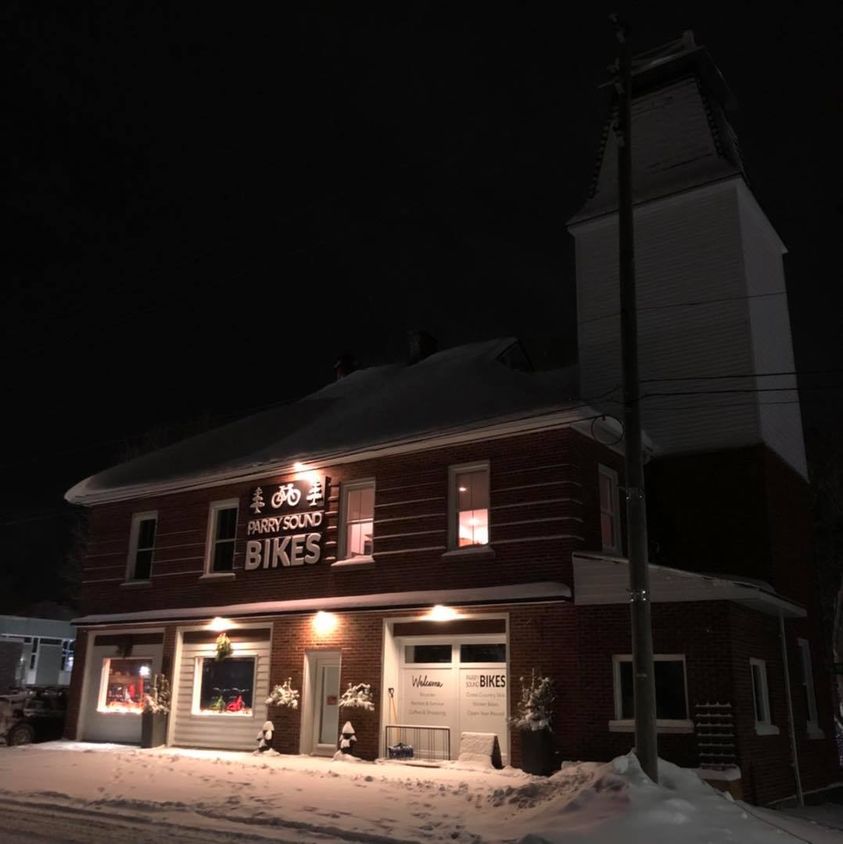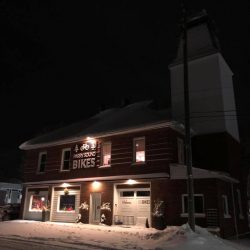 Aleesha Clark from Parry Sound Bikes agrees, and recommends if you're unsure where to ride in the area, to speak directly with pros.
"Rent a bike here and we'll set you up with unique route advice right from the shop," she advises. "You can even ride right to Trestle Brewery for a post ride snack and beverage."
When in Parry Sound you can also rent fat bikes from Ontario Trysport.
For Peter DeMos, his company's Liv Outside Adventure Trails located in Bracebridge offer multiple loops of machine-groomed fat bike trails. There are gentle rolling loops – perfect for getting a feel for riding – as well as steeper hills and a spectacular lookout for those looking for more of a challenge. Drop in at the nearby LIV Outside headquarters first for trail passes and fat bike rentals. They also offer guided rides for those looking for a little extra assistance.
More Great Trails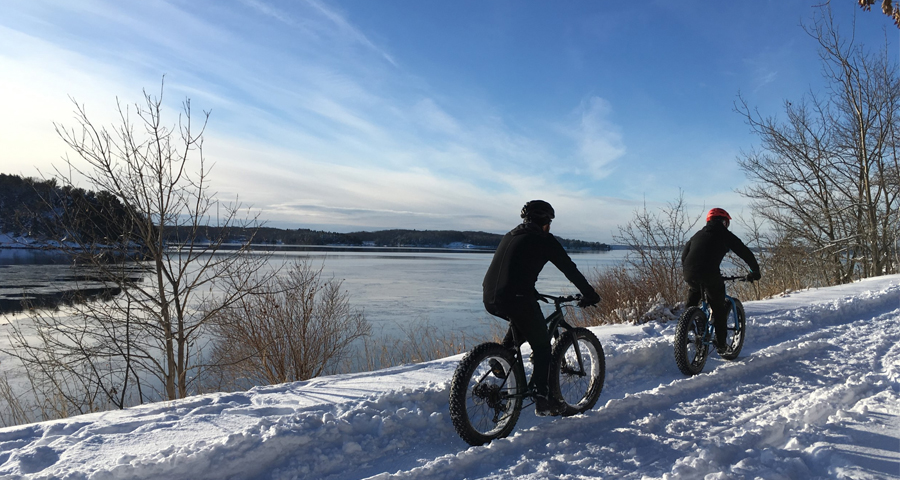 The Old Railway Bike Trail in Algonquin Provincial Park is a multi-use winter recreation trail that follows the path of an abandoned railway line. Approximately half of the trail's 16 km are groomed regularly for snowshoeing, fat biking and Nordic skiing. The trail has few hills and passes through fields and forests as it traces the shores of several lakes. Fat bikes can be rented in nearby Huntsville at Algonquin Outfitters.
The Echo Valley Nature and Bike Trails are located just off Highway 60 between Huntsville and Dwight. While the trails here are not officially groomed, members of the Huntsville Mountain Bike Association frequently snowshoe and ride the trails. Located on sixty acres of forest and wetland, the trails at Echo Valley are challenging with hills and narrow bridges, making it a more suitable destination for those with some previous fat biking experience (the trails here are currently closed due to tornado damage – but keep them on your biking bucket list to reopen shortly. In the meantime, the Huntsville Mountain Bike Association recommends winter riding at Limberlost Forest & Wildlife Reserve).
This winter, experience the incredible benefits of winter riding as you pedal through magical frozen landscapes. With just a little preparation you can ensure that you will stay warm and dry as you gain a whole new perspective on cycling all year long. Rent a fat bike, hit the trails and discover why fat biking is so good for body and soul.
For more information on riding in Algonquin Park, Almaguin, Muskoka and Parry Sound, visit BikeCottageCountry.ca.
With thanks to guest blogger, Bill Farnsworth from Huntsville, Muskoka, who regularly rides out to #bikecottagecountry in all four seasons.
(Note: NEVER ride on bodies of water without checking the safety of the ice first. Check with a local bike shop for conditions and where to ride, and always know the safe thickness of the ice before you go. Stick to trails always if you've never done winter riding before or are unsure.)
TRAVEL SAFELY. Please respect all municipal, provincial and national travel advisories when booking a destination. Please also check with individual businesses prior to arrival to ensure safe protocols are in place.
Photos courtesy of Peter DeMos/LivOutside, Aleesha Clark/Parry Sound Bikes , Peter Istvan/Get Outdoors Parry Sound, and Bill Farnsworth.