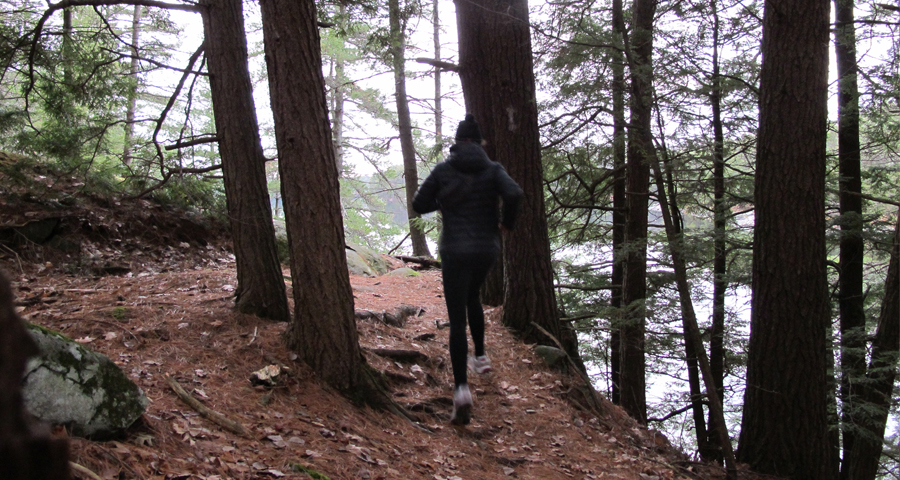 Trail Running at Hardy Lake Provincial Park in Muskoka, Ontario
Please note: Our new 'Great Canadian Wilderness' website has replaced the old one that ran under our company name, Explorers' Edge. From time to time in an older post, you may see references to Explorers' Edge.

Writer Carmen Kuntz heads to Hardy Lake Provincial Park between Bala and Gravenhurst, Muskoka, to give trail running a try.
Located directly off Hwy 169 just east of Torrance, Hardy Lake Provincial Park encompasses 765 hectares of publicly-accessed land that surrounds Hardy Lake and backs onto Lake Muskoka. A hidden gem in the provincial park system, even in colder months the scenery here will take your breath away.
Trail Running
Trail running – as opposed to pavement running – offers an extra challenge, both physically and technically. Perfect for adventurers with some miles already on their shoes, trail running at Hardy Lake requires that participants have cardio conditioning to complete the length of the trail, and also some experience to traverse what can be uneven terrain.
Trail Conditions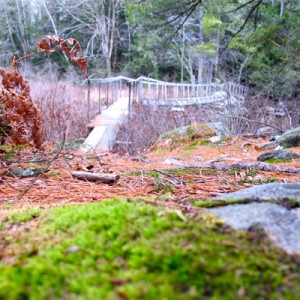 At Hardy Lake Provincial Park, the trail loops around the lake, winding through forested zones, natural shoreline, wetlands and rocky outcrops. Bridge crossings give runners (or hikers) viewing points where they can pause and take in the reflection of trees on the lake's glassy surface.
With a variation of trail length options, trail runners can choose between a 3km, 7km, or 8km loop. The Trail Map outlines the route. The 7km loop takes runners all the way around the lake and also connects to the Walker's Point trail system, (that are not open at the moment). An additional 1km can be tagged on to make it a full 8km. The 3km loop follows the shore of Hardy Lake for about 1km and heads inland winding through forest and wetlands.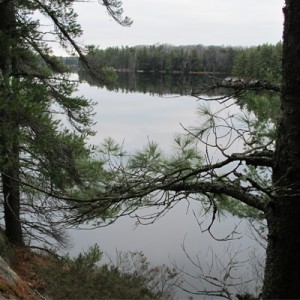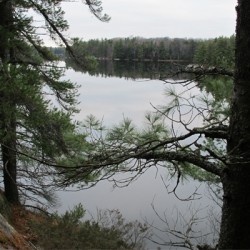 The trail is rated moderate to difficult due to uneven ground and steep sections. Runners should take extra caution as leaves cover rocks and variations in the trail. In some sections, blown down trees lay across the trail but are easily hurtled over. The trail is well marked but demands some basic navigation. Maps are posted in any area where the trail forks and the bright blue, diamond Muskoka Trails Council signage is posted frequently making it easy to assure you are on track.
The Landscape: Rocks, Trees & Moss
Interpretive signs mark important historical and biological spots, and can be read about in the trail brochure. A unique combination of flora is found in the park as a result of the last glacial period. When the ancient Lake Algonquin receded, it left a community of Atlantic Ocean shoreline plants that remain there today. The shores of Hardy Lake expose the Precambrian rock landscape that Muskoka is known for.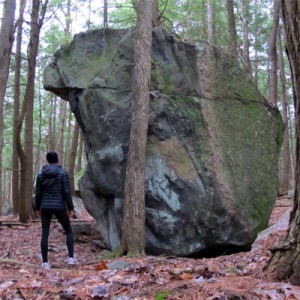 The trail takes runners through a unique mix of forest types typical of the region. From birch stands to hardwood forest, runners wind along a soft-packed dirt trail, dodging hemlocks and erratics; large boulders transported then left by the last glacier. Without a single piece of ice, the lake reflects rocks, trees and the unique winter light.
On the far side of the lake, a beaver dam can be seen from the bridge crossing the wetland. Some wet areas demand puddle jumping, but it's possible to keep your feet dry. An old homestead foundation and clapboard cabin remain. The Canadian Shield descends gradually into the water making an ideal spot to stretch, rest or picnic.
Trail Running Tips 
Dress in layers; running is different than walking and your body will heat up quickly
Wear sturdy, well-fitted trail running shoes
Prepare to puddle hop and negotiate blow downs; it won't be quite as messy as a Tough Mudder, but   your shoes will be anything but white at the end
Also of Interest
Are you already a pro at trail running? Then be sure to mark July 9th 2016 on your calendar and register for the Limberlost Challenge, a 14km trail race on single-track trail around numerous lakes, wetlands and rock outcrops in the The Limberlost Forest and Wildlife Reserve. And watch for the annual Muskoka Mud Run in autumn 2016.
Enjoyed a great trail run at Hardy Lake Provincial Park? Reward yourself with a frosty drink at Sawdust City Brewing in Gravenhurst, Ontario. You can also stop at Muskoka Lakes Winery in Bala for some wine and an artisan cheese plate, or at any number of attractions and eateries in the vicinity.
For more information on trails in the great Canadian wilderness, click here.
If you go: Biking, motorized vehicles or vessels are not permitted at Hardy Lake Provincial Park, and there are strict no camping and no campfires rules. Classified as a 'non-operating provincial park,' the facilities and services are limited to the parking lot and a portable toilet – but use of the park is free. The park is also pet-friendly, so bring your four-legged friends, but ensure you pick up after them and that they stay on leash so not to disturb local wildlife.

Guest Blogger: Carmen Kuntz
Carmen grew up exploring the wilderness and waters of Muskoka. She is passionate about self-propelled adventure and recreation conservation. As a freelance writer, photographer and whitewater kayaker, she loves sharing the local lore, legends and locations that make her Ontario backyard into an outdoor playground.