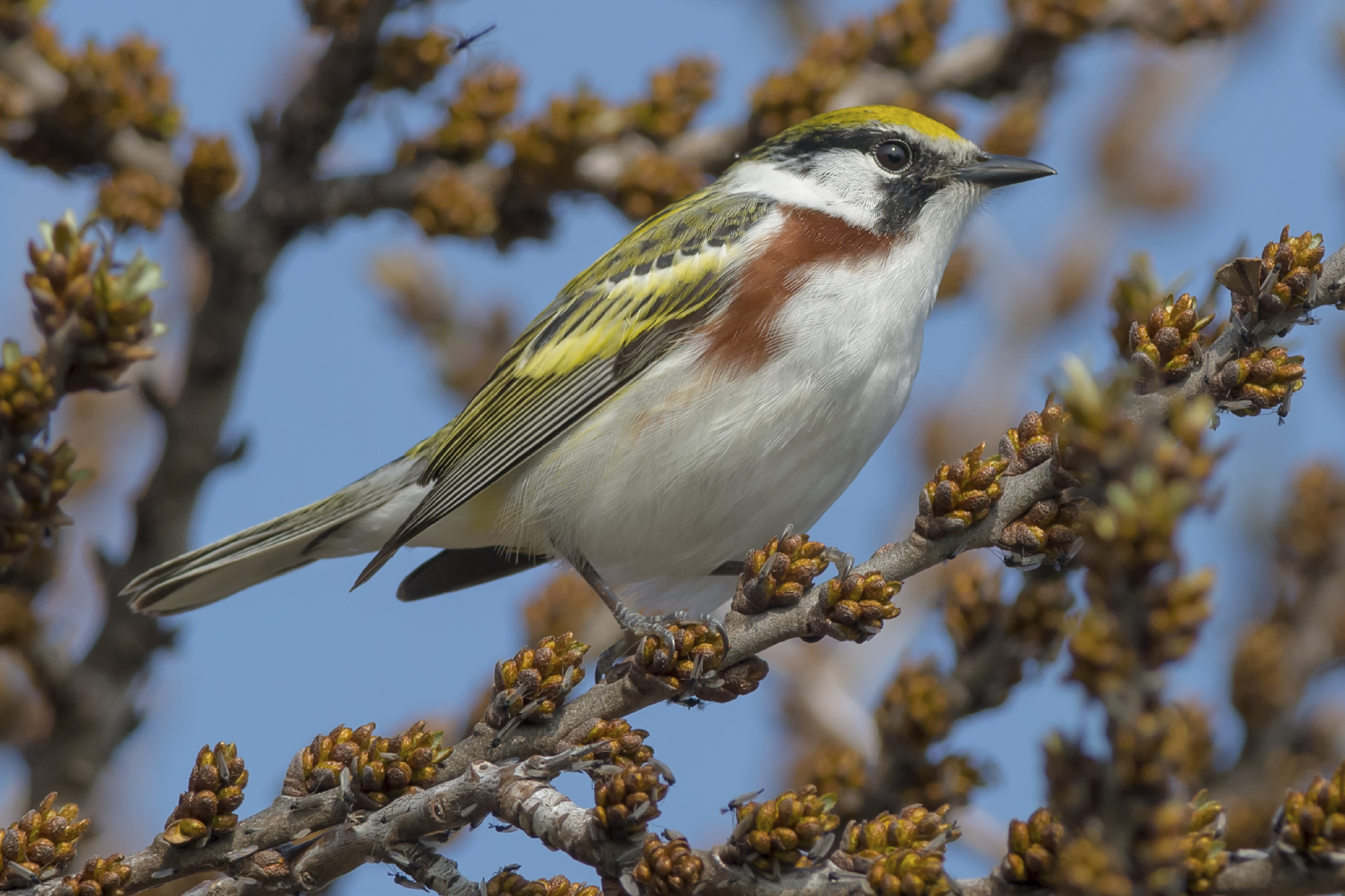 Spring Bird Watching in Explorers' Edge
The birds of spring are back in the great Canadian wilderness, bringing with them the sweet chirps that are music to human ears. And their distinctive sing-song is a sure sign that the woods are coming to life once again.
"Birds are everywhere in Muskoka," says bird enthusiast and former Arrowhead Provincial Park naturalist Melissa Gold. "Along rivers, at lake shores, in meadows, in forests, at the cottage, even in town. Once the lake ice is out, you start to see the earliest migrators, which are waterfowl. Birds are easiest to see before the leaves come out, but often they arrive at the same time that the leaves open, which means you sometimes have to rely on their songs for identification, especially warblers."
Algonquin Park's beautiful mix of untouched evergreen and hardwood forests in particular, plus shorelines, bogs and other wetlands provide perfect habitats for birds of many different feathers.
"April and May are when the majority of our migrants come back," says David Legros, a natural heritage education specialist in Algonquin Park. "One thing that makes this area great place to birdwatch is that it's a meeting place of the boreal forest habitat and the Great Lakes/St. Lawrence hardwood forest habitat."
An early sign of spring? The crystal-clear two-note call of the Black-capped Chickadee, starting as early as February. "In March, there's more nice days and they're really doing it," says Legros.
At night you'll hear the Barred Owls and the Northern Saw-whet Owls, as they begin their spring courting.
As for when the spring migrants will show up: Algonquin's naturalists and citizen scientists have been keeping track of arrivals and departures of migratory birds for over 40 years. For the best dating, Legros recommends Ron Tozer's book Birds of Algonquin Park. To keep track of which species have been spotted in the park lately, see the Algonquin Park Birding Report, posted every Thursday, just in time for your weekend.
In early April, the Eastern Phoebe returns, somehow surviving on flying insects. Just after the snow melts, if at dusk you start hearing a periodic buzz on the ground in a clearing, that turns into a twittering that rises up into the sky, it's an American Woodcock doing his annual courtship.
"One of the birds that people get most excited about, the Common Loon, is back mid-April," Legros says. "Their call is really the sound of interior camping – the sound of the north."
In early May, look for most rhrushes, ruby-crown Kinglets, goldfinches and sparrows. Explorer's Edge's most patriotic bird, the White-throated Sparrow, returns to his home and native land to sing "My Sweet Canada Canada" loud and clear.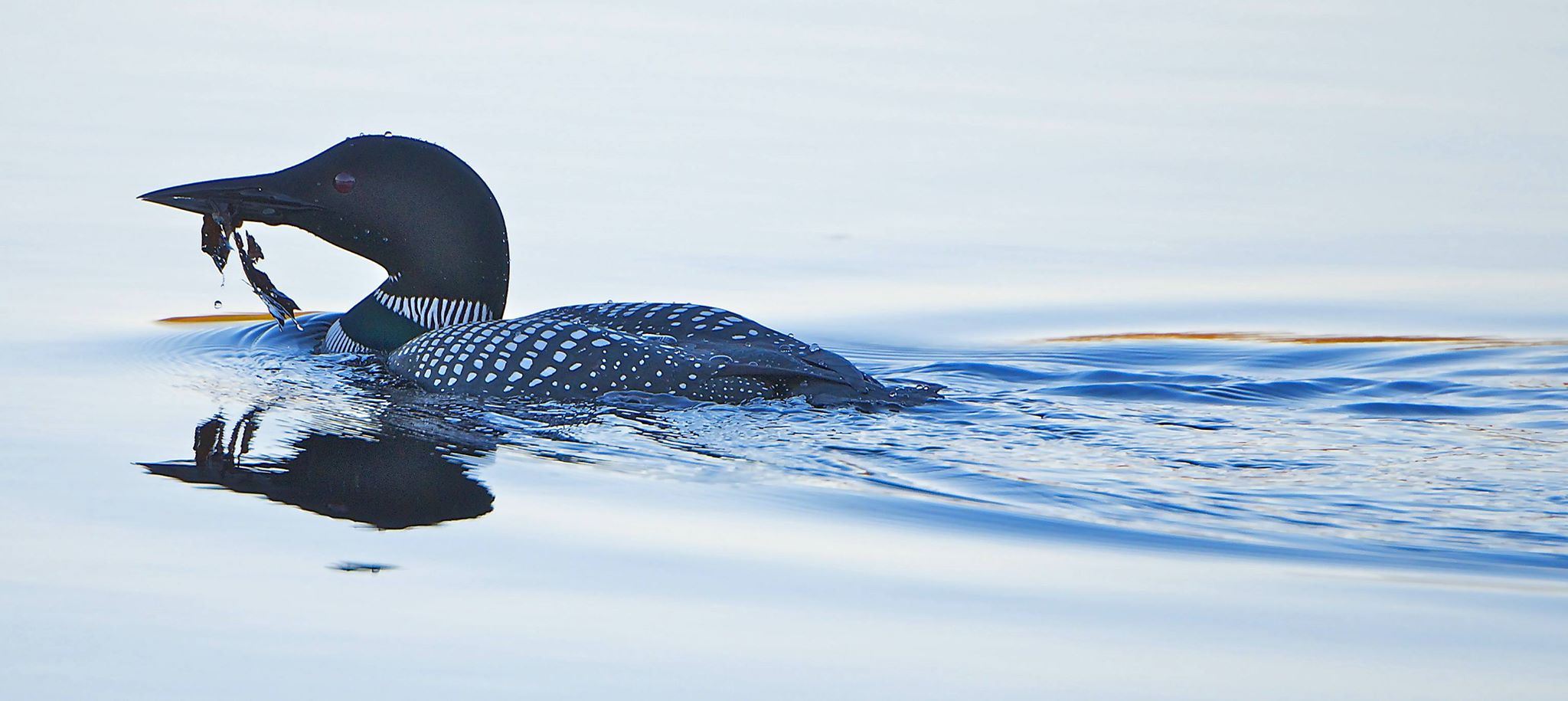 "Just about the time the bugs come out, you get warblers, flycatchers, orioles and nighthawks," says Gold. "Muskoka is really famous for its variety of warblers, but that group has niches, so some will be found in maple forests (Chestnut-sided Warbler), some in coniferous woods (Myrtle Warbler) some in meadows (Yellow Warbler) and some in boggy areas (Northern Waterthrush); some in tree tops (Redstart) and some on the forest floor (Ovenbird)." The Ruby-throated Hummingbird also returns in early May.
Why are the parks in the great Canadian wilderness a particularly great place for birding, compared to more famous spots such as Point Pelee?
"There's not the crowds," says Legros. "You can watch the birds do natural things: singing, courting each other, nest building, feeding young – and you have vast expanses of wilderness more or less to yourself. It's a more quiet place to view the birds."
For enjoyable spring birding, Gold has some advice. "Waterproof footwear and bug spray are a good idea and binoculars are recommended." And shutterbugs – don't forget your camera with telephoto lens.
For the Algonquin Park Birding Report, click here.
To start planning your spring birding trip, click here.

Loon photo courtesy of Tapley Nature Trails.
Guest Blogger: Karen Wehrstein
A resident of Muskoka, Karen Wehrstein is a freelance writer and published novelist whose work has appeared in the National Post, Montreal Gazette, as well as Muskoka Magazine, What's Up Muskoka and other regional publications. She lives on thirty acres of beautiful forest near Lake of Bays.