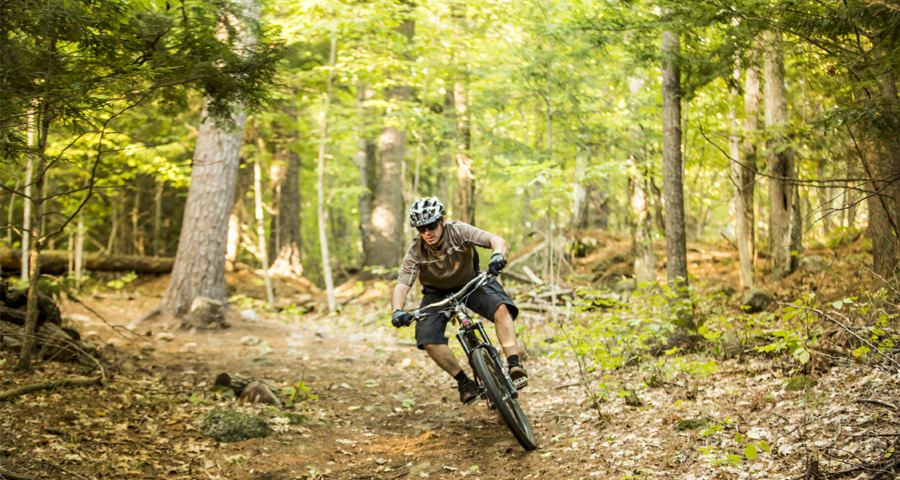 Mountain Biking in Ontario's Cottage Country
Please note: Our new 'Great Canadian Wilderness' website has replaced the old one that ran under our company name, Explorers' Edge. From time to time in an older post, you may see references to Explorers' Edge.
Throughout the great Canadian wilderness just north of Toronto you'll find a great range of mountain bike trails to suit all levels of off-road cyclists, from technical riders to long distance haulers to recreational weekend warriors. And with the spring melt under way, the start of another great season of riding is just around the corner.
Where to Ride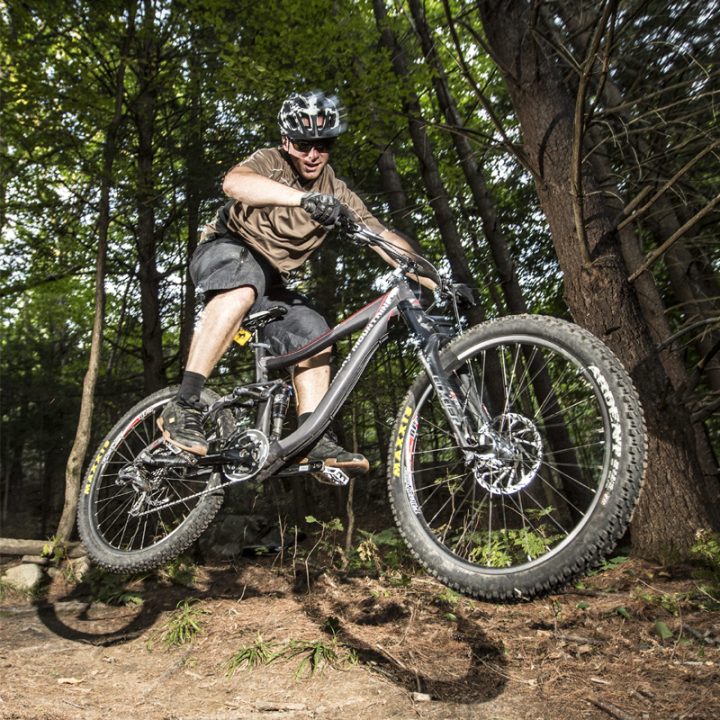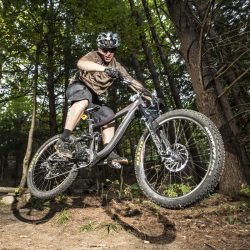 For experienced peddlers looking to challenge themselves, there are several exceptional options to consider. Some of the region's most technically demanding trails can be found in Bracebridge's Porcupine Ridge Mountain Bike Park. Located across the parking lot from family amusement park Santa's Village (and lovingly nicknamed "Satan's Village" by riders who appreciate the technical superiority here), the trails are filled with man-made obstacles, bridges, "skinnies" and more. Legs of steel will also be rewarded with a scenic vista overlooking Lake Muskoka.
Algonquin Park offers a pair of challenging trails for the adventurous rider. The Minnesing Mountain Bike Trail consists of several loops from 5 to 23 km in length. The trail is filled with steep uphill sections and rocky, root covered surfaces. Riders up to the challenge are rewarded with back country isolation and the opportunity for multiple wildlife sightings. Also in Algonquin, the Byers Lake Mountain Bike Trail is a 13 km out and back trip located at the park's southern edge. This trail features steep and aggressive grades with rocks, obstacles and muddy sections. There is also a short side trail providing access to Gut Rapids, a narrow, picturesque canyon on the York River. Not far from Algonquin Park, near Dwight, Muskoka, be sure to check out the new Echo Valley Nature Trails, a welcome addition to riding around Lake of Bays.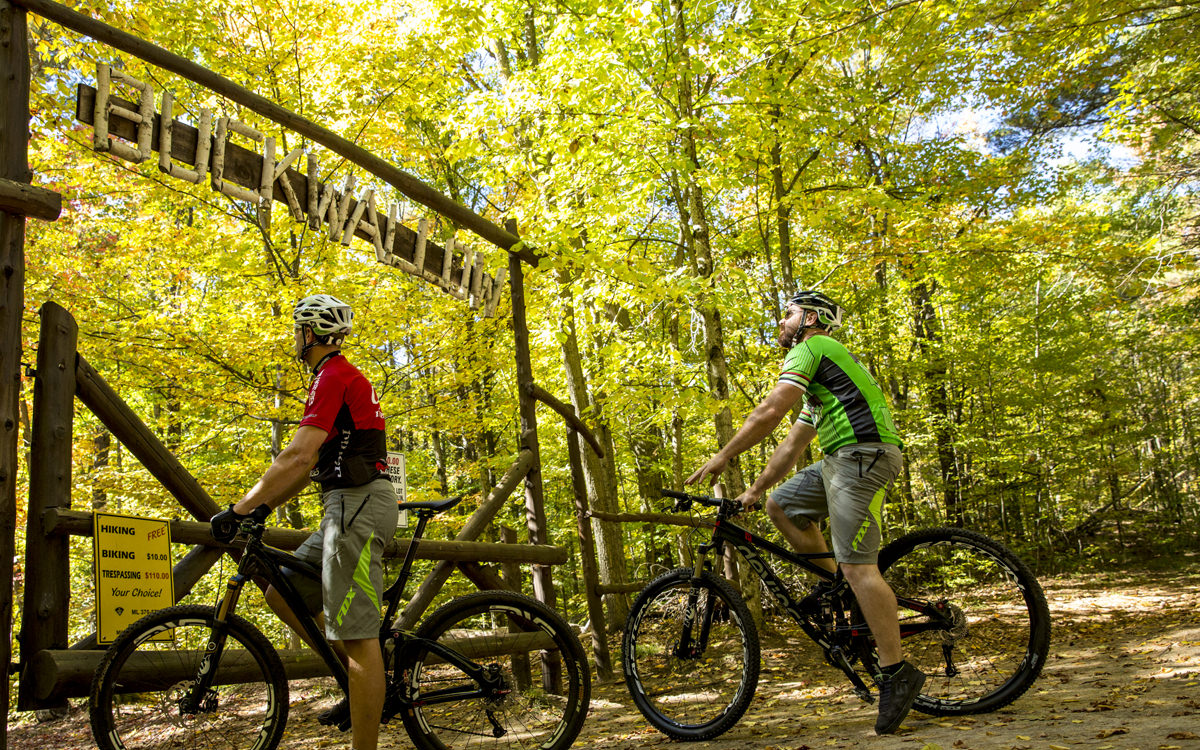 Buckwallow Cycling Centre, located in Gravenhurst, is a privately owned trail system providing more than 30 km of dedicated mountain bike trails of varying difficulty. The majority of the trails are winding single track riddled with roots, exposed "whaleback" rocks and natural and man-made obstacles. Buckwallow has been called Muskoka's best marked and maintained mountain biking trail system and every season it hosts a stop on the Ontario Mountain Bike "O-Cup" racing tour.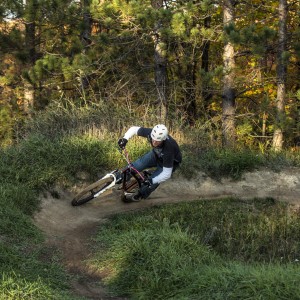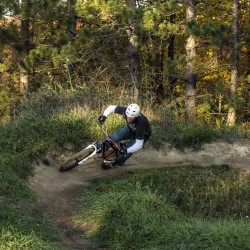 Are you the kind of mountain biker looking to rack up the kilometres? If so, The Park to Park Trail is for you. Linking Killbear Provincial Park to Algonquin Park, the system boasts 230 km of off-road and mixed-use trails. The Park to Park Trail links individual trails and trail systems across several Explorers' Edge regions to create a continuous cycling option between the parks. The best known section of the trail is the Seguin Trail, 80 km of off-road that follows the historic rail bed of the Ottawa, Arnprior and Parry Sound Railway. This makes for a relatively flat ride that wanders through forests interspersed with rocky and wet terrain that carries riders into the Almaguin Highlands region. Starting on the shore of Georgian Bay, the 6 km Rose Point Trail also follows a section of the same rail bed. In Algonquin Park itself, the Old Railway Trail is a 10 km off road stretch along the abandoned rail bed that connects five of the park's campgrounds.
Prefer to spend your ride enjoying all that nature has to offer? There are multiple options across the great Canadian wilderness to discover.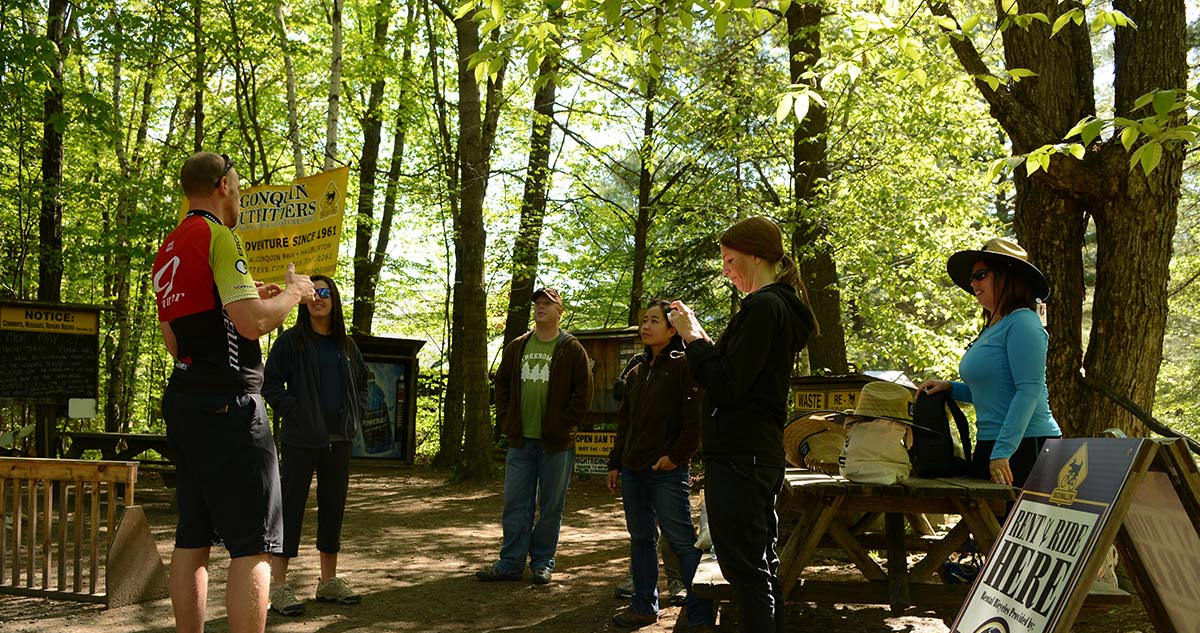 Restoule Provincial Park in the northern part of the region has two trails suitable for mountain biking. The 5 km Angel's Point Trail is an easy ride showcasing the park's natural beauty. Feeling more adventurous? Be sure to check out Gibs Trail, a backcountry route of moderate to difficult terrain that heads outside of the park in the adjacent Crown land toward the French River.
Other cycling favourites include the 15 km, single track style Muskiig Trail in Parry Sound, The Loxton Beaver Trail near South River in the Almaguin Highlands, and the trails of the Bracebridge Resource Management Centre.
New to mountain biking or just don't have room to pack your ride? There are many friendly and knowledgeable business operators ready to get you geared up and into the wilderness.
Cyclists in Muskoka have multiple options. Algonquin Outfitters in Huntsville, Muskoka Outfitters in Bracebridge and The Bike Shop in Gravenhurst rent and service all types of mountain bikes. Riders heading specifically to Buckwallow can rent one of the Ecclestone Cycle fleet stationed directly at the Centre's trailhead (or rent to ride in other areas).
Cyclists planning to ride the Park to Park Trail in Parry Sound can rent hybrid or dual sport bikes optimized for mixed terrain from Parry Sound Bikes or Trysport Parry Sound.
Restoule Provincial Park and Algonquin Park both offer mountain bike rentals as well, the latter from The Lake of Two Rivers Store at km 31. Looking for a guided excursion in Algonquin? Check out Algonquin Adventure Tour's Old Railway Bike Trail Tour.
Make a point this year to experience the amazing mountain bike destinations cottage country has to offer cyclists of all levels. See you on the trails!
To plan your visit to the great Canadian wilderness, click here.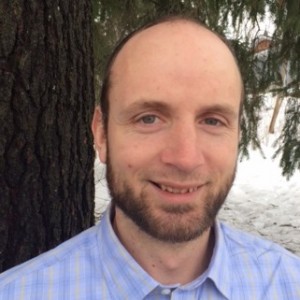 Guest Blogger: Bill Farnsworth
Bill Farnsworth is a freelance writer who has lived in Muskoka for more than 30 years. When not writing, Bill can be found cycling, running, paddling and trying to keep up with his two adventurous boys.