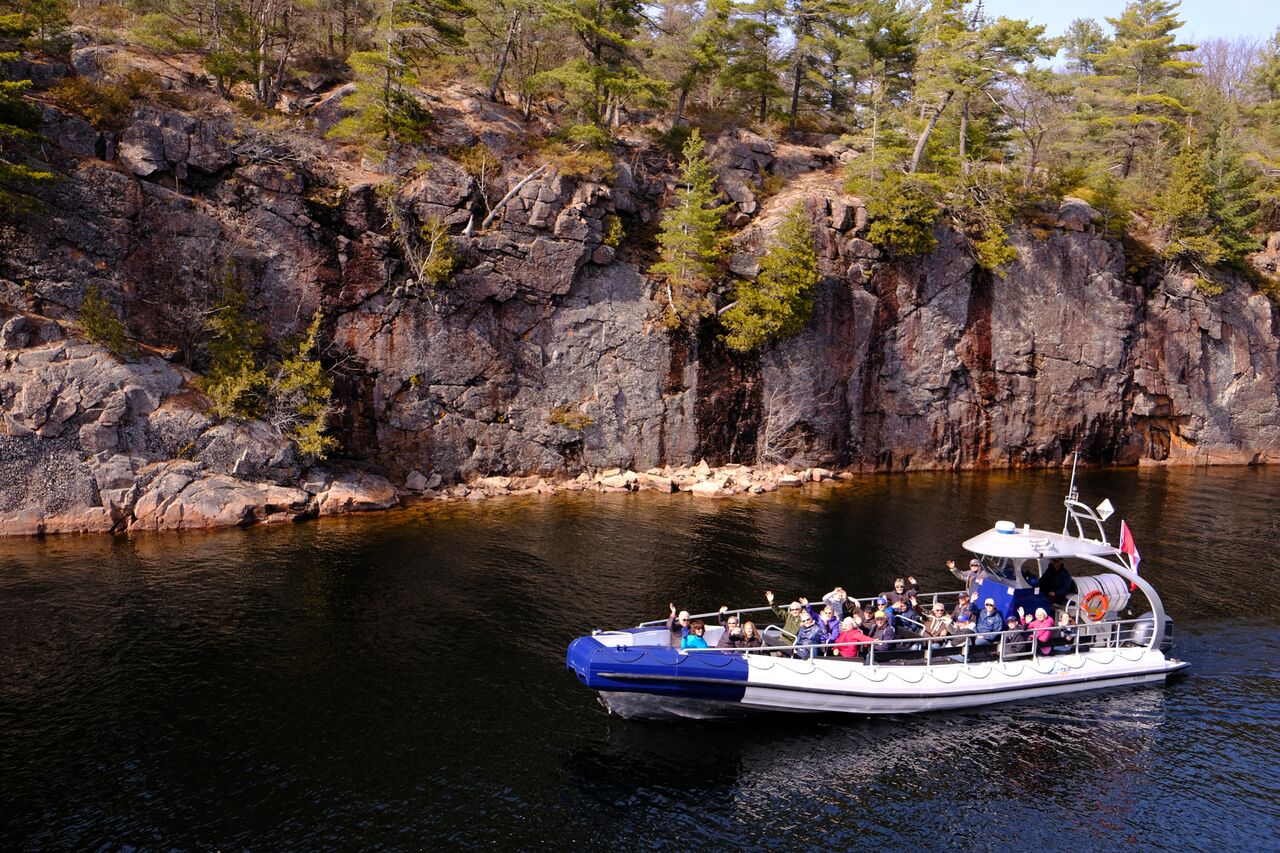 Explore Georgian Bay Like Never Before With Islander Adventure Tours of Parry Sound
The hugely popular Island Queen cruise ship in Parry Sound now has a sister vessel navigating the channels of the world's largest fresh water archipelago – only this one is a lot more adventurous.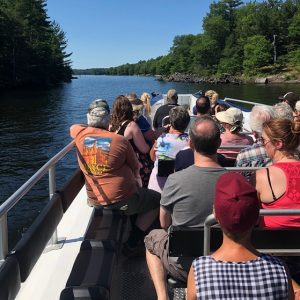 The Islander X is new speedy, zodiac-style, ridged aluminum-hulled boat featuring two 250-horse power outboard motors.
Designed to hold 40 passengers, this fast and sleek chariot gives guests a more up close experience of the UNESCO-designated Georgian Bay Biosphere Reserve – a unique island ecosystem that is home to granite-sculpted cliffs, windswept white pines, and well-known and rare species of flora and fauna also.
Recently launched for the summer and fall touring seasons in Ontario's cottage country, the Islander X will delight ticket-holders who can choose from two exciting half day adventures.
World Famous Henry's Fish Restaurant Lunch Tour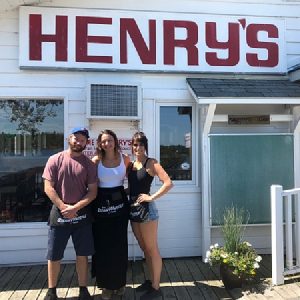 A bucket list item for travellers to this region is a visit by boat to Henry's Fish Restaurant on Frying Pan Island.
This picturesque tour via the south channel islands will showcase the rugged nature of the bay, before passengers and crew stop for a delicious bite to eat.
The Islander X brings you right to Henry's dock where you'll be greeted by the friendly staff. Head inside to enjoy their speciality – fish and chips, including battered and pan fried Pickerel. (Note that lunch is not included in the price of the tour ticket).
After lunch, relax on the deck and watch tons of boats (and planes if you're lucky) come and go into Henry's slips before the Islander X embarks for the return trips to Parry Sound Harbour. All in all you can expect this to take approximately 3 to 3-1/2 hours, and you'll be delighted by every minute of it.
Huckleberry Island Tour
Passengers will be ferried to Huckleberry Island, which is among the most remarkable spots in the 30,000 Islands. What's particularly special about this trip is that a Naturalist from the Georgian Bay Biosphere Reserve will take you on a guided walk to explain the fascinating ecology of the biosphere.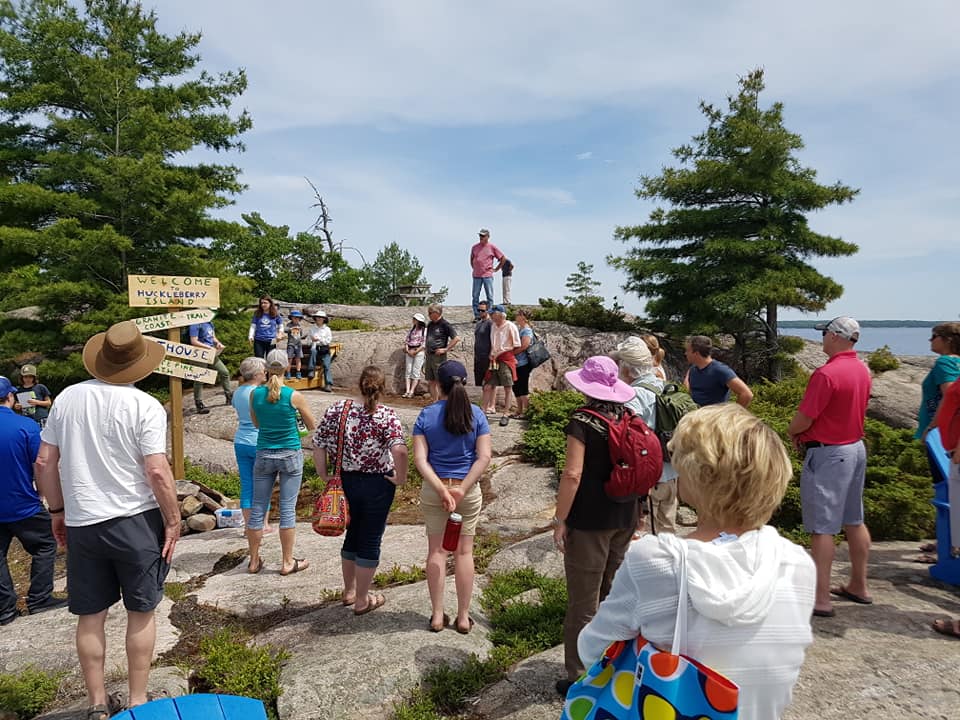 Passengers will also be able to explore the rocky shoreline (proper footwear required) and then enjoy a refreshing swim in a secluded and shallow cove (bring your swim suit!).
On the way back to Parry Sound, the Islander X will maneuver through the "Hole In The Wall" channel – named one of the Amazing Places of the Georgian Bay Biosphere Reserve. (Be sure to watch for cliff divers and have your camera ready.)
The Huckleberry Tour lasts approximately 2-1/2 hours and is the perfect way for visitors to experience just how incredible the islands of Georgian Bay truly are.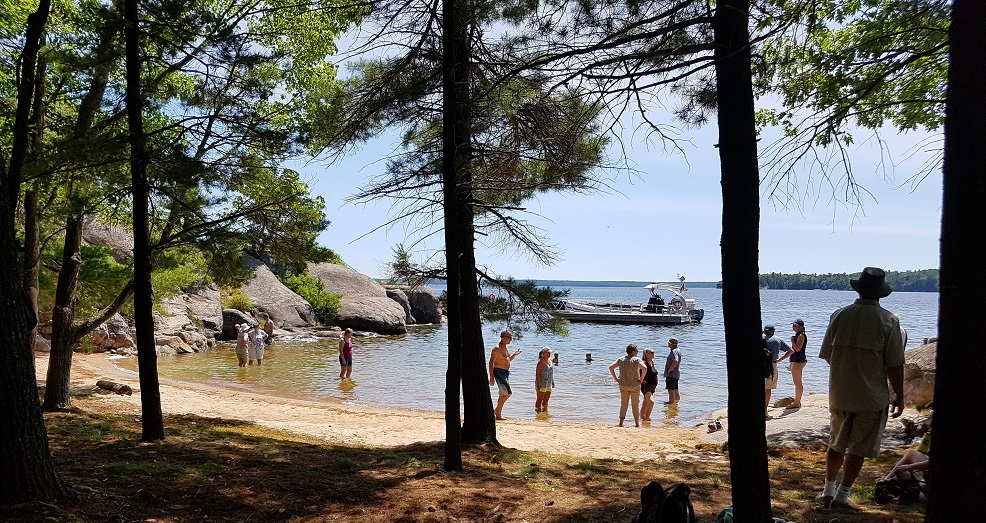 This summer, explore the 30,000 Islands near Parry Sound like never before aboard the Islander X. For a tour of the bay without the stops, book your trip on the Island Queen.
To book your tickets, click here. For more information on where to stay in the Parry Sound region, click here.