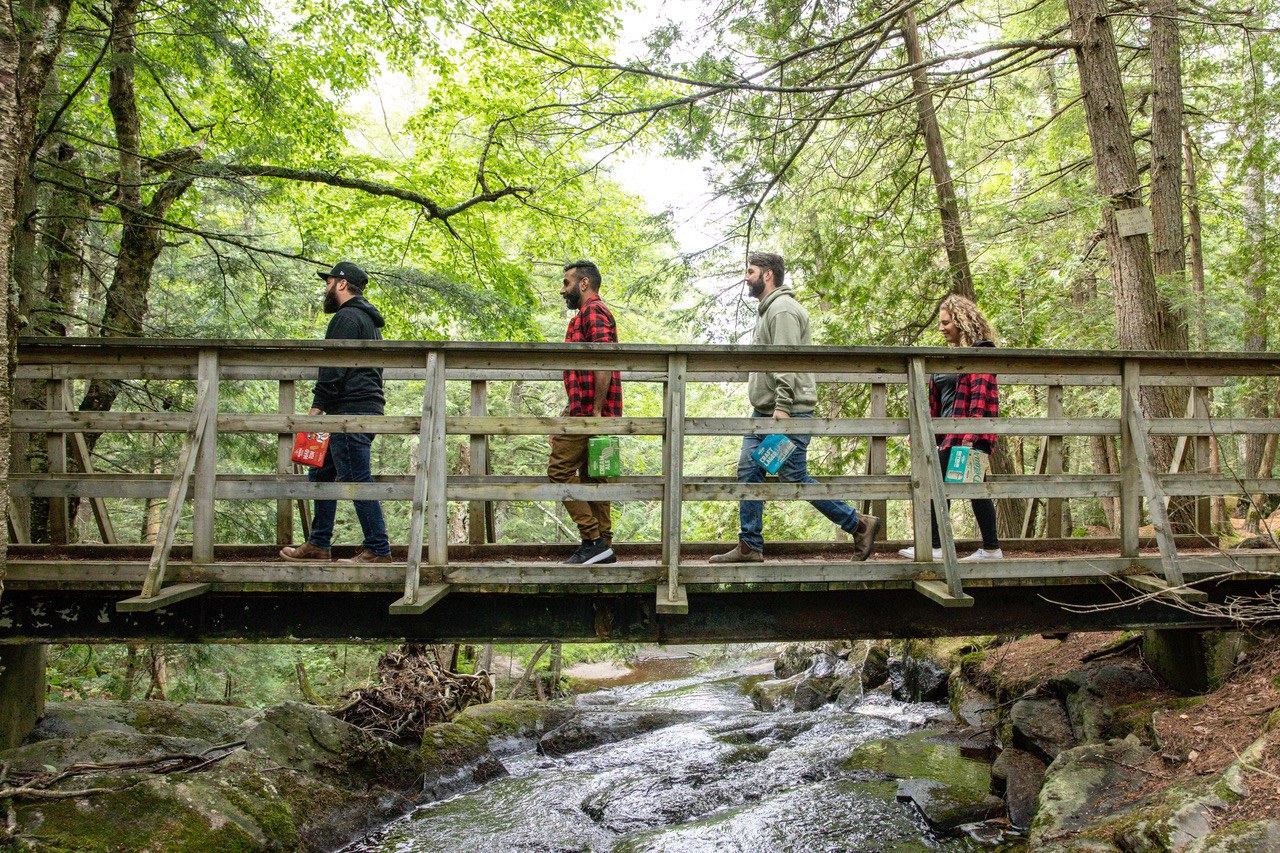 Cheers to 25 Years at Muskoka Brewery!
Please note: Our new 'Great Canadian Wilderness' website has replaced the old one that ran under our company name, Explorers' Edge. From time to time in an older post, you may see references to Explorers' Edge.
Canada's iconic craft brewery celebrates a quarter century milestone in 2021, and writer Scott Turnbull tells us how far the company has come.
In the 1990s, the phrase "craft brewery" didn't register with most people in Canada. "Beer" almost always meant a fizzy, yellow 5% ale or lager from a large corporate brewer, and the town beer store was the only place you could buy it. Muskoka locals Gary McMullen and Kirk Evans had different ideas, however, and in 1996 they opened the doors of Muskoka Brewery in Bracebridge, with the vision that beer should be delicious and, most importantly, crafted fresh locally.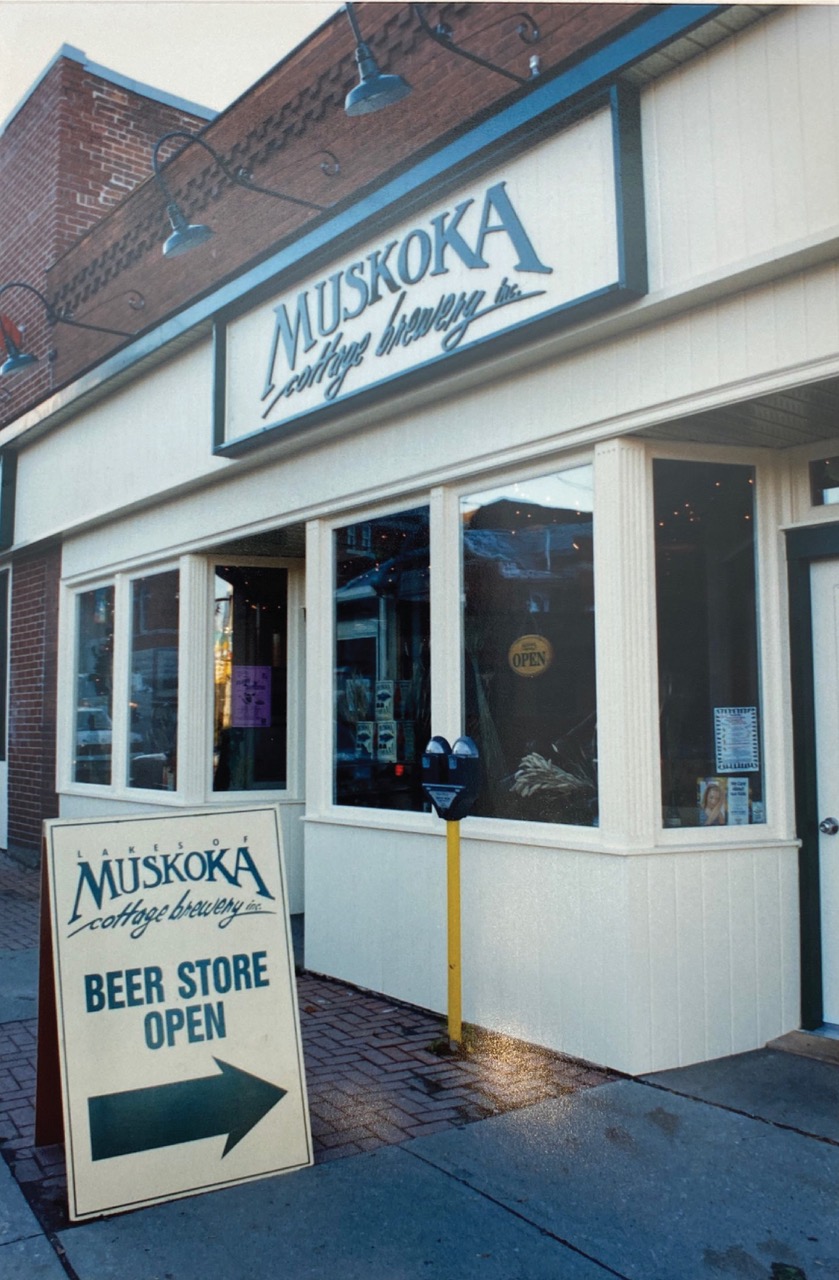 This summer, Muskoka Brewery marks 25 years of brewing in Ontario's cottage country, a celebration of a quarter century of crafting great beer and building an incredibly vibrant local business. From a dream hatched on a camping trip between two friends, Muskoka Brewery has grown to be one of the country's best known craft breweries, as well as one of the region's largest employers.
Originally based in the historic granary building in downtown Bracebridge on Taylor Road, the brewery started with only six employees; everything was done by hand, including the labeling of each bottle.
Only two months after the grand opening ribbon was cut, tragedy struck when Kirk Evans was involved in a serious car accident, eventually succumbing to his injuries. McMullen was on his own.
"You go into something with a partner and a friend and you one day wake up and your partner and friend is in a hospital," McMullen told a local newspaper. "You start to doubt yourself, but we kept going."
From those tough early years, the brewery started to grow, and by 2012 moved from its outgrown downtown 11,000-square-foot space to a modern 70,000-plus-square-foot facility just outside of Bracebridge on Muskoka Beach Road, the place it calls home today.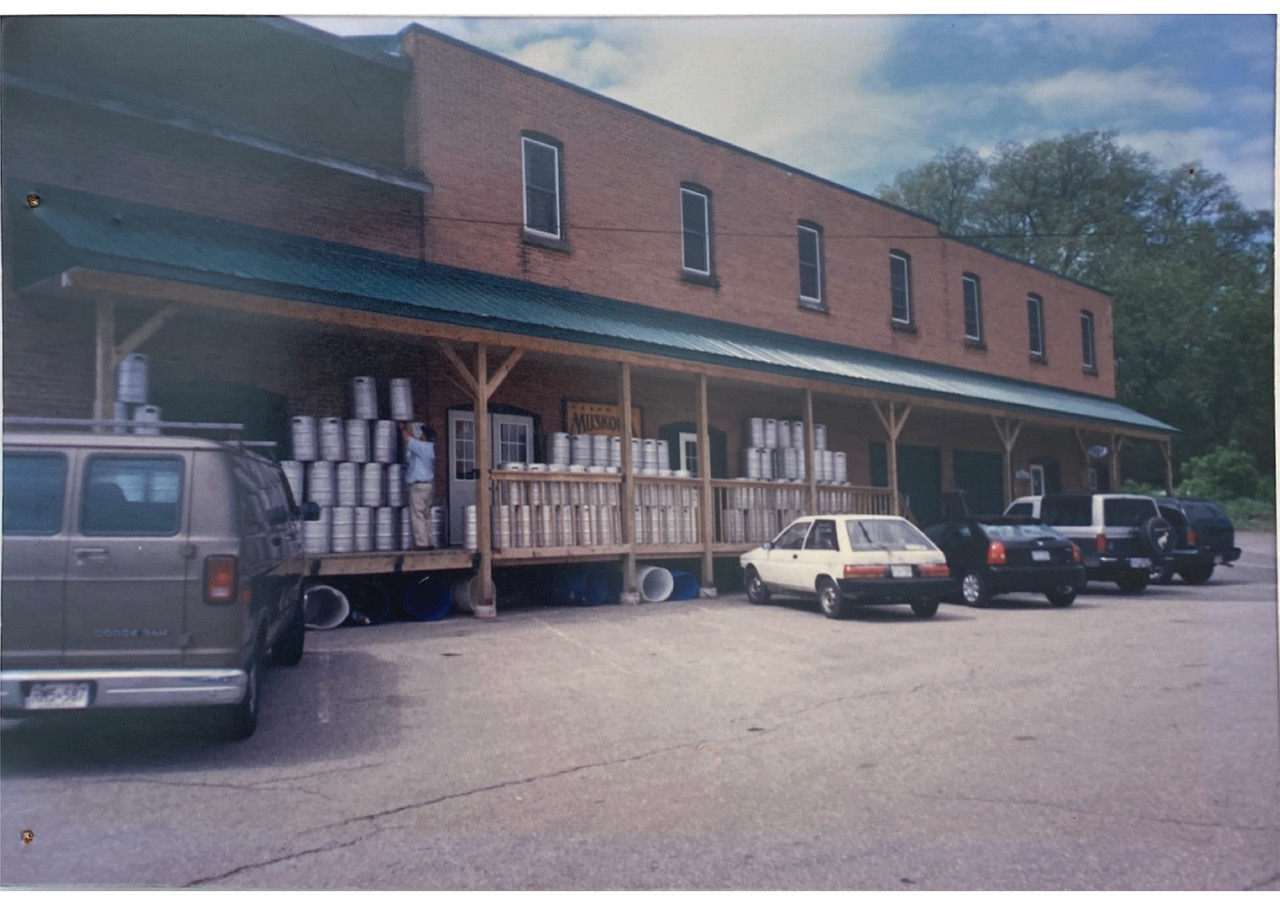 Currently owned and operated by Todd Lewin and Bob McDonald, what started as a very small and dedicated team has grown to a passionate band of beer lovers more than 130 strong. Even with the remarkable growth however, the company stays true to its community-minded approach.
"Being a leader in the craft brewing business takes a great team, and great community support, and we're really fortunate to have both here in Muskoka," says Lewin.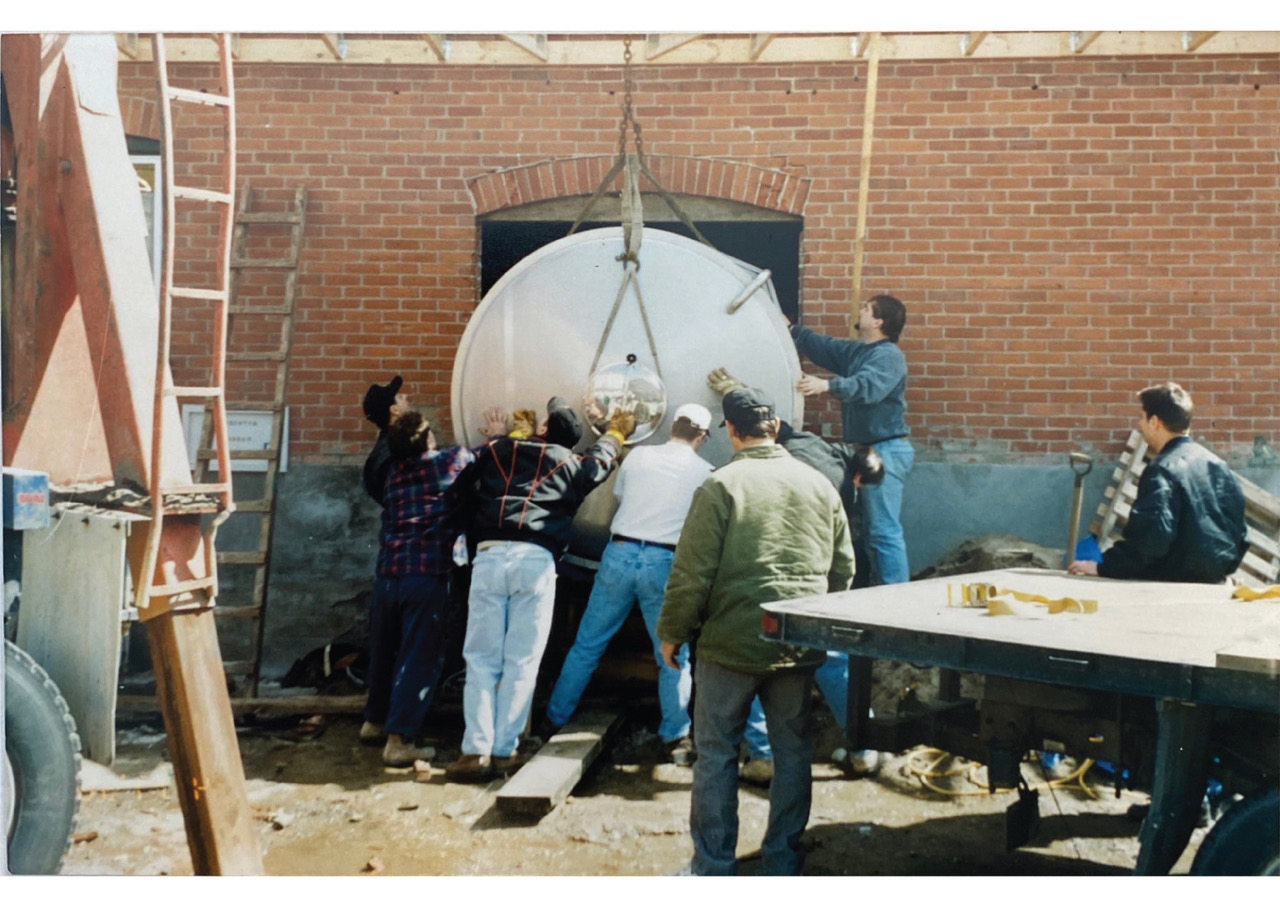 From just one flagship brew, Muskoka Cream Ale, and one point of sale at the original brewery, Muskoka Brewery has grown to encompass at least 10 different beers at any given point, and is sold in most provinces across Canada. Products like Detour and Mad Tom are ubiquitous on Beer Store and LCBO shelves, and the brewery has brought even more name awareness to the famous region in which it's based.
"We're about more than great beer though," says Val Hamilton, marketing manager with the brewery. "We're about the road less traveled and taking the long way if it means a better view."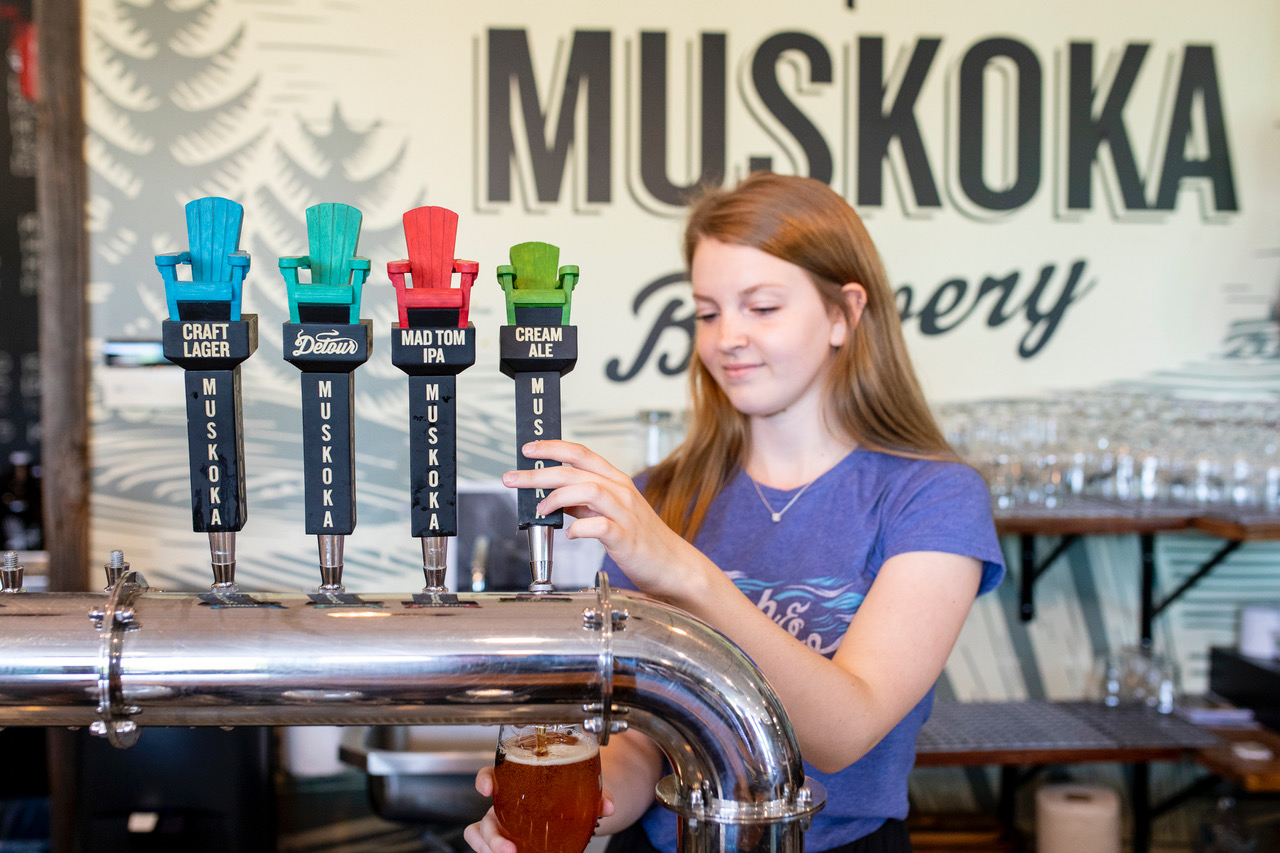 With community and environmental responsibility in mind – two values that are crucially important to the business – Muskoka Brewery strives to be a leader in craft brewing, from promoting reduced environmental impact through sustainable packaging, contributing to community programs across the region, and supporting ongoing brewing education for its staff that allows them to explore new and historical beer styles and trends.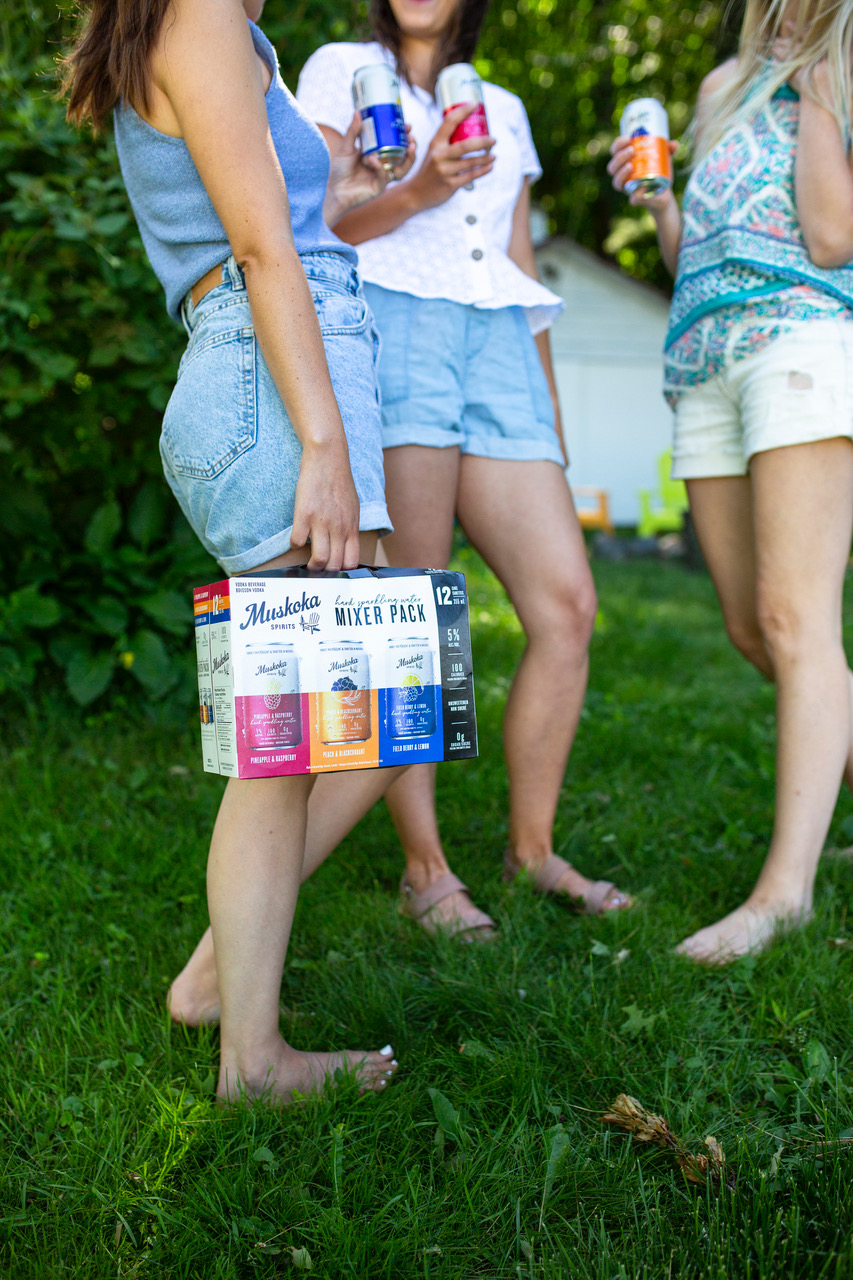 Since 2015, the brewery has been branching out from beer, into the world of spirits, developing a line of gin and canned sparkling drinks that bring the same quality people have come to expect from their beers.
"We're continuously learning and experimenting," says Hamilton. "We're adventurers at heart and we're not afraid to venture off the beaten path."
With Covid restrictions drastically affecting everyone in the hospitality industry for the last 15 months, the large outdoor patio at the brewery has become a sanctuary where you can still enjoy a fresh Muskoka Brewery beer right from the tap. Also opened this summer to commemorate the 25th anniversary is a large timber frame pavilion, built in partnership with True North Log Homes, that will comfortably seat 50 people in all kinds of weather.
"It's wonderful that people can stop in here and try everything we have to offer in one place," says Hamilton. "We've had a lot of people this summer remembering the tiny original tap room where the brewery started – it's been quite a journey from that place."

Guest Blogger: Scott Turnbull is a professional photographer and craft beer fan who lives in Windermere, Muskoka.
Historic photos courtesy of Muskoka Brewery. All other photos by Scott Turnbull.