Red Pine Art Supply
1-6 West St N, Huntsville, Ontario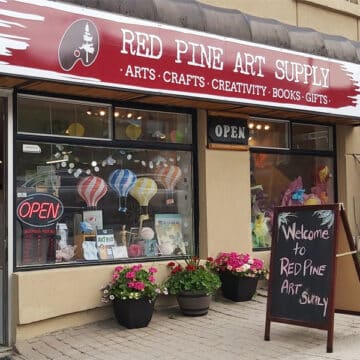 Owned and operated by artist, Sam Sullivan, AOCAD, and husband, Chris, Red Pine Art Supply is in the heart of beautiful downtown Huntsville, supporting the local artist community and visitors all year-round.  They provide customers with the highest level of service with a wonderful selection of exceptional quality art supplies, from beginner to professional levels. They have an assortment of crafting, art and creative thinking books, unique gifts, and sustainable and eco-friendly supplies, and Canadian made products to support other small businesses. It is an art store that welcomes all ages and levels of artists, like their motto, Creativity is Happiness, and you will find that there.  Visiting Red Pine, it is not just walking into a typical art store, it is a creative experience.  They love art and it shows!
Be sure to also visit the Red Pine Kids section of the store, so children and parents can come be inspired for new ideas and encourage young creative minds.
Come in store and visit our Collaborate Studio Space & Gallery, which is a dedicated art studio and Sam's teaching workspace.  The studio is for new and learning artists to have a welcoming space for conversation, learning tools and ideas.  The gallery also participates in local art shows and exhibits.
Please visit our Instagram, Facebook or website for inspiration.