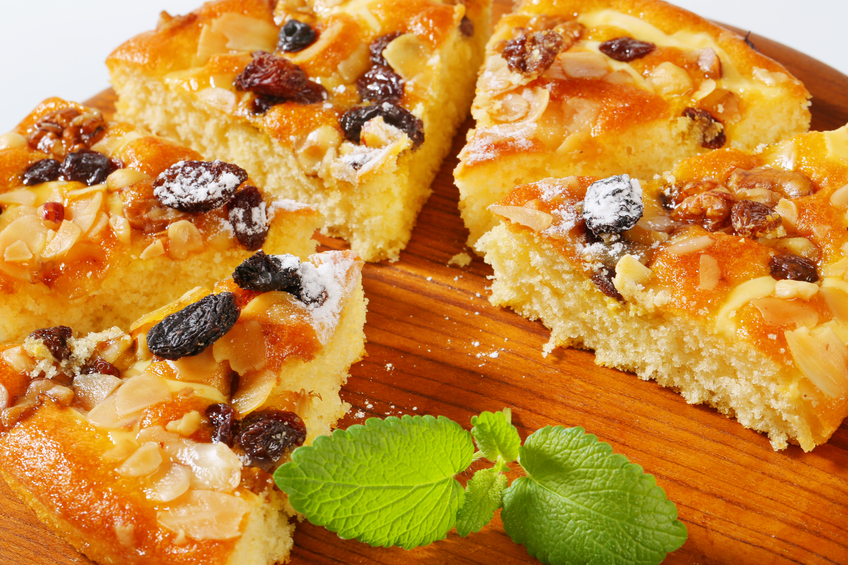 Artisan Bakeries Make Summer In Ontario's Cottage Country Even Sweeter
A visit to an artisan bakery in Ontario's cottage country is as much a summer tradition as lazing on a dock or swimming in a lake. With signature items baked from scratch (including Chelsea buns, butter tarts and everything in between), a stop at one of many establishments to taste their delectable treats is the reward you'll get when you explore the villages and towns that dot the region. Here are just a few of the sweet spots you'll find:
A trip to Henrietta's Pine Bakery in Dwight has been a tradition for more than 50 years. With a second location now open in Huntsville, owners Geoff and Carine Harris along with their sons Kyle and Nick stay extremely busy baking from scratch over 150 types of breads and pastries each day. And they're literally famous (check out the line-ups down the highway on a summer Saturday) for their sticky buns and the "Muskoka Cloud" (a very light tea biscuit made with cranberries and quark cheese that's brushed with butter and rolled in sugar).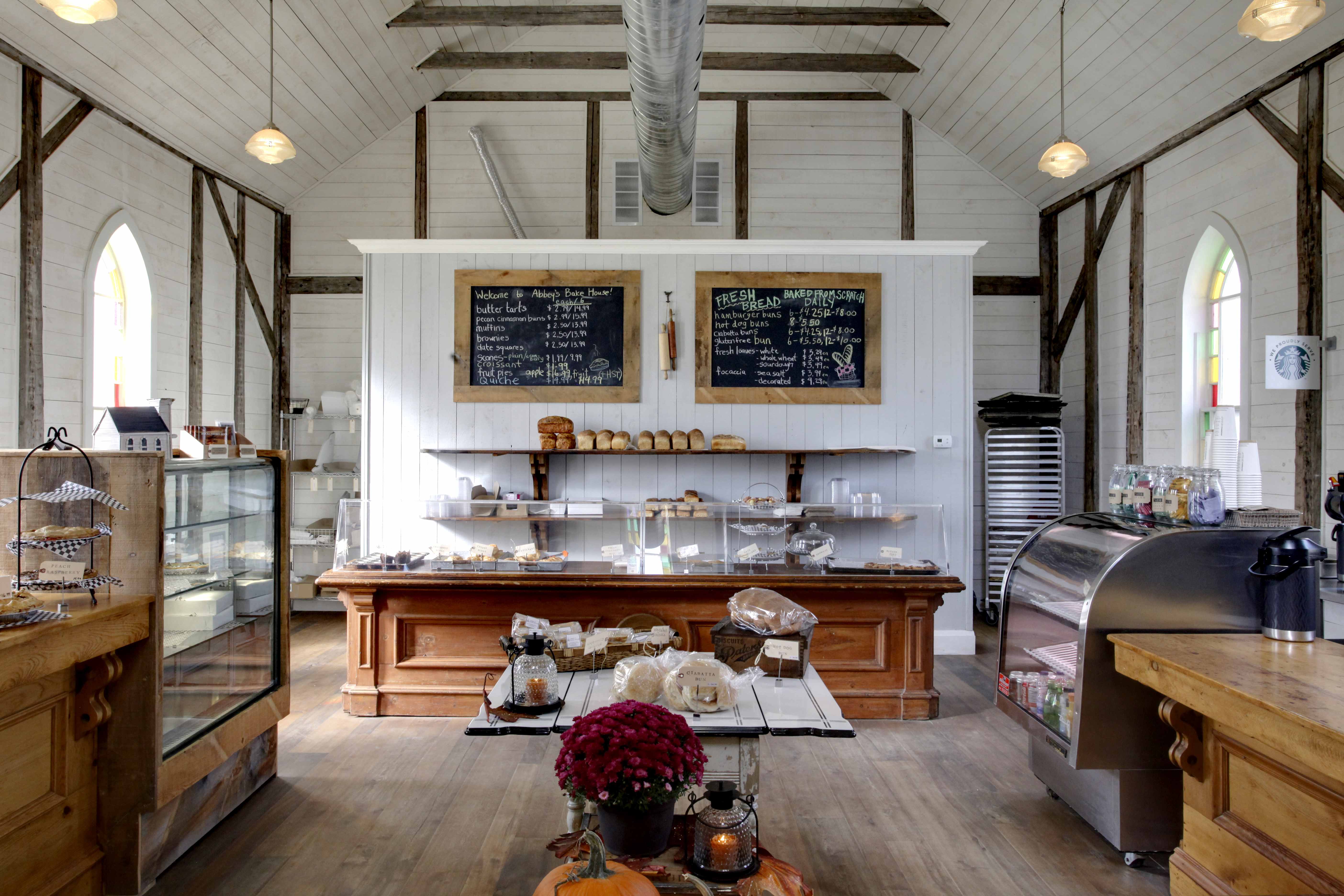 Open seasonally, Abbey's Bake House (photo above) has locations in Minett and Port Carling (the hub of the Muskoka lakes) and bakes everything from scratch, including their famous butter tarts, focaccia loaves and – wait for it – brownie stuffed chocolate chip cookies. The Minett location on Juddhaven Road has the added bonus of giving patrons a splendid view of Lake Rosseau, and a visit to this converted 19th-century church is unforgettable adventure in itself.
When in Bala, be sure to stop at Don's Bakery (photo below), a Muskoka tradition for over 60 years. Current owners Bryan and Jana Foster were dedicated customers before purchasing the business – that's how much they loved it. Don's Bakery creates everything from scratch, including breads, rolls, muffins, pastries, cakes and pies. Be sure to ask about their famous scones and their "Bala Bites."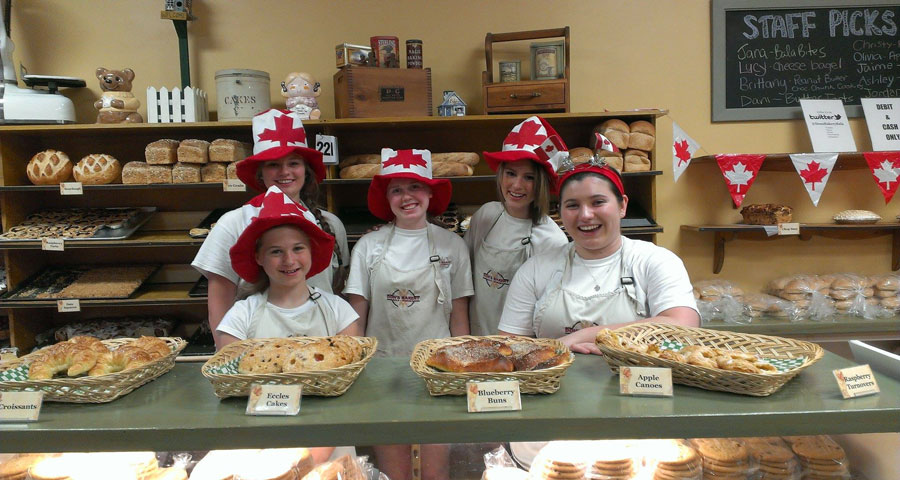 In Gravenhurst, the Rebelein family has been baking up a storm at The Bakery since 1959. Everything from breads to brownies is on tap, and sweet-toothed fans in the know will tell you not to leave the shop without trying their legendary Chelsea buns (which have even been shipped to the South Pole!).
No butter tart fan should visit the region without heading to the Humble Pie Butter Tart Factory (the name says it all – doesn't it?) in Baysville, Ontario. Here you'll discover just how versatile a butter tart can be, and you'll leave with a new appreciation for the Canadian favourite. (Ask about their butter tart rum balls…made from the pieces of butter tarts that are not used or break off…hello!)
In downtown Parry Sound, you've got options. Be sure to head to The Country Gourmet Cafe & Gallery to satisfy you sugary cravings, and stop for lunch as well. Also located in downtown Parry Sound is the Wildflour Baking Company, where you will find European organic breads, gourmet breakfast and lunch items and of course – baked goods made from scratch.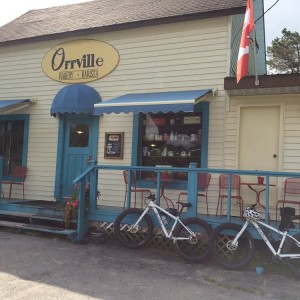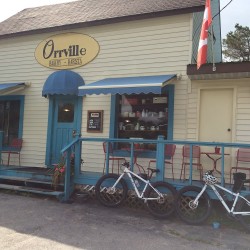 The Orrville Bakery Barista is a popular stop for those driving Highway 518 between Emsdale and Parry Sound, as well as for adventurers exploring the Park to Park Trail. Head baker Rod Adams creates up to eight varieties of bread daily from scratch. The bakery also produces some of the region's best butter tarts, squares and cookies. Two of their most popular products are their cheesecakes, which come in flavours such as salted caramel, pina colada and mocha almond, as well as their signature sweet potato pie.
While one might not think to stop at Helene's Antiques and Other Things in Port Loring for baked goods, you'll miss out on a delicious experience if you don't. Known for fresh breads, tarts, cookies and pie, this establishment has an eclectic mix of antiques and handcrafted gifts to go along with their baked goods too.
Wherever you are in the wilderness north of Toronto, you are never too far from an artisan bakery. Be sure to treat yourself to something sweet the next time you visit Ontario's cottage country.

Algonquin Park
Erika's Bakery – Dwight
Henrietta's Pine Bakery – Dwight
Almaguin Highlands
Bean There Café – South River
Loring-Restoule
Helene's Antiques and Other Things
Muskoka
Abbey's Bake House – Port Carling and Minett
The Bakery – Gravenhurst
Buddha's Bakery & Café – Bracebridge
Don's Bakery – Bala
Henrietta's Pine Bakery – Huntsville
Humble Pie Butter Tart Factory & Pizzeria – Baysville
The Pasta Shoppe Bakery – Bracebridge
Whimsical Bakery – Huntsville
Windmill Bakery – Huntsville
Parry Sound
Country Gourmet Café – Parry Sound
Orrville Bakery – Orrville
Wildflour Baking Company – Parry Sound