Algonquin Moose Adventures
Please note: Our new 'Great Canadian Wilderness' website has replaced the old one that ran under our company name, Explorers' Edge. From time to time in an older post, you may see references to Explorers' Edge.
When the snow melts and spring arrives, iconic Canadian moose are almost guaranteed to come to the side of Algonquin's Corridor (Highway #60) in search of salt that forms in puddles at the highway. If you visit Algonquin Provincial Park this spring, be sure to pack your camera (preferably one with a telephoto lens) so you can enjoy viewing these majestic creatures as they graze by the road. Watch for another familiar spring sight – often "moose jams" are seen along Highway #60 at marshy areas as visitors stop to watch… first one car, then another, soon followed by a dozen or two.

View Algonquin Park Hwy #60 in a larger map
A stop at the Algonquin Park Visitor Centre offers a great way to learn about Canada's favourite park, including such topics as aboriginal history, logging days, and of course the park's wildlife (always a favourite). You can see a life-size moose display and learn about their habitat, food sources and even the sounds they make. With between 2500 and 4500 moose in Algonquin Park, your chances of seeing one improves with learning more about their habits. The visitor centre also features a wildlife sighting board on which staff record where visitors and park staff have recently seen wildlife.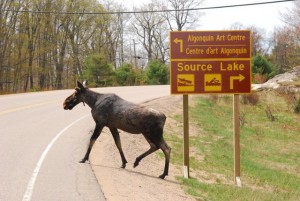 When spring gives way to summer, moose often head deeper into the woods in search of their food sources located in marsh lands. Moose are herbivores and feed on aquatic vegetation, assorted ground plants, leaves, twigs of both conifers and deciduous trees, and shrubs. (And they sure love their water lilies!)
Summer is also a great time for spotting moose, and there's nothing more rewarding than coming across one on a multi-day canoe trip that takes you into their natural habitat, marshes and rivers, as you paddle. Be sure to keep a keen eye out for dark shapes along the shoreline. What may look like a large rock, an up-turned root of a fallen tree or even just a dark hole in the trees is often a moose with its head down grazing along the shore.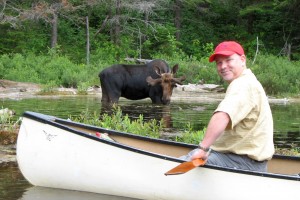 Another way to spot moose in Algonquin Park is to paddle quietly and listen. Moose walking along the shore often make a "clump clump" sound as they walk and such a large creatures navigating the forest can be heard often before they are seen. Crashing and crunching sounds emitting from the woods is a good sign that a moose is finding its way between the trees. Just by sitting quietly and listening keenly to the sounds around me, I've been rewarded to see a cow and her calf coming to the water to drink or feed.
Be sure to look back the way you came as well; sometimes as you approach a moose will step back into the brush and let you pass, preferring to remain unseen, coming back out once the paddlers have passed to continue their grazing at the shoreline.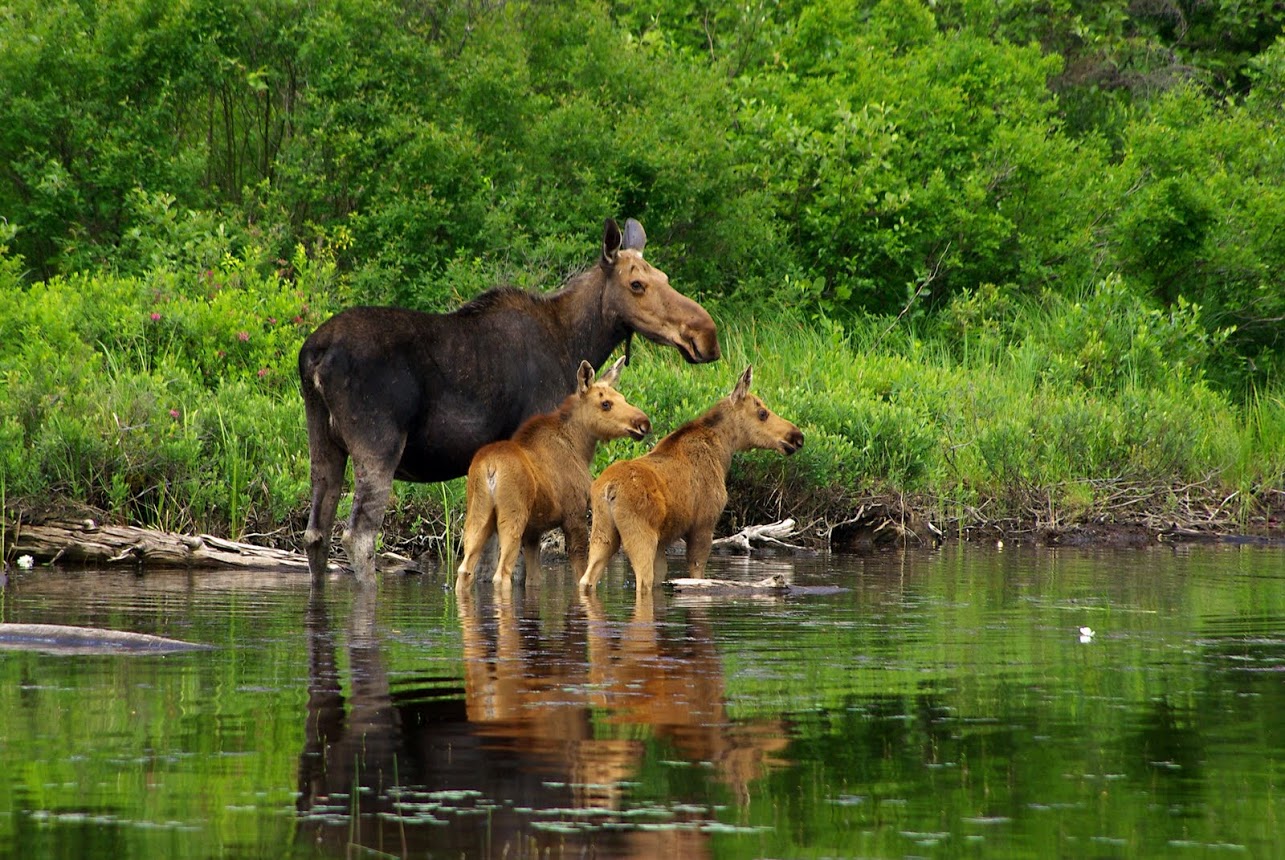 If you've never ventured into the back country of Algonquin Park or maybe even paddled your own canoe, you may want to hire the services of an experienced guide. Not only can they show you the safest and best way to enjoy a canoe trip into the park, but they are often skilled at spotting prime moose habitat, often seeing the moose that you would have otherwise paddled past.
Head to Algonquin Park this spring and try to spot the iconic Canadian moose in its habitat – an experience you will never forget. For guiding or advice for viewing, contact one of these many fine outfitters in the Algonquin Park region.
Algonquin Park Outfitters & Guided Trips

View Algonquin Park Outfitters in a larger map
For more information on the great Canadian wilderness, click here.