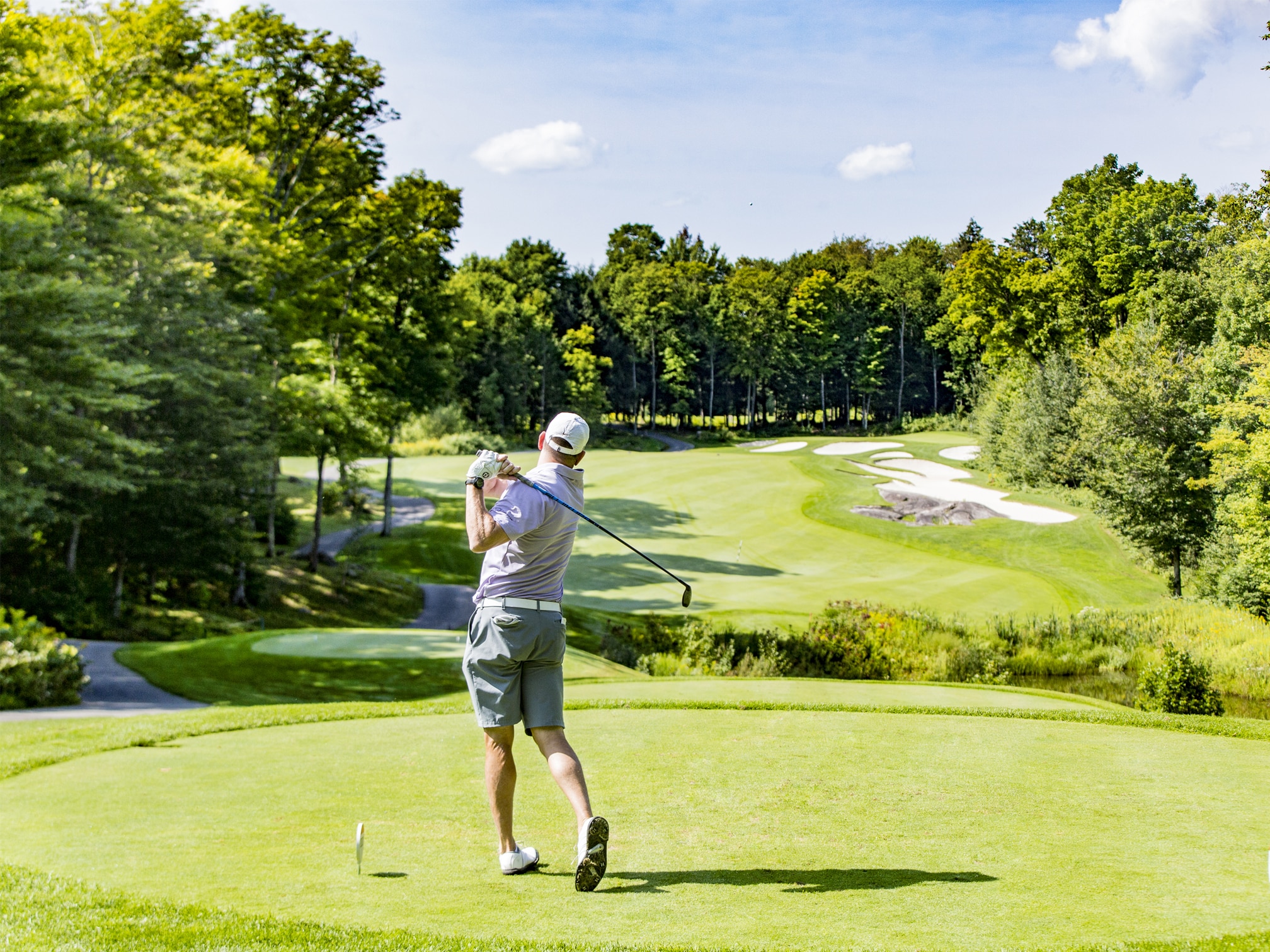 Great Golf in the Great Canadian Wilderness
Muskoka, west Parry Sound and the Almaguin Highlands are a perennial hot spot for golf fanatics from all over the globe. Featuring the stunning backdrop and varied terrain of the Canadian Shield, including lush forests, granite bluffs and shimmering blue lakes and rivers, teeing off here is not a normal day on the green.
Award-winning courses are plentiful and every level of player, from seasoned pros to students learning the fundamentals, will find the perfect course to call their all-time favourite.
MUSKOKA
The Bigwin Island Golf Club has been designed to capture and reflect the spirit and elegance of the original grand resort known as the "Bigwin Inn". The sweeping fairways drape naturally over the rugged Muskoka terrain, exposing glorious lake vistas at every turn and creating a sense of timeless beauty and tranquility. The course itself is a par 72 championship layout measuring 7,166 yards from the championship tees. The course is designed by world renowned Golf Course Architect Doug Carrick, and his design provides challenge and enjoyment to golfers of all skill levels.
Every hole is surrounded by mature hardwoods, creating a sense of maturity and character typically found on the great classic courses built during the early 1900's. The holes are routed in a variety of directions over the undulating island terrain, creating constantly changing shot values, wind directions and challenges. When playing with us, enjoy free parking, valet boat service to and from the island, full pro shop, two bent grass practice putting greens, a full length practice range, on course beverage cart & bbq, and world class dining in our Marine Dining Room.
For Stay & Play package details click here.
Bracebridge Golf Club is a challenging and scenic nine hole favourite with wide fairways, mature trees, rolling hills and a beautifully groomed traditional design you can't just play once. The terrain on the fourth will get you, the sloping fifth green will double bogey, and the sunken eighth will drive you back to the start! For over 50 years, we know how to make a day of golf a pleasure. Amenities include a full length driving range and licensed clubhouse.
When it comes to Ontario golf, Deerhurst Resort has it all: two 18-hole golf courses, a golf academy for all ages, complete tournament planning and Muskoka's best value membership packages. All within steps of everything that Ontario's most complete vacation and conference retreat offers for golf getaways and group events.
Deerhurst Highlands takes full advantage of the dramatic landscape while capitalizing on elevation changes, rugged granite outcroppings and dense forests; Cupp and McBroom created a design that is a genuine representation of the region, while maintaining a highly playable, well-balanced course that has stood the test of time. Despite its pro-level challenges, this 7,011 yard course is rewarding for a variety of playing levels. With 6 different tee deck levels including ladies, juniors and seniors, Deerhurst Highlands provides a golfing experience that is inclusive to a wide range of golfers. With a full service Pro Shop, golfers' lounge and on-course food and beverage service to round out your golf experience, Deerhurst Highlands is committed to providing you with ultimate Muskoka golf experience.
With sweeping views of the lake, a challenging layout, and meticulous grooming from tee to green, it is evident why Deerhurst Lakeside has gained a reputation as a fair, fun and challenging course for players of all skill levels. The front 9 sweeps around Sunset Bay before making its way to the back nine, which gives way to picturesque views of the surrounding countryside as well as Peninsula Lake. True to the Muskoka landscape, you will find yourself hitting from elevated tees, approaching slick undulating greens from deep valleys, while being challenged by strategic water hazards and deep bunkers. For a quick round or a chance to warm up before the big links, Deerhurst Lakeside lets you use every club in your bag. The driving range, practice green and well-equipped Pro Shop are great places to gear up and fine-tune your game.
For Stay & Play package details click here.
The grounds are so lovely, the staff so welcoming, it is easy to forget that The Diamond in the Ruff also offers superb golf! The course is truly gorgeous and showcases a 9-hole layout that spans 2,754 yards from the back tees for a par of 34, with scenery that at times looks like a botanical garden. This is a course that accommodates all players, from the rookie to the veteran. It is both a pleasure to stroll through and a great place to test your golf skills. Players that discover The Diamond often return again and again.
Our Golf Shop is quite a unique and fun shopping experience that offers a fine selection of ladies and mens clothing, as well as a vast selection of logoed headwear, footwear by ECCO and Callaway and a selection of golf clubs and putters featuring the very latest from Callaway. Hungry? Why not stop for a bite at our onsite restaurant, Shades of Muskoka. Whether coming in from a day of golfing, or looking for a place to eat away from the cottage, the Diamond in the Ruff offers you an enjoyable cottage fare experience. Enjoy premium draughts, fine wines and freshly prepared menu items including soups, salads, sandwiches and entrees.
We offer players of all ages and abilities a wonderful golf experience. The unique layout of the course, set amongst picturesque Muskoka woodlands, the immaculate gardens, and rolling fairways, was designed to allow the golfer to play for the pure enjoyment of its natural Muskoka setting. At 2,830 yards, the 9-hole golf course offers experienced players attractive scenery and the chance to play an affordable game of golf with family and friends, while offering beginner golfers the chance to improve their skills.
Our dining facilities are the perfect venue for hosting a private, corporate or charity event. We are proud of our course and strive to provide each and every customer with a memorable experience. We are conveniently located between Port Carling and Bracebridge. There is easy access off Muskoka Road 118 West or by boat from our private dock located on Lake Muskoka.
Co-designed by PGA Tour veteran Mark O'Meara (1998 Masters and British Open champion) and renowned course architect Brit Stenson, the Mark O'Meara Course at Grandview opened in 2001. The course is aptly named as it exudes grandness from the moment you arrive.
Situated a pebble's throw from Huntsville, Grandview features one of the most impressive of ClubLink's clubhouses. It blends stone and wood and embodies Muskoka's grandeur. It plays host to both weddings and banquets and can accommodate up to 250 people. A stunning patio overlooks the first hole.
Greens feature subtle breaks that one does not easily master. Large elevation changes throughout give spectacular views of Fairy Lake. Deciduous forest, granite and marshland are a few other key characteristics. Visit in the fall to witness the spectacular showing of the trees – a living reminder of what once inspired the Group of Seven to document this region's beauty on their canvases.
For ClubLink Muskoka Stay & Play package details click here and here.
Situated on 200 acres of magnificent Muskoka trees, rocks and hills of the Canadian Shield, Huntsville Downs Golf Club continues to attract golfers year after year. Visitors and members are entertained and challenged by this 6,400 yard, par 72 course with a slope rating of 129 from the blues. With its numerous tree lined fairways, ponds, sand traps, and undulating greens, Huntsville Downs is designed to excite and challenge the most discerning golfer. There are 3 sets of tee boxes (blue, white, red), 10 water hazards and 63 sand traps. We also have a driving range, a putting green, and a 19th hope to practice on. If you want challenge, we have it; but if you just want to play golf we can accommodate that too.
When it opened in 1997, The Lake Joseph Club caused jaws to drop around the golf world. Architect Thomas McBroom utilized the granite crags, towering trees and heaving topography of the incomparable Muskoka vacation region north of Toronto with such success that the course was named the best new course in the country by Golf Digest. Before your round, head to The Bistro in our exquisite cottage-style clubhouse offering a casual menu for breakfast, lunch and dinner. The Bistro overlooks the 18th hole of The Lake Joseph Club golf course and is open daily during our operating season.
After your round, experience Muskoka's glory, reflected in our exquisite cuisine and setting! Perched on the shore of Lake Joseph, The Water's Edge Wine Bar and Grill welcomes you to a world of delectable food, fine wines, and spectacular scenery. To enhance your culinary experience, select the perfect wine from our extensive list. Our sommelier would be pleased to assist you. Of course, no dining experience is perfect without exceptional service.
For ClubLink Muskoka Stay & Play package details click here. For onsite accommodation details for The Villas at The Lake Joseph Club click here.
Pristine lakes. Towering forests. Crystal clean air. And a vitality that sweeps through the trees and makes its way into your soul. Welcome to Muskoka Bay Resort, a four season community with an abundance of recreational and social activities just outside your door. The crowning glory is the incredible 17,000 square foot Clifftop Clubhouse. The definitive recreational and social centre – a place to play and relax. Experience exquisite dining, full-service fitness, a stylish spa retreat, infinity pool, kid's pool, tennis courts, pro shop and bistro. If you'd prefer more privacy, you can retreat to your beautifully-designed residence.
The Villas offer up to 2,200 square feet, nestled within the breathtaking terrain of the Doug Carrick designed 18-hole championship golf course. Acclaimed architect, Carrick takes Muskoka Bay Resort's natural features – mammoth rock ridges, wetlands and beaver ponds all hemmed in by forest – and delivers a stunning golf course with dramatic elevation changes, breathtaking vistas and a rare combination of playability and challenge. The amenities you've imagined. The peace you've dreamed about, all just 90 minutes north of Toronto in Gravenhurst. Your life, at its best.
For Stay & Play package details click here.
Muskoka Highlands Golf Links maintains the true Scottish links feel on an 18-hole course that now spans more than 6,000 yards. Our facility features instructional programs for players of all skill levels, a driving range, large putting and chipping greens, and a new winter indoor practice facility, complete with four hitting bays and a putting green. Established in 1993, the course motto is "A Wee Touch of Scotland". You will appreciate the way our course stays true to the traditional links style. Visit now to see for yourself.
Fast greens, faster rounds, lifetime of experiences. One of Muskoka's most playable and affordable courses where dogs are allowed. The warm and friendly atmosphere of the clubhouse keeps you for that post-round beverage and the re-hash of the round with more colour added! The Driving Range, with its always new golf balls, its new targets and challenges offer you a chance to practice while entertaining yourself and others.
North Granite Ridge Golf Club is a championship 18 hole golf course in Port Sydney, part of the Muskoka region. Voted by the readers of the Muskokan as Muskoka's Best Golf Course in 2011, the course was designed by golf course architect Jason Miller. The club also features a driving range and restaurant, Duffer's Tap & Grill, serving up all your pub fare favourites and cold drinks for before or after your round.
Jason Miller, Golf Course Architect, said "designing this golf course within this type of landscape was truly inspiring. The variety of golf holes that play through these boulders and trees or utilize the elevations provided by the granite ridges is second to none. It was easy to find fabulous green sites framed by trees and granite without altering the terrain. A number of tee decks are perched on the top of these granite ridges, providing long-range vistas over forest, without a road to be seen or heard, it was beyond compare. If there is a hidden gem in the world of golf, then North Granite Ridge sparkles brightly. It is up to you to come and discover this place for yourself."
Oak Bay is a natural marvel—a golf course that seamlessly fits with its environment. That means some holes with rocky outcroppings, indicative of the rough terrain of both the surrounding Georgian Bay shorelines and Muskoka areas. Water protects some holes, while others are made more intimate by being cut out of dense forests of trees. Known for its impeccable conditioning, most of all Oak Bay is a delight to play. Long enough to challenge the best players, but fun for those seeking to escape for a day on the course, Oak Bay never fails to thrill. SCOREGolf, among others, praised Oak Bay's incredible mix of par-three holes, noting, "the 6th is a get-your-camera-out hole. It plays 170 yards at its longest and traverses a hazard to an imposing, multi-tiered green set high on a steep rock face." SCOREGolf isn't alone in its praise; the 6th has been heralded by the Globe and Mail as one of the best holes in Canada.
With its contemporary appeal and design, the 10,000–square foot clubhouse at Oak Bay is the ideal setting for your next golf tournament, a family function, or a wedding for up to 90 people. While the clubhouse is licensed for 180, a smaller, intimate wedding with the club's stunning setting is ideal. The award winning restaurant is open to the public for lunch and dinner service.
For Stay & Play package details click here.
The Rock Golf Club is a world class facility. Designed by legendary golfer Nick Faldo, this 18 hole course has been artfully sculpted on the shores of one of Muskoka's premier lakes, Lake Rosseau. Utilizing the site's dynamic topography, the 6649-yard course is carved tight with narrow tree-lined fairways and sloping greens that wind through rock outcroppings, hardwood trees and rolling hills.
Nick Faldo's in-depth knowledge of the game's finer subtleties and intricacies, combined with his considerable worldwide experience is reflected in his talent as a course designer. The Rock boasts natural hazards and challenges that reward accuracy, a tribute to Faldo's abilities as "the shot-maker." And, the course has been crafted in such a way so as to inspire golfers of all levels with an emphasis on strategy and playability.
In addition to its dramatic links, The Rock Golf Club offers high-end daily fee amenities and services, found only in the top clubs of North America. Book a lesson with the golf professional, browse through the golf shop or enjoy a steak-house dinner in the lounge of the authentic Muskoka-style clubhouse or a cocktail on the terrace overlooking the 1st and 18th holes.
Rocky Crest Golf Club celebrates the natural features of Ontario's Muskoka region and was designed by Thomas McBroom. Framed by giant forests of pine, white birch and hemlock, the rolling fairways are accented by deep bunkers and granite outcroppings that provide definition and challenge. 'The use of the rock is totally innovative – a strategic and aesthetic element that shows off the beauty of the Canadian Shield,' McBroom says. The seamless routing, views, marshes and abundant wildlife enhance a memorable golf course that has received rave reviews since it opened in May 2000.
McBroom, a four-time winner of Golf Digest's Best New Canadian Course award, says Rocky Crest has generated the biggest buzz of any new course that he has designed. Rocky Crest Golf Club is adjacent to Rocky Crest Resort at the north end of Lake Joseph. Rocky Crest was ranked number 20 of the top 100 courses by SCOREGolf Magazine in 2010 and third best course of the modern era in Canada by Golfweek.
The clubhouse was designed to complement the cottage life of Muskoka. The log structure has grand vaulted ceilings and offers the On The Green dining room overlooking the 18th green to enjoy a meal and refreshments at the conclusion of your round. There is also a beautiful flagstone patio to relax on which allows you to watch as other players finish their round.
For Stay & Play package details click here.
Designed by Canadian Golf Hall of Fame member C.E. "Robbie" Robinson, South Muskoka opened in 1974. It is a classic Muskoka course with rolling tree-lined fairways, elevated tees and greens, swirling winds, lots of granite and beautiful scenery. It's the kind of course where you will want to head right back to the first tee as soon as you walk off the eighteenth green. Expect a great test of your game and the best golf value in Muskoka.
Renowned for its panoramic beauty and innovative use of the dramatic Canadian Shield landscape, the Taboo Muskoka Golf course is a captivating and challenging layout set at the gateway to Muskoka, one of Canada's truly outstanding golf destinations. On course at Taboo Muskoka, 300 acres of memorable terrain are embraced by dense forests of tall white pines and mature red oaks. Taboo's golf holes are shaped by distinctive pink granite outcroppings. Each hole sits in isolation from the rest, with 15-minute tee time intervals helping to preserve that feeling that you're golfing a private course.
Beyond a landmark Ron Garl design with generous, friendly landing areas off the tees, what truly sets Taboo apart is our entire Muskoka resort's total commitment to making sure you enjoy yourself, on course and beyond. In addition to top notch conditioning and helpful pro shops, Taboo Muskoka is dedicated to bringing you outstanding golf value including a daily program of complementary clinics for resort guests, competitively priced Muskoka Stay & Play packages, a range of flexible tournament and group golf options, summer junior golf camps, 9 and dine, and more. See you on course!
For Stay & Play package details click here.
Located in the heart of Muskoka and directly adjacent to stunning Lake Rosseau, Windermere Golf & Country Club is a community landmark and delightful destination for all ages. This warm and inviting semi-private club was established in 1919 and offers its Members and guests an authentic Muskoka family club experience. The grounds of Windermere Golf & Country Club embody all that is Muskoka. Its newly rebuilt Clubhouse is surrounded by large granite outcroppings, towering white pines and Muskoka ambiance.
Our facilities include 124 acres of spectacular mature property and views, a stunning 18 hole championship course design and immaculately manicured fairways and bent grass putting greens, a short game practice facility, professional instruction, on-course food and beverage service, 3 hard court newly resurfaced clay tennis courts, clubhouse dining, and a full service pro shop.
PARRY SOUND & AREA
Welcome to the best 6,000 yards you will ever play. This Thomas McBroom design, completed in 1982, replaced the original 9-hole facility established in 1929. Don't be fooled by the yardage from the back tees – just under 6,000 yards. With a premium on accuracy, this course will test every club in your bag. A conservative strategy is most effective as large numbers lurk on every hole.
We take great pride in the companies we represent in our Pro Shop. We stock quality golf equipment which can be custom fit to your individual specifications, as well as fashionable apparel for both men and women. Hungry? Whether it's breakfast and coffee before teeing off, grabbing a snack at the turn, enjoying a beverage after your round, or savouring dinner with friends in a relaxed atmosphere, Fairways Bar & Grill's friendly staff will make sure you're satisfied. Overlooking the spectacular approach and green on number 18, its patio and screened porch areas are the perfect place to enjoy the restaurant and the course before or after your round.
The Ridge at Manitou is a place of natural beauty where holes meander through the Muskoka landscape. A short drive into the interior from Parry Sound on Lake Manitouwabing, designer Tom McBroom's "out and back" layout delivers an unforgettable experience. Many argue that The Ridge is the best of the new Muskoka courses, and it's certainly one of the architect's best.
Whether you're staying in one of the hundreds of cottages on Manitouwabing, driving in for the day, or using The Ridge as a stop on a Muskoka golf tour, the over the top hospitality will be the same. Most arrive by car, but the clubhouse has lakefront access and mooring for both boats and float planes – and what a clubhouse. Perched on the rocky shore, this log structure is right out of another time – a large fireplace in the dining room, generous screened porch, and a patio right on the granite of the Canadian Shield.
The course itself lives up to every bit of its reputation. It has been ranked in the top 100 courses in Canada many times, and #24 on the Score Golf 'Public Courses" list. While many Muskoka courses have been rightly criticized for favouring vistas over playability – architect Tom McBroom has created a wonderful golf experience, where the beauty of rocks and trees and bogs is ever present, but not a distraction or unnecessarily penal.
Seguin Valley Golf Club is part of a spectacular 1000 acre northern wilderness property that features several ponds, lakes, rocky ridges, creeks and wetlands, which together present 18 unforgettable championship holes combining great golf with great scenery. The course measures from 4395 to 6735 yards with multiple changes in elevations throughout the layout. Five tee decks per hole allow players of all skill levels to equally enjoy the beauty and challenge of the golf course. From the moment you arrive, to the time of your departure, we are committed to making your visit one that you are sure to enjoy.
For Stay & Play package details click here.
ALMAGUIN HIGHLANDS
The Almaguin Highlands Golf & Country Club is a challenging regulation 9 hole par 35 golf course in a beautiful valley in the Almaguin Highlands with scenery not unlike the Scottish Highlands. The magnificent Magnetawan River flows along the fully licensed golf course and comes into play on our 527 yard par 5, second hole and on our signature hole, the 156 yard par 3, third hole, where your ball has to go across the river to a small green.
For Stay & Play package details click here.
Eagle Lake is a challenging, yet player friendly 12-hole golf course, beautifully designed by nature. Well manicured bentgrass greens await you. Don't be surprised if you see moose, deer, fox or a wide variety of other wild animals trying to share the course with you. After your round, come in and enjoy your favorite food and beverage while taking in the view from our dining room. Our clubhouse features a modern Pro-Shop, a snack bar and dining area and is fully licensed under the AGCO.
The Ridge Golf Club is a challenging 9 hole executive golf course that features many picturesque views from our par 3 and par 4 holes. The Ridge Golf Club also offers event space – our 4 separate entertainment locations offer seating for up to 200 guests and our clubhouse with expansive licensed patio provides the perfect setting for any occasion.
Also Check Out:
The Acres Driving Range Huntsville
Doctor Golf Huntsville
Ice Palace Golf Simulator Seguin
Muskoka Highlands Winter Golf Simulator Bracebridge
SkyTrak Golf Studio Gravenhurst
South River Indoor Golfers Club South River
To plan your golf getaway in the great Canadian wilderness just north of Toronto click here.