The Fly & Explore Package from Explorers' Edge: Participating Accommodations
Book your stay at one of the many
participating

accommodations and fly with Porter Airlines to get The Fly & Explore Package –  $100 CDN in spending vouchers to use at participating attractions, restaurants and shops! Check out all the fantastic places you can stay during your unforgettable visit to the great Canadian wilderness just north of Toronto summer:
PARTICIPATING ACCOMMODATIONS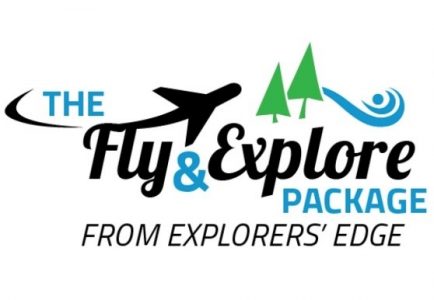 ALGONQUIN PARK
Algonquin Cottage Outpost
Algonquin Island Retreat
Algonquin Log Cabin

Arowhon Pines
Bartlett Lodge
ALMAGUIN HIGHLANDS
Algonquin Guesthouse South River
Algonquin Motel South River
Birchwood Camp Burk's Falls
Black's Guest House South River
Fern Glen Inn Emsdale
The Lighthouse Cottages & Camping Sprucedale
The Shores of Deer Lake Nature Lodge South River
Silver Sand Resort Kearney
NAISA North Media Arts Centre Artist Residency South River
Warbler's Roost South River
LORING/RESTOULE
The Lost Fox Bed & Breakfast Port Loring

Minnehaha Cottage Resort Port Loring
Northern Lights Resort Loring
Pine Grove Resort Cottages Port Loring
Tornado's Canadian Resort Port Loring
MUSKOKA
The Baldwins Resort Windermere
Bayview Wildwood Resort Severn Bridge
Bear and Butterfly Bed & Breakfast Gravenhurst
Best Western Plus Muskoka Inn Huntsville
Bondi Cottage Resort Dwight
Clevelands House Resort Minett
Cloverleaf Cottages Resort Dwight
Comfort Inn Huntsville
Crews On Inn Huntsville
Deerhurst Resort Huntsville
Forest Rock Cottage Resort Utterson
Four Ninety Muskoka B&B Gravenhurst
Hidden Valley Resort Huntsville
Holiday Inn Express & Suites Huntsville
The Inn at Peter's Players Gravenhurst
Inn at the Falls Bracebridge
JW Marriott The Rosseau Muskoka Resort & Spa Minett
The Lake of Bays Lodge Dwight
The Lone Pine Inn Gravenhurst
Muskoka Bay Resort Gravenhurst
The Muskoka Rose Guest House & Retreat Gravenhurst
Muskoka Shores Cottages Utterson
Muskoka Soul Gravenhurst
Nordic Inn Dorset
One More Muskoka Night Gravenhurst
Ontario Cottage Rentals Region Wide
Quality Inn Bracebridge
Rawley Resort Port Severn
The Residence Inn by Marriott Gravenhurst Muskoka Wharf Gravenhurst
Robbins' Tuktawayin B&B Gravenhurst
Rocky Crest Golf Resort Mactier
Rodeway Inn King William Huntsville 
Rosseau Retreat Bed & Breakfast
Santa's Muskoka Ridge Campground Bracebridge
Santa's Whispering Pines Campground Bracebridge
Severn Lodge Port Severn
Sherwood Inn Port Carling
Spring Lake Resort Dwight
Taboo Muskoka Gravenhurst
Tally Ho Inn Huntsville
Tipi Adventure Bracebridge
Tulip Inn Huntsville
Westlawn Bed & Breakfast Bracebridge
PARRY SOUND
Bayside Inn
Canada's Best Value Inn & Suites
Craganmor Point Resort McLaren Island
Four Winds Cottage Resort McKellar

Glenn Burney Lodge
Grand Tappattoo Resort Seguin
Lakeview Cottages Seguin
Parry Sound Inn & Suites
Parry Sound KOA Campground Seguin
River Haven Resort Britt
Trappers Choice Inn
Log Cabin Inn
SOUTH ALGONQUIN
Algonquin Dream Catcher Motel Whitney
Algonquin East Gate Motel Whitney
Algonquin's Edge Resort Whitney
Bellwood Inn Whitney
Couples Resort Whitney
Four Corners Algonquin Whitney
Four Seasons Algonquin Cabins Madawaska
The Mad Musher Riverside Rooms Whitney
Madawaska Lodge
Rolling Rapids Motel Whitney
Spectacle Lake Lodge Madawaska

(For a list of area attractions, restaurants and shops where you can redeem your cash vouchers from June 27 – September 15, CLICK HERE.)
To register for the Fly & Explore Package click here!
This article was originally published on our sister site here.