Special Offers
Seguin Valley Golf Club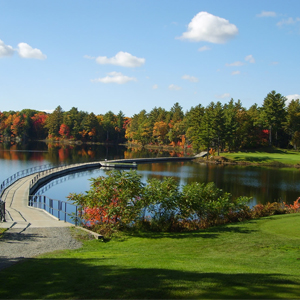 Seguin Valley Golf Club is part of a spectacular 1000 acre northern wilderness property that features several ponds, lakes, rocky ridges, creeks and wetlands, which together present 18 unforgettable championship holes combining great golf with great scenery. The course measures from 4395 to 6735 yards with multiple changes in elevations throughout the layout. Five tee decks per hole allow players of all skill levels to equally enjoy the beauty and challenge of the golf course. From the moment you arrive, to the time of your departure, we are committed to making your visit one that you are sure to enjoy.
Ultimate Day at Seguin Valley
The perfect gift for the avid golfer in your life. Their day at Seguin Valley will start with a round of golf including a motorized shared cart, BBQ lunch on the turn, a sleeve of Srixon Soft feel balls, a souvenir hat and a pound of our amazing chicken wings with a pint of Muskoka's best draught beer. The golfer in your life will be amazed by the incredibly beautiful course and challenging round. The bucket list course they will thank you for later!
Package includes:
– Golf with a cart
– BBQ lunch at the turn
– A sleeve of golf balls
– A souvenir hat
– A pound of chicken wings and a pint of beer
Package available from $159.95. For complete package details click here.
For more information on Seguin Valley Golf Club please visit their website.