Events
February 26

– Royal Flush Fat Bike Poker Run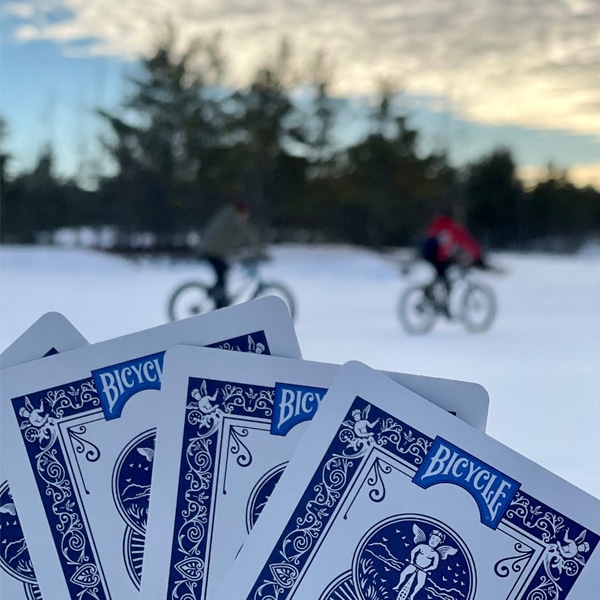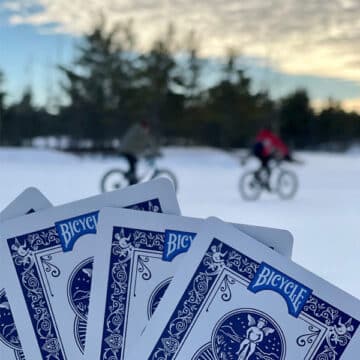 Parry Sound Bikes is excited to host Royal Flush; a Fat Bike Poker Run at the Georgian Nordic Outdoor Activity Centre (GNOAC).
If you're new to a poker run, it's a fun, no pressure way to ride with friends and see our amazing fat bike trails. We'll be at the GNOAC trail head from 10:30am to 11:00am handing out trail maps with five playing card locations. Ride to each location to pick up a playing card sealed in an envelope. Once you have all 5 envelopes it's time to head to Trestle Brewing for prizes, swag and pours. No peeking at your cards, save the envelope opening for the brewery.
What to expect? With multiple fat bike specific drags and a dedicated snowmobile for grooming we should have some sweet fat bike single track. We'll adjust the course length depending on the snow conditions but expect to be riding for 1.5 to 2 hours. Weather permitting there should be a pond crossings or two so bring the studded tires if you have them. A couple fire pits on the course will help you warm up along the way. We've left lots of time so everyone can ride at their own pace or get some extra riding in.
What if I finish early? Parry Sound Bikes will be open from 1:00pm to 3:00pm for anyone who needs a place to warm up, grab a latte from our espresso bar or check out bike stuff! There will be some special sale items too!
After party at TRESTLE BREWING COMPANY at 3:00 p.m. Free 12oz beer (or non-alcoholic beverage) for riders, food and beverages available. Friends and family welcome!
Sunday February 26th
Ride start 10:30 a.m. to 11:00 a.m. at GNOAC
FREE! But you need to register by Thursday Feb 23rd at 8:00pm.
GNOAC Trail pass or Membership required (available onsite day of)
Fat Bike Rentals available at GNOAC but you are advised to book in advance by calling 705-746-5067.
For complete event details please follow the link provided.