Events
September 15-18

– Harvest Festival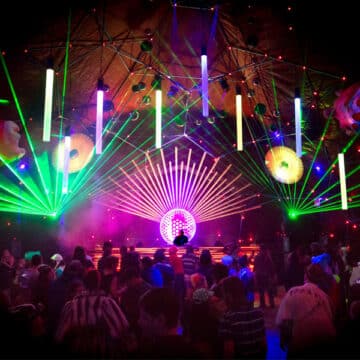 Harvest Festival is a community art, music, and camping celebration with a capacity limit of 1500 people "because we like it that way", produced by alienInFlux Events and taking place the 2nd weekend after Labour Day each September in Ryerson Township near the village of Burk's Falls.
Key attractions include the fantastic people in attendance, electronic-based music from around the globe, permanent and temporary art installations created by host Peter Camani well as the festival and its participant members on an incredibly scenic property.
Harvest 2022 saw the best yet. The new and renewed friendships, lineup, circus, stages, and a last-minute change of weather were each well received. And attendees donated a record $12K to the Burk's Falls and District Food Bank. The addition of allowing people to now stay till Monday with an ambient music stage created an entirely new feeling throughout the weekend. And the new pines stage is maybe the best of all our stages….
We the festival organizer are proud of the respect people in attendance shared for the event and each other with a Leave No Trace reality and thank all for maintaining and leaving the property beautiful and without litter throughout the entire weekend.
For complete event details please follow the link provided.