Events
July 8

– Firefighter Challenge 2023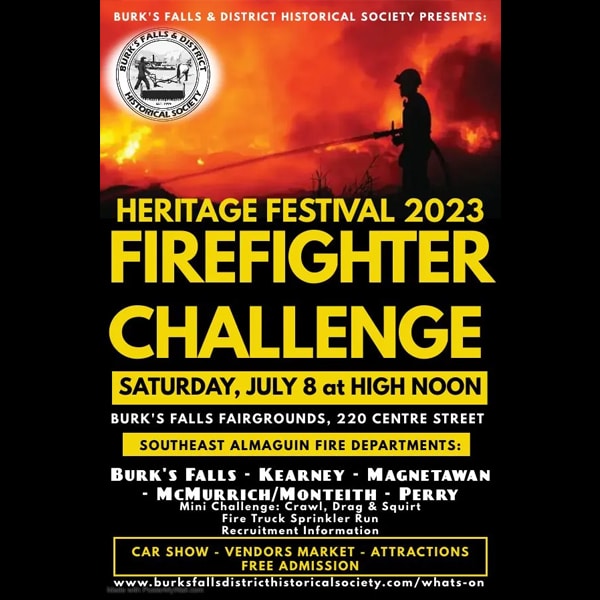 The fourth annual Southeast Almaguin Firefighter Challenge will be held on Saturday, July 8, 2023 at the Burk's Falls Fairgrounds (220 Centre Street) and in conjunction with the Heritage Festival on the same grounds. The competition will be held a high noon.
Firefighters always draw and crowd and we eagerly welcome back our five competing fire departments: Burk's Falls, Kearney, Magnetawan, McMurrich/Monteith and Perry. This challenge is a competition based on fire fighting tasks that are commonly performed in emergency situations.
We've colour coded the firefighters for 2023 with bandanas:
Burk's Falls – Yellow
Kearney – Blue
Magnetawan – Red
McMurrich/Monteith – Green
Perry – Orange
Once again, the fire departments will be hosting a mini challenge, titled "Crawl, Drag, Squirt". The course, which includes an 80-foot inflatable obstacle course will provide a family-friendly challenge that will capture the enthusiasm of children and channeling it in a positive direction. As a bonus, they will be recognized and awarded for their participation.
New for 2023, will be a Fire Truck Sprinkler Run at 2:30 p.m. on the fairgrounds. Join the firefighters and cool off from the summer heat under the biggest water sprinkler in town! Splish, splash, you'll have a blast!
This year, a custom master trophy is being created for the Firefighter Challenge by Asylum Hotrods. The winning department's name will be engraved on the master trophy and kept on display at the Watt Century Farmhouse Heritage Centre.
A firefighter recruitment booth will be on-site. If you're interested in joining our local volunteer fire departments, this is the place you want to be.
Heritage Festival runs from 11:00 a.m. to 3:00 p.m. and includes a vendors' market, car show & many more attractions.
The event is free for the public to attend. Free face painting, reptile camp, inflatables, and balloon art from Ken the Balloon Dude.
Be sure to mark your calendar and save the date!
For complete event details please follow the link provided.