Events
August 18-20

– Artists of the Limberlost Studio Tour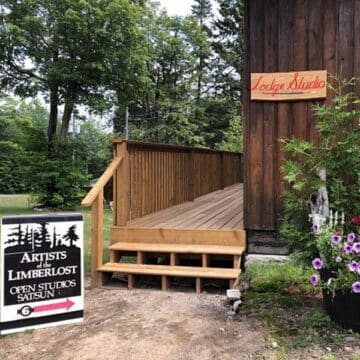 Come to the 2023 Artists of the Limberlost Studio Tour on August 18, 19 and 20 from 10am to 5pm. You will enter our studios and display areas to meet the artists and see our newest creations. This year we extend the weekend by a day and open from Friday to Sunday. We feature 22 diverse and talented artists in 8 art studios or historic lodge settings.
Enjoy the drive through the beautiful, winding roads in the Limberlost area with the opportunity to enter studios alongside lakes, gardens and forests. The rugged landscape of the Canadian Shield has inspired artists for over a century and this is the place we call home.
You are invited to discover for yourself how the creative tradition continues. Meet the makers and find driftwood, twig and stone sculpture, nature-inspired pottery, jewellery, fiber art, paintings, tile home goods, hand-turned burl bowls, and rustic and fine furniture.
Our Studio Tour is close to Algonquin Park in the Huntsville/Lake of Bays area of Muskoka. This is an area of forest, rock and lakes rich in wildlife and natural beauty. We welcome guests to our studios at other times in addition to our Studio Tour weekend. Check individual Studio pages on this website for contact information.
For complete event details please follow the link provided.