Events
June 1 - October 15

– 2023 Art Exhibit – "Spectrum: Studies of Light"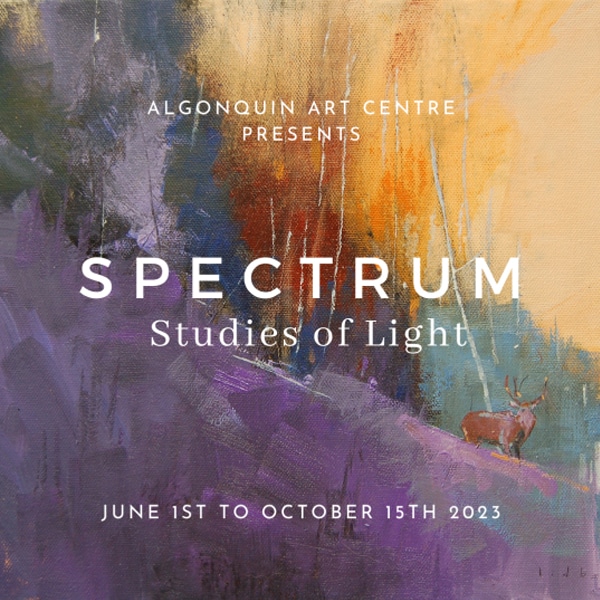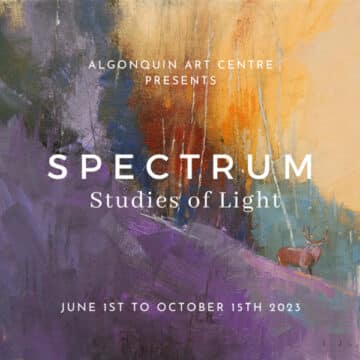 The Algonquin Art Centre Explores the Nature of Light in Special 2023 Art Show "SPECTRUM: STUDIES OF LIGHT"
"You'll never look at light the same way again" says gallery curator Matt Coles as he prepares for the opening of the Algonquin Art Centre's 2023 art show, "Spectrum: Studies of Light." This special exhibit explores the nature of light in Algonquin Park: be it the changing light atmospheres through different seasons, light's effects on plant and animal life, or even its influence on the artist's own creations, "Spectrum: Studies of Light" sets out to reveal light in Algonquin Park like never before
Featuring new paintings and sculpture from Canada's foremost landscape and wildlife artists, Matt believes "Spectrum: Studies of Light" ranks among the best shows they've ever put on. "It truly is a special theme," says Matt. "Light has fascinated artists for centuries: what it is, how it works, how it can be recreated on canvas or sculpture, but what makes 'Spectrum: Studies of Light' so special is that it looks at the unique qualities of light right here in Algonquin Park, be it the light streaming through the Park's Fall maples, or sparkling on a fresh blanket of snow, or even its effects on the Park's flowers and animal life. Light in Algonquin Park has a unique nature that often goes unnoticed, and this year's show aims to fix that by putting light front and center." The exhibit, Matt hopes, will change how visitors experience light in the Park, deepening their connections as they head back out into Algonquin's forests and rivers and lakes. "We hope you will leave this exhibit transformed and more attuned to the light shows that are constantly on display in Algonquin," says Matt, "we just need to learn to see them."
"Spectrum: Studies of Light" will be on display at the Algonquin Art Centre from June 1st to October 15th. Admission is voluntary. In addition to this special exhibit, visitors can also see a number of featured artist shows, shop in their famous unique boutique, and enjoy the beautiful garden and surrounding forests of the Centre.
*image is from David Lidbetter's 2023 painting, "Dusklight"
For complete event details please follow the link provided.